How to Root Your Android Phone with Root Genius Safely
With the uprising of Android phone, increasing number of people prefer to buy Android phone. People find that it is hard to get the super permission of Android phones. But sometimes, you may need to acquire the super authority for better experience of your Android device. For example, you may want to personalize your Android phone and uninstall some stubborn apps which can be removed only if it is rooted. On the other hand, when you decide to root your Android, you will have another concern: is rooting safe?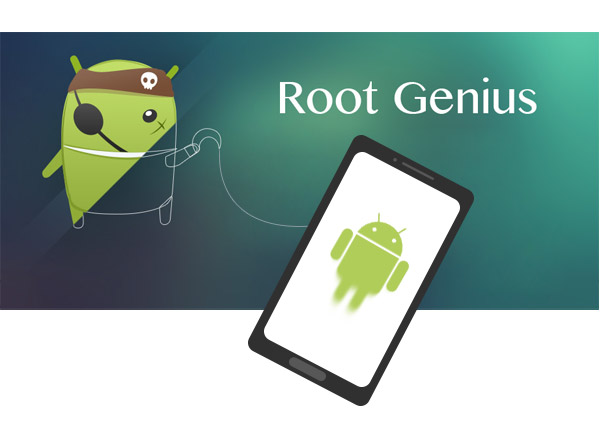 To solve this headache problem, this passage will tell you how to root your Android phone safely and easily with Root genius.
Part 1. Brief introduction to Android rooting
What is root for Android?
For Android users, rooting means the highest authority to acquire all permission of Android phone. According to the words from WikiPedia, "rooting is the process of allowing users of smart phones, tablets and other devices running the Android mobile system to attain privileged control over various Android subsystems." It also means if you root your phone, you can do any operation to your Android phone. That's why we should root Android phone.
Benefits of rooting:
1. Remove the unwanted programs and games pre-installed by your carrier and phone maker, saving more space in your phone.
2. For some Apps, you need to root first to get authority to enjoy some functions or use it normally.
3. To stop the pop-up notifications and ads of some malware.
4. You can upgrade your Android to the latest version faster.
Risks of rooting:
1. Your device may be easier to be infected with virus and Trojan horse.
2. System error. Rooting your device means you get the permission to all files in your phone. Some important system files may be deleted from your device, which will cause system error.
3. You may be unable to enjoy the after-sale service. Some manufactures and carriers are not willing to provide service after your purchase. And rooting is a good excuse.
Part 2: What preparation do you need to make before rooting?
Backup your device
To avoid losing some data on your phone, you'd better to back up data before rooting.
Full charged your Android device
It cannot be figured out that how long the whole rooting progress will take, so in case of the unexpected halt, please make sure that you have full charged your Android device.
Choose a rooting tool
There are many rooting tools in the market. Here, we mainly take Root Genius as an example for showing you how to root Android phone. Root Genius is a free root tool. It is developed by a Chinese team and has become the most popular root software in China, the largest Android market. It runs on PC. It has many advangates, including the small size and high compatibility. Compared to other software, Root Genius performs pretty well. It is compatible with most popular Android types, including Samsung Galaxy series, HTC, xiaomi, ZTE, etc. But for LG, we can only find LG Optimus G2 supported on the official site.
Part 3. Root your Android phone with Root Genius
Step 1 Download and install Root Genius on your computer
Download Root Genius to your computer, and you are required to install this software. After installation, run it on your computer.
Step 2 Enable USB debugging
On your Android phone, you need to enable USB debuging so that you can manage your phone on computer easily. Go to "Settings" > "Developer options" to enable "USB debugging".
Step 3 Connect Phone to PC
Plug your phone with USB cable to computer, and Root Genius will detect your phone automatically. Click the "Connect" button.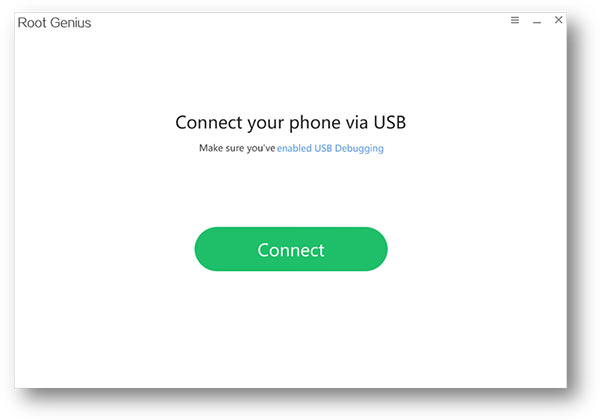 Step 4 Root Android phone
After this software detect your phone, click "Root now", and then Root Genius will automatically root your phone.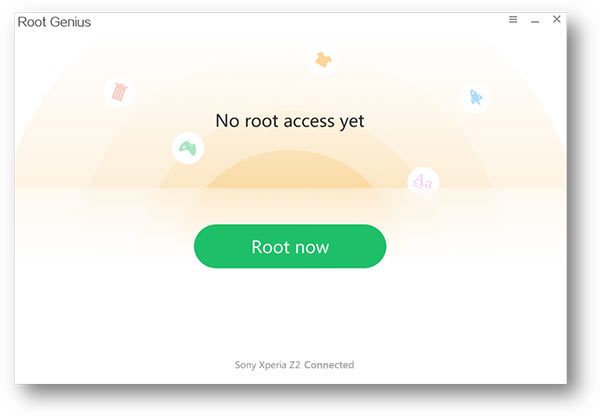 Wait minutes, and your phone will be rebooted after being rooted successfully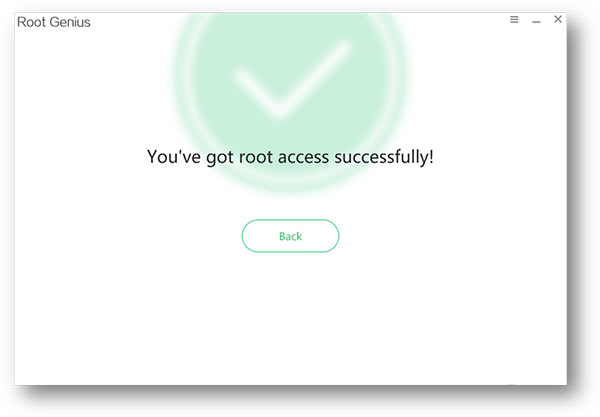 Generally speaking, Root Genius is wonderful software to root Android phones. You can clearly follow these simple steps to root your phone. After successful rooting, you can use other third-party tools like Andorid data recovery to get back waht data you lost or uninstall stock apps.
Root your Android phone with Root Genius on Mac
For Mac users, there's few reliable and safe root tool on the market up to now. To ensure the security of your data, we highly recommend you to root on Windows computer before scanning and recovering on Mac.
Click here to learn how to root Android on Windows.