An Ultimate Guide to Root Samsung with One Click Root
How to root Android device? We are familiar with the word "rooting". But do you know the exact meaning of rooting? In this article, we will give you an introduction of rooting as well as its benefits and risks. There are many rooting software for you to root Android device, such as One Click Root, Kingo Root, KingRoot and so on. And which one should be better for you? For Samsung device, One Click Root may be better for you. You could learn from this article to root your Samsung with One Click Root.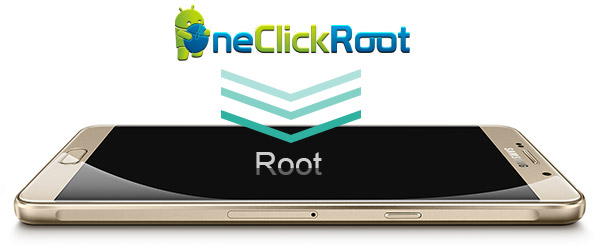 What is "Root"?
Rooting enables Android users of devices operating the Android to attain root access. Simply speaking, you can have the authority to install or uninstall any app after rooting your device.
Benefits and risks of rooting
✔ Rooting will void the warranty of your device.
✔ You will have the authority to remove some apps you don't need or programs preinstalled.
✔ Rooting will help to stop some pop-up information or ads of some apps.
✔ Rooting would not brick your phone if you obey the rooting rules step by step.
✔ Some unexpected mistakes and accidents may happen though rooting is safe. For example, your device may be bricked if the phone runs out of the battery. Some significant system files may be deleted, which will result in system errors.
What should do before rooting your Samsung Android phone with One Click Root
Back up your device data
In case of unexpected mistakes or accidents during the process of rooting, you'd better make backup of your phone files, photos, videos and contacts. In that case, we would like to recommend you the best convenient Android backup software.
Ensure your phone is fully charged
Running out of battery may cause your device bricked, so you'd better fully charge your device at least 80% before rooting.
Choose a reliable root tool
Here we recommend One Click Root. One Click Root is the fast, easy and secure rooting software, which supports thousands of devices. It can root your Android device with one click.
Steps to root Samsung with One Click Root
Root Android phone with One Click Root on computer
Step 1 Download One Click Root
Click the download link of One Click Root for PC, download and install this software to your computer.
Step 2 USB debugging
On your Phone, debug USB mode by tapping "Settings" > "Develop options" > slide "USB debugging" to ON, which will enable you to manage your phone without notifications on computer.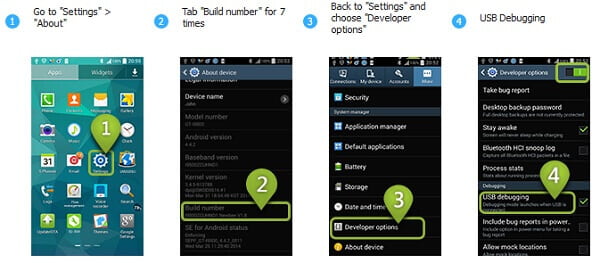 Step 3 Connect Samsung to PC
Plug your Samsung phone to computer with USB cable, and One Click Root will detect your phone automatically.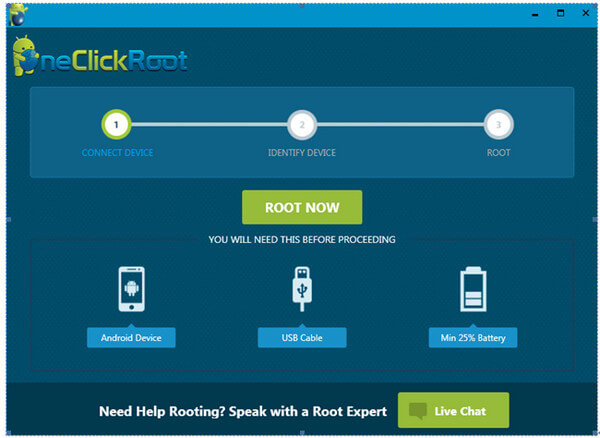 Step 4 Root Samsung with One Click Root
After One Click Root detects your phone successfully, click "ROOT NOW" to start to root your phone. The rooting process will take minutes. So you just need to wait patiently.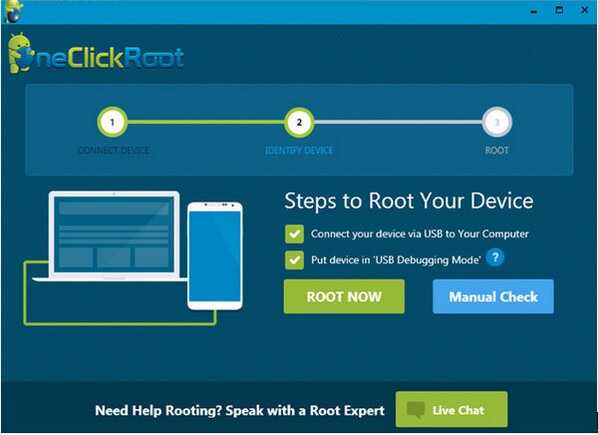 After rooting process succeeds, your phone will reboot automatically.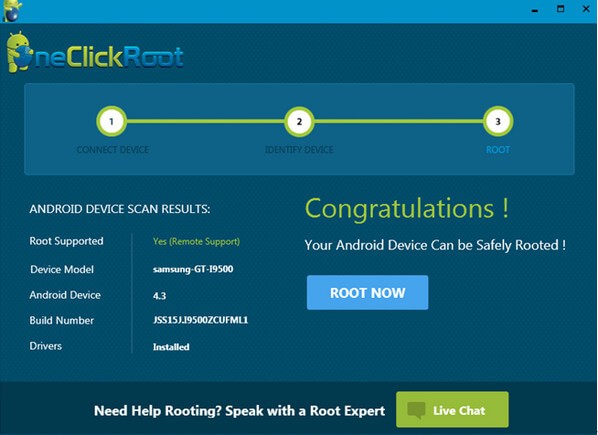 Root Samsung with One Click Root on Mac
Because there are some uncertainties and insecurities with rooting on Mac, so if you are using Mac computer, and you want to root your Samsung on Mac, we suggest you root Samsung devices on Windows.
In this article, we mainly show you how to use One Click Root to root Samsung Android devices. If you want to learn more about how to root Android, welcome to tell us.