How to Root Your Samsung Galaxy S6/S6 Edge with PingPong Root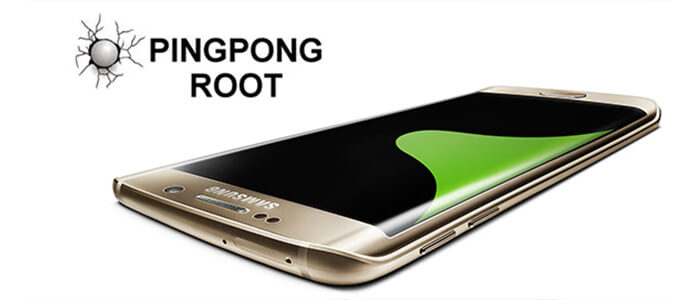 Samsung phones are regarded as the most sincere smart phones to protect your data. However, it also get many of you stuck in one question that how to root my Samsung? In this guide, we will specially share you the way to root Samsung S6 and Samsung S6 Edge with PingPong Root. If you want to root your Samsung S4, S3 or S2 with a different Android version, you could go to Root Android with 1 Click Root.
Part 1. Questions about rooting Samsung Galaxy S6/S6 Edge
What is rooting Android
Rooting Android is the process of overcoming the limitations on Android device and giving users the privileged control of phone's system. Rooting can offer users the authority to manage system applications/settings and perform any operation according to personal need.
Why root Samsung phone
Samsung Galaxy S6 and S6 Edge have attracted lots of funs. However, like other Android phones, Samsung also have been pre-installed many apps and services when users get the new phones. Sometimes those apps and services may mean nothing for you, and you want to drag them out of your Samsung phone. But Samsung say no. How to solve this problem? Root your Samsung S6/S6 Edge with a rooting tool.
Another dilemma you may meet is that when you want to recover deleted SMS on Android or want to retrieve deleted Android photos with some third-party recovery tools, you will find those programs require you to root your phone first to get more permission for continuing the next process. Under such circumstance, you have to root your Samsung phone to recover data.
Advantages of rooting Samsung phone
1. You can have the complete control of your Samsung Galaxy S6/S6 Edge and the ability to manage system files and applications.
2. You can uninstall the unnecessary applications to free up your Android phone.
3. You can unlock and delete stubborn file directly, and improve the security of your phone by killing the viruses and Trojan files.
4. You are able to recover the deleted/lost data on Samsung phone with third-party recovery software.
Is rooting Samsung phone safe
Rooting Android phone means that you will put your phone open to any app. And any app will become the "administrator" of your phone to visit or modify your private information. Wow, it sounds risky of rooting Android phone. However, rooting Android phone is safe enough if you take care of installing apps.
During the rooting proces, if your phone is get stuck in Android recovery mode, then no worries, you can kick it out with this step-by-step guide.
Why choose PingPong Root
When you fail to recover deleted contacts on Samsung because of the failure of rooting, you will go to Google for rooting tools. But it is hard to pick out from various rooting tools. Why you can choose PingPong Root as your choice? PingPong Root is the professional rooting tool designed for Samsung Galaxy S6 and S6 Edge. Without wiping our data on your Samsung Galaxy S6/S6 Edge, it could get your phone rooted safely and easily, and you could manage Samsung freely. For getting a higher success rate of rooting, you could refer to the following Samsung S6/S6 Edge version to find if your phone is in it. If you do not know what your phone version, you can go to "Settings" > "About device" on your phone to check the version.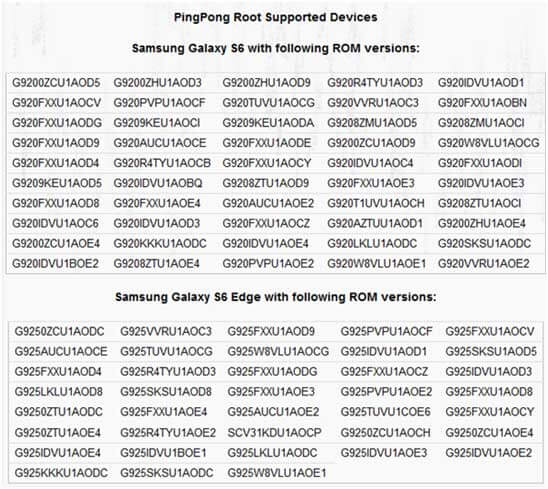 Part 2. How to root Samsung Galaxy S8/S7/S6 with PingPong Root
How to root Samsung Galaxy S6/S6 Edge with PingPong Root
After learning about the basic knowledge of rooting Samsung, you could follow the description below to start to root your Samsung Galaxy S6/S6 Edge with PingPong Root.
What you need is your Samsung S6/S6 Edge phone and USB cable.
Just in case of accident that causes your phone data to be lost, we highly recommend you back up your phone messages, contacts, photos, etc. to PC.
1Download PingPong Root
Go to PingPong Root's web page, https://pingpong-root.com/, download its apk file to your PC, and use the USB cable to transfer it into your Samsung S6/S6 Edge phone.
2Make "Unknown Sources" ON
On your phone, tab "Settings" > "Lock Screen and security" > "Unknown Sources" to ON.
3Install PingPong Root and Super SU
On your phone, find the apk file, and tab it to "Install" > "Install ANYWAY". After installing it, ther is a note that reminds you to install SuperSU, and until all installation has been finished, you could start to root your phone.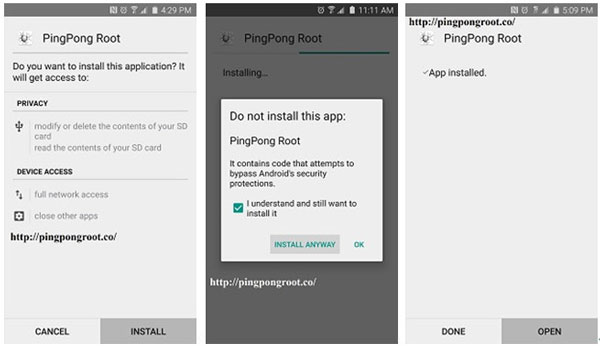 4Root Samsung Galaxy S6/S6 Edge
Launch PingPong Root after all installation, you will find two buttons display on the app, "Get root!" and "Download Data".
If your Samsung Galaxy S6 Edge is in the list of "Download Data" (as the attached image), then you should tab "Download Data" first, and then hit "Get root!" to start to root your phone.

The whole rooting process will take some time, and after finishing that, tab "OK" to reboot your device.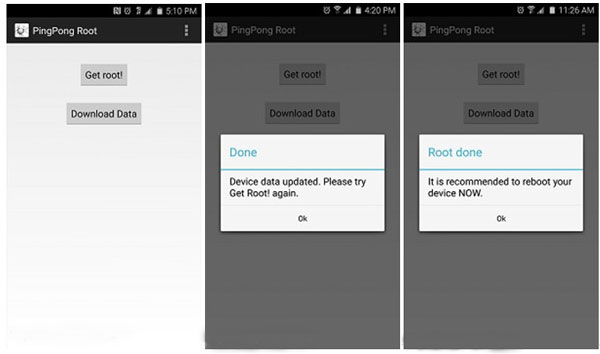 5Update SuperSU binary
After rooting your phone, go to SuperSU, tab "CONTINUE" in the pop-up reminder that "The SU binary needs to be updated. Continue" > "NORMAL" > "REBOOT".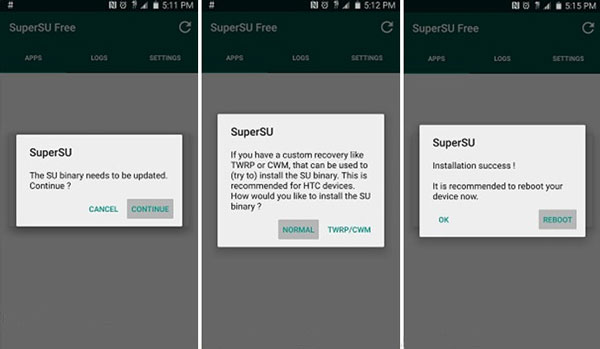 6Check rooting
After rooting your phone, if you are not sure your phone is rooted successfully, you can try to uninstall pre-installed apps for checking. Alternatively, you could download "Root Checker" to get the confirmation by seeing the image as following: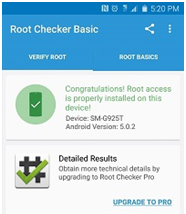 Advice for failure of rooting your phone
If your phone is device keeps rebooting repeatedly, you can do as the following tips:
◆ Clean up background process before running PingPong Root.
◆ Turn on airplane mode after clicking Download Data.
◆ Back up your data with Android backup apps and then run factory reset
◆ Avoid doing anything else when wait appears.
The above procedures of rooting your phone may be a little longer for you. But it is the best way to root your Samsung Galaxy S6/S6 Edge exactly. Then you can uninstall any apps as you like. Also you are capable of recovering Samsung data from internal storage as you wish.
Part 3. Root Samsung Galaxy S6/S6 Edge with PingPong Root on Mac
For Mac users, if you want to root your Samsung phones on Mac, you will find it difficult to do that. Because ther are few root tools in the market. So we suggest you to root your Samsung devices with PingPong Root on PC.
Click here to root your Samsung with PingPong Root on Windows.