How to Root Android without Computer
During the daily usage of your Android phone, you must want to root your Android phone from now and then. After rooting, you can delete any unwanted pre-installed application and exploit all the possibilities of your Android device.
But like most of the Android users, you also prefer to root Android without computer. So here comes the question, how to root Android without PC?
This post will cover all the useful information of rooting. What's more, it will provides you with a simple and safe way to root Android phone without computer.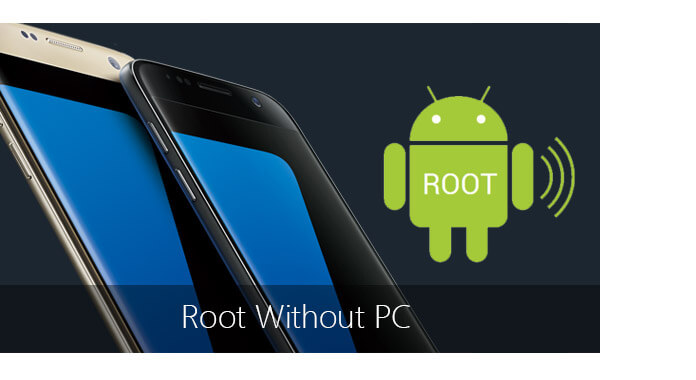 Benefits and disadvantages of rooting Android
Rooting is the most important part of the beginning to get more privileged control of your Android device. However, before rooting your Android phone, you should learn more about the benefits and disadvantages of rooting Android.
Benefits:
Custom your Android device freely and flash a custom ROM and Kernel. Rooting Android will give you more privileged control of your phone. You remove the applications or files pr-installed by the manufacturer, and install the latest Android OS and fantastic apps.
Risks:
The developers disallow you to root your Android. If you choose to root your Android, your device will lose the warranty. A failure rooting may cause your phone turn to brick. Moreover, your Android may unable to update.
For avoiding any data loss during the Android phone root failure, you are suggested to backup Android phone firstly.
Android Data Backup and RestoreGo To Mac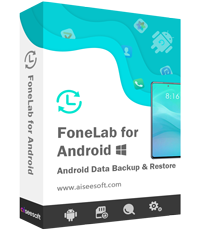 One-click to backup and restore data on Andorid phone before rooting.
Various data types are supported like contacts, messages, gallery, videos, audio, documents, etc.
It supports encrypt backup to protect your private and important data.
Compatible with LG, Samsung, Motorola, Huawei, Xiaomi, etc.
Steps to root Android without PC
After you know about the risks of rooting Android, you should pay more attention to choose the rooting tool. Here we sincerely recommend the powerful Kingo Root to help you directly root Android on your device. You can follow the next guide to root Android without computer.
Step 1 Download Kingo Root
Free download Kingo Root app on your Android phone.
Step 2 Install KingoRoot on Android
If you didn't check "Unknown Sources" in Settings > Security, then during installation, you will get a prompt "Install blocked", stating that "For security, your phone is set to block installation of apps obtained from unknown sources". Just follow phone instructions and install Kingo Root on your device and allow installs from "Unknown Sources".
Step 3 Root Android without computer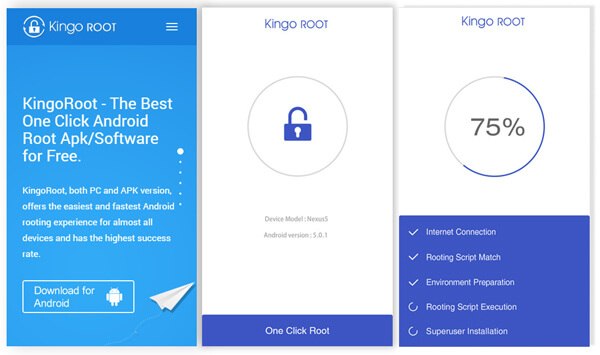 Launch "Kingo ROOT" app, tap "One Click Root" button to start to root Android without PC. Waiting for a few seconds till the result screen appear. You may get a fail rooting result at the first time, you are highly recommended to try several times.
Part 3: 3 More Rooting APKs for Android without PC
1. Framaroot
Framaroot is one of the best Android rooting software without PC. It is more technical than Kingo Root. It is a totally free app with built-in Unroot feature. You can use this app to execute root and root newer Android devices. The drawback of Framaroot is that it does not support old Android versions lower than Android 4.0.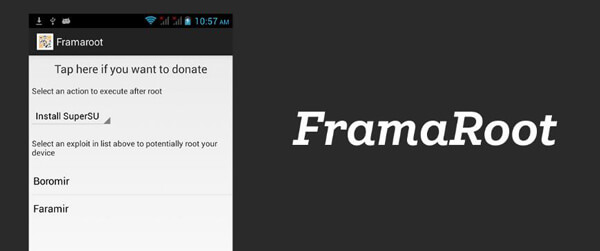 2. KingRoot
KingRoot is a great app for rooting Android phone like Samsung, HTC, Sony, etc. The special feature is that it is preinstalled Purify tool to save battery and optimize the device. It also has Unroot option. However, the bad thing would be that KingRoot needs good network connection to root Android without computer.

3. TowelRoot
TowerRoot is one of the most popular root apps for Android. It has strong ability to gain Superuser access on Android devices. This app can root Android phones in a few seconds without using a computer.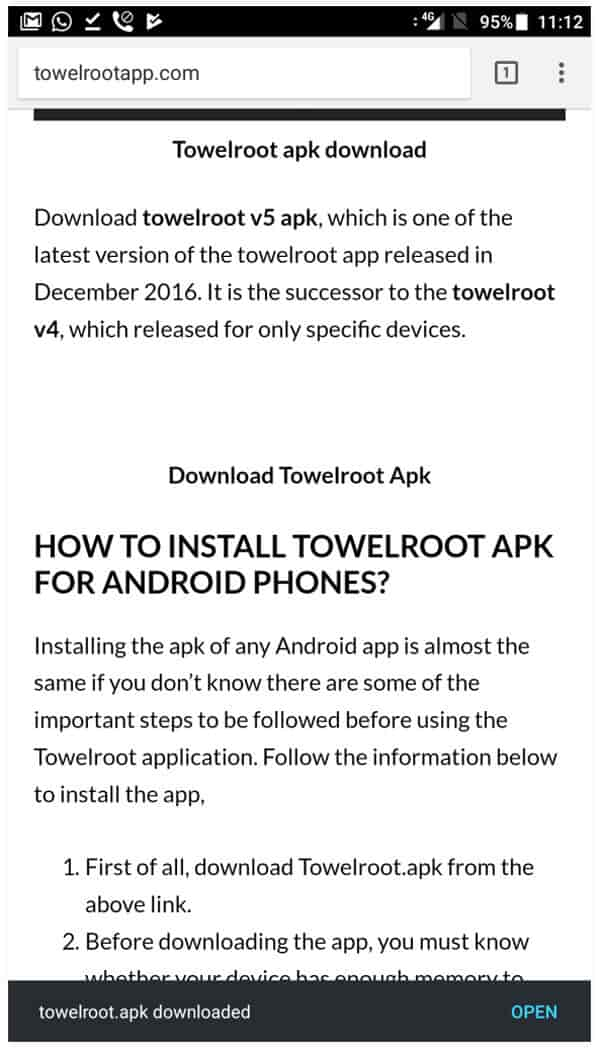 For more rooting APKs or apps, check here.
In this article, we mainly talk about how to root Android without computer. If you want to root directly on your Android device, you can rely on the easy-to-use Kingo Root. It can help you root Android without PC.