How to Root Android Phone and Tablet with Best Root Apps/APKs
How to root Android?
No matter what phone you use, one thing you always find that there are many unwanted applications pre-installed on your phone. For uninstalling those useless apps, you have to attain privileged control on your phone. For iPhone, you can jailbreak. However, for Android users, how do you do that? The answer is to root Android. How to root Android? Rooting Android phone or tablet needs the professional root apps on PC or APKs on your Android phone. This post will show the best 10 apps for you to root Android.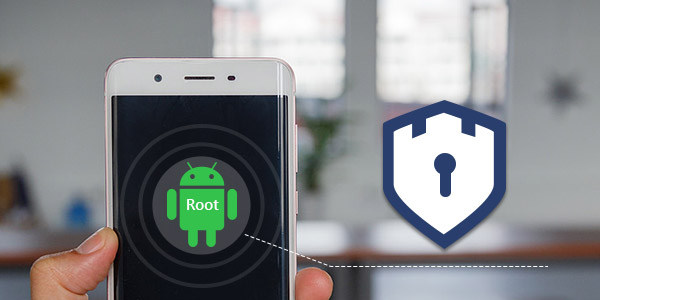 What is rooting Android
Before you start to root your Android phones, you need to know what is rooting Android and why and how to root your Android phone.
Rooting is the process of allowing users of smartphones, tablets and other devices running the Android mobile operating system to attain privileged control (known as root access) over various Android subsystems.
Rooting is often performed with the goal of overcoming limitations that carriers and hardware manufacturers put on some devices. Thus, rooting gives the ability (or permission) to alter or replace system applications and settings, run specialized applications ("apps") that require administrator-level permissions, or perform other operations that are otherwise inaccessible to a normal Android user.
The above description is from Wikipedia's explanation about Android root. So here you can get the general idea that rooting enables you to get more access to uninstall/install what apps on your phone, and manage your phone as the administrator.
So for rooting your Android phone, you need the professional root tools to help you. Keep reading to select the best root app for your Android device.
What are benefits and risks for rooting android
Rooting means you have the full control over your Android phone, so that you are able to view and modify the deepest settings, manage default apps based on your need. You can also access some special apps that are designed only for rooted phone, which include robust security, ad-blockers as well as backup utilities. In addition, you can personalize your Android phone with preferred color and themes, and even customize button configurations.
Risks are minimal, but you should still consider whether to root Android or not. As rooting Android will void your warranty, lose access to certain apps like Google Wallet and even ruin your phone(It is rare to happen).
It's important for you to weigh these risks against the benefits you could have by rooting Android.
What to do before you root Android
Before you root Android, there are some things you should do. Depending on the APK or custom ROM you choose, the rooting process can be different, though the basics remain the same. Many of the ways need you to unlock your bootloader or install the Android SDK. Based on which Android phone you have, unlocking the bootloader is a little different. The common way is by using the OEM unlock command. And different Android brands like Motorola, HTC, LG, Huawei, Sony, you can also find other way to unlock the bootloader. But pay attention, unlocking the bootloader on your Android phone may affect the warranty status. Backup Android before bootloader unlock.
What best root apps and APKs can you choose
How to root Android is depending on which Android phone you have. There are more 12,000 different Android models from a large number of different manufacturers. Some phones are easy to root, while some of them are not. Usually, adopting a commercial rooting app is a good choice. Some of root apps can root Android phone with or without a computer. But these apps can't root every phone. Here we list top 10 best root apps for you to choose from.
1. Adblock Plus for Android
Price: Free
Platform: Android version 2.3 and higher
Features:
✎ Adblock Plus for Android is an Android app that runs in the background and filters ads, using the same filter lists as the Adblock Plus browser extensions.
✎ Adblock Plus for Android works fine with current versions of Firefox for Android.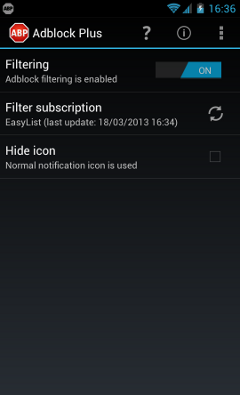 2. Xposed Framework
Price: Free
Platform: Android 4.0.3 up to Android 6.0
Features:
✎ It customizes the phone to the fullest without installing custom ROMs.
✎ As all changes are done in the memory, you just need to deactivate the module and reboot to get your original system back.
✎ Multiple modules can do changes to the same part of the system or app.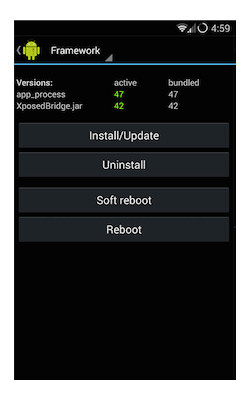 3. Kingo Root
Price: Free
Platform: Windows, Android
Features:
✎ KingoRoot, both PC and APK version, offers the easiest and fastest Android rooting experience for almost all devices and has the highest success rate.
✎ Check here to learn how to root your Android phone with KingoRoot.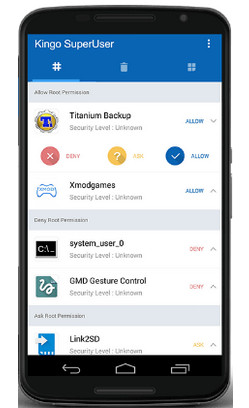 4. KingRoot
Price: Free
Platform: Windows, Android
Features:
✎ It can work on almost all Android devices from 2.x to 5.0.
✎ This root tool also enables you to unroot your Android phone by clicking the button of the menu of KingRoot.
✎ Check here to get to know how to root Android with KingRoot.
5. One Click Root
Price: Free
Platform: Windows
Features:
✎ It can repair annoying Android problems and fix your device.
✎ It speeds up your device and free up space by uninstalling bloatware.
✎ It instantly gains access to your Android's root files and unlock its full potential.
✎ Check here to know the process of rooting Android phone with One Click Root.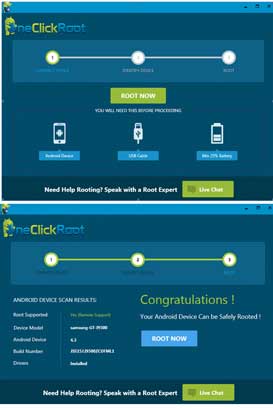 6. iRoot
Price: Free
Platform: Windows, Android
Features:
✎ Custom ROMs completely change your Android skin. You can even install the latest version of Android before everyone else.
✎ iRoot roots nearly all brands of Android devices with Android 2.3 to 5.0.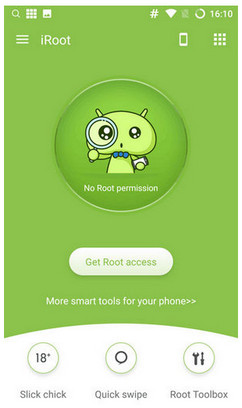 7. Root Genius
Price: Free
Platform: Windows, Android
Features:
✎ Root Genius windows version doesn't require any installation on your PC. Simply download rootgenius and run while your device connected to the PC.
✎ For downloading Root genius APK, you have to make the direct download on Android smartphones.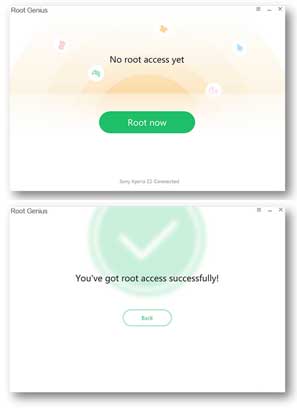 8. SuperSU Pro
Price: $3.75
Platform: Android
Features:
✎ This root tool temporarily unroots or completely unroots your phone or tablet.
✎ It can grant or deny access to root whenever any app requests root access.
✎ You cannot lock the app with a pin, but this feature is added in the Pro version which is a paid version of this app.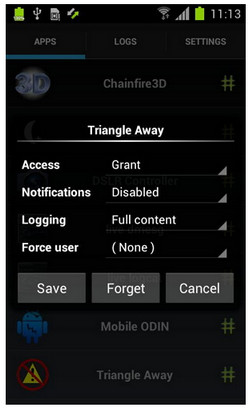 9. TunesGo One Click Root
Price: $49.95
Platform: Windows
Features:
✎ This rooting tool is fully compatible with Android 2.1 and up, and Android 6.0 included.
✎ It lets you back up and restore Android data before or after making Android root.
✎ For other functions you want to use, you have to root your Android phone or tablet in one place.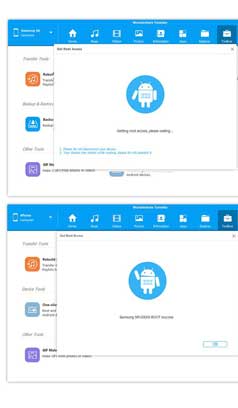 10. SRS Root
Price: Free
Platform: Windows
Features:
✎ It allows you root your Android versions from 1.5 through 4.2 currently.
✎ This root software contains multiple exploits for root wide span of Android device.
✎ SRS root have options to unroot the device in one click, too.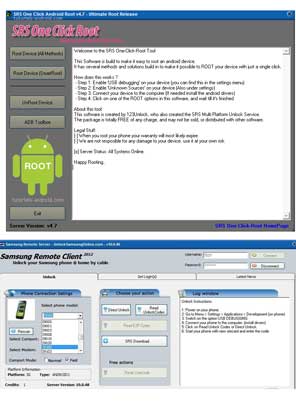 How to root your Android phone
After learning the above Root apps and APKs, you can select the best one rooting app or APK to start to root your Android phone. Here we only take one of the above apps, SRS Root, for example to show you how to root your Android phone on PC. But SRS ROOT is not appliable to all Android phone.
Preparation before you make an Android root
1. Making Android root is not 100% guarantee for every rooting tool, so you had better think twice before that.
2. If the accidental root Android failure, you may lose your data on Android phone, so before you root Android, you had better get the Android backup app to back up your Android data.
3. Rooting your Android phone is the long process, so you must make sure your phone is full of battery, and the battery is not less than 50% - 70%.
Steps of rooting Android phone with SRS Root
Step 1 Install SRS Root on your PC
Download SRS Root from the official website. Then click the setup wizard and install SRS Root on your computer. It is recommended that you close all other applications before continuing.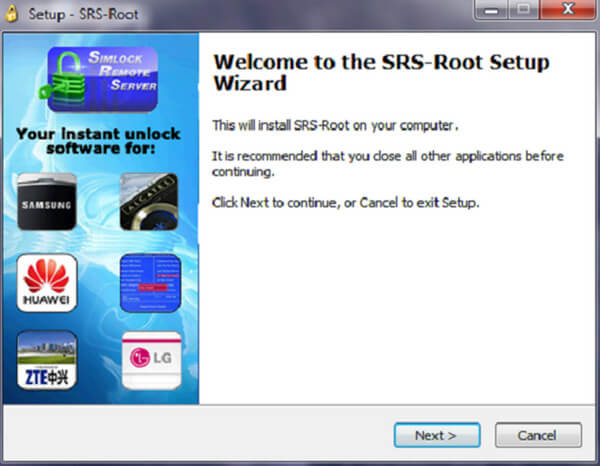 Step 2 Connect Android to PC
Run SRS Root on your PC. Then connect your Android phone to the computer via USB cable. Enable USB debugging on the phone so that the device can be detected.
Step 3 Root Android with SRS Root
Here you will get three choices. Among them, you can choose to Root Device permanently and Root Device temporarily. Then the program will root your Android.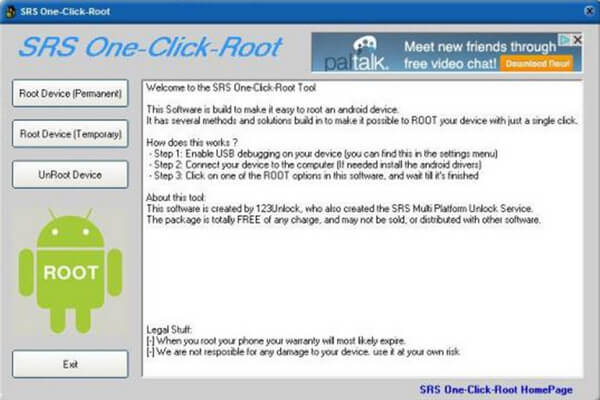 After making Android root successfully, you can uninstall any pre-installed apps by the phone manufacturer to free up more storage. Moreover, you can also download and use other apps for managing your Android life easily.
How to root Android (Samsung Galaxy)
Samsung used to provides "developer editions" of their popular phone models, but the sales were not good. To root Samsung galaxy phones, you can use Kingo Root, Root Genius, One Click Root, iRoot, KingRoot, PingPong Root, etc. These root app will let you easily root Samsung Galaxy.
How to root Android (LG)
To root LG phone, you can use root app like Stump Root, iRoot, One Click Root, KingoRoot, etc. The LG G5 is simple to root, and you can even root android without PC with either commercial rooting apps or apps from Android enthusiasts. You may encounter security questions any time when you use software like One Click Root or Android Root Pro, so you'll need to read everything before you root Android.
How to root Android (HTC)
Many HTC models can be bootloader unlocked via the HTC Developer program. The HTC 10 is simpler to root, and you can use HTC Developer tool to unlock the bootloader. There are also commercial services like Sunshine or One Click Root that can root your phone. Read more if you are interested in how to root HTC One M8.
How to root Android (Motorola)
Motorola also offers its liberal bootloader unlocking policy. Using the standard Android SDK tools, you can unlock Motorola bootloader and flash a custom recovery image. If your Motorola phone model isn't included under their bootloader unlocking policy, you may use to MOFOROOT or One Click Root to help you root Motorola phone. How to root MOTO X?
How to root Android (Google Nexus)
How can you root Nexus 5/6/7? For Google Nexus phone users, Google not only supports unlocking phone bootloader, they also offers you enough instruction on how to unlock Nexus bootloader. To root Nexus, you may need one software named Nexus Root Toolkit.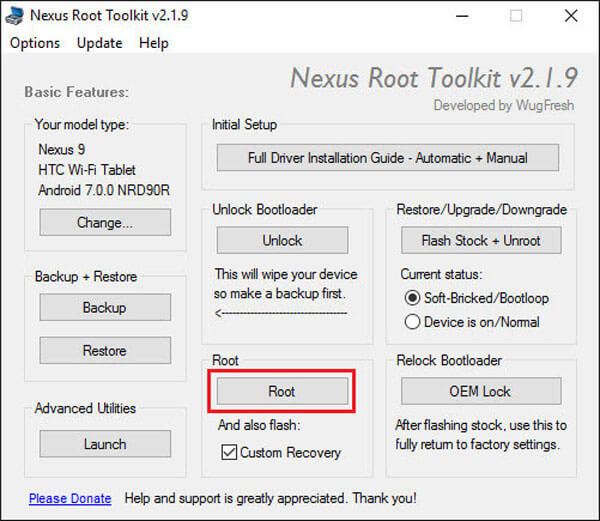 In this article, we mainly show you how to root Android. Rooting has its benefits and risks, so you should think it over to root Android. For Android backup before rooting, we would like to recommend FoneLab - Android Data Backup & Restore. With this program, you are able to back up Android data in one click or selectively back up Android files.