Guide to Convert MTS to iPad 5/4/Pro/Air/Mini 1/Mini 2/Mini 3/Mini 4
When you shot some pictures with Sony HDC350, you might want to import some files to iPad and watch them on the plane, but the MTS file produced by your camcorder cannot play on iPad at all, how to convert MTS to iPad?
Technology is changing our life and makes everything convenient. It is true that we can record important moments with our digital camcorder easier than ever before. But playing these files on mobile devices is another story since MTS files are not readable on iOS. Don't worry! You can learn how to convert MTS to iPad with original quality in this tutorial.

How to Convert MTS to iPad
Part 1: What is MTS?
MTS is the file extension of high definition digital video that created by camera recorder format, AVCHD. It was released by Sony and Panasonic in 2006. The biggest benefit of MTS files is high quality, resolution up to 1900x1080 pixels. But the downside is that you cannot view MTS files on mobile devices, like iPad.
MTS vs. M2TS
If you have a Sony or Panasonic camcorder, you may get two true AVCHD file formats, MTS and M2TS. They are file extensions for the same AVCHD and contain high definition videos, but there is slight difference between them:
1. M2TS is generated for HD Blu-ray BDAV format. It uses MPEG-2 codec. On the other hand, MTS contains raw footage of AVCHD videos. In this respect, MTS vs. M2TS is the same with camcorder vs. Blu-ray.
2. M2TS files is supported by more devices, like Sony PlayStation 3s (PS3), Sony Bravia TVs, Western Digital WDTVs, Xtreamer media player, Amkette FlashTV HD Media Player and Panasonic Viera TVs.
3. Both M2TS and MTS files are readable in Windows Media Player with extra codec package, VLC, 5KPlayer, and Apple's Final Cut Pro, and not supported by mobile devices.
Note: Sometimes, if you import MTS files from camcorder to computer, they will become files with .m2ts extension.
Part 2: Best Method to Convert MTS to iPad
Now, you should understand what MTS is, but you still need a tool to convert MTS to iPad. Here you may face two problems. First of all, the quality of MTS files may be damaged during the process. And, you need iPad video converter. From these points, we recommend Aiseesoft MTS to iPad Converter.
Its key features include:
How to convert MTS to iPad without quality loss
Step 1 Import MTS to MTS to iPad Converter
Download the installation file of MTS to iPad converter and follow the onscreen assistant to install in on your PC. There is a dedicated version for Mac. Connect your camcorder to the computer and import the MTS files to your hard drive. Open the video converter application, click the "Add File" menu, and import MTS files into the application. Or you can drag and drop the files into the home window directly.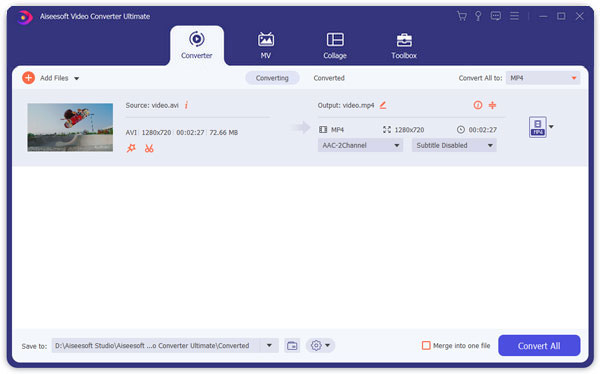 Step 2 Select iPad as the target device
Select all MTS files on library area by checking each box. Then move to the bottom area, click on the "Settings" button to open the Settings window. Firstly, click and expand the "Profile" dropdown menu and select your iPad model. Then drop a location to save the results in the "Destination" field. By default, the parameters will be preset automatically. If you want to create personalized videos, bitrate, sample rate and other parameters are available on the Settings window.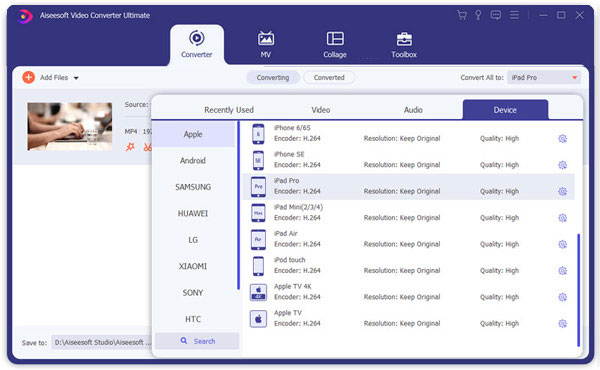 Step 3 Enhance video results for playing on iPad
To optimize video quality, click "Enhance" on the top ribbon and you will be taken to Video Enhancer window. Here offer four modes, "Upscale resolution", "Optimize brightness and contrast", "Remove video noise", and "Reduce video shaking". Try multiple modes until you get the satisfied effect. Then click on the "Apply" button to confirm it. And you can edit the videos further with the Video Editor. Finally, transfer the videos to your iPad and enjoy them at any time.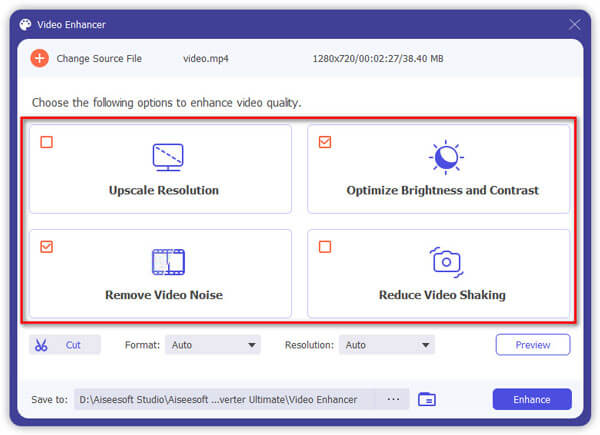 Step 4 Convert MTS to iPad without quality loss
Click on the "Convert" button to start compiling MTS files to videos playable on iPad. When it is done, you will be notified and you can decide the next action, such as preview video results, go back to the home window and play the videos with the video player.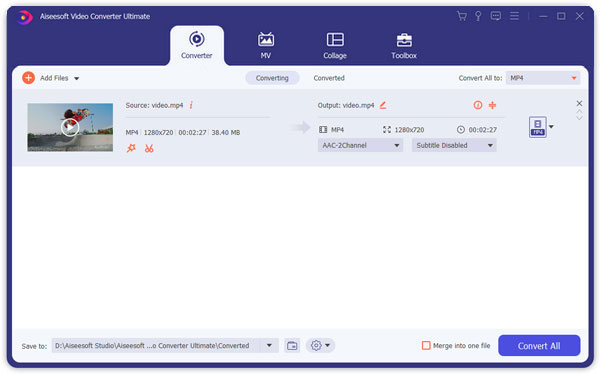 Part 3: How to transfer MTS to iPad
Once you convert the MTS files to iPad compatible format, you should know the method to sync the files to iPad. FoneTrans iOS Transfer should be the program you need to take into consideration. It is more than an alternative to iTunes.
Step 1 Download and install the latest version of FoneTrans on your computer. Connect iPhone to your computer via the USB cable. interface
Step 2 Click the "Media" option on the left of the main interface. Now you can click the "Add" button to add the convertd MTS files into iPad. Check the items and click "Open".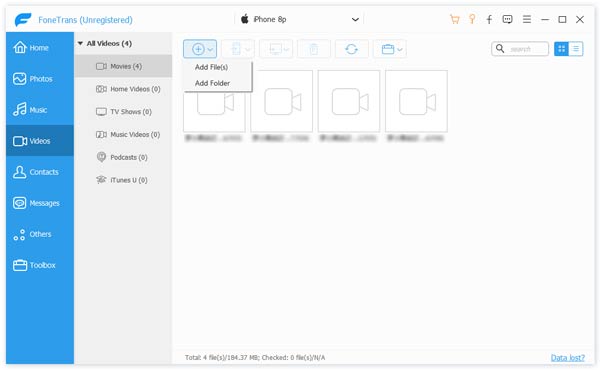 By doing this, you can transfer music, movies, music videos, TV shows, photos and other multimedia files to your iPhone, iPad or iPod. For music and photos, you can add them to playlists and albums to better manage them.
Part 4: FAQs of converting MTS to iPad
What kind of formats does iPad support?
The iPad supports most commonly used video formats, including H.264, MP4, M4V, MOV, MPEG-4 and M-JPEG.
How do I play MTS files on my iPhone?
First, you need to use Video Converter Ultimate to convert MTS file to iPhone supported file format. Then you can transfer the converted MTS file and play it on your iPhone.
Can I upload MTS files to social media platforms?
Yes. Though MTS files are not supported to upload to most social media platforms officially, you can convert MTS files to MP4 format then upload them.
Conclusion
We use digital camcorders to take videos here and there, record memorable moments, lectures, events and more. And it is convenient to transfer digital videos to computer and play or edit. As we going into the mobile world, people prefer to enjoy everything on their mobile devices, like iPad. But the problem is that MTS files are not playable on mobile device. The alternative solution is to convert MTS to iPad. The biggest advantage of MTS is high quality. And if you want to get the best audiovisual experiences on iPad, we suggest you to try Aiseesoft MTS to iPad Converter. It is not only easy to use but also able to convert videos for iPad without damaging video quality.