Way 1. How to Clear Cache and Cookies on iPad (Easiest Way)
No matter what app cache, you need to clear them one by one or totally uninstall app. You can't take it as the best way to clear app cache on iPad. Here we sincerely recommend an easy-to-use iPad cache cleaner to help you delete the temporary memory. You can follow the next steps to clean your iPad cache.
It is the most powerful utility to erase all iPad contents and settings permanently and thoroughly without recovery.
Before you follow the steps below to wipe iPad cache permanently, you had better backup iPad data firstly.
Step 1:
Free download and install this iPad Eraser on your computer. Then connect your iPad to computer via USB cable and run this iPad cache cleaner on your computer.
Wait for a few seconds, and the program will detect your iPad automatically.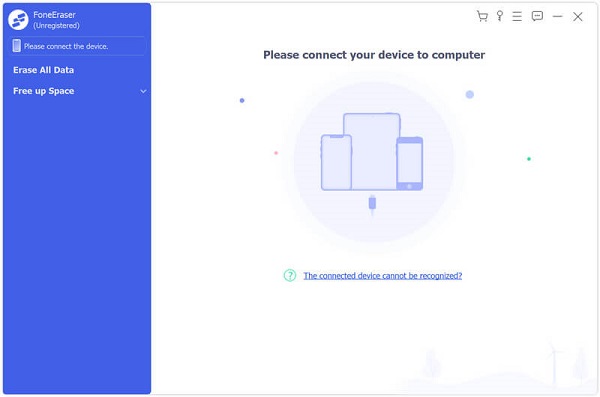 Step 2:
You are able to choose one erasing level from Low Level, Middle Level and High Level according to your needs. After choosing the erasing level, click the Start button.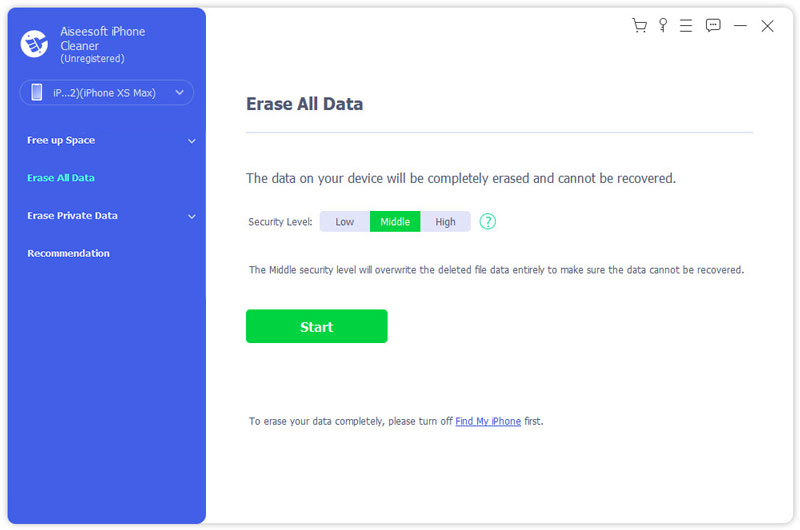 Step 3:
Enter 0000 and click Erase to confirm the erasing. This powerful software can wipe out all caches on your iPad with a few minutes.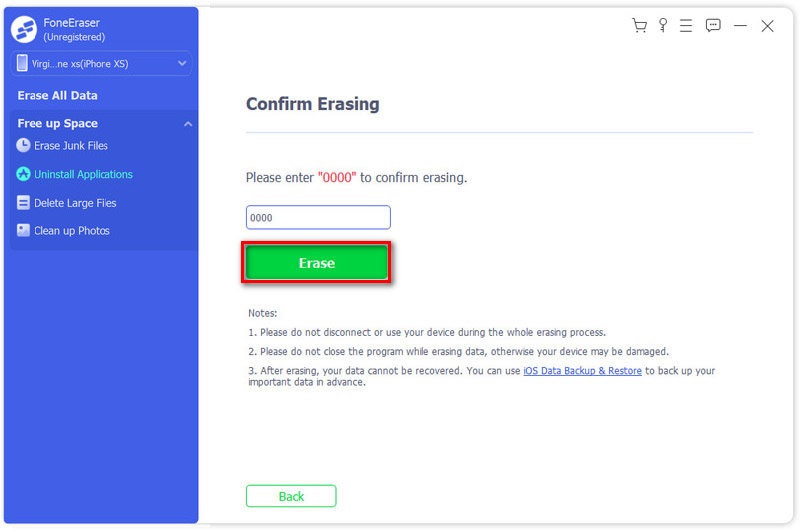 This program can easily and permanently clear all cache data on your iPad to make your iPad like a new one. So, you need to be careful when using it to clear cache. If you want to erase all settings and content on your iPad, this iPad Eraser should be your best choice.
Way 2. How to Clear Browser Cache on iPad (Safari/Chrome/Firefox)
Cache allows browsers to quickly load a previously visited page without reloading the entire page and its images from the Web server. While it's still quite necessary to clear browser cache frequently. Here we only list the most popular browser apps, Safari, Chrome and Firefox to show you the detailed steps.
How to Clear Safari Cache on iPad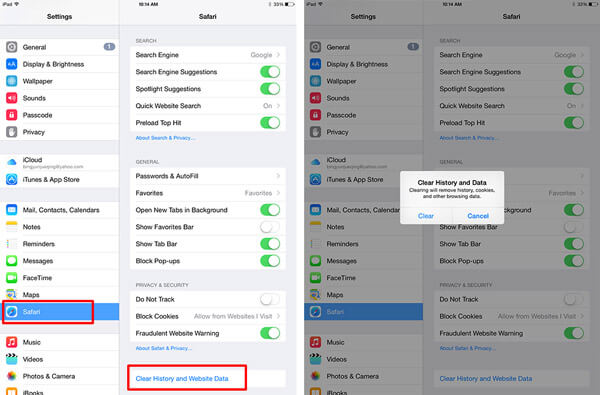 Step 1:
Unlock your iPad, tap Settings.
Step 3:
Scroll down to the bottom to find and tap Clear History and Website Data to clear Safari cache data on iPad.
Step 4:
Tap Clear button to confirm the operation.
It will take some time to clear cookies, history, and cache from Safari on your iPad. After that, you can use Safari as the brand new one.
How to Empty Chrome Cache on iPad
Step 1:
Open Chrome app on iPad, tap More at the top right corner > Tap History > Clear browsing data.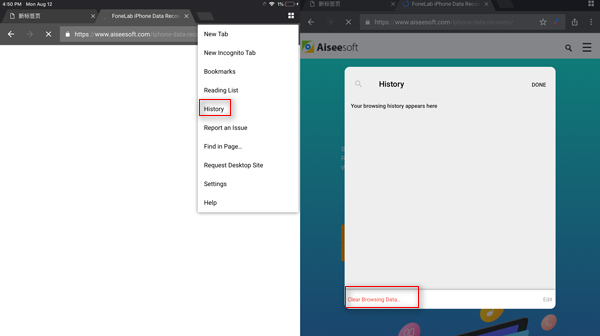 Step 2:
Checkmark the option of "Cached images and files" > Tap "Clear browsing data" to empty iPad cache immediately.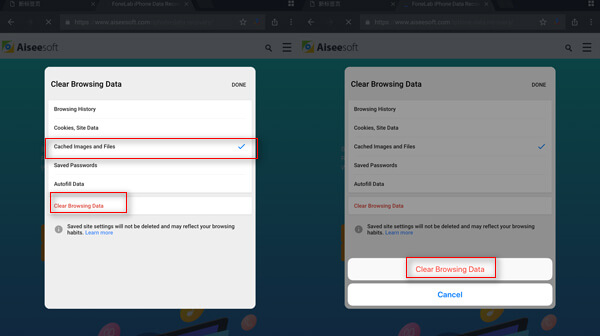 If you also want to erase the cookies, just also checkmark the option of "Cookies, site data".
How to Wipe Firefox Cache on iPad
Step 1:
Run Firefox app on iPad. Tap the menu button at the bottom of the screen and select Settings > Select Data Management under the Privacy section.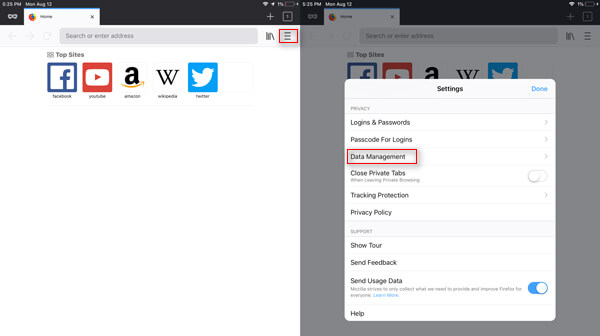 Step 2:
Toggle Cache and hit "Clear Private Data". Then just confirm your operation to start clearing cache on iPad.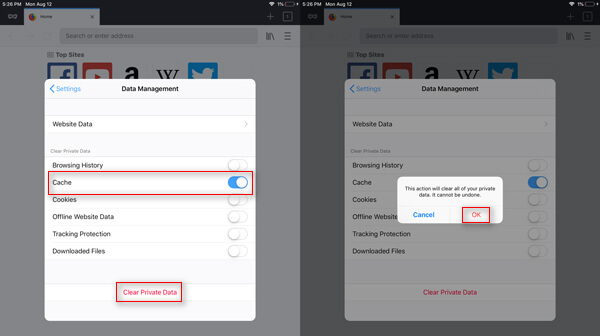 Way 3. How to Clear App Cache on iPad (Facebook, Instagram, WhatsApp)
There is no option for to clean a particular app cache on iPad unless you uninstall the app completely from your device, or unless a developer specifically included the app cache cleanup feature into the app.
Here we take how to clear Facebook app cache as an example. Apart from Safari, Facebook is another big cache holder. Facebook enables you to share photos, videos, music, and many other files. So the cache on Facebook can easily take a larger storage space. You can clear the app cache with these instructions: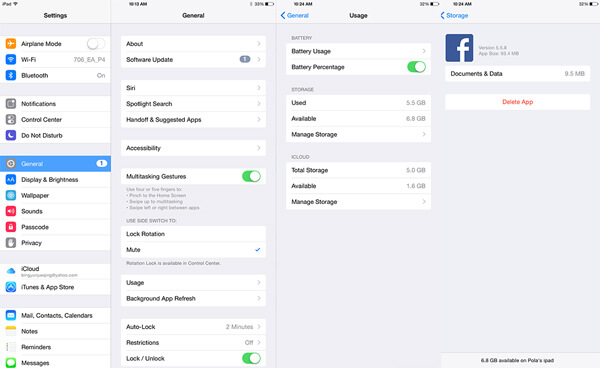 Step 1:
Unlock iPad and tap Settings > General > Storage & iCloud Usage.
Step 2:
Select on Manage Storage.
Step 3:
Tap on Facebook icon and then tap on Delete App button.
In this way, you will can remove all of its documents, data and cache from your iPad completely. Of course, you need to reinstall Facebook to your iPad again.
Way 4. How to Free up Memory to Clear Cache on iPad
iOS will manage your memory effectively. To clear cache on iPad, you can choose to free up iPad memory. We do find that rebooting or restarting an iPad regularly is a good solution to free up the memory and clear cache on iPad.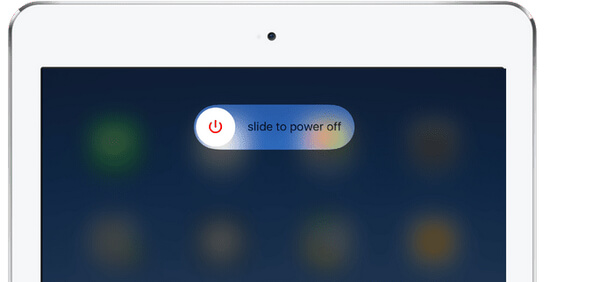 Step 1:
Hold down the Sleep/Wake button until "slide to power off" shows up.
Step 2:
Slide to power off.
Step 3:
Wait until the device has fully powered down, then press and hold the Sleep/Wake button to turn on the iPhone.
This way can help you speed up your iPad temporarily. For running iPad faster, you need this post.
FAQs of Clearing Cache on iPad
1. How long should an iPad last?
Analysts say that an iPad can last about 4 years and three months. At that time, your iPad may get slower and the battery may keep on draining. But it really depends. If you keep it well, it should last more than that.
2. What does Clear Cache mean?
When you view a website or use an app, Cached data will be saved on your device to make the browsing process faster. But it will occupy a lot of space and slow down your device. So, you'd better clear the cache regularly.
3. What happens when you clear cache?
It will free up more space on your device, which may make your device faster. But when you enter the same website or app again, you may find the process is slower than the usual.
Conclusion
In this article, we mainly talk about how to clear cache on iPad. We show you three ways to help you clean the temporary files on your iPad. If you want to clean everything on iPad/iPhone/iPod safely and thoroughly, you can also give the professional iPad Data Eraser a try. Hope you can find a suitable way to clear your iOS device.

Leave your comment and join our discussion