5 Ultimate Methods to Clear History on iPhone X/8/8 Plus/7/7 Plus/6/6s/5/5s/5c/4
"I used to have an Android phone and I could clear cache data in the Settings app. Recently, I got my new iPhone 7, the problem is that I cannot find the Clear Cache feature on Settings screen anymore. How do I clear cache on my iPhone now? Please help." It is true that iOS does not offer the clear cache feature for third party apps. And if you search this problem online, experts may tell you to delete and reinstall the apps to get rid of cache data and junk files. Apparently, it is not a simple task to clear history on iPhone.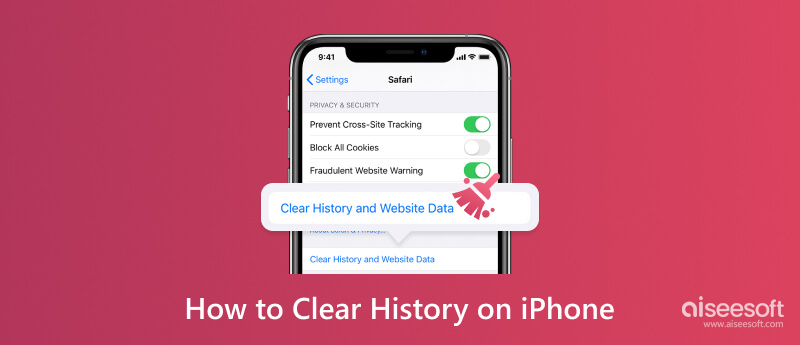 Fortunately, reinstalling is not the only way to clear app cache from iPhone. In this tutorial, we are going to show you the best approaches to complete this task under various situations. For example, Apple has introduced the function to remove cache data in Safari app on iPhone, like search history, cookies and other browsing data. And most third party apps have developed dedicated feature to help users get rid of useless cache data on iPhone. In addition to these features, you can learn more options to clear app history on iPhone and iPad in this post.
Part 1: How to clear cache on iPhone/iPad (Safari cache)
When you get the notification said no enough space on your iPhone, the first thing you should consider is to clear history on iPhone. Safari is the native web browser on iPhone and iPad. And many users prefer to search for information, browse website, and play online music and videos in Safari due to better performance and smoother experiences. In result, Safari saves a lot of cookies, search history, browsing data and other documents, which take up internal storage and slow down your iPhone. Clearing cookies on iPhone is also a healthy way to surf online.
How to clear history and cookies on iPhone
Step 1 Turn on your iPhone and open the Settings app from iOS home screen. Tap on your Apple ID to go into the Settings screen. Scroll down and find the "Safari" option. It is usually the latest one on the Mail section. Tap on it to move to the Safari settings screen.
Step 2 Tap on the "Clear History and Website Data" option, and then hit "Clear" on the warning dialog to confirm it. This will clear the browsing data, cookies and history produced by Safari, but not interrupting your AutoFill information.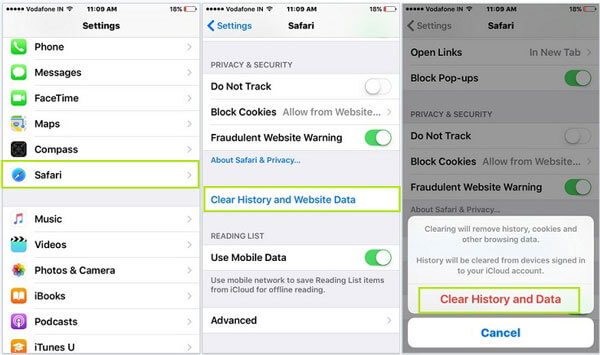 Step 3 If you just want to clear cookies and keep search history, hit the "Advanced" option on Safari settings screen, head to "Website Data" and tap on "Remove all Website Data".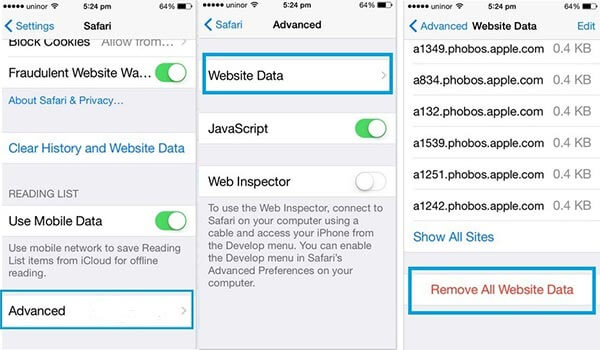 Note: This is easiest way to clear historyon iPad and iPhone. If you found the Clear History and Website Data option turned to gray and not working, try the troubleshooting below:
1. When there is no website data or history on your iPhone, the feature will turn gray.
2. Or you can check whether you have set the parental controls for websites. Go to "Settings" > "General" > "Restrictions", locate to "Allowed Content" and tap on "Websites".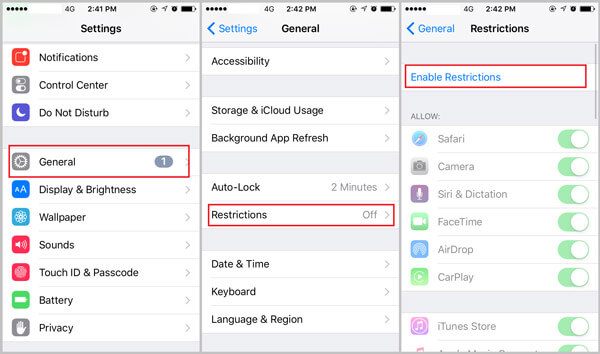 Part 2: How to clear app cache on iPhone/iPad from Settings
As said before, reinstalling app is an option to clear app cache on iPhone. Though this approach is a bit cumbersome, the benefit is that you do not need to install anything on your device. But we suggest you to back up your iPhone to iTunes or iCloud before clearing apps on iPhone. If you plan to clear cache data for game apps, iOS Game Center could save the process.
How to clear app cache on iPad/iPhone from Settings app
Step 1 First of all, make a backup for entire device. Connect your iPhone to a Wi-Fi network, go to "Settings" > "iCloud" > "Backup" and tap on "Back Up Now" to save all data to your iCloud account. To back up the process of your game, head to "Settings" > "Game Center", sign in your Apple ID and password, then back to home screen, open the game, Game Center will remember your process.
Note: Some games do not permit Game Center to save the process. Instead, they allow users to upload process to their servers.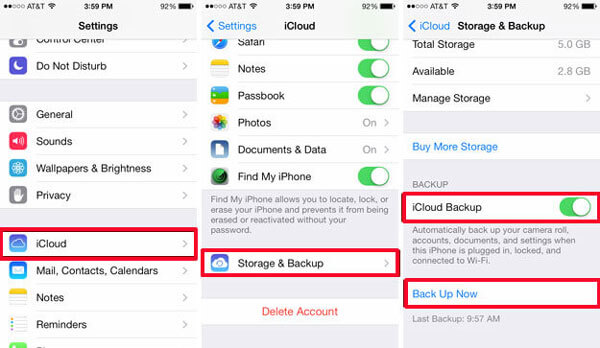 Step 2 Open the iOS Settings app from your home screen, navigate to "General" > "Storage & iCloud Usage", tap on "Manage Storage" under the "Storage" section. Select a large app on the list, the hit "Delete App" on the Info screen and tap on "Delete" again on the warning dialog.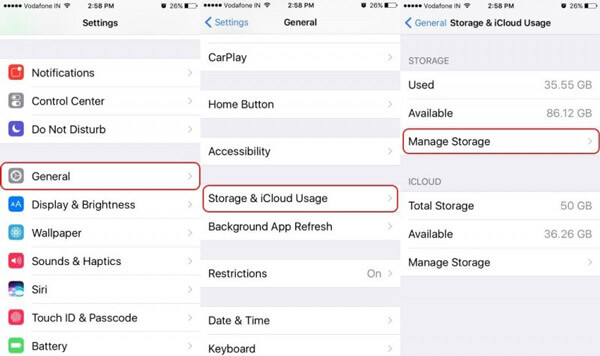 Step 3 Next, go to App Store on your home screen, tap on "Today" at the bottom of the screen, hit your profile icon at top right corner and then go to the "Purchased" tab. Select "Not on this iPhone", find the app and tap the "download" icon to reinstall it on your device.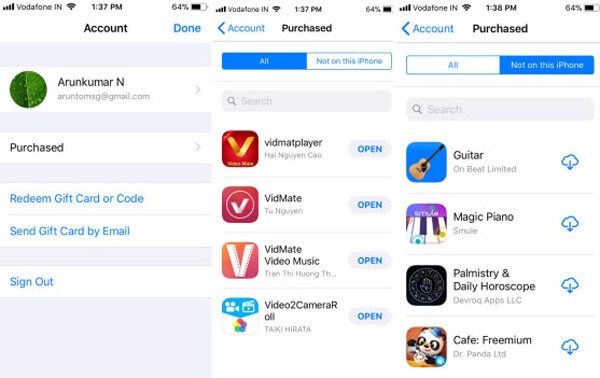 Note: This time, if you go to the app info screen in the Settings app, you will find that the app is much smaller than before. And when you open the game app, your process will be back from Game Center. But for other apps, for example the instant messages apps, the data is not saved on your device may be gone as well as the cache data.
On the other hand, according to some Apple experts, hard reset is an approach to clear cache on iPad and iPhone as well. According to our test, it does not work on all apps, but it does have somewhat effect on the device. On iPhone 6 and earlier, the method to hard reset is to press the Home and Side buttons at the same time until iPhone shuts down and turn back on. On iPhone 7 and later, you need to hold down the Volume Down and Side buttons to trigger the process.
Part 3: How to clear app cache on iPhone/iPad in App settings
In order to help user clear app on iPad or iPhone, developers have realized such demands and integrated the function into the app's Settings menu. In another word, when discover an app takes up more than 500MB, you should go to the app and find the clear function in app's Settings screen. Of course, the designs are various. We will use YouTube app for iOS as the example to show you the workflow since video apps are easier to produce a lot of cache data and eat up more space.
How to clear app cache on iPhone in app settings
Step 1 Unlock your iPhone and open the YouTube app from iOS home screen. Sign in your Google account and password if you have not logged in.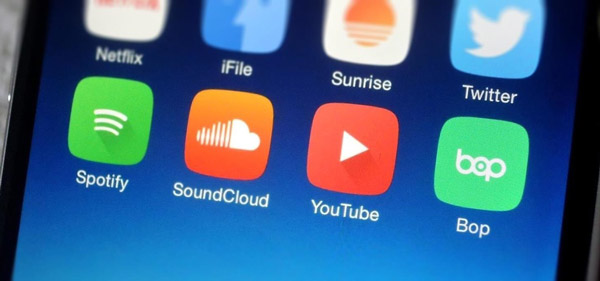 Step 2 Navigate to the bottom menu bar, tap on the "Profile" icon marked. If you have set up profile, the icon is you profile picture. By default, it is an icon with a person's head and shoulders. Then scroll down and find the "Settings" option on the menu bar. Tap on it to go to YouTube's Settings screen.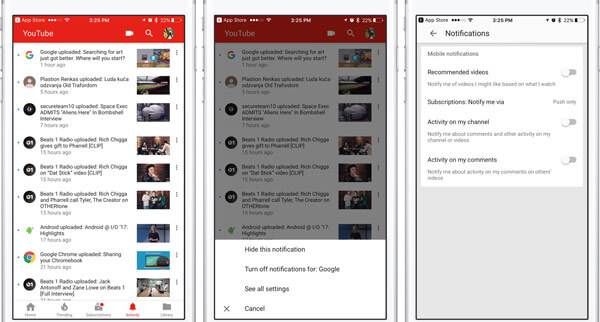 Step 3 Locate to the "Privacy" section, tap on "Clear search history" and then hit "Clear History" on the warning message. This will clear YouTube search history from your account and iPhone.
Step 4 Next, tap on "Clear watch history" and then confirm it by pressing "Clear History" to clear reading list on iPad or iPhone.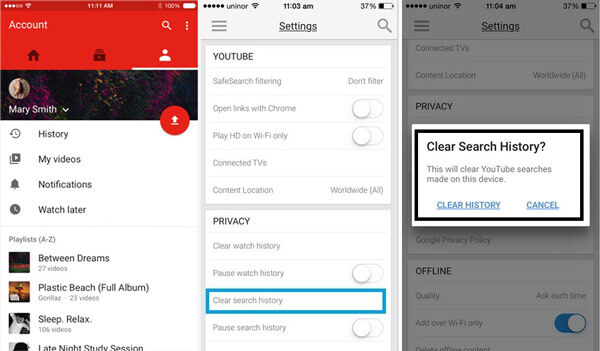 Note: This way clears history on iPhone, your YouTube account and other devices that you log in. Moreover, if you do not sign in your YouTube account in step 1, the clear features in Settings screen are available as well. But this only clears history on iPad but not your account.
Part 4: Professional way to clear cache and cookies on iPhone/iPad
No matter reinstalling apps or apps' Settings menu has obvious downside, especially when you want to learn how to clear cache on iPhone for all apps. At this time, you should try Aiseesoft iPhone Data Eraser. Its key features include:
It has the capacity to permanently clear all cache data, cookies, and history on iPhone in one click, which is more efficient than other methods.
iPhone Eraser is able to clear a variety of data categories besides app cache, like contacts, call history, SMS, custom settings, photos, music, videos, apps and other files from iPhone.
It relies on advanced algorithm to erase all data on iPhone, and anyone could not recover them.
The iPhone erasing tool allows you to decide the level to clear history on iPhone.
iPhone Eraser supports all iOS models, like iPhone X/8/7/6/6s/5/5s/5c/4, iPad Pro/Air/Mini and earlier generations, and iPod Touch.
It is available to Windows 10/8/8.1/7/XP and Mac OS.
How to clear cache on iPhone in one click
Step 1 Connect your iPhone to the best iPhone erasing application
Download and install the latest version of iPhone Eraser to your computer. And plug your iPhone to your computer via a lightning cable. Start iPhone Eraser and wait for it to discover your device automatically.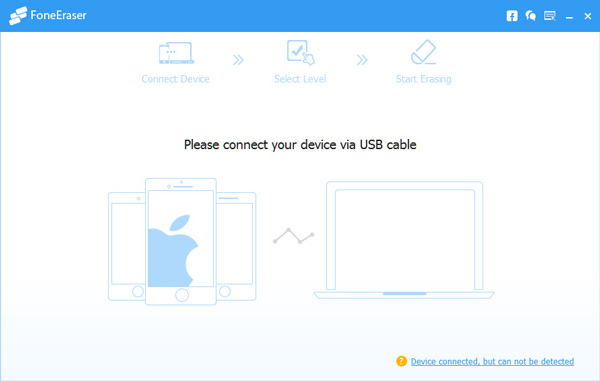 Step 2 Decide a proper erasing level
Now, you will be presented three options about erasing level, "Low", "Medium" and "High". If you select Low, it will clear history on iPhone by overwriting once. The Medium option does it twice and latter one repeats overwriting your device for three times. Select an appropriate erasing level according to your demands.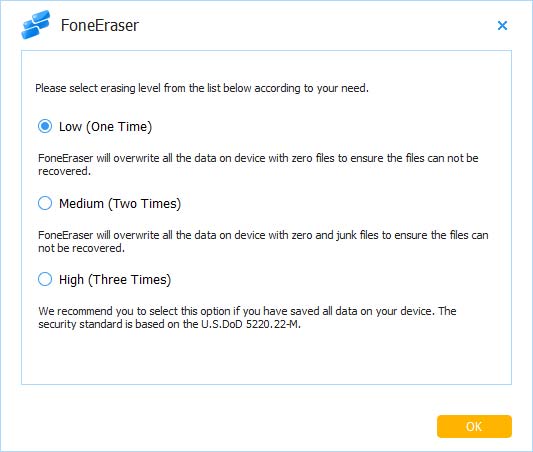 Step 3 Clear history on iPhone in one click
If you are ready, click the "Start" button on the interface to initiate clearing cache, cookies and history on iPhone. A few seconds later when it is done, disconnect your iPhone from your computer.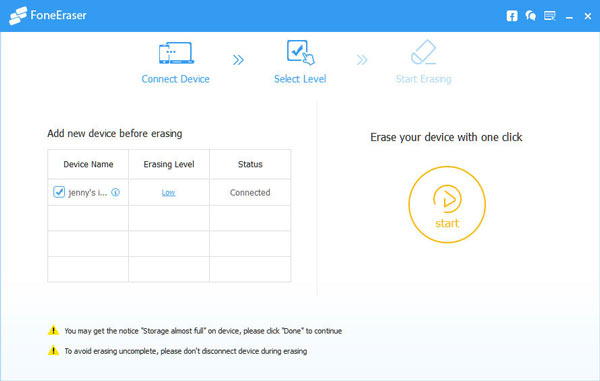 Part 5: How to clear iPhone cache with third-party app
Apparently, users have no option to clear cache on iPhone and iPad at one time without third party apps. Considering more and more people become mobile-first, who do not have a computer or not use computer as primary device, some developers have released several clean master apps for iPhone, such as Magic Phone Cleaner.
How to clear iPhone cache with Magic Phone Cleaner
Step 1 Search and download Magic Phone Cleaner in App Store and install it on your iPhone. Then open it from your home screen, this app will scan your device and show you how much storage available now.
Step 2 Locate to the bottom menu bar, you can see three options. Tap on "Clear Cache" to initiate the process. When prompted, hit "OK" on the alert message and let the app move on through the process.
Step 3 When the process is complete, you will be showed up how much capacity has been freed up on your iPhone.
Note: This iPhone cache cleaner only supports to get rid of all cache data at one time. You are not permitted to clear cache for certain app. Though this app is free to download and use, users have to view ads to exchange the free features.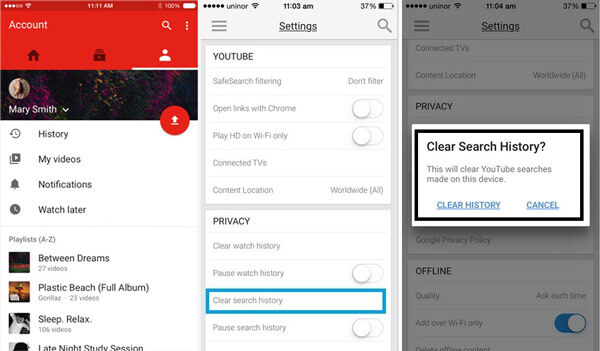 Conclusion
Some people asked whether iPhone needs a dedicated tool to clear cache data. According to our research, iPhone owners are more likely to encounter the problem of insufficient memory, partly because there is no option to clear app history on iPhone. Is that means that users cannot clear iPhone cache data, cookies and history? The answer is simple, no. And if you have spent a few minutes to read our tutorial, you should grasp at least 5 approaches on how to clear history on iPhone. First of all, iOS allows people to remove cookies, cache data and history from Safari app. That is convenient and effective. One the other hand, if you are looking for a simple way to clear cache for apps, we suggest you to try Aiseesoft iPhone Data Eraser. It simplifies the process to a single click. And third party apps are another option to complete this task without computer. When you found some app is much larger than others in Manage Storage screen, go to the app and find the clear cache features in app's Settings screen. This way is appropriate for clearing cache data for several apps. The last option is to delete the app and then reinstall it. Pick up your favorite method and follow our guides to free up space for your iPhone.