Part 1: How to Compress Audio with High Quality
Regardless of what system you are using, there is a program that is the right fit for your needs. There are a bunch of tools suitable for different systems. However, it is a test of patience because some programs cannot accomplish what they are supposed to be doing. Hence, we looked for reliable tools to help you out. Check them out and learn further.
1. On Desktop
One of the capable and reliable programs to operate audio compression is Video Converter Ultimate by Aiseesoft. It supports both Windows and Mac systems. It also gives you control over the audio file's format, channel, sample rate, and bitrate more than adjusting the compression rate. These parameters help you further reduce the media size of your audio files.
Besides this, you can batch compress audio files and convert them at the same time using this program. Video Converter Ultimate is multifunctional because it enables you to convert and edit media files. Follow the detailed procedure below and learn to compress audio files without losing quality online.
Step 1.
Download and install Audio Compressor
First off, you have to download the program on your computer. Simply click the Free Download buttons beneath. Make sure to get the correct installer for your computer OS. Now, click through the set-up wizard to fully install the Video Converter Ultimate. Then, launch the program and get familiarized with the tool's navigation and interface.
Step 2.
Launch the Audio Compressor
From the tool's main interface, you will see the four major tabs. Navigate to the Toolbox tab to see the list of functions offered by the program. Next, click the Audio Compressor to launch it and start compressing audio files.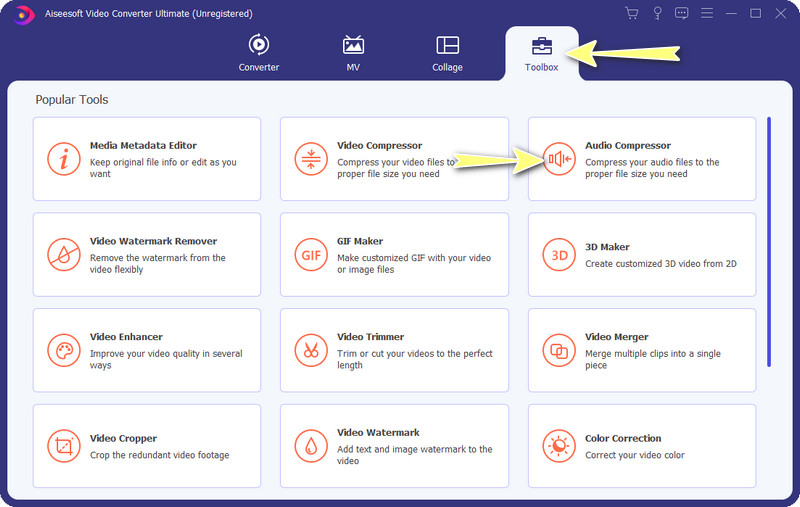 After that, click the Plus sign button to add an audio file you wish to compress. It will then open your device's folder. Now, locate your target file and upload it into the program. To learn how to compress audio files on Mac or Windows PC, follow the last step below.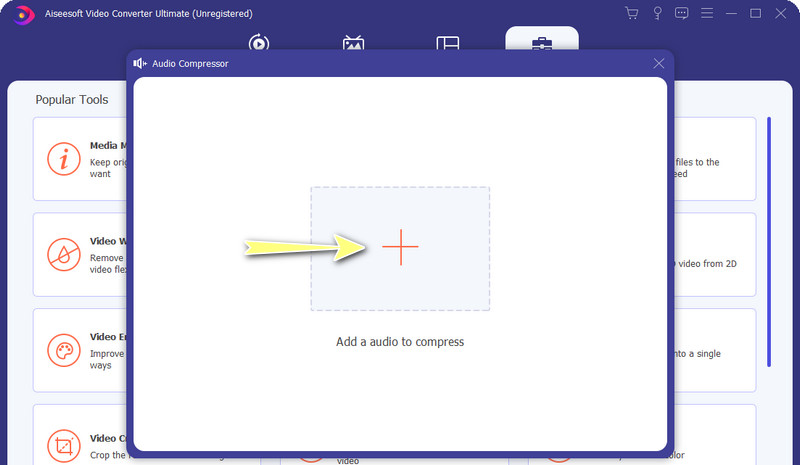 Step 4.
Compress the audio file
Once the compression interface pops up, you can now start reducing the media size. You can move the compression slider ball or change the parameters as you prefer. Additionally, changing the other parameters will help to reduce the video file size. Next, you can preview the file to see the changes and if it suits your taste, click on the Compress button to initialize the process.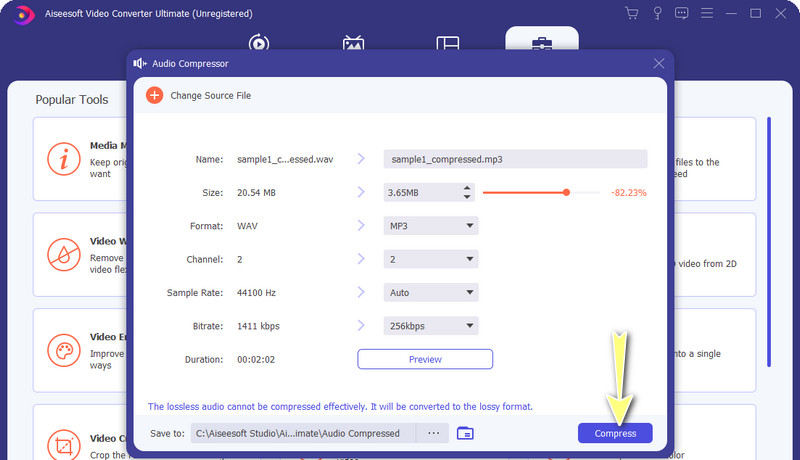 2. On iPhone/Android
If you wish to compress audio files on an iPhone or Android device, you may want to consider Lexis Audio Editor. That is right. This program is developed for Android and iOS users, allowing them to manipulate audio files from the comfort of their portable devices. It is mainly used for recording audio and editing existing audio files. Yet, another useful function of this tool is audio compression. Also, it offers pitch and tempo changers to achieve your desired audio output. On the other hand, here is how to compress audio files on iPhone or Android using this program.
Step 1.
First, go to the app store on your Android or iPhone device and install the Lexis Audio Editor. Then, run the program on your device.
Step 2.
Next, open the audio file you like to compress or record using the program.
Step 3.
After that, tap on the three-lateral bars at the top left corner of your screen. Select
Effects
from the options followed by the
Compressor
. The interface is the same for both Android and iOS devices. So, you can learn how to compress an audio file on Android using the same procedure.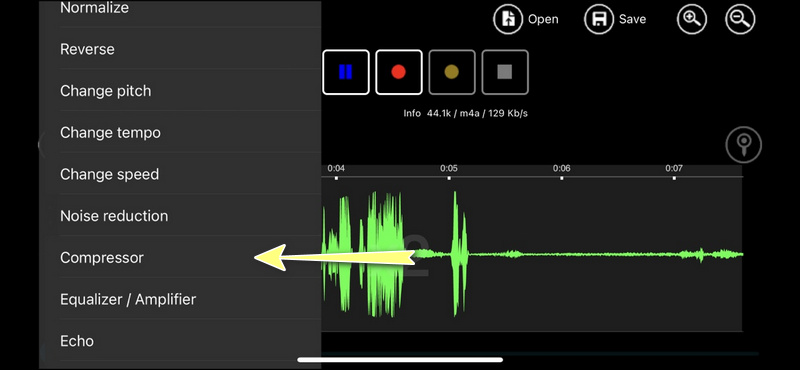 Step 4.
A dialog box will emerge where you can configure compression parameters. You will be able to change the Threshold, Rate, and others from here. Once satisfied, tap on the
Apply
button to confirm the changes.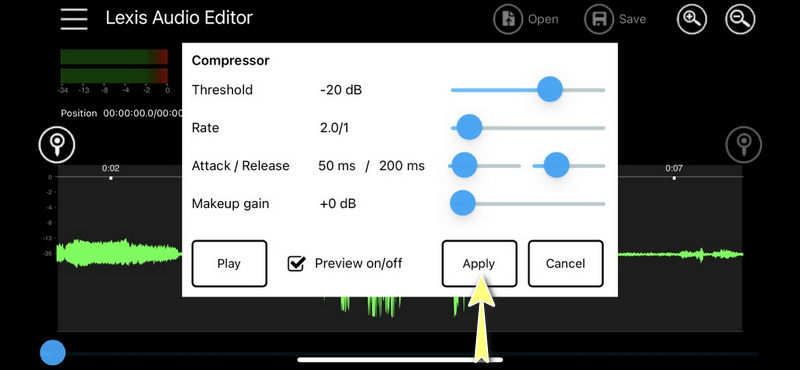 3. Online
By the time you want an online audio compression tool, you can rely on XConvert. This enables you to import audio files from different sources, including cloud storage services and local storage, for your convenience. You may edit parameters to your preferences. With it, you may edit the bitrate, audio channel, sample rate, etc. On top of that, you don't have to download the program as it works online and is compatible with different web browsers. In the same manner, the program allows for batch compression. To use it and compress audio online for free, take a look at the steps below.
Step 1.
Go to the app's official site by typing its name on the browser's address bar.
Step 2.
From the main page, click on the
Add Files
button and select your desired audio file to compress.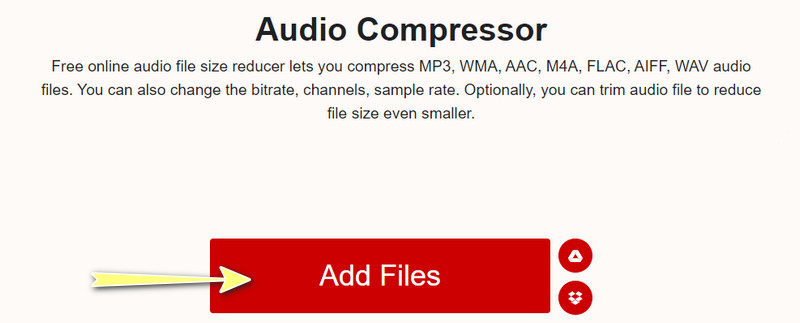 Step 3.
After uploading audio files, you may change the file extension, bitrate, audio channel, or sample rate. You could also compress WAV audio files online using this program if you wish.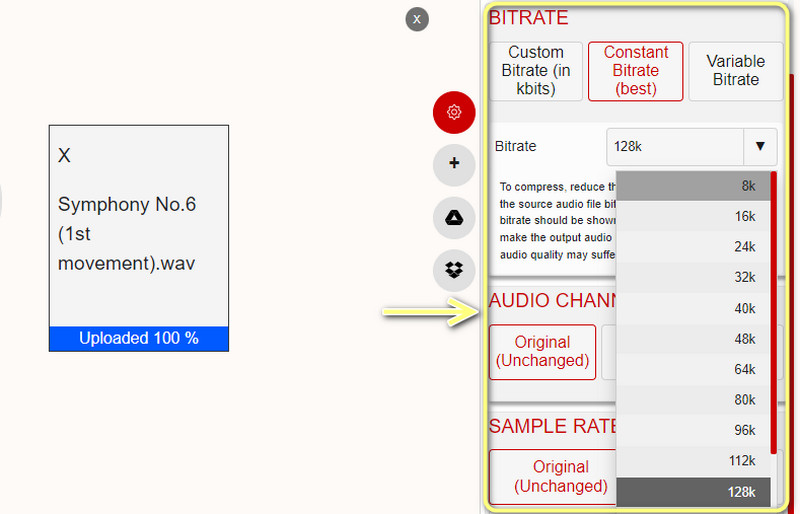 Step 4.
Following that, click on the
Compress
button at the bottom right corner to begin the compression process. Any audio format can be processed. In addition, you can compress large audio files online.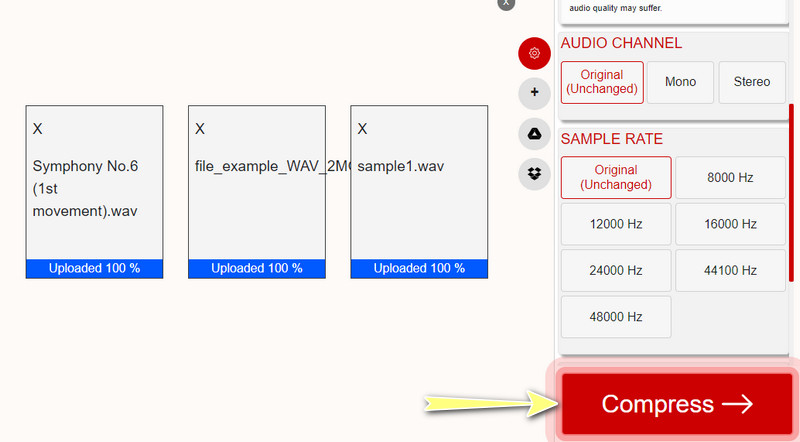 Part 2: Why You Need to Compress Audio
There are plenty of reasons why you need to compress audio files. You are running a low disk device, and you want to free up disk space. This way, you will be able to store more audio files. Aside from that, audio compression helps send audio files on the web, especially on messaging apps that implement limitations to the file size you can upload. So you have to learn how to compress large audio files to achieve your goals.
Moreover, compressing an audio file makes the audio smaller. In addition to that, the transmission of files on the web takes less time. That is useful for streaming audio files. The only tradeoff is that the quality is degraded, significantly when the audio is compressed too much. Yet, compression algorithms get more intelligent and better by the day, thereby preserving audio quality. In line with that, we sorted out programs to compress audio files on iPhone, Android, Windows, and Mac systems.