Voice Recorder - Record Audio on iPhone
"My baby starts to learn to talk, and I want to record her audio and keep it on my iPhone for listening. But I only get an iPhone 5. Is there any recording app for iPhone to record audio only?" - An question from Apple discussion
In daily life, there are various reasons for you to record audio file on iPhone. However, one fact that you have to face is iPhone provides you no built-in audio recorder while Android user can make audio recording with its built-in recorder. Then how to record audio on iPhone? Downloading audio recording apps for iPhone from App Store, and then get the best audio recording app on your iPhone to start to record audio files.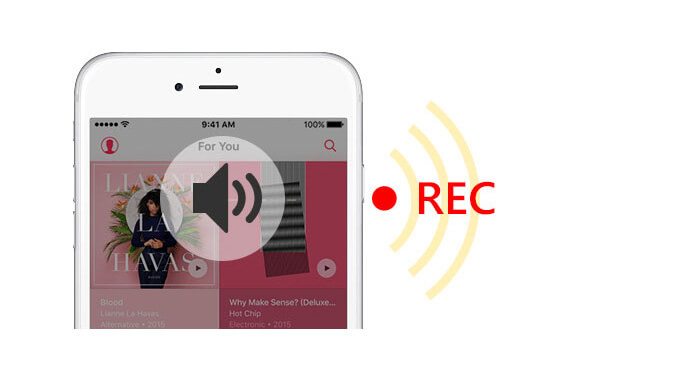 Record Audio on iPhone
Part 1: Top five voice recorder apps on iPhone
Before you record audio with your iPhone, you need to choose the most suitable iPhone app for recording audio as you wish. Here five top audio recorder apps for iPhone will be showed for your reference.

Audio Memos
Price: $0.99
Pros
1. Record audio around yourself or audio on iPhone or iPad.
2. Send audio recordings on iPhone to computer with WiFi.
3. Pause of audio recording automatically on incoming phone calls.
4. Set recording quality before you make audio recording audio files.
Cons
1. It is a little confusing to use it for recording iPhone audio.
2. Free version gets an audio recording with small voice.

Voice Record
Price: Free
Pros
1. Record audio on iPhone with mix background.
2. More editing functions are allowed on your audio recordings on iPhone.
3. Support MP4 audio file with M4A extension
4. Export audio recordings to PC or Mac with WiFi.
5. Convert audio recordings to MP4 or M4A as you wish.
Cons
1. Plug-in ads seems a little disturbed when recording audio on iPhone.
2. More features and settings make this app uneasy to record.

iTalk Recorder
Price: Free
Pros
1. It is simple and straight to record audio on iPhone or iPod.
2. It lets you record audio even if your iPhone is in the sleep condition.
3. No time limitation to record audio on iPhone.
4. You can overthrow this audio recording app on your iPhone to make audio recordings.
Cons
1. Free to record audio with ads while $5 is supporting no-ads on screen.
2. No more editing features for your audio recordings on iPhone.
3. No pause or resume button for your recording options. Only start or stop recording.
Recorder Plus
Price: Free
Pros
1. It lets you record imported audio files from music or iCloud on your iPhone.
2. You could take a photo or choose local photo as your audio recordings cover on iPhone.
3. It lets you trim voice memos, and merge into another one audio recording.
4. The audio recorder lets you export audio recording to iTunes, iCloud, PC, etc.
Cons
1. It is not easy for a fresh hand to make all settings before recording audio on iPhone.
2. No quality option before recording audio on iPhone.

VoiceRecorder
Price: Free
Pros
1. It gets a small size file with 1MB/hour in AAC format.
2. You could playback your audio recording by skipping forward/backward with a multiple of 5 seconds.
3. It is very easy to enable you to record audio on iPhone with simple buttons.
Cons
1. This iPhone app to record audio without audio quality selection.
2. It cannot upside down when recording audio with iPhone, so you have to keep your iPhone in the correct angle to perform this tool.
Part 2: How to record audio on iPhone
After learning about the different audio recorders on iPhone, I believe you may have the answer to find the best iPhone audio recorder. As for how to record audio file on your iPhone, we will show you in the below description with one of this audio recording apps, iTalk Recorder. Firstly, you could download this app to your iPhone form App Store, then install and open it.
Step 1 Tab iTalk Recorder on your iPhone to enter this app. Where the first interface is to input "Recording Name" and choose "Recording Quality".
Step 2 Hit the red circle button "PRESS TO RECORD" to start the recording. Then you will see audio recording duration time shows in the circle. Hit the circle again to stop the recording. Then tab "Done" on the right bottom to view your audio recording list.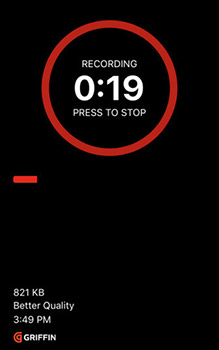 Tips:
1. If you want to playback your audio recording, tab the file and pause for one second, and then tab it again to play it.
2. If you are not satisfied with your audio recordings, tab "Edit" to find the Edit icon on the left of the file name > "Delete" to remove the audio recording files from your iPhone.
3. The above five apps for recording audio are for iPhone or iPad. If you need to record streaming audio on computer, then you could turn to Screen Recorder.
Aiseesoft Screen Recorder
The best video/audio recording tool to record streaming audio and video on Windows computer.
Record streaming video/audio, online video/audio, microphone voice freely.
Record screen video with high quality.
Advanced settings for audio recording.