3 Best ISO Compressors to Compress DVD ISO Image Files
How to compress an ISO image file? What is the best ISO compressor?
ISO image file carries all disc data in a single package which is mainly used to distribute games, movies, and online programs. You are more likely to get an ISO file after downloading a movie from the internet.
One big disadvantage of ISO image is its large file size. So in many cases, you want to compress ISO image to a much smaller size. Then how do you do it? You have to rely on some ISO shrinking software.

Best ISO Compressors
Here comes the question, what is the best ISO compressor? Or is there any easy-to-use ISO image compressor? To solve the problem, we share 3 best ISO compressors to help you compress your ISO image to your preferred size. We introduce you with a great DVD compressor to compress DVD ISO and video/audio file.
Part 1. Top 3 ISO Compressors
When you want to compress an ISO image, many compressing tools including some online ISO compressors and famous file compressors can help you get the job done. Problem is, even some popular ones like 7-Zip or WinRAR can only reduce the ISO size slightly. Considering that, here we recommend 3 great ISO compressor tools for you to choose from.
Best DVD ripper and ISO compressor - Video Converter Ultimate
Video Converter Ultimate is an all-featured DVD ripper, ISO compressor, video/audio converter and editor. From its name, you can know that it has the capability to convert media file to your preferred format. More than just a simple converter, it also can work as a professional DVD ripper and ISO compressor to help you convert DVD or ISO to another format to shrink the file size.
Before compress file, you are allowed to free adjust video encoder, resolution, bitrate, frame rate, clip/crop/rotate video, enhance video quality and more. As you can see, besides compressing ISO file, it also enables you to reduce DVD and video file.
Moreover, when you only get a DVD file, it can help you extract ISO file from DVD, and then compress it directly.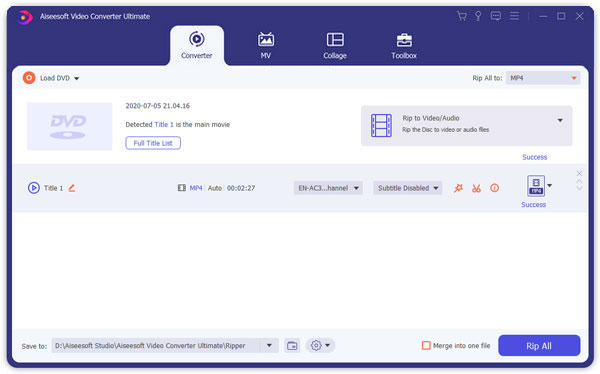 PSP ISO Compressor
PSP ISO Compressor is mainly designed to compress ISO image files for Sony PlayStation portable game console. It can help you convert the ISO game disc images to other formats to shrink the size. By doing so, you can store more games on one single stick. When you have the need to reduce the ISO size, this PSP ISO Compressor can do you a great favor.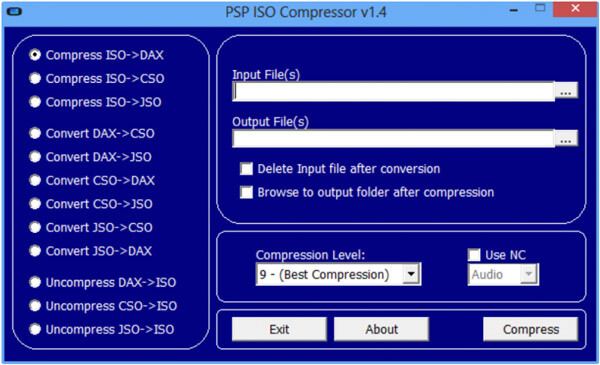 PSP ISO Compressor has the capability to convert ISO to CSO format, DAX, JSO or CSO format based on your need. You can easily customize the compression level to make sure you can get a desired compressed size. One thing you should know is that, this ISO compressor requires a custom firmware on the console. This may damage your device or void the warranty.
ISO Compressor
ISO Compressor is a free game ISO compressor which allows you to compress PSP game and movie DVD ISO file with ease. It is able to compress ISO to compressed image format CSO (CISO) file to shrink file size. Moreover, you can use it to decompress CSO to ISO. It supports both Sony PlayStation and Nintendo game files.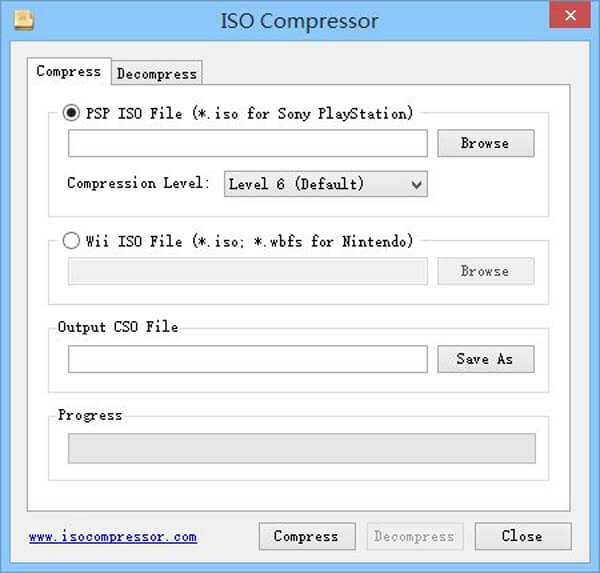 Part 2. How to Compress ISO File
At the first part, we shows you 3 great ISO compressor tools to help you shrink the ISO file. You can choose your preferred one to compress an ISO file. In case you don't know how to do it. Here in this part, we take Video Converter Ultimate as an example to show you the simple steps.
Step 1 Free download and install this DVD ISO compressor on your computer. Choose the right version based on your system.
Step 2 Open Video Converter Ultimate and choose Ripper on the top. Click "Load DVD" to import your ISO file to it.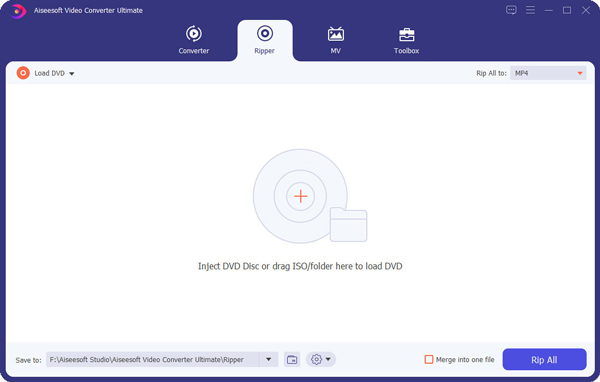 Step 3 Click the drop-down button of "Convert All to" and select a suitable output format. Then click "Custom Profile" to compress ISO.
Here, this ISO compressor can be as the ISO converter to convert ISO to other formats, or convert other formats like AVI, MP4, WMV, MKV, DMG to ISO.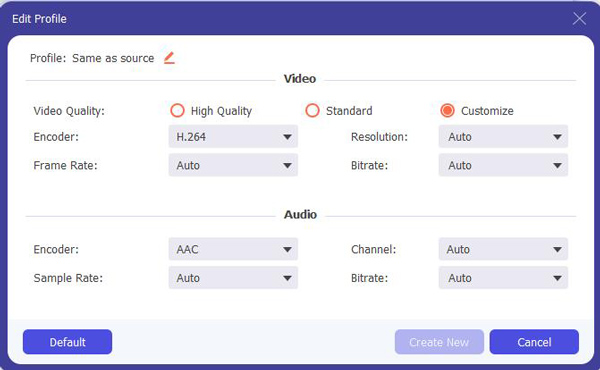 Here you can decrease video/audio bit rate, frame rate and sample rate to shrink ISO file. If you want to shrink DVD or video, you can use "Cut" feature to only output the useful parts.
Part 3. What is an ISO File
ISO file, also called ISO image, is a single file which can be used to represent one entire CD, DVD, or Blu-ray disc. ISO is taken from the name of the file system used by optical media, which is usually ISO 9660. An ISO file can duplicate all contents of a disc. So you can take ISO file as a complete copy of everything stored on disc, including the file system itself.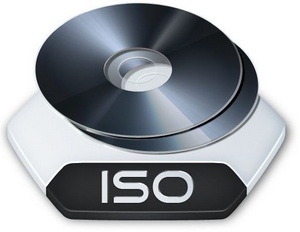 ISO file has a big size because it a sector-by-sector copy of the disc without any compression. ISO is mainly used to archive and burn all disc data to a new disc. For most operating systems, ISO can be considered as a virtual disc. Check here to get more details about ISO file.
We mainly take about ISO compressor and how to compress ISO file in this page. 3 best ISO compressors are recommended for you to reduce the ISO image file. Moreover, you give you a basic introduction about ISO file in the third part. Leave us a message if you still have any question or have some useful ISO compressor recommendations.
Part 4. FAQs about Compressing ISO
How do I compress an ISO file with WinRAR?
Download and install WinRAR application on your computer. Open the ISO file from the folder, and drag the ENGLISH folder contained in ISO file to your disk.
Can I open ISO without burning?
Yes. If you have downloaded and installed WinRAR on your computer, you can open an.iso file as a normal archive directly without burning it to a disk.
Can 7zip create ISO file?
Yes. As an alternative to WinRAR, you can create an ISO file using 7-Zip. It is commonly used to archive and encrypt files. When you convert 7-Zip into ISO, you are extracting the ISO from zipped files.