20 Best Blur Photo Editors to Blur Photo Background Online/Android/iOS
"Which tool can I use to blur background of a picture online?"
"Is there a photo editing app where you can blur specific sections?"
If you have the similar questions about choosing blur photo editors, you just come to the right place. This article shows the overview of each photo editor with blurry effects. You can read and choose the online and offline tool you like to blur an image with ease.

Part 1: Top 10 Online Blur Photo Editors for Blurring Image Backgrounds
If you want to blur image background without much difficulties, you can use online blur photo editors instead of bulky photo editing software. Though there are some limitations while applying blur effects online, you can still blur your photo with online blurring tools easily.
| Online Photo Blurring Editor | Main Features for Blurring Photos Online | URL |
| --- | --- | --- |
| 1. BeFunky | BeFunky is one of the popular online photo editors. You can get free photo blurring effects online including blur edges and blur features. | https://www.befunky.com/create/ |
| 2. Fotor Photo Editor | There is no direct photo blur editor in Fotor. But you can use the Tilt-Shift option to adjust the focus point of the photo. It is a good way to blur photo background online. | https://www.fotor.com/ |
| 3. Lunapic | LunaPic is a totally free blur photo editor. You can blur a picture online with regular blur, motion blur and adjust focus features for free. | https://www140.lunapic.com/editor/ |
| 4. Fotoramio | Fotoramio is an online image blurring editor with good-looking blurring effects. You can set the photo blurring level freely. | https://fotoram.io/editor/#blur |
| 5. FotoJet | The blur background photo editor online is not free to use. You need to upgrade to its Plus version with $4.99 per month. Later, you can blur image background with many useful features. | https://www.fotojet.com/apps/?entry=edit |
| 6. PicMonkey | PicMonkey blur photo editor allows users to blur the whole photo or certain parts online. You can also add blurry soft lights with bokeh effects. To start with, you need to register a PicMonkey account first. | https://www.picmonkey.com/home/register |
| 7. iPiccy | iPiccy provides many online photo editing filters. However, the photo blur editor does not offer much blurring effects. You need to use the erase tool to unblur some parts manually. | https://ipiccy.com/ |
| 8. Pixlr Editor Online | You can get Gaussian blur, Tilt-Shift and Box Blur from the online free blur photo editor. It is quite easy to blur image background with Pixlr. | https://pixlr.com/editor/ |
| 9. Editor.pho.to | If you want to fix blurry pictures online, you can use Sharpness and Brush tools to blur any area. Later, you can share the blurred photo to Facebook, Twitter, Google+ and other sites. | http://editor.pho.to/edit/ |
| 10. PhotoRaster | PhotoRaster can be your photo editing program alternative to Adobe Photoshop. You can blur background online with Photoshop similar effects effectively. | http://photoraster.com/index.php |
Part 2: Top 10 Best Blur Photo Editors APP for iPhone and Android
Many people use iPhone or Android to take selfies and capture beautiful moments. Transferring photos from your phone to computer for blurring is not convenient. Thus, it is also important to install a blur photo editor app on your phone.
1. After Focus
OS Supported: iOS, Android
Price: Free
After Focus is a blur photo editor app for iPhone and Android. You can apply Lens, Motion and Zoom photo blurring effects on your photo directly. Moreover, you can choose the blur type and adjust the blur boundary freely.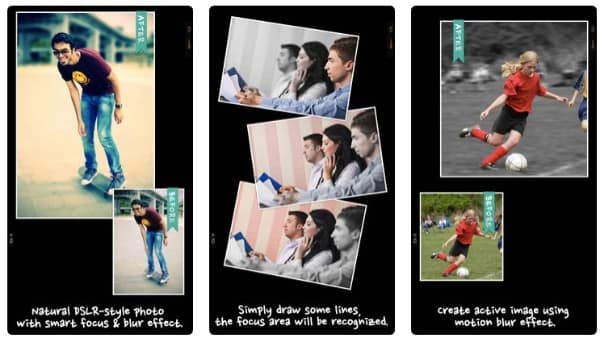 2. Snapseed
OS Supported: iOS, Android
Price: Free
Snapseed is a popular blur photo editor apk for Android with nearly 100,000 reviews. What's more, you can use Snapseed to blur photo background on iPhone and iPad for free too. The Lens Blur feature is good for photographic portraits. You can add background softening to images easily.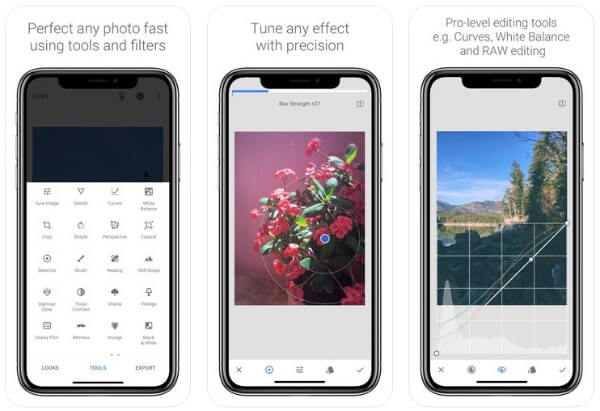 3. Background Defocus
OS Supported: Android
Price: Free
With the built-in camera, you can take a photo with blurred background directly. The Android blur photo editor apk allows users to set the focus point precisely. Thus, you can get the feel of taking photos with a professional DSLR camera.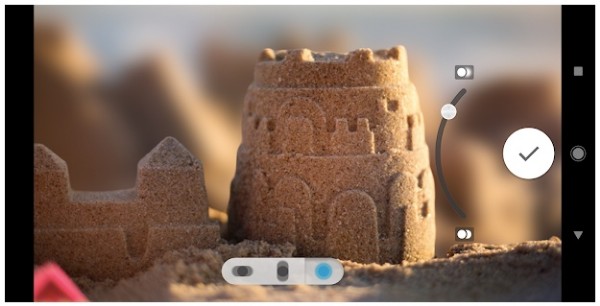 4. Cymera
OS Supported: iOS, Android
Price: Offer in-app purchases
By using Cymera blur photo editor app, you can get blurred background with a simple touch. Furthermore, you can access various camera lenses and professional filters for photo editing. You can retouch your photos without using Photoshop quickly.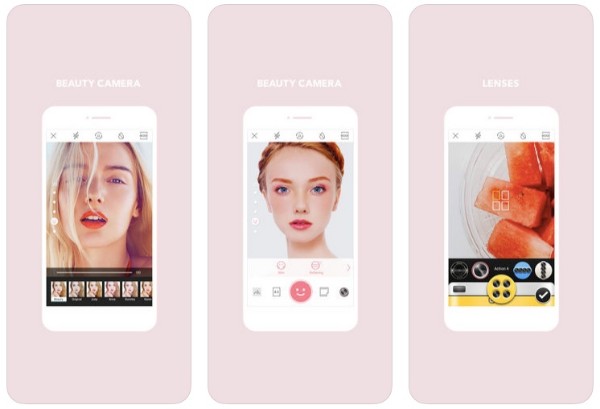 5. Blur Photo Editor Background
OS Supported: iOS
Price: Free
You can blur any unwanted details by retouching with the Blur Photo Editor Background app. It is supported to adjust the brush size and intensity of blur effects. If you are not satisfied with the current photo blurring effect, you can undo and redo any operation freely.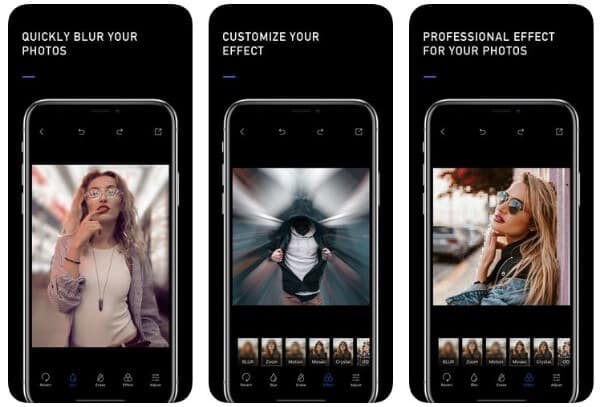 6. Blur Image Background
OS Supported: Android
Price: Free
Blur Image Background apk offers many blurry photo filters. You can select the blur brush size to give a blur background. Moreover, you can apply the blurry effect while capturing images. After that, you can share the blurred image via Facebook and Gmail.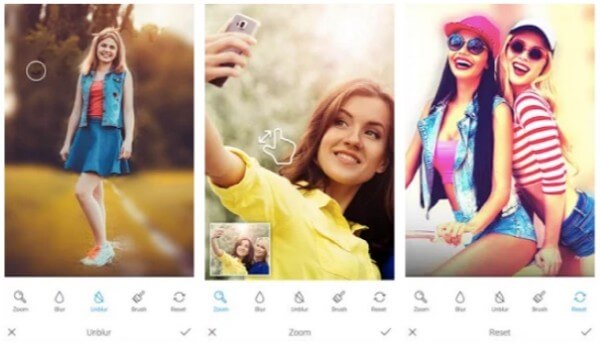 7. Focus Effect
OS Supported: iOS
Price: Free
Focus Effect can help you create blur effects to your photo. To be more specific, you can designate the focus area manually. Later, the blur photo editor app for iPhone will blur the rest of the photo automatically.
8. Bokeh Lens
OS Supported: iOS
Price: $0.99
If you want to turn iPhone photos into DSLR-quality photos with creamy and bokeh effects, you can free download the picture blur editor app for a try. You can adjust bokeh level to balance the bokeh-blurred background effect easily on your iPhone.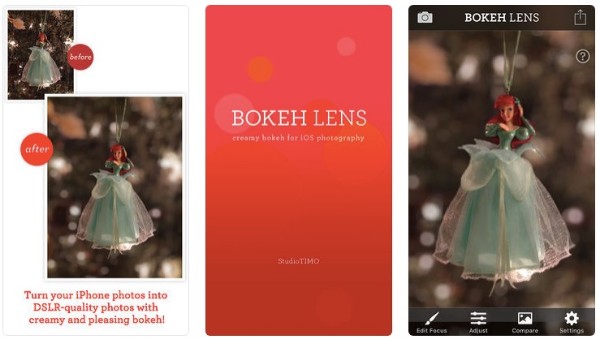 9. PortraitCam . Ultimate Camera
OS Supported: iOS
Price: $3.99
You can take selfies with the look of anamorphic lenses and 35mm film. The portrait blur app provides many portrait effects. You can set focus mode, bokeh shape and blur level in easy steps. Moreover, PortraitCam supports Facebook 3D photo format now. You can also create 3D photos and upload to Facebook directly.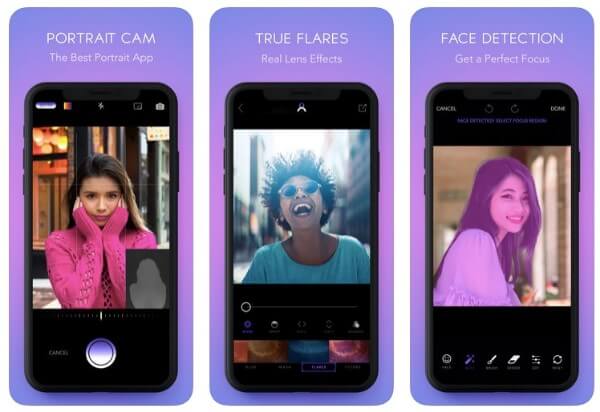 10. FabFocus
OS Supported: iOS
Price: $3.99
FabFacous is the blur photo editor app that can blur background automatically. Its face detection algorithm can detect people in the foreground. Thus, the others will be detected as background and blurred by default. Furthermore, you can adjust point lights and blur effects quickly.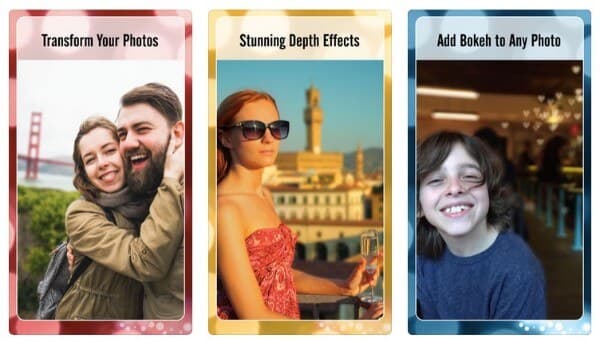 No matter you blur a picture on your phone or computer, you can get the proper photo editor to solve the problem. There is no need to use Photoshop to blur background. Because you can get many easier Photoshop alternatives instead. Now you can create awesome blurry photos with any blur photo editor mentioned above.