3 Best Way to Connect iPhone to TV with USB Charger
How do I set up my iPhone 3G to play movies and photos thru my lcd TV. I have one of the av cords that goes in to the bottom of the iPhone, has a USB and has 3 colored things on the end. So how do I set it up? What parts do I plug in were in the TV to make it work? How can I watch my iPhone's content on my HD TV using only an HDMI cable connection? How to connect iPhone to a TV service port via USB?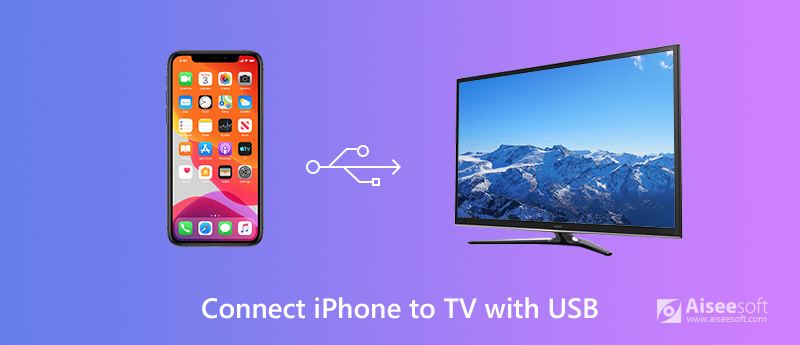 For many reasons, you may want to connect your iPhone to TV with USB. You may just want to enjoy movies or share your pictures that stored on your iPhone on TV with a larger screen. Or you have made an elaborate slideshow and want to play it on TV to give your girlfriend a birthday or proposal surprise. Whatever the reason is, what matters you now is how to well connect your iPhone to TV with USB. In this post, we will tell you 3 easy methods to connect your iPhone to TV with/without USB cable.
Part 1. What Are the Advantages of USB Connection
Different from parallel ports, USB ports have the advantages in connecting device to TV. The following points can be regarded as the advantages.
When talking about speed, the maximum transfers at speeds up to 4 megabits per second. While USB 3.0 can handle transfers at speeds up to 5gbps, which is over 1200 times faster than the parallel ports.
USB ports can carry more power capability than parallel ports. It is quicker to charge devices when using USB ports.
USB ports are more compatible than parallel ports, for the USB ports can support over 128 devices.
Part 2. How to Connect iPhone to TV with USB
A simple way to connect your iPhone to TV is to use Apple's Digital AV Adapter and HDMI (High-Definition Multimedia Interface) cable. This method is available for all types of TV, including Sanyo TV, LG TV, Samsung TV, Element TV, Panasonic TV, Sony TV, Vizio TV, etc.
You can use a digital AV adapter or lightning VGA adapter to connect your iPhone to TV. Well, you may find them on some online stores such as Amazon, Best Buy, eBay, etc.
Step 1.
Plug Apple's Digital AV Adapter into the charging port on the bottom of your iPhone.

Step 2.
Connect the HDMI cable to the digital AV adapter.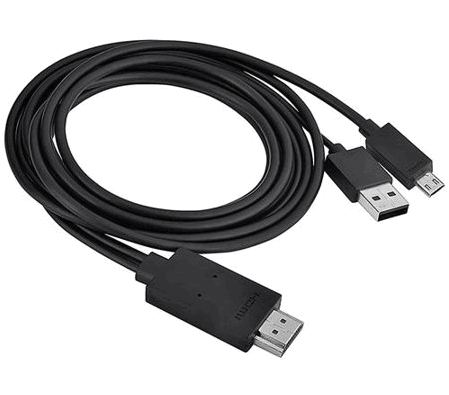 Step 3.
Connect the other end of the HDMI cable to TV and turn on your TV.
Now the contents on your iPhone can appear on your TV. You can watch videos or check photos on your TV casually.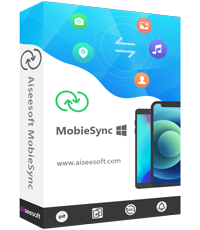 Downloads
Transfer iPhone/Android data like contacts, videos, music and more between iOS and Android.
Backup files from mobile phones to computer or reversely.
Sync any files from iPhone to iPhone or from Android to Android.
Move data from iPhone to Android or from Android to iPhone.
Fully compatible with iPhone 12/11/XS/XR/X/8/7/6/5/4.
Part 3. How to Connect iPhone to TV Wireless
Maybe you don't have these adapters or cables at home. Or you are tired of plugging or unplugging your iPhone. Remember that you can connect your iPhone via Wi-Fi. Airplay is indeed a good helper.
If you have an Apple TV or a TV that supports AirPlay, it is easy to mirror your iPhone contents to TV. Just follow the steps below. But make sure that your iPhone and TV are connected to the same Wi-Fi network.
Step 1.
Swipe up from the bottom of the screen, or swipe down from the upper corner of the screen to launch Control Center.
Step 2.
Tape Screen Mirroring, find and select your Apple TV.
Then, your iPhone will be connected to Apple TV, and you can mirror all things on iPhone to Apple TV.
Read More: How to Use AirPlay Mirroring
Part 4. How to Connect iPhone to TV with Chromecast
If you are using the streaming device Google Chromecast or Chromecast Ultra, you may find it easy to show your iPhone on TV. It provides a better way to get 4K video on your TV. Though your iPhone screen cannot be displayed on TV with Chromecast, you can use your iPhone to browse streaming media apps that Chromecast support.
You can follow the steps below to connect your iPhone to TV.
Step 1.
Plug Chromecast into HDIMI port on your TV.
Step 2.
Open Cast-enable app. You can browse the TV shows, movies or songs.
Step 3.
Tap Cast and select Chromecast from the list. Then, you can enjoy movies smoothly on TV.
You can use this method within many apps on your iPhone to DLNA device that has the same apps installed on it, for example, Samsung Smart TV.
Conclusion
Hope you have known about how to connect iPhone to TV with USB. You can choose the most suitable way to mirror your iPhone contents to a large screen. If you want to manage your iPhone files, MobieSync is recommended for you to manage and transfer your iPhone files. If you have better solutions, we'd appreciate you sharing it under the comment below.

Leave your comment and join our discussion