Change JPG to PNG: Sure Fire Ways to Convert Photos Efficiently
Often, there is a need to change the format of a file. That depends on the utility, type of graphic content, alterations, and other reasons. Meanwhile, the two most common image file formats are JPG and PNG. Just know that they have different uses and advantages. If you are into creating a transparent photo, you would probably convert your JPG files into PNG photos. That is the major edge of PNG over JPG photos. Not to mention, you can create logos with this image format.
So, JPG vs. PNG, it is better to go with PNG for its capabilities and advantages offered. For added features, you can expect a quality image display. Therefore, you get the best of both worlds of the ability to make transparent photos and quality output. So, look for the best converters to change from JPG to PNG below without further ado.

Part 1. How to Convert JPG to PNG Online
Aiseesoft Free Image Converter Online is a highly efficient program that processes photos online with a speedy and quality operation. It is beneficial for users who have devices running low on storage. That is because you do not have to download the program to use it. Additionally, users do not have to register for an account to maximize its functions and features. Besides that, you can depend on the tool batch converting JPG files at a time. Using this tool, users can upload up to 40 photos during one session, allowing them to save more time.
On top of that, this free JPG to PNG online converter offers a great experience in converting media files. It comes with a clean user interface, so you can quickly convert photos in no time. Furthermore, the tool adopts efficient technology, responsible for converting photos quickly. It is totally free, and users are not required to subscribe. Meanwhile, here are the steps on how to use this program.
Step 1:
The first thing you need to do is to visit the tool's website using any browser on your computer.
Step 2:
The home page is already the conversion interface which enables you to instantly process files without the need to navigate to different pages. Now, select an output format. In this case, tick the
PNG
image format.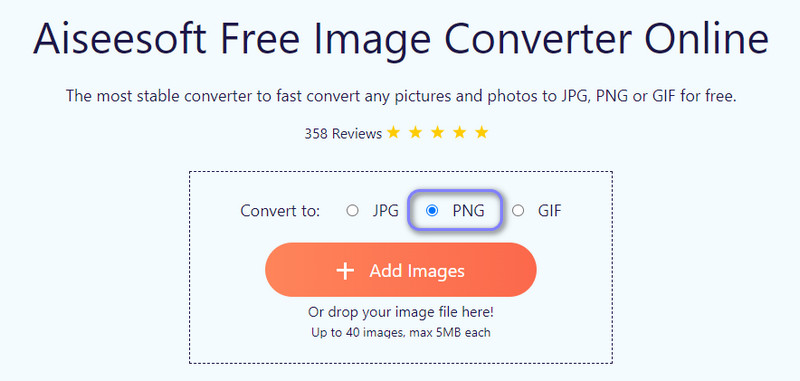 Step 3:
Right after, you will need to load images to the program. Hit the
Add Images
button and choose your desired photos to convert. You may also drag them directly to the web page to upload.

Step 4:
After importing photos, hit the
Convert All
button to get started with the conversion process. Then, proceed with downloading the converted photos by hitting the
Download All
button.

Part 2. Convert JPG to PNG Offline on Windows and Mac Computers
You may be looking for programs for offline use. Say you wish to convert even without access to the internet connection. Then, you can rely on the tools we will discuss below.
1. XnConvert
If you are looking for a cross-platform program that will help you easily and quickly. That means you can use the program regardless of the computer operating system you are running. It supports Linux, Windows, and Macintosh. Moreover, the tool can read various formats, including JPEG, JPG, PNG, GIF, WebP, and many more. The only caveat is its interface could be a bit confusing if you are using the tool for the first time. Hence, if you need to convert files real quick, this program may not be suitable for you.
Nevertheless, you can take advantage of its advanced settings as long as you are subscribed as a private user. You can rely on the steps below to learn how to convert JPG to PNG.
Step 1:
First, get the app downloaded on your computer and install it afterward. Right after, immediately launch it to see its working interface.
Step 2:
Before adding files, let us define first where you want to save the resulting file and determine the filename and the output format. Go to the
Output
tab and customize the output folder, followed by the filename. Set the Format to
PNG - Portable Network Graphics
on the same interface.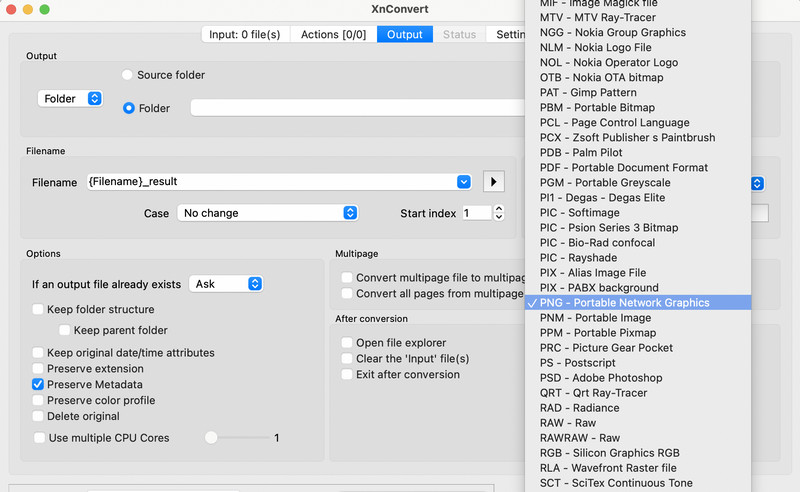 Step 3:
Now, proceed to the Input tab and load the JPG file(s) you like to convert. Simply do this task by hitting the
Add files
button and selecting the target photos.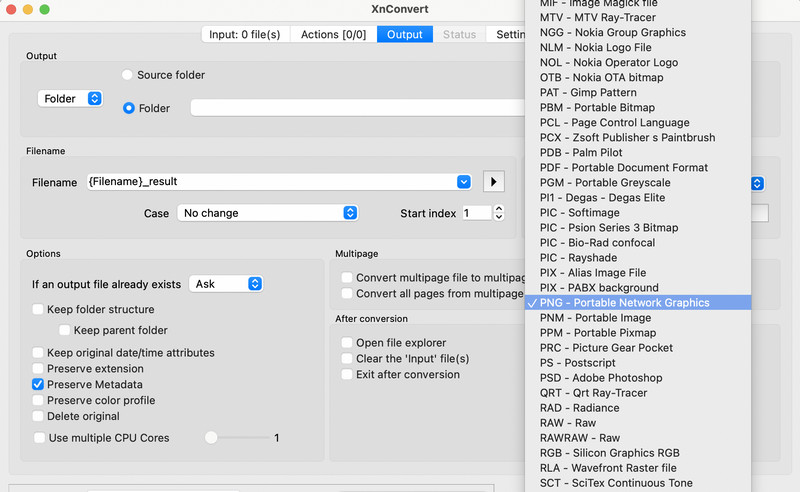 Step 4:
Finally, hit the
Convert
button and head straight to the Status tab to show the progress and where the converted photo(s) was saved. That is how to convert JPG to PNG on Mac using XnConvert.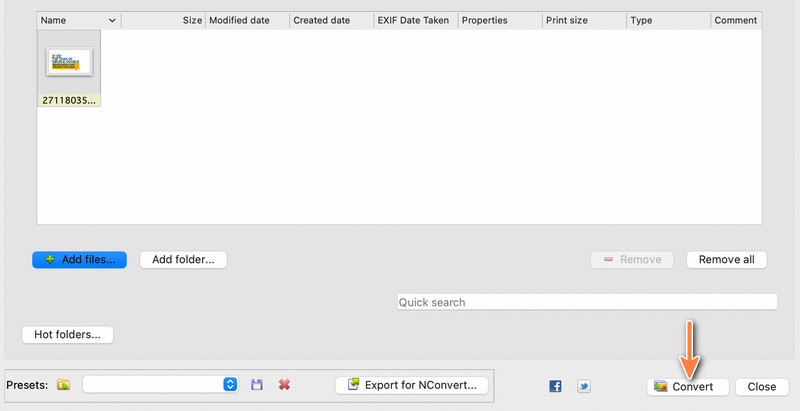 2. FastStone Photo Resizer
You may also rely on FastStone Photo Resizer to help you convert from JPG to PNG. In a quick and easy bulk mode photo conversion, the program enables users to quickly and easily convert, rename, resize photos, trim, turn, adjust color shading, and add content, filters, and watermarks to images. Besides, it can convert image formats to several file types. That includes BMP, GIF, TIFF, PDF, and a lot more. Meanwhile, follow the steps given beneath to learn how to operate this program.
Step 1:
Visit the FastStone Photo Resizer's official website and hit the
Download
button to get its installer. Right after, launch the program on your computer.
Step 2:
When the program is launched, you will see your computer folders in the program. From here, you can locate your target photos and add them to the input list. Simply select and hit the
Add
button.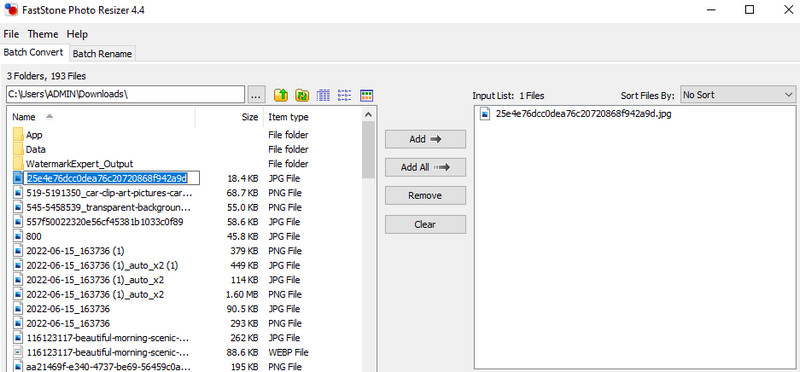 Step 3:
Next, set the
Output Format
to
PNG
and browse the folder where you wish to save your converted photos.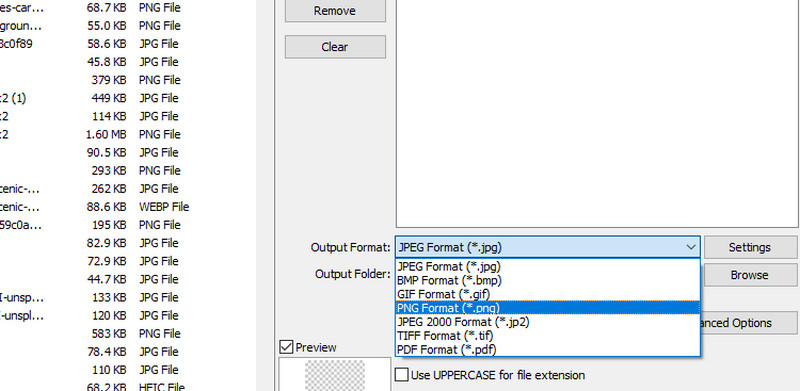 Step 4:
Finally, tick the
Convert
button at the bottom of the interface.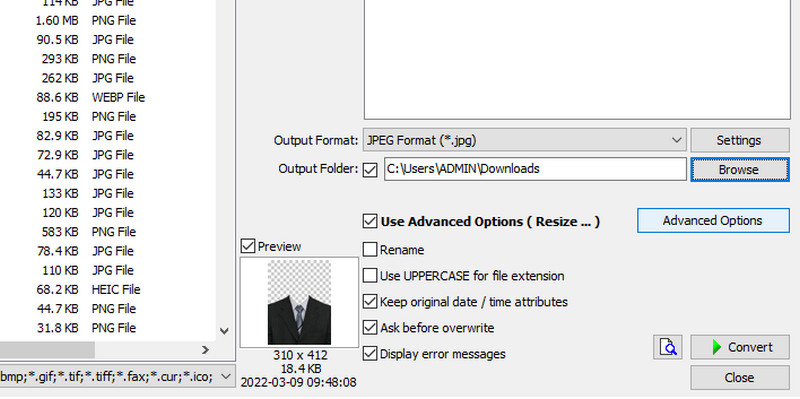 Part 3. Tutorial How to Convert JPG to PNG on iPhone and Android
1. File Converter - Online-Con
If you are using an Android device, you should consider using the File Converter app by Online-Con. It offers various conversion processes, such as image converter, audio converter, video converter, ebook converter, document converter, archive converter, and many more. For inputs, you can load files from local files by taking photos or converting from URLs. Overall, this Android application is a decent tool for converting JPG to PNG. Checkout how this tool works by referring to the simplified steps below.
Step 1:
From the application store on your Android device, install the File Converter - Online-Con and launch it.
Step 2:
You will see all the conversion processes offered by the program from the home screen. Now, hit the
SELECT YOUR FILE
button at the bottom of the interface and load your photo.
Step 3:
After that, select
PNG
on the
Image converter
option. Then, modify the necessary output settings and tap the
START CONVERSION
button.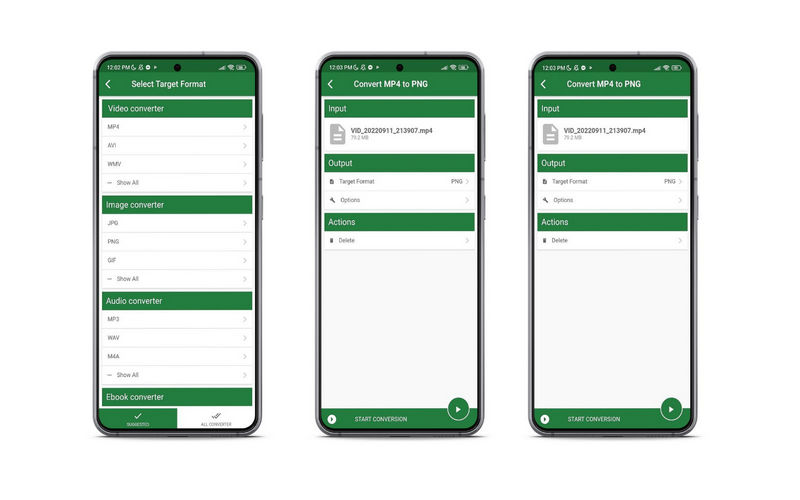 2. ImageConverter
The ImageConverter app for the iPhone is a good option to try if you prefer a tool you can use with your mobile device. This program for smartphones enables conversion between several formats, including PNG, PDF, HEIC, JPG, GIF, BMP, and TIFF. In addition, you may upload images from your local picture album using the photo URL, iCloud, and on-site photographs. The transformed files can also be sent via a variety of media. The only caveat of this program is that it is loaded with adverts that impede conversion processes. On the other hand, adhere to the steps below to discover how to change JPG to PNG.
Step 1:
Get the tool from the App Store and start the mobile app before doing anything else.
Step 2:
From the home screen, pick the source which you desire to load your JPG photographs from. Locate the desired image, then add it to the application.
Step 3:
After that, pick the
PNG
as the output format by swiping left in the format option. Next, modify the photo quality with the help of the slider.
Step 4:
Once all is set, hit the
Convert
button to initialize the conversion process. By then, you can share or download the converted photos on your local album.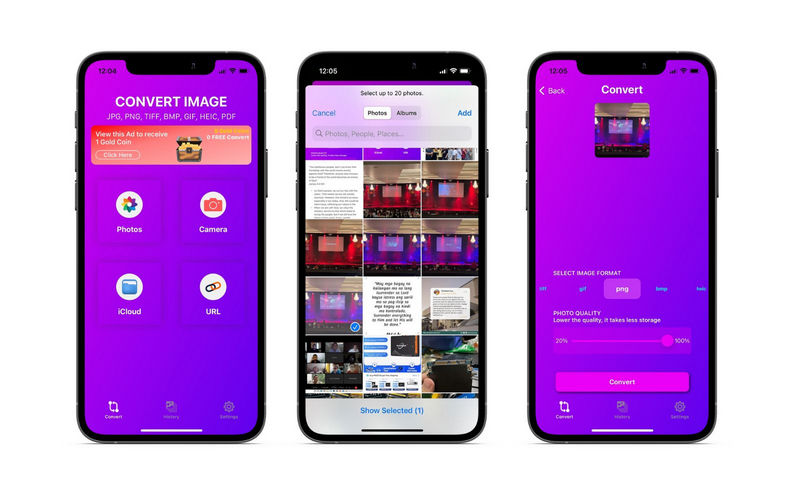 Part 4. FAQs About Converting JPG to PNG
Is JPG or PNG better?
No format is less than the other. Each format comes with its advantages and disadvantages. Since PNG uses lossless compression, users expect it to consume more memory storage than JPG if you ask what the difference between JPG and PNG is. Therefore, if you wish to have a balance of quality and media size, JPG is probably for you. Nevertheless, go with PNG if it is necessary to create logos, graphics, etc.
Which is best, JPG vs. PNG, in quality?
Generally speaking, PNG photos have higher quality than JPG photos. That is true since this image format uses lossless compression and is considered a good replacement for GIF image photos.
Is it possible to convert JPG to PNG transparently?
We all know that JPG does not offer an opacity channel. You can only get them from PNG photos. However, converting JPG to PNG alone will not give you a transparent photo. But after converting to PNG, you now have the ability to make JPG to PNG transparent background. Just make sure to save it to PNG after editing.
Conclusion
All mentioned JPG to PNG converter apps and programs are effective and efficient. Now, this post offers three methods for this conversion task. It is a matter of preferences for selecting the best tool. On the other hand, it is essential to consider the usability of a program. Hence, we recommend using the Aiseesoft Free Image converter online since you do not have to download or install an app, and its interface is easy to understand.

Leave your comment and join our discussion