Professional Guide of Lossless Converting JPEG to PNG on Windows/Mac
PNG and JPEG are popular image formats. Today, more and more people save their images to PNG but not JPEG. It makes sense, when you consider that PNG is lossless image format while JPG is a commonly used method of lossy compression for digital images. If you prepare to edit some JPG images, you'd better to convert JPEG to PNG first. Easy said than done, right? To save JPG images to PNG format without losing quality, you will need a professional image converter. We have identified the best options to complete this task on Windows and Mac. And in this tutorial, we will show you how to use these JPEG to PNG converters.

JPEG to PNG
Part 1: How to Convert JPG to PNG Online
There are several online JPEG to PNG converters on market, but only a few supports lossless conversion. And the process may vary depending on the service you are using, but generally you have to upload your JPG images, fill out some custom options, trigger the conversion process and then download PNG results. We use ZAMZAR JPEG to PNG Converter as the example.
Step 1 Copy and paste https://www.zamzar.com/convert/jpg-to-png/ into the address bar of your browser and click "Enter" key to open the image converter page.
Step 2 Click "Choose Files" button, navigate and highlight all JPG images you want to converter, and click "Open" to upload them. ZAMZAR supports converting up to 10 JPG images no more than 50MB at one time.
Step 3 Make sure to pick up "PNG" from the drop-down list next to "Choose the format to convert to", drop your email address in the box and click on "Convert" button to initiate saving JPG images to PNG files. Finally, the results will be sent to your email account.
Part 2: How to Convert JPG to PNG with Photoshop
Photoshop is a well-known image editor that has the capacity to convert any image files to PNG format. One reason that people want to save JPEG to PNG is to create transparent pictures. Photoshop can meet such demands.
Step 1 Launch Photoshop on your computer, drag and drop the JPG that you want to convert into the window. Locate to the "Layers" panel on right sidebar and double click on the picture to unlock it.
Step 2 Next, you can edit the JPG picture and delete unwanted background. If you save the result as JPG, the transparent background will become white automatically. The only way to keep the background transparent is to save the picture as PNG.
Step 3 Go to "File" and select "Save As" to open the Save As dialog. Input a name into the "Save As" box, then you can select a proper location to save the result. Click and unfold the Format drop-down list and choose "PNG". Once click on "Save" button, you will be taken to the next dialog.
Step 4 Here you can customize other parameters based on your requirements. If you want to keep the background transparent, check the box next to "Transparency". Finally, click on "Save" button to export the picture.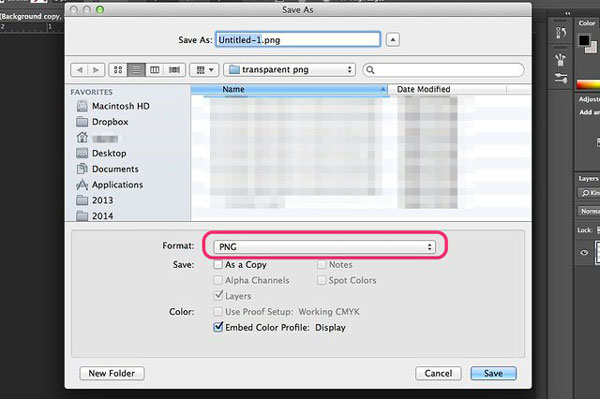 Part 3: How to Convert JPG to PNG on Mac Computer
To be honest, Photoshop is too professional for ordinary people to convert JPEG to PNG. Fortunately, the pre-installed utility, Preview, is able to save JPG images to PNG files simply. And you do not need to install anything on your Mac.
Step 1 Add the JPG image into your Preview app by dragging and drop it into the Preview icon.
Step 2 Navigate to "File" > "Duplicate" to make a copy, if you want to keep the original picture. This step is not necessary.
Step 3 This time select "Export" or "Save As" from the "File" menu depending on the version of your Preview.
Step 4 Choose "PNG" under the "Format" drop down menu and fill out other options. Then click "Save" button to save the JPG copy to PNG.
Now, your PNG file has been converted and sent to the location you pick. If you have more JPG images, repeat the steps above to convert them within Preview.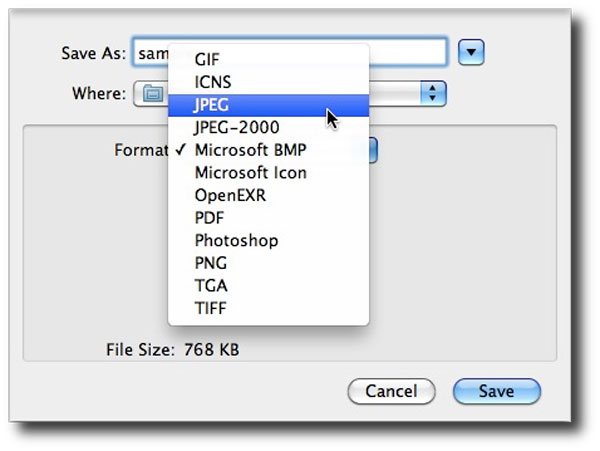 Tips: What is the difference between JPEG and PNG, which has better quality?
Though we create pictures and use a variety of picture formats every day, many people do not understand the differences between these pictures. That may produce poor results. So, let's talk about which is better option, JPEG to PNG, under different situations.
Definition
JPG or JPEG, stands for Joint Photographic Experts Group, was released in 1992 aiming to make large photographic files smaller.
PNG, also known as Portable Network Graphics, was developed as an improved replacement for GIF.
Quality
JPG is a lossy image format; while a PNG is a lossless compression image. It means PNG is able to create small image files without losing quality. Apparently, PNG image is better than JPG under the same conditions.
File Size
Developers released JPG in order to share large photos quickly, so JPG is compressed as much as possible. That is why people prefer to use JPG on websites.
Extra benefit
The biggest advantage of PNG is to create transparent images. Don't waste your time to remove the background of JPG, because the background will be filled once you save it. But PNG images are allowed people to keep the background transparent.
Recommendation: Produce JPG and PNG from PDF with PDF Converter Ultimate
If you want to create JPG and PNG from PDF files, Aiseesoft PDF Converter Ultimate is the best option since it offers many useful features, such as:
1. Convert image-based PDF to JPG, PNG and other formats.
2. Save a part of PDF document to image file.
3. Support a wider range of output formats.
4. Offer a variety of custom options to create personalized results.
5. No damage on image quality while converting.
6. Available to Windows 10/8/7/XP and Mac OS.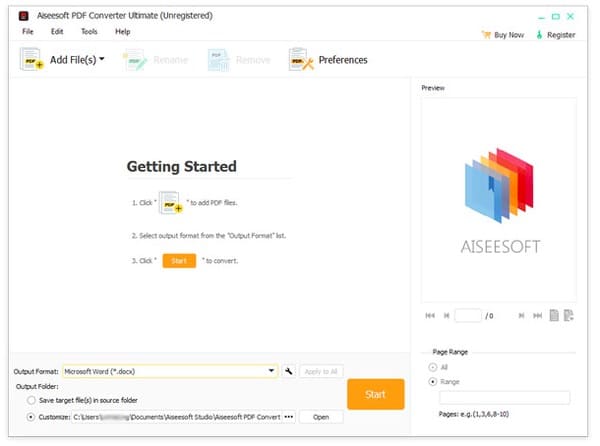 Conclusion
Based on our introductions above, you might understand the differences between JPG and PNG. Many people need to save JPEG to PNG in order to make a transparent picture. We shared three best ways to do this task. Online image converter is a portable way to get PNG images. Photoshop is a professional picture converter offers rich picture editing features. And Preview utility is a simple method to produce PNG image from JPG files.