How to Delete Email Account on iPhone
Setting up your email on your iPhone or iPad is really convenient to manage multiple emails, add signatures and etc. However, when you do not want to keep using your current email account or you are going to remove a certain account from the device, what you need to do is to delete the email account on iPhone.
In order to achieve the goal without any loss of important data, you have to follow the correct steps. And here you can find the most comprehensive guides about deleting email accounts on your iPhone/ iPad. If you are interested with this topic, please read on and learn more details.

Delete Email Account on iPhone
Part 1. How to delete an email account on your iPhone and iPad
First and foremost, what you have to know is that deleting an email account will swipe out all the content, such as the mail settings, login details, drafts, notifications as well as emails. So you have to make an up-to-date backup of your iPhone before you start deleting all emails on your iPhone.
Thus, to make everything is all right, you'd better use a professional data backup program to help you make a manual backup. Aiseesoft iOS Data Backup & Recovery can help you backup and recover all content and settings on iPhone, iPad, and iPod Touch, including photos, videos, messages as well as your email accounts and so on.
Key Features:
One click backup: Backup your iOS data to computer within one click without overwriting any existing data on your iOS devices.
Restore Data: Preview and select the iOS data you want to restore (all data or selective data optionally) with this iOS data restoring tool.
iOS Devices: Support all iOS devices including iPhone X/8 Plus/8/7 Plus/7/SE/6 Plus/6/5s/5c/5/4S/4, iPad Pro/mini/Air, iPod touch 6/5/4.
After you have backed up data from your email account on iPhone, it is time to delete an email on your iPhone. No matter you want to clear some unnecessary emails from your iOS device, or you are willing to free up more storage space, just follow the detailed steps below to delete emails on your iPhone/ iPad:
Step 1 Open Settings app
Launch Settings app on your iPhone, iPad, scroll down through the page and choose "Mail, Contacts, Calendar" option.
Step 2 Select a certain email account
Choose and click a specific email account that you are going to get rid of in the "Account" section, and check the detailed info about this selected email account, such as the email address and etc.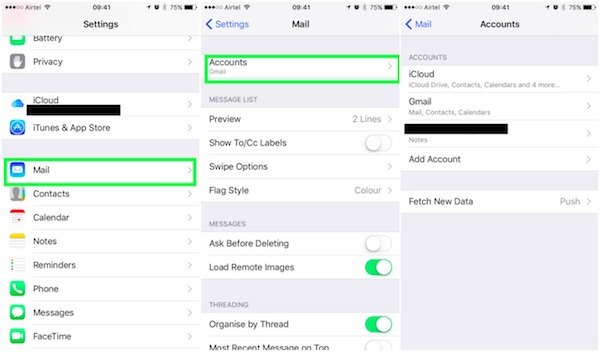 Step 3 Clear an email account
Then simply click on the red button of "Delete Account", and confirm your deletions by clicking it again to delete the email account.
Step 4 No email in the deleted account
It is done. Now you will find the mailbox of this deleted account is no longer available, and you are not able to access any email in this account.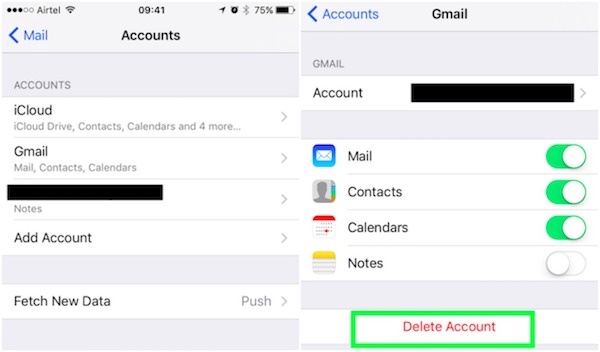 One thing to illustrate, you will not lose this email account actually after deleting it from your iPhone or iPad. If you need it again in the future, you are able to add it back again to your iOS device.
Part 2. How to disable an email account on your iPhone and iPad
If you just want to disable the certain email account but not delete it on your iPhone, iPad, follow the general steps below to make it:
Step 1 Launch Settings app
First of all, open Settings app from the home screen of your iOS device, which is a gear icon on the grey background.
Step 2 Tap on "Mail, Contacts, Calendars"
Next, scroll up the page until you can see the "Mail, Contacts, Calendars" option. Simply tap it to enter the email page.
Step 3 Select an email account to delete
Here you are able to see a list of your email accounts. Find and locate the one email account that you are going to disable.
Step 4 Disable the email account
On the Mail option, switch the button from green to white and you have managed to disable the selected email account.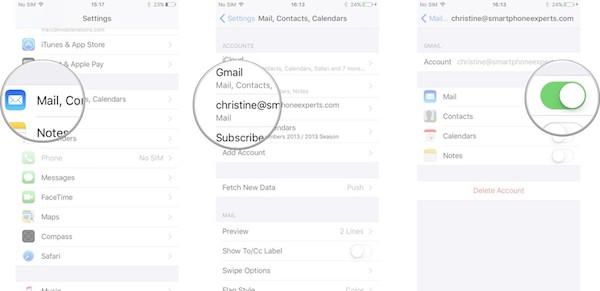 Note: If you want to enable the email account again, just toggle the Mail option to "On".
Besides deleting email accounts, if you are going to delete some or all cache, unwanted history, downloaded files and other files on your iPhone, iPad or iPod Touch, FoneEraser should be a nice choice for you to take into considerations.
Aiseesoft FoneEraser is one of the most useful and professional utilities. It should be a good choice to help you delete everything, such as photos, videos, password, videos, text messages, call history and email accounts permanently and thoroughly on iOS device.
Key Features:
This software offers you three erasing levels optionally to delete everything, including email accounts iPhone.
FoneEraser provides 100% promise to erase all files and data without zero recovery possibility.
It will remove all the data and settings from your iOS device with one click safely and securely, with no personal information tracked.
You are supported to erase data with more than one device simultaneously to free up more storage and improve the running speed.
Conclusion:
This passage is an ultimate guidance about how to delete an email account on iPhone/iPad. You can learn not only the correct method to clear emails on your iOS device, but also disable a certain email account from this tutorial.
Have you managed to get rid of emails on your iPhone? Please tell your experience. If you have any troubles in the deleting process, you can also share them in the comment. Do not forget to share this passage on your social website with your friends if you like this article!