How to Delete A Large Amount of Emails on iPhone 12/11/XS/XS Max/XR/X/8/7/6/5/4
Emails are the most commonly used tools in office and daily life. You can use the mailbox to organize mails on your iPhone. You may have added a lot of email accounts like iCloud, Google, Yahoo emails, or more to your iPhone. As time went by, the emails are growing more and more, which takes a large space on your iPhone storage.
A large bulk of emails may slow down efficiency at work. What you focus on right now is how to get rid of these multiple emails from your iPhone. This is also what we care about. In this post, we are going to provide you simple guides about how to delete emails on your iPhone and how to delete them in bulk with one click.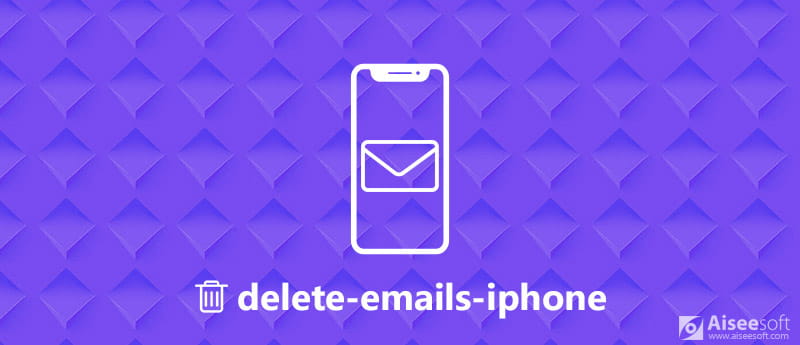 Delete Emails on iPhone
Part 1. How to Delete Emails on iPhone Directly
Emails and attachments in iPhone inbox are taking large capacity on iPhone storage. There may be a lot of junk files taking up your iPhone. You can delete these annoying emails at once by following these steps.
Delete a single email on iPhone
Step 1.
Open Mail and click Inbox.
Step 2.
Find the email you want to delete.
Step 3.
Swipe left or right to move it to
trash
.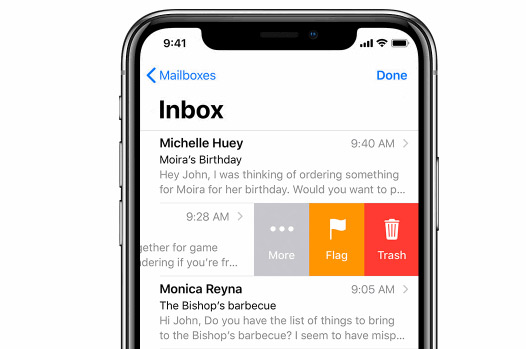 Delete Multiple emails on iPhone
Step 1.
Open Mail and go to Inbox.
Step 2.
Tap
Edit
and choose the email you want to delete.
Step 3.
Tap
Trash
to delete the selected emails.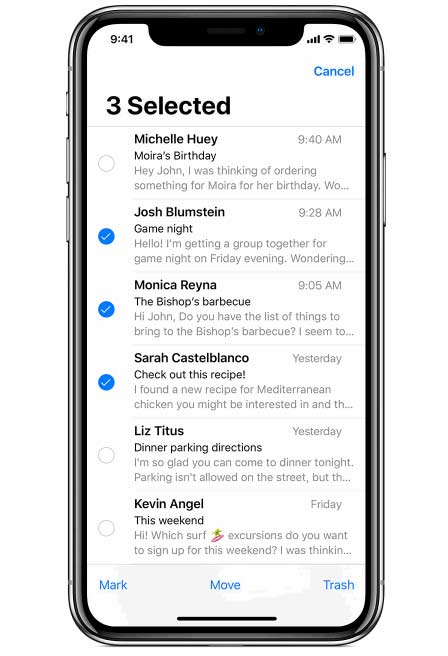 Delete all emails on iPhone
Step 1.
Open Mail app on your iPhone.
Step 2.
Tap the
Inbox
to check all emails you have received.
Step 3.
Tap
Edit
to choose the emails to delete.
Step 4.
Tap
Trash All
to delete all emails on iPhone.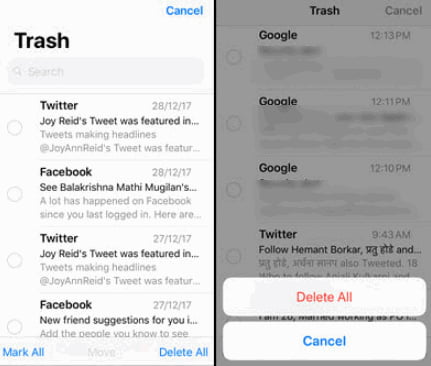 If you want the confirmation of deletion to show on, you can go to Settings > Mail, and turn on Ask Before Deleting. So, you can confirm the deletion again in case some emails are mistakenly deleted.
Note: If you don't want to delete all emails at once, you can retrieve them from the trash bin before they are completely deleted.
Part 2. How to Permanently Erase Emails on iPhone
It doesn't seem to clean iPhone emails thoroughly when moving them to trash. If you want to clean your iPhone thoroughly, you can use the powerful Aiseesoft FoneEraser. It can be a good iPhone assistant to erase all contents and settings on your iPhone. If you really want to clean your iOS device, it should be your best choice.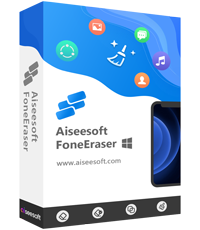 Downloads
Erase emails, contacts, messages, photos, videos, calendar, etc.
Provide 3 erasing modes: Low Level, Middle Level, and High Level.
Support iPhone 12/11/XS/XS Max/XR/X/8/7/6/5/4, iPad Pro/Air, iPod touch.
Compatible with Windows 10/8/7/XP/Vista, iOS 15/14/13/12/11 and more.
To avoid emails accidentally deletion, you should first backup your iPhone data with FoneLab iOS Data Backup & Restore. It is a safe and efficient tool to backup your iOS data to your computer, or restore iOS data backup to your device or computer.
You can follow the steps below to erase emails and other data on your iPhone.
Step 1. Run FoneEraser
Assume that you have downloaded and installed FoneEraser on your iPhone. Connect your iPhone to computer with a USB cable, and run the program on your computer.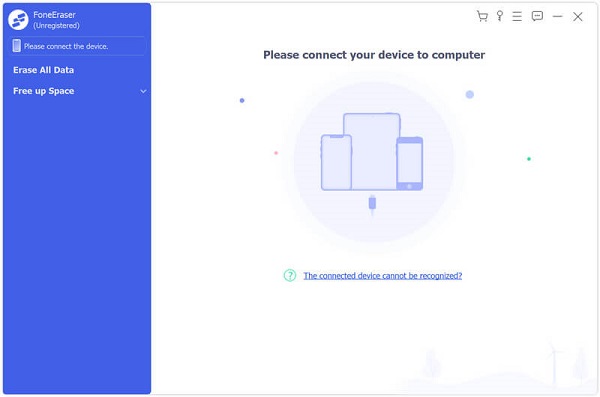 Step 2. Choose erasing level
Choose one erasing level from Low Level, Middle Level, and High Level. The higher level you choose, the cleaner your iPhone is.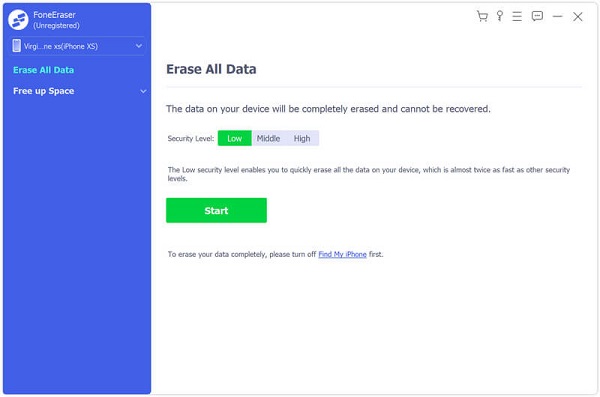 Step 3. Delete emails and others
After choosing one erasing mode, you can click "Start" and then input "0000" to delete iPhone data, including mails, contacts, messages,
photos
, videos, notes and more.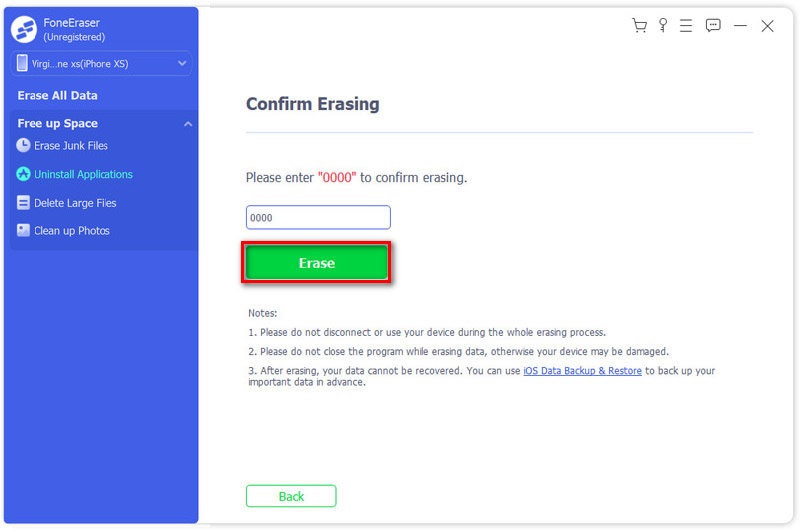 After that, you have completed the whole erasing process on your iPhone. All emails have been deleted thoroughly forever.
Besides deleting emails, if you want to delete email accounts, caches, unwanted history, downloaded files and more on your iPhone, iPad or iPod touch, this tool is also the best choice for your consideration.
Part 3. How to Set up Swipe Options and Archive
The swiping to delete options can be set on your iPhone. You can set to drag the emails to left or right as you want. Be sure to follow the steps below.
Step 1.
Go to
Settings
>
Mail
>
Swipe Options
.
Step 2.
Select
Swipe Left
to choose access features like
Mark as Read
,
Flag
,
Move Message
,
None
.
Then, you can select Swipe Right to choose other features or Archive.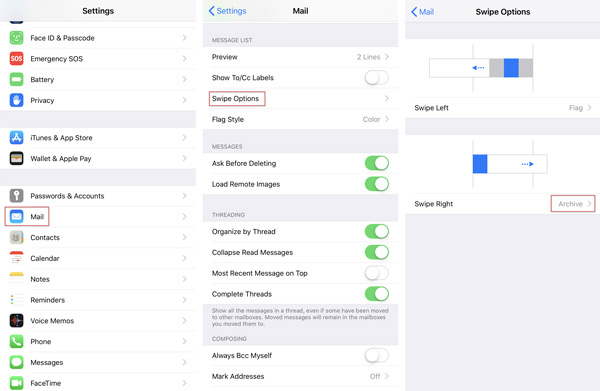 You may want to know about: Mail Days to Sync and How to Sync Email to iPhone
Part 1. How to Delete Emails on iPhone Directly
Why can't I delete my emails on iPhone in iOS 14?
It seems to be something to do with verifying your email account. You can go to Settings, tap Mail, find Accounts, then select the appropriate account. Select "Re-Enter Password" and then enter the password for that account to verify your account again.
How to remove email accounts on iPhone and iPad?
Go to the Settings > Passwords & Accounts (iOS 13 and earlier) or Settings > Mail > Accounts (iOS 14 and later) section and select the account. At the bottom of the account detail screen, tap Delete Account. You'll be asked to confirm this action, and then tap Delete Account.
How to delete Gmail emails on iPhone?
On your iPhone, open the Gmail app. Select emails by tapping the circular sender's image or letter next to each email. Then, just tap Delete.
Conclusion
This article mainly introduces 2 solutions to delete emails on iPhone quickly. Additional tip about setting up swipe options or archive is also mentioned here. With the professional erasing tool FoneEraser, you can erase all emails permanently on iPhone. But remember to backup your iPhone data first before using it. If you have any better solutions, please feel free to leave a comment.

Leave your comment and join our discussion