3 Ways to Delete Games on iPad
Are you tired of some games on your iPad and want to delete them? Here, we will tell you how to delete games on iPad in 3 ways. After all, if you have many apps to delete, it is time-consuming and you need a better idea to delete these games from iPad.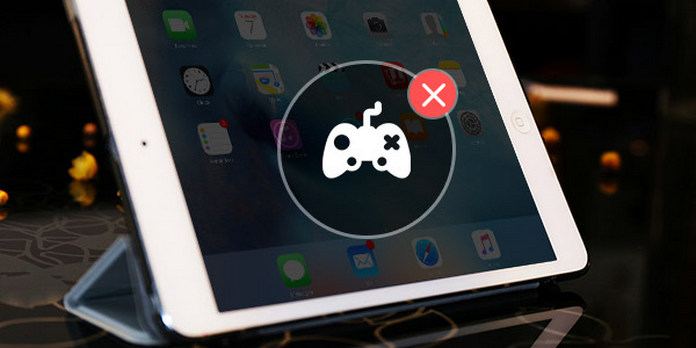 Method 1. How to delete games from iPad directly
Deleting games from iPad is an easy but boring thing. Let's see the basic steps to delete games from iPad directly.
1Unlock your iPad, search for the Game/App you want to delete.
2Press the game/app icon until a small cross icon appears, and tap on the small cross sign.
3A pop-up window shows that deleting your app will delete all of its data. Just tap "Delete" to remove your game/app.
Tips:
1. You need to also delete games from iTunes, or iTunes will sync back to your iPad.
2. You can learn here to delete the game videos from iPad here.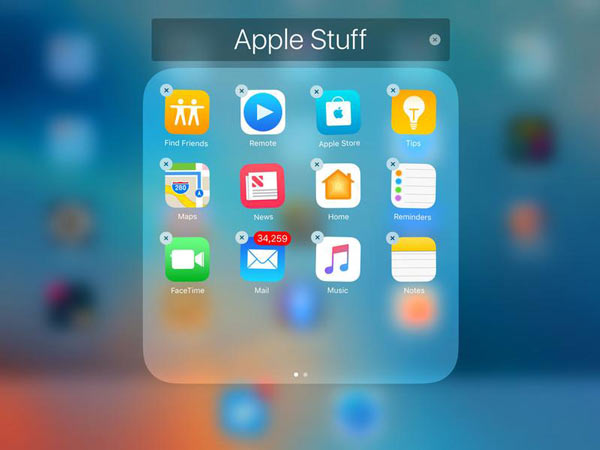 Method 2. Delete games from iPad via Settings
Besides deleting games from iPad directly, you can also remove game apps through Settings.
1Unlock iPad and tap "Settings" > "General" > "Storage & iCloud Usage" or "Usage".
2Select on "Manage Storage" and you will see all the apps installed on your iPad.
3Find the game app you want to delete, tap it and tap "Delete App" button to remove the app.
In this way, you are able to manage iCloud storage easily.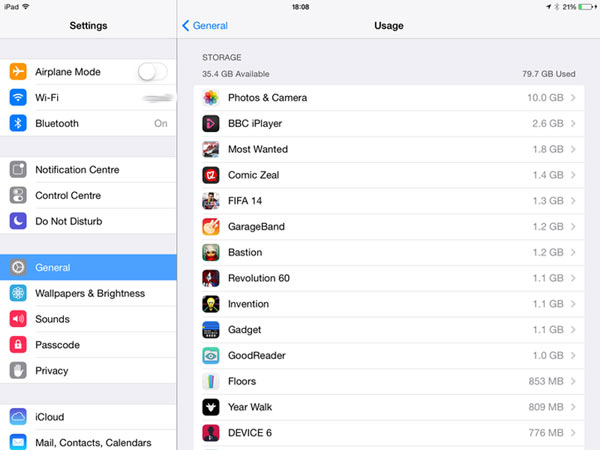 Method 3. How to delete all games easily and quickly
The first two methods to delete games on iPad is easy to learn, but when you want to delete some games at the same time, it is not a good idea. So here, we will tell you the easiest way to delete mass/all games quickly.
You need one iPad cleaning tool to delete apps/games from your iOS devices, and FoneEraser can help you quickly scan and find apps on your iPad and delete them in bulk.
1Launch iPad Eraser
Free download, install and launch this iPad cleaner on your computer. Connect your iPad to computer via a USB cable.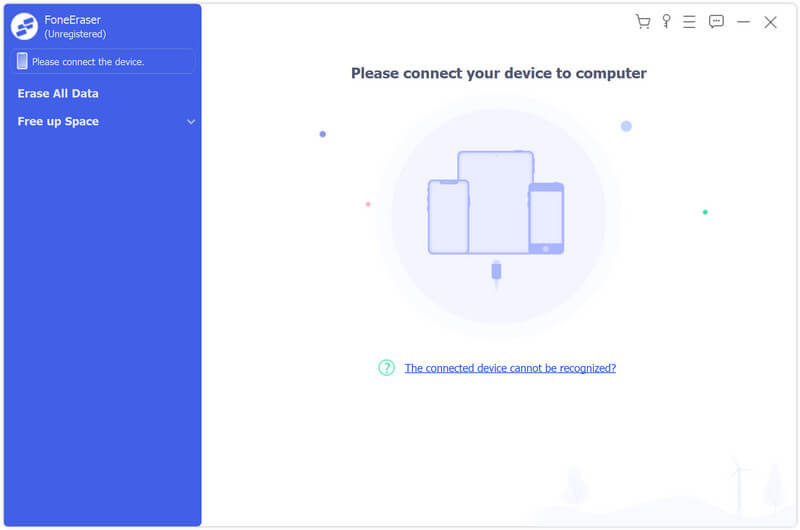 2View iPad storage.
To uninstall game app on iPad, you need to navigate to the "Free up Space" tab from the left panel. Here you can see the the available space and capacity on your iPad. Click "Quick Scan" button to scan your iPad.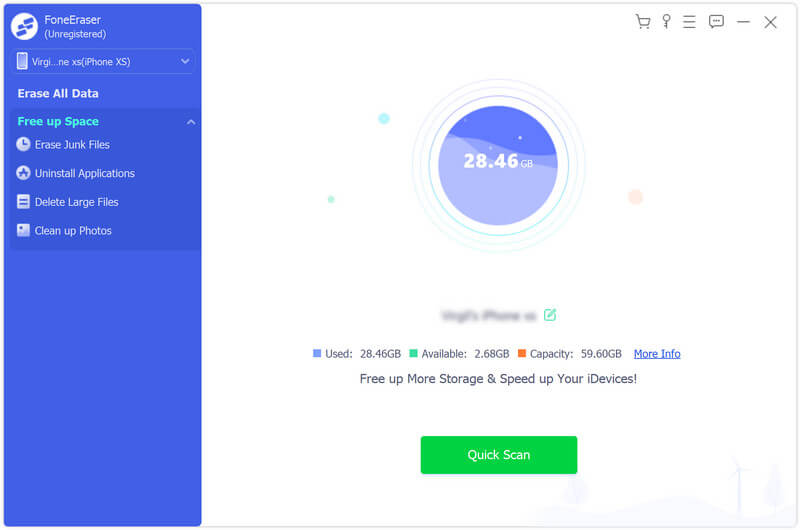 3Delete game on iPad.
When the scanning process has finished, you can click "Erase" button next to "Uninstall Applications". After that you can see a list of applications installed on your iPad. Scroll up and down to find the game app you want to delete, and click "Uninstall" button delete a certain game app on your iPad.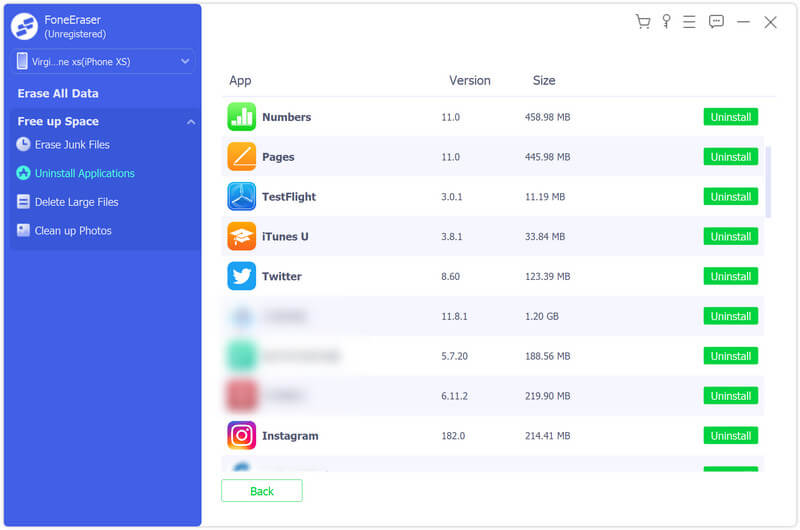 If you want to delete games in a batch, you can use "Erase All Data" feature to delete all data including game app and data on your iPad.
FAQs of deleting games on iPad
1. Where can I download a game on iPad?
Open App Store app on your iPad, and go to Games tab at the bottom. You can browse or search for the game app that you want to download.
2. How do I remove a game from my Mac?
Open the Game Center application on your Mac. Tap the Games tab in the toolbar area at the top. Identify a game you'd like to remove from Game Center under the My OS X Games heading, right-click it (Option-clicking will do as well) and choose Remove from the contextual menu. In a dialog that pops up, click Remove to have the item removed from Game Center.
3. How can I delete all game data from my Game Center?
Since the release of iOS 10, all of your Game Center data is now stored in iCloud. To remove all of your game's data, tap on Settings, then Apple ID Profile. Find iCloud and, tap on Manage Storage. Then, look for the game in the list of apps that iCloud backs up data for and tap it. Select Delete Data. Note that this will delete all data for this game from all Apple ID connected devices.
In this article, we mainly talk about how to delete games on iPad. There are 3 ways provided for you and you can choose one according to your need. If you want to clean everything on iPad/iPhone/iPod safely and thoroughly for selling it, you can also try professional iPad Data Eraser, one iOS device eraser to delete everything forever.
iPad Data Eraser
Erase various content and settings permanently and thoroughly.
Clear txt contents, like Contacts, Text Messages/iMessages, Call history, Calendar, Notes, Reminder and Safari bookmark.
Erase media file, like Music, Videos, Photos, iBooks, Podcast, iTunes U, TV Shows, Music Videos, Ringtones, Audio Books, Voice Memos, App, etc.
Meet your personal needs with three erasing levels selectively.
Support multiple iOS devices, like iPhone 12/11/X/8/7/6/5/4, iPad Pro, Air 2/1, mini 4/3/2/1, etc.
FoneEraser is the best solution to speed up iPad and you can watch below video to learn the steps: