10 Best Prank and Real Fingerprint Lock Screen Apps for Android
Phone security has been a very important problem because it is related with your privacy. And since Apple has launched fingerprint lock screen on iPhone 5s, Android users are looking for a fingerprint lock screen app to lock their Android and ensure their phone security. After all, Android inbuilt security is not very effective.
And here, we will show you 10 best fingerprint lock screen apps for Android, including prank fingerprint lock screen apps and the fingerprint lock screen apps that really works. So you can pretend to fingerprint lock screen or really have one to protect your Samsung or other Android phones.
Part 1. Top 5 best fingerprint lock screen apps that really work
No. 1 - Fingerprint Lock Screen
Fingerprint Lock Screen is an app to lock out your phone buttons and only grant your access after reading your thumb print scan. To unlock your phone, hold your finger on the indicator light next to the scam area for two seconds, until the indicator light flashes green. Then scan your finger and you will be granted access.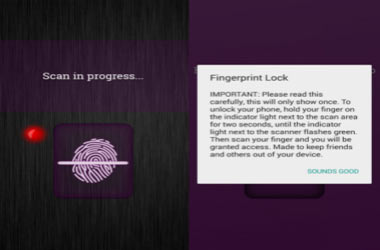 No. 2 - CM Locker
CM Locker is the 1st lockscreen app that has support for the fingerprint unlock feature of Samsung Galaxy S6 and S6 Edge. And if someone tries to snoop through your phone and enters the wrong password, this fingerprint lock screen app will take a selfie of said person, therefore giving you the identity of who wants to hack into your phone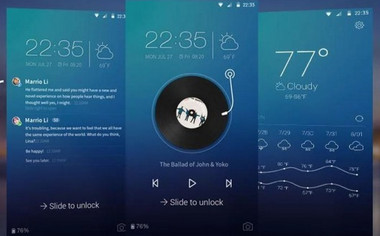 No. 3 - AppLock
AppLock is a screen security app that supports various locking mechanism including fingerprint lock. The various screen locks include password lock, pattern lock and fingerprint lock. You can lock any app using AppLock and also stop others uninstalling your apps. This fingerprint lock screen app also has a power saving mode to save battery.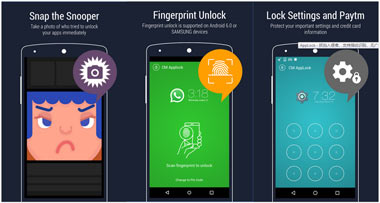 No. 4 - ICE Unlock Fingerprint Scanner
ICE Unlock Fingerprint Scanner is a fingerprint lock screen app for android devices without a fingerprint scanner. It works by taking the picture of your finger and your fingerprint will be matched with the picture, if match successfully, your phone will be unlocked. This fingerprint lock screen app works on ONYX HD Authentication.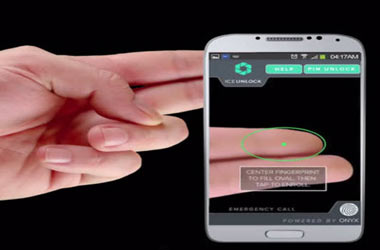 No. 5 - FingerSecurity
FingerSecurity is the first app that allows Android device users with a fingerprint sensor to protect their apps with their fingerprints. It can automatically protect new apps and unlock your apps at specific locations, also protect notifications of protected apps and detect intruders by taking a picture of them.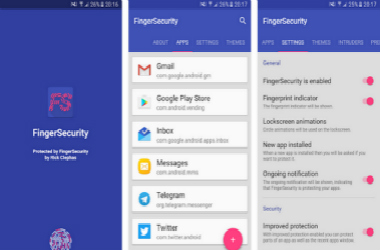 Part 2. 5 Best fake fingerprint lock screen prank apps
No.
Fingerprint Lock Screen Prank App
Icon
Features
1



◆

One free and real lock screen app as well as a prank fingerprint screen locker.


◆

You can also customize this lock scanner with your selected theme


2

Fingerprint Lock Screen PRANK




◆

One realistic fingerprint scanner that simulate fingerprint reader to identify your identity.


◆

You can display the date and time as iPhone iOS lock screen style

3

Free fingerprint lock screen prank




◆

A very funny fingerprint lock screen app like a real biometric lock for authentic access to your android device.


◆

It has best Simulator which shows real like Fingerprints animation.


4

Biometric Lock screen Prank




◆

It is one prank and free application to improve the security of your mobile.


◆

Support setting names & images on lock and enter your name and identity code when phone unlock.

5



◆

One screen locker that allows you to choose between a keypad and a fingerprint scanner simulator.


◆

Fingerprint scanner simulation with keypad option.

Part 3. FAQs of fingerprint lock screen apps
How do I enable Touch ID for apps?
To activate the fingerprint feature on Android devices, you can visit Settings > Security and privacy > Privacy and app encryption. Or go to Settings > Fingerprint, face and password > Privacy and app encryption. Then you are prompted to enter a password to use fingerprint on Android.
How do I bypass fingerprint on Android?
If you want to bypass fingerprint lock on a second-hand phone, you can simply unlock your Android phone. You can go to Android Manager Device site and log into your Google account. Choose the device you want to unlock, and click Lock to create a temporary password.
How do I disable lock screen on Android?
Go to Settings app on your Android, and tap Security to Screen lock to Select None. If you have a an existing unlock like PIN, pattern, password or fingerprint scan, you need to unlock it before disabling lock screen.
In this article, we have list 10 best fingerprint lock screen apps for Android, you can choose fake fingerprint lock screen app or real fingerprint lock screen app according to your need. Hope you have fun and have a privacy protection.