How to Enlarge JPG Files Size for Free on Windows and Mac
Some people asked how to make JPG images larger without damaging quality online. Fortunately, there are tools that can help you easily upscale JPG image. Another problem is that only if you use the right tool, you won't encounter the pixilation issue. Don't waste you time to search for the JPG enlarger tools online since this guide will show you the best ways to do the job on PC and Mac computer.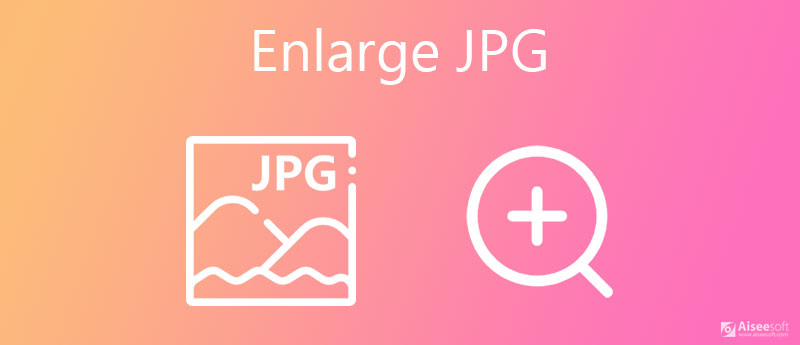 Part 1: How to Enlarge JPG Online
Today, we can perform a lot of tasks with web apps including enlarge JPG images. However, most online tools will only damage your photos. Aiseesoft Image Upscaler, on the other hand, is the exception.
Enlarge JPG images online without installing software.
Upscale JPG size to 2x, 4x, 6x, or 8x in one click.
Protect the photo quality using advanced technology.
Available to Chrome, Firefox, Safari and other browsers.
How to Enlarge a JPG Online for Free
Step 1:
Visit https://www.aiseesoft.com/image-upscaler/ in your browser to open the home page, and click the
Upload Photo
button to upload a JPG file. It also supports PNG, BMP, TIFF, etc.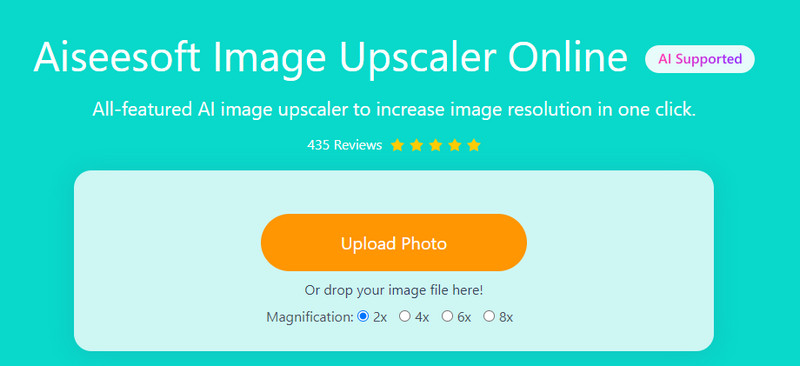 Step 2:
Then select the
Magnification
from
2x
to
8x
. The image size will appear under the result. You can also preview the result before downloading. The comparison panel lets you compare the original JPG file and the enlarged image immediately.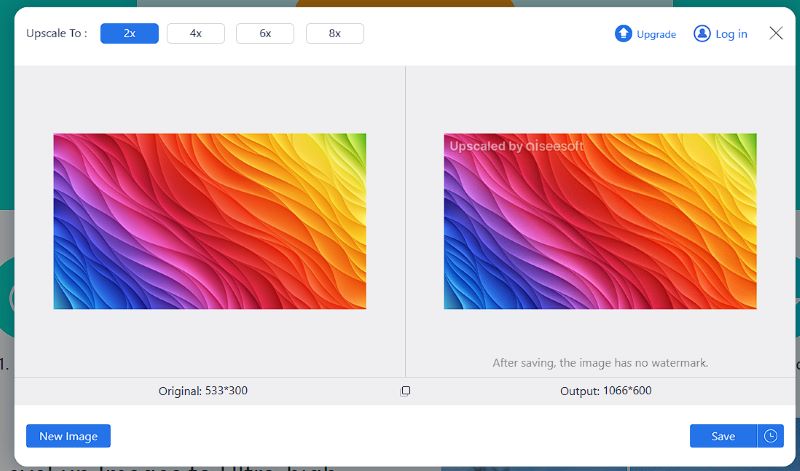 Step 3:
When you are done JPG enlarging online, click the
Save
button to download the photo to your hard drive. Then click
New Image
button to process another JPG immediately.
Part 2: How to Enlarge JPG File on PC/Mac
Today, manufacturers introduced a lot of utilities into Windows and Mac, so that users can do tasks directly. The built-in photo editor apps on Windows and Mac can help you enlarge JPG too.
How to Enlarge JPG File Size with Photos on Windows 10
Step 1:
Open the Photos app and you will see all photos on your disk.
Step 2:
Click the JPG file that you wish to enlarge to open it, press the three-dot icon at the top right corner, and select
Resize
.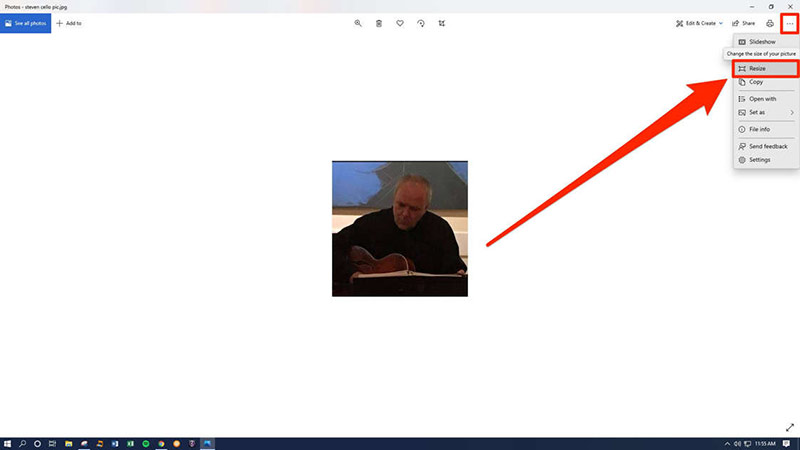 Step 3:
Choose
Define custom dimensions
on the popup dialog and then enter the new dimensions. To keep the original aspect ratio, check Maintain aspect ratio. Then you change one dimension and the other will be modified automatically.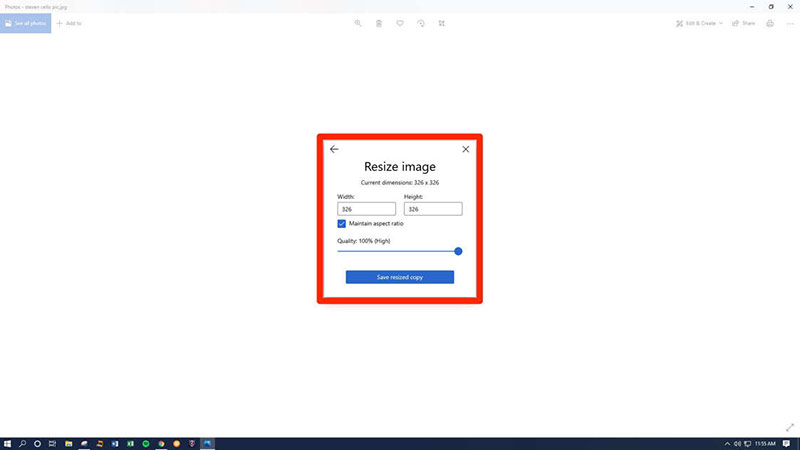 Step 4:
Click the
Save resized copy
and the enlarged JPG will be saved as a new image.
Note: You can also enlarge a JPG file size in MS Paint application, which is available to almost all Windows machines. It also allows you to convert enlarged JPG to other image formats.
How to Enlarge JPG Image in Preview on Mac
Step 1:
Find the JPG image you want to enlarge in Finder app on Mac, and open it. By default, it will be opened in Preview app. Or right-click on the image, choose
Open With
and select
Preview
to open the JPG file.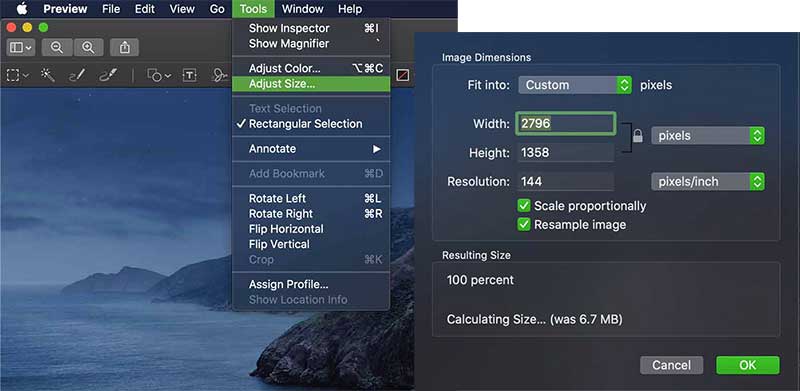 Step 2:
Go to the
Tools
menu on the top ribbon and choose
Adjust Size
. Then you will get the
Image Dimensions
dialog.
Step 3:
Tick the checkbox next to
Scale proportionally
and then enlarge Width or Height. Then other option will be upscaled. The new resolution and enlarged JPG file size will show up in the
Resulting Size
section.
Step 4:
Click on the
OK
button to confirm enlarging the JPG on Mac. Finally, go to the
File
menu on the top menu bar, and select
Save
to export the new dimensions.
Part 3: FAQs on How to Enlarge JPG Image
How do I enlarge a JPG without distorting it?
You can select the option to keep the aspect ratio or similar option when enlarge a JPG image. Then change one dimension and the other will adjust automatically. Read on Enlarge Image Without Losing Quality to learn more details.
How large a JPG image?
JPG is a compressed image format, so it produces smaller file size than RAW or other lossless photo formats in the same condition. Of course, the photo quality is not very good. Most social media and websites accept JPG images.
Will JPG images become pixelated after enlarging?
When you enlarge a JPG photo, it may become blurry or pixelated. However, a few of photo editors use advanced algorithm to fix this problem and produce the better output quality.
Conclusion
This guide has talked about how to enlarge JPG image without losing quality. Today, quality is not the cost of photo upscaling anymore. Then preinstalled Photos app on Windows 10 and Preview app on Mac can meet your need simply. Aiseesoft Image Upscaler offers better output quality and is easy to use. If you have other questions, please feel free to leave a message in the comment area below this post and we will reply on it.

Leave your comment and join our discussion