How to Upscale an Image to 4K Resolution for Printing or Large Screen
Image resolution is a relative term to describe the sharpness and clarity of an image. It refers to the density of an image, the number of pixels, as well as detail displayed on different screens. 4K, for example, is a superior image quality, which is designed for very large projection screens, outdoor advertising, and more. In fact, if an image is enlarged, viewers will see the pixels that make up the image. This tutorial tells you how to upscale images to 4K.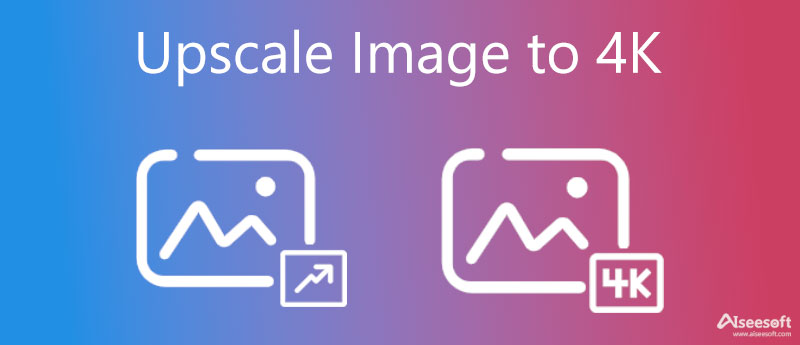 Part 1: How to Upscale Image to 4K Online
Aiseesoft Image Upscaler Online is one of the best 4K image upscaler online. Although it is an online app, users can find it as powerful as desktop software partly because it relies on AI to enhance image quality. Moreover, this app is completely free of charge. It won't ask you to sign up with your personal information or pay for watermark removal. To level up an image to ultra-high resolution, you just need a good internet connection.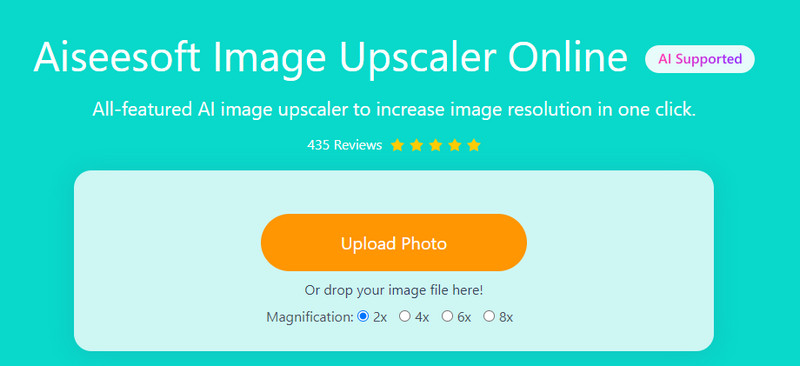 Step 2:
Press the
Upload Photo
button and upload the image that you want to enhance from your computer. It supports all popular image formats, like JPG, JPEG, PNG, and GIF.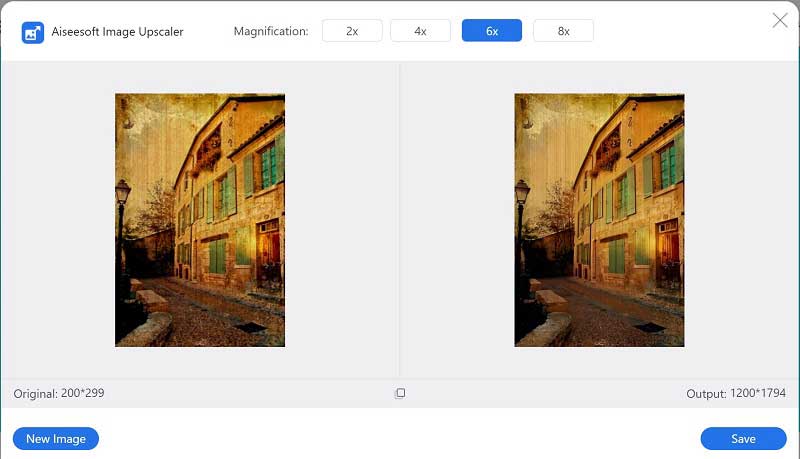 Step 3:
After uploading, you will be presented with the main page. Here you can upscale the image to 4K with the options above, such as
2x
,
4x
,
6x
, and
8x
. The result will show up in the Output panel in real-time. When you are satisfied, click the
Save
button and download it to your hard drive.
Part 2: How to Upscale Image to 4K in Photoshop
As a professional photo editor, Adobe Photoshop is widely used among studios, the advertising industry, and more. It includes lots of features and tools related to picture editing including upscaling an image to 4K or ultra-high resolution. Considering the workflow is a bit complex, we demonstrate it below.
Step 1:
Import the target image to your Photoshop. If you do not have the software, subscribe to it from the Adobe website.
Step 2:
Go to the
Image
menu on the top menu bar, and choose
Image Size
. That will open the
Image Size
dialog. Enter the desired values in
Width
,
Height
, and
Resolution
.
Step 3:
Bear in mind to check the box next to the
Resample
option, pull down the drop-down list and choose
Bicubic Smoother
. It is a new interpolation method to upscale images to 4K or higher resolution. It gives a smoother result. Hit the OK button to confirm the changes.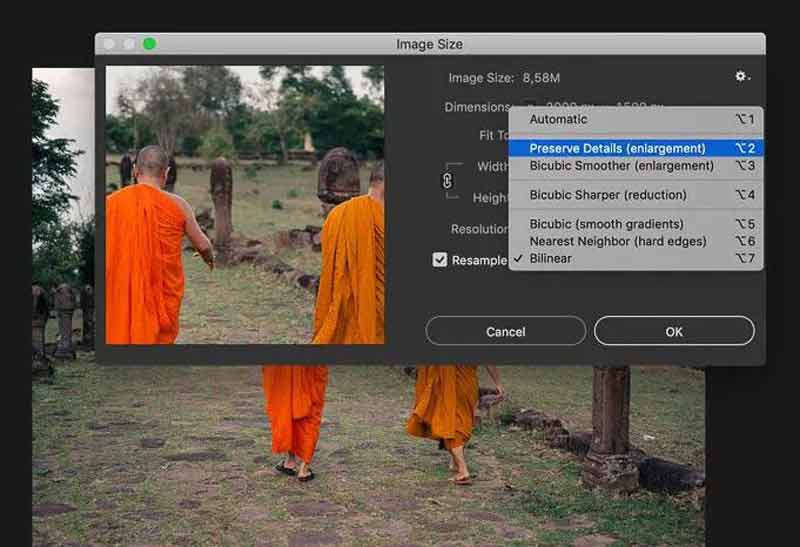 Step 4:
If your image has layers with styles, select
Scale Styles
under the gear icon. That will upscale the effects along with your image resolution.
Step 5:
At last, go to the
File
menu, and you will see several options for image saving. To keep the ultra-high quality, choose
Save As
. Find a proper location, and enter a filename. Pull down the
Save as type
option, and choose
PNG
, which is a lossless image format.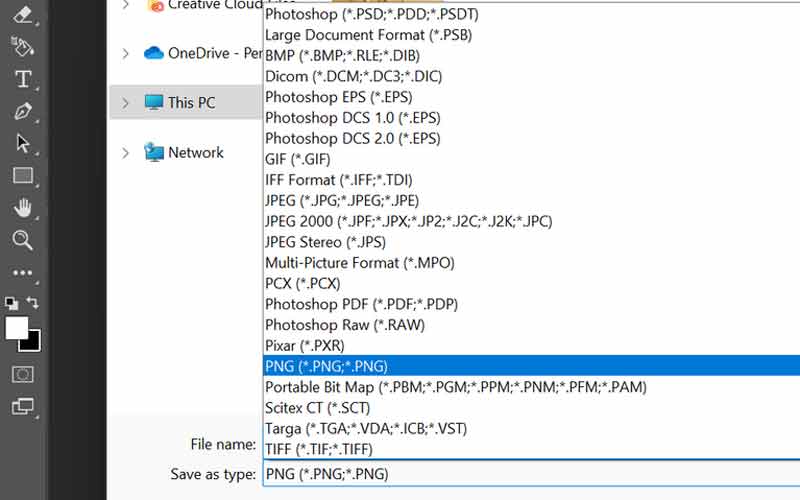 Note: If you intend to upload the image to the internet, select Save for Web from the File menu.
Part 3: Best 4K Image Upscaler Apps for iPhone/Android
Top 1: PicPlus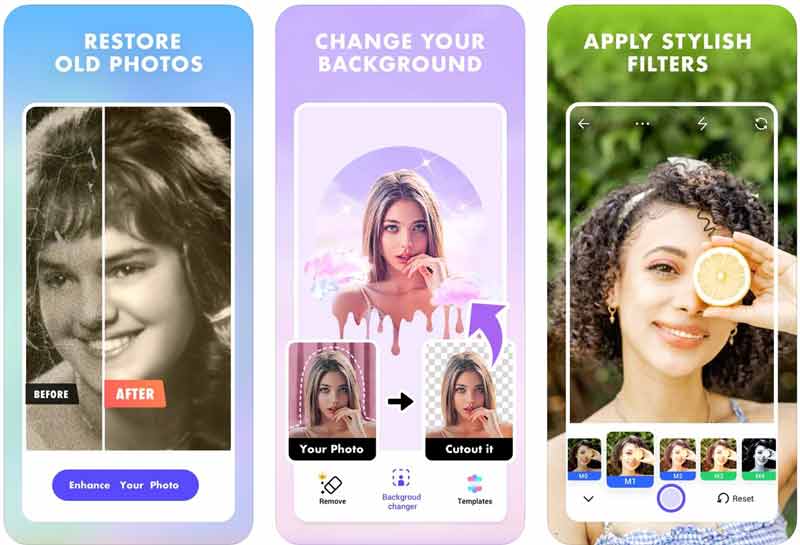 Platform: iOS 11.0 or later, Android 5.0 or above
Price: Free with in-app purchase
PicPlus is an all-in-one 4K image upscaling app for both iPhone and Android devices. It includes an image enhancer to restore your old photos to HD images on a mobile device without extra hardware.
PROS
Easy to use.
Include a wide range of features.
Save images in high quality.
CONS
There are too many features for beginners.
It is large and takes space.
Top 2: AI Image Enlarger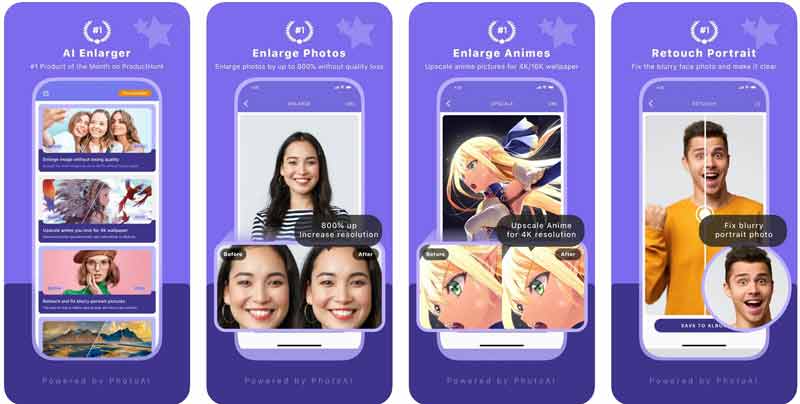 Platform: iOS 11.0 or later, Android 6.0 and up
Price: Free with in-app purchase
As its name indicated, AI Image Enlarger uses artificial intelligence to automatically fix defects in photos, and improve the quality. Moreover, it can reduce noise from pictures with algorithms.
PROS
Upscale images for 4K, 8K, and 16K.
Maintain accurate color.
Enhance and correct color.
CONS
It takes a while to enhance images.
This app requires an internet connection when working.
Top 3: Remini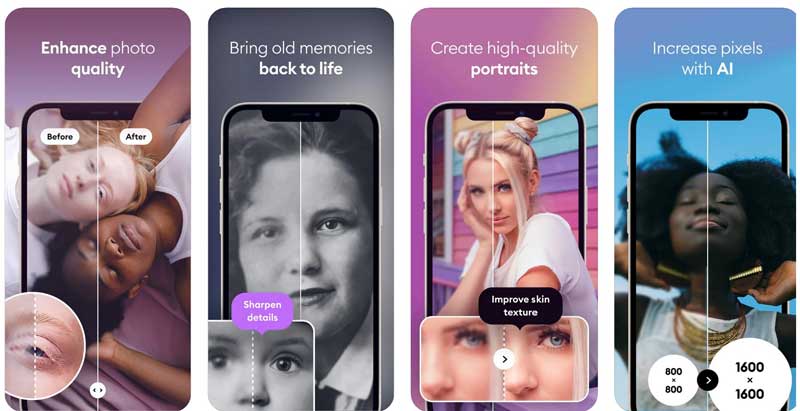 Platform: iOS 12.1 or later, Android 6.0 and up
Price: Free with in-app purchase
Remini is another app to upscale images to 4K or HD. It relies on AI technology to improve image quality, create clear HD, and give a new appearance to pixelated and low-resolution photos.
PROS
Upscale image resolution with art AI.
Available in a variety of languages.
Enhance portraits, selfies, and more.
CONS
To access unlimited features, you have to subscribe to a plan.
The free version contains ads.
Part 4: FAQs on Upscaling Image to 4K
Why you should upscale an image to 4K?
The 4K image is smoother and has more detail than an HD image. Therefore, when you look closely at a large screen, the image won't become blurry or pixelated.
Does upscaling improve picture quality?
Yes, it does. Using a small-sized photo to print a large poster is a recipe for disaster. If you upscale an image, the resolution will increase correspondingly.
Can I keep photo size while upscaling quality?
Image quality refers to the resolution, while photo size is about the width and height. Therefore, you can upscale image quality but not change the dimensions. That will increase the pixels on the image within a certain area.
Conclusion
Now, you should understand how to upscale an image to 4K and enhance the image quality in different situations. If you already have Photoshop on your desktop, it is a good choice to increase image resolution with our guide. For people who do not like to install software, Aiseesoft Image Upscaler Online is the best option to improve image quality online. More questions about this topic? Please feel free to contact us by leaving a message below this post.

Leave your comment and join our discussion