How to Record Blu-ray Movies with OBS
Blu-ray endows the best quality video and audio in a disc-based format you can enjoy in your home theater effortlessly. If you want to copy those high-quality Blu-ray movies for playback on portable devices, a Blu-ray recorder can satisfy your needs.
As you know, OBS (Open Broadcaster Software Studio) is a free, open source, and cross-platform streaming program. Meantime, it also works as a great recording tool to capture the screen activities, videos and audio on your computer. With the help of OBS, you're able to record Blu-ray discs. This guide will explain how to record Blu-ray movies with OBS, as well as how to capture Blu-ray in high quality using a professional Blu-ray recorder.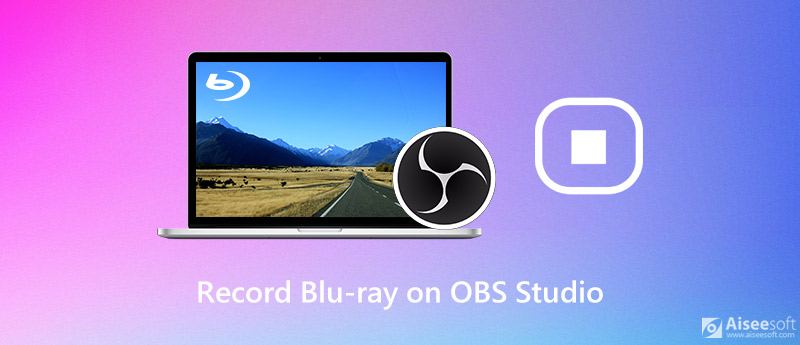 Part 1. How to Record Blu-ray Using OBS
Before starting with this tutorial, you need to download the latest version of OBS Studio from https://obsproject.com/download and follow the instructions to install it on your computer.
Configure Video Recording Settings
To begin with, there are some video recording settings you need to configure.
Open OBS by clicking the icon of it on your computer. Then click the Settings button at the bottom right of the interface.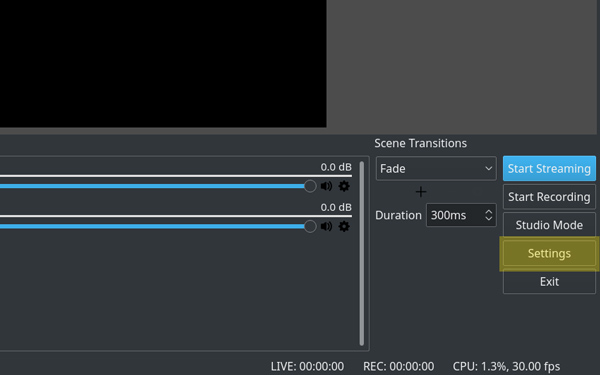 Navigate to the Video tab. Here you can select the Base Resolution, Output Resolution, Downscale Filter, and Framerate.

Then, go to the Output tab and change the output mode to Advanced.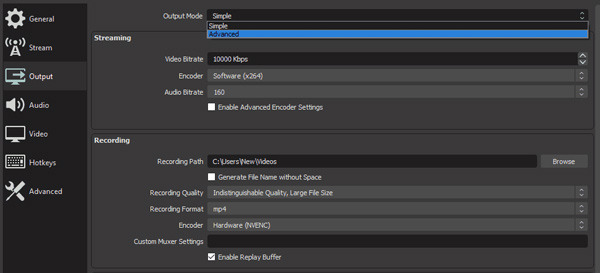 Find and click the Recording option. Then, you can choose the Recording Path, Recording Format, Audio Track, Encoder, Bitrate, CPU Usage Preset and more.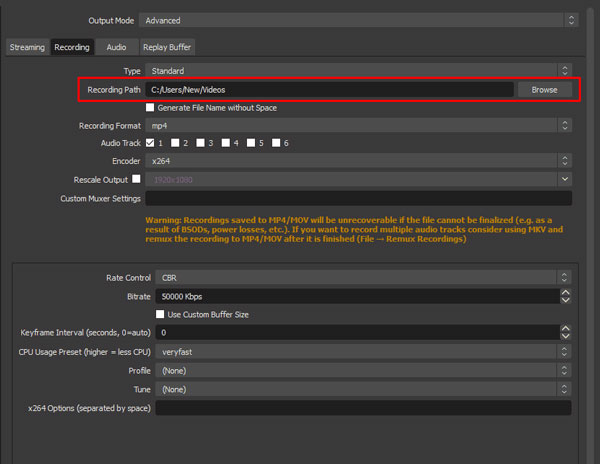 Start Recording a Blu-ray Movie
Return to the home screen on OBS to start recording. First, you need to add a source inside this scene. To create a scene, click + button at the bottom of the Sources panel, and then select Display Capture on Mac and Windows or Screen Capture on Linux.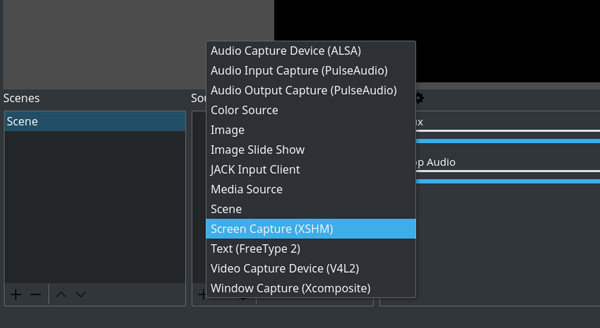 Click OK to confirm.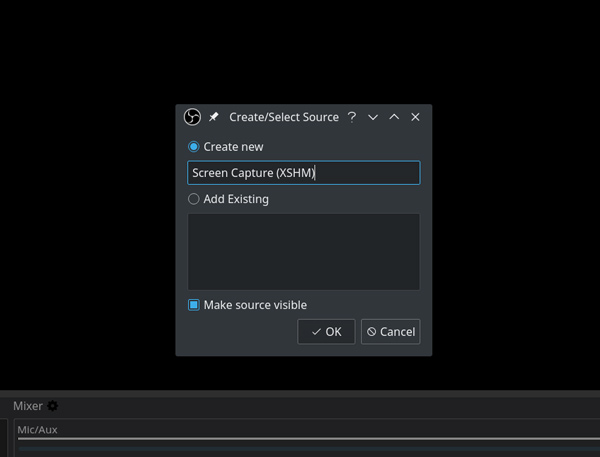 Click OK on the next pop-up window again.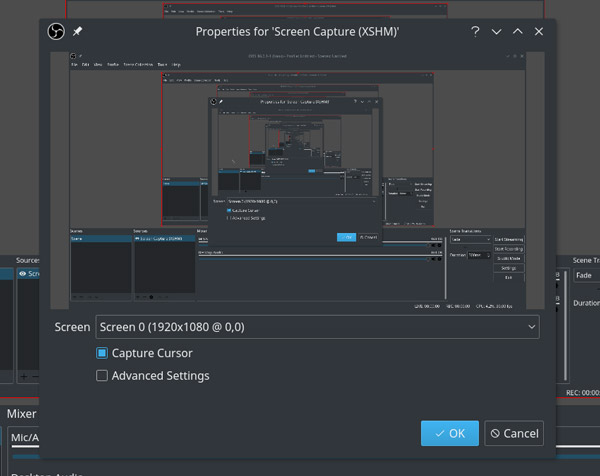 When you're ready to record, click on the Start Recording option at the bottom right.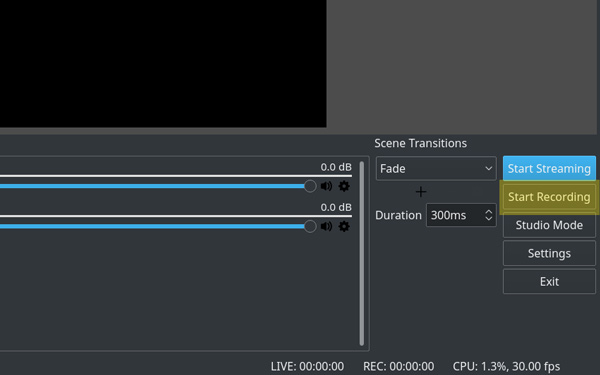 So, that's the basic way to screen record Blu-ray with OBS. But if you would like to get high-resolution result and more recording features, continue reading to learn about a professional Blu-ray recorder.
Part 2. Professional Way to Record Blu-ray in High Quality
To enjoy the Blu-ray movies on the go, here we'd like to show you an easy-to-use but powerful Blu-ray recorder – Aiseesoft Screen Recorder. It is the professional Blu-ray recording software to save Blu-ray movies in any popular video and audio format, including SD, HD, and even 4K video formats. What's more, it empowers various editing features that allow you to add arrow, text, line, rectangle, ellipse, etc. while recording. Based on your needs, you can set video and audio quality, frame rate, hotkeys, and more.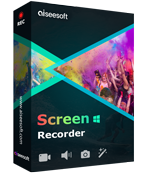 Downloads
Best Blu-ray Recorder – Aiseesoft Screen Recorder
Record Blu-ray movies, as well as the sound with high quality.
Save the recorded Blu-ray movie in MP4, WMV, MOV, AVI, GIF, TS, etc.
Take screenshots and save in JPG, PNG or GIF.
Works on both Windows PC and Mac.
Step 1 Download and install the Blu-ray recorder on your PC or Mac. Then, launch it to enter the home screen of Aiseesoft Screen Recorder.
Step 2 Click Video Recorder to go to the video recorder window.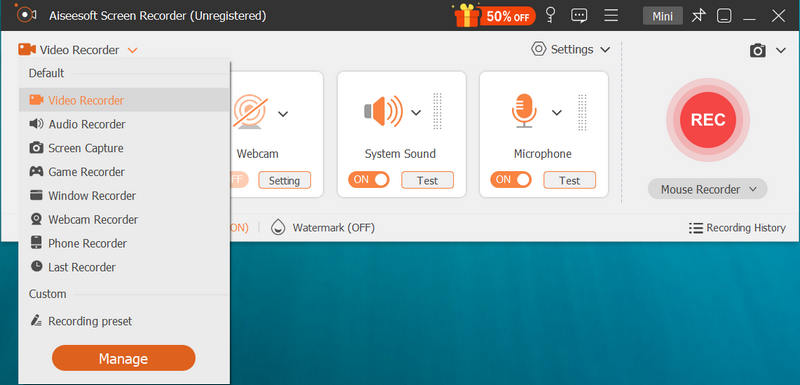 Here you can set the recording area to capture the whole screen or a fixed screen. If your need to grab the audio from the Blu-ray movies, turn on System Sound and turn off Microphone.

Step 3 Insert your Blu-ray disc to an optical drive in your PC that can read Blu-ray discs. If your computer doesn't have an internal Blu-ray drive, you need to buy an external one to load your Blu-ray discs.
Step 4 When the movie starts playing, go back to the Blu-ray recording program, and click on the REC button to start recording the Blu-ray movie. During recording, you are capable of adding text, arrow, etc. and taking screenshots.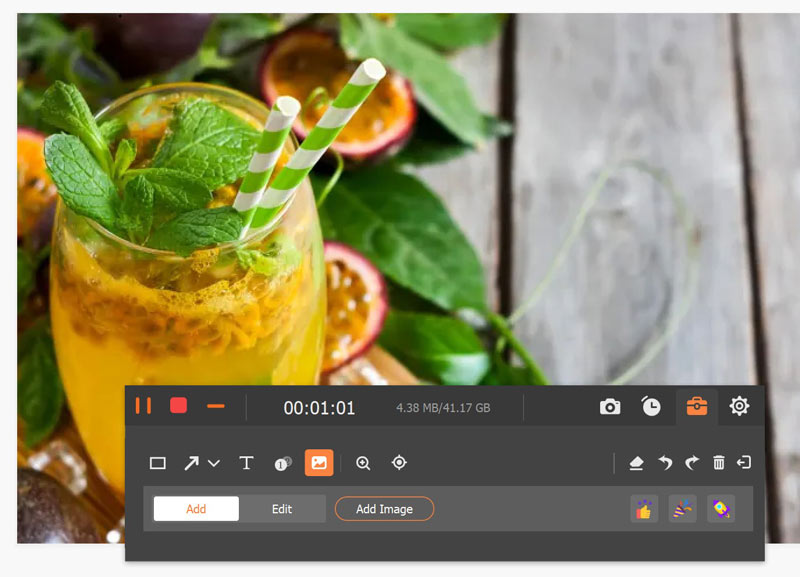 Then, click on the Stop button to enter the preview window. You are able to trim the video length, or choose to re-record the movie again. In the end, click on the Save button to save the recorded video on your computer.
Part 3. FAQs of Recording Blu-ray with OBS
1.Is OBS completely free to use?
Yes! OBS is open-source software developed by volunteer contributors. It is free for anyone to use.
2. Where do OBS recordings go?
To quickly locate the OBS recordings, navigate to File on the top menu bar in OBS and then choose the Show Recordings option from the drop-down list.
3. How do I fix OBS black screen?
You can adjust OBS's GPU to fix OBS display capture black screen or enable compatibility mode to fix this problem. To learn more details, check this article to fix OBS black screen.
Now, you can get a Blu-ray movie recording either using OBS Studio or a professional Blu-ray recorder like Aiseesoft Screen Recorder for getting high quality recordings. If you have any questions about Blu-ray movie recording, let me know in the comment.

Leave your comment and join our discussion