Top 3 Ways to Fix OBS Black Screen - OBS Display Capture Black Screen
OBS (Open Broadcaster Software) is an open source streaming and screen recording program. It provides a simple way to capture what is being displayed on computer screen. It allows game players to easily capture screen and make a live gameplay video. So OBS is very popular among gaming communities. However, many users complain about the OBS game capture black screen issue on the internet. Are you facing the same problem?
In fact, OBS display capture black screen is not an uncommon issue. Many reasons will cause OBS window capture not working. This post will share 3 effective solutions to help you fix OBS black screen.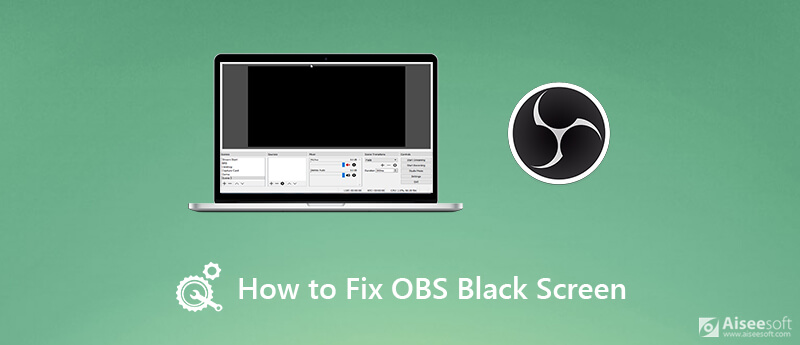 Part 1. Adjust OBS's GPU to Fix OBS Display Capture Black Screen
When you find nothing but a black screen in OBS display capture window, you can't use it anymore for the live streaming or screen recording. We will show you how to fix OBS black screen issue from this part.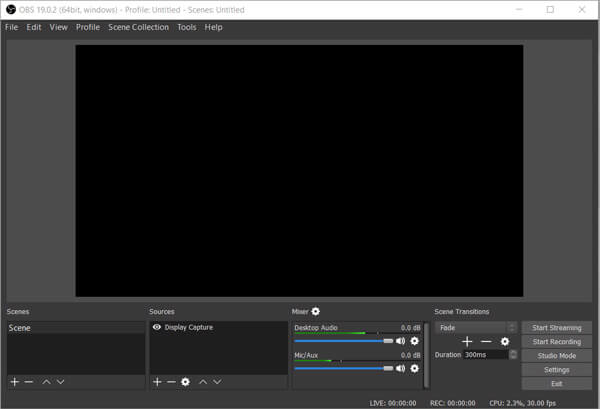 You should know that your computer generally comes with two GPUs for the better performance and power saving. System will use the discrete GPU when you run power-intensive apps or video games. Sometimes, the OBS display capture black screen is due to the low-performance GPU. In that case, you can try switching the GPU that OBS is using to fix the black screen issue.
Step 1.
When you get the OBS studio black screen problem, you should turn it down first.
Step 2.
On your computer, right click on the blank space of the desktop window. Select the
NVIDIA Control Panel
option from the drop-down list.
Step 3.
Click on the
Manage 3D settings
option the left panel when you get to the NVIDIA Control Panel window. Click the
Program Settings
tab on the right window and then click
Add
next to the
Select a program to customiz
e option.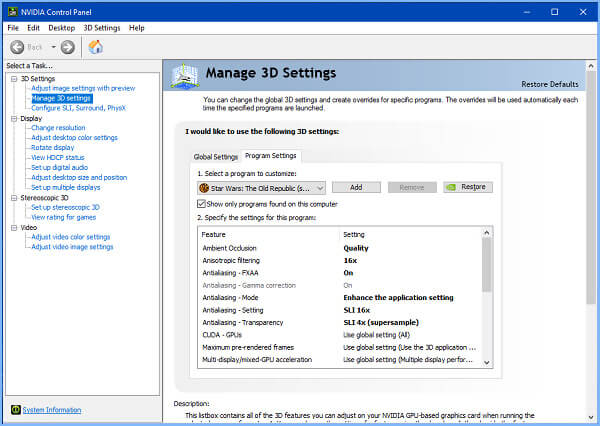 Step 4.
Click
Browse
and then locate the
OBS.exe
. Right click on it and then click on
Open file location
.
Step 5.
Choose
High-performance NVIDIA processor
and then click
Apply
to confirm the operation. After that, you can close the window, re-open the OBS studio and check if the black screen issue is fixed.
Part 2. Enable Compatibility Mode to Fix OBS Game Capture Black Screen
If you are using a Windows 10 computer and facing the OBS black screen game capture problem, you can enable compatibility mode to fix it. Since OBS studio is not compatible with the latest version of windows, in that case, you can start OBS in compatibility mode to force it start and work again.
Step 1.
On the desktop of your computer, right click on the OBS icon. Select the
Properties
option from the drop-down list.
Step 2.
Click the
Compatibility
tab when you enter the
OSB Studio Properties
window. Here you can choose a system you want to compatible with from the
Run this program in compatibility mode for
.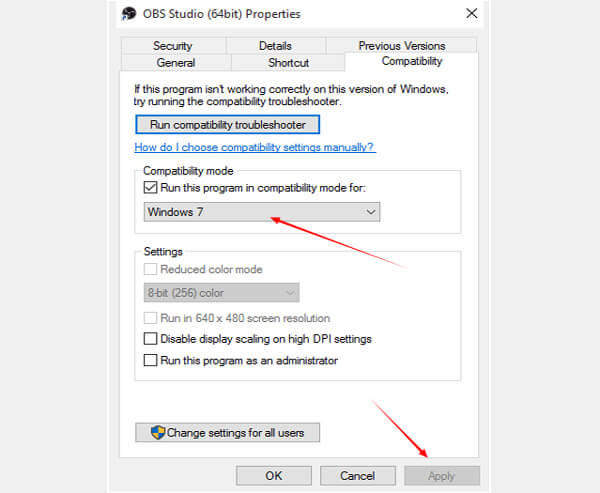 Step 3.
Click the
Apply
button to save the changes. With this method, you can handily fix black screen issue in OBS caused by the system incompatibility.
Part 3. Best OBS Alternative to Fix OBS Display Capture Not Working [Recommended]
If the black screen problem is still there in OBS Studio, maybe you should get another screen recorder to replace it. Actually, there are a large number of video audio recording tools provided on the market that can help you record your whole game playing with high quality.
Here we strongly recommend one powerful screen recording software, Screen Recorder for you to capture any activities happened on your computer. It has the capability to record images from computer monitor screen and webcam. In addition, it can capture sound from system audio and microphone. With its help, you won't lose any useful information.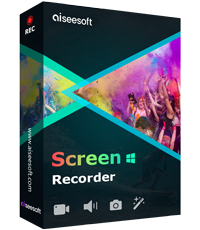 Downloads
Screen Recorder - Best OBS Alternative
Capture computer screen and sound smoothly with original high quality.
Create a picture-in-picture recording while the video game playing.
Record 2D/3D gameplay, webcam, live videos, video/audio chats, music and more.
Support 4K UHD screen recording up to 3840 × 2160 resolution.
Advanced hardware acceleration technology to record with low CPU, GPU and RAM.
Offer powerful editing features and any fluently-used output video/audio formats.
Check how to use this OBS alternative
Step 1.
Free download, install and launch this screen recording software on your computer start from double-clicking the download button above.
Step 2.
Choose the
Video Recorder
feature if you want to capture both images and audio. It enables you to record video with entire screen, specific window or selected area according to your need. When you need to capture your game playing, you can turn on the
Webcam
and
Microphone
.

Step 3.
Click the
Settings
icon to select a suitable output format and destination file folder. This OBS alternative allows you to record video in any popular video/audio format like MP4, MOV, FLV, GIF, WMV, AVI, MP3, AAC, M4A, FLAC and more. After all these operations, you can click
REC
to start the screen recording.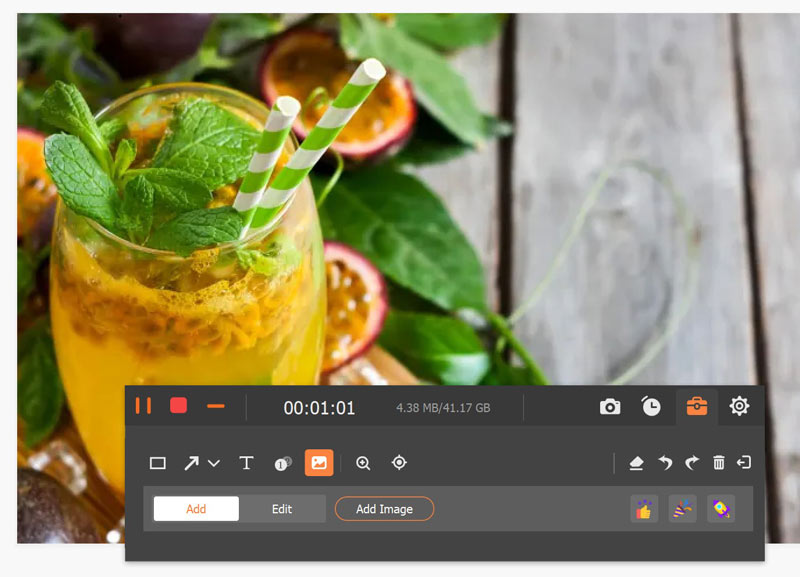 As it mentioned above, this screen recorder is designed with the latest GPU acceleration technology and guarantees that you can capture video smoothly while keeping the original image and sound quality. You won't get a poor-quality recording.
Besides the video recording feature, it also provides you with audio recording and screenshot features. You can use the specific function based on your need.
There are many reasons will lead to the OBS black screen issue, such as dedicated graphics interfering, conflict on 32 and 64-bit application, compatibility issues, overclocking, administrator privileges and more. If the OBS capture black screen is due to some features blocked by your Windows system, you can also try running it as an administrator to fix the issue.
After reading this post, you can get 3 simple ways to fix OBS game capture black screen. Leave us a message if you still get any questions about the OBS display capture not working.