5 Simple Ways to Fix OBS Encoding Overloaded Issue [Solved]
OBS (Open Broadcaster Software) is a popular and open source streaming and game recording program. It carries many useful recording and streaming features, presets, customization settings, editing functions, Twitch compatibility and more. OBS provides a comfortable way to stream live broadcasting, record gameplay and edit video.
However, many users got the message saying that OBS encoding overloaded. Are you facing the same situation?
OBS encoding overloaded is one kind of common issue which randomly occurs when you are streaming or recording video. This post will explain why you get the OBS encoder overloaded or high encoding warning. Also, we will tell you 5 simple tips to fix the encoding overloaded in OBS.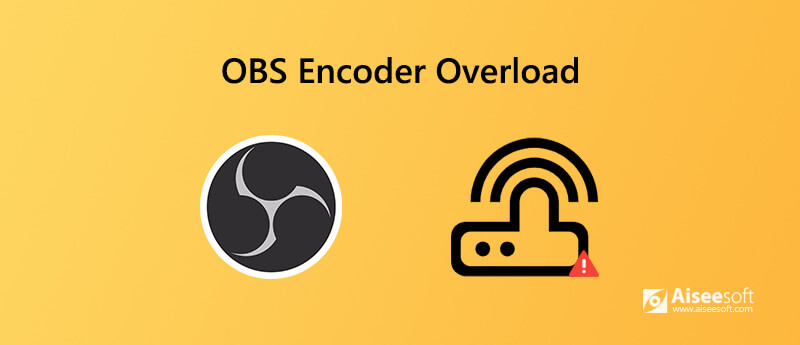 Part 1. Why OBS Encoding Overloaded
Encoding refers to a process in which your computer converts some information to fit specific purposes. You should know that, encoding video demands a lot of CPU usage. When you get the OBS encoding overloaded message, it probably indicates encoder overload. While live streaming or recording, OBS will convert video to the specific quality of your settings.

If the computer can't support both processing the video/game and encoding the stream at the same time, you will experience high CPU utilization and get the OBS encoding overloaded prompt. In short, OBS encoder overload issue means that your settings are too high for your computer's hardware to handle.
Your computer can't encode video fast enough to maintain the settings you have set. In that case, OBS will prompt "Encoding overloaded!" on its status bar. In other cases, computer will degraded performance of other running programs on your computer.
Part 2. How to Fix OBS Encoding Overloaded Issue
The OBS encoding overloaded issue will cause the video freezing or periodic stuttering. It may also lead to OBS crash or bad performance of other running programs. So it's quite necessary to solve the OBS encoding overloaded problem.
Downscale output resolution to fix OBS encoder overload
You should know that, the output resolution has the biggest impact on CPU usage. When you downscale the resolution, you can easily reduce the CPU usage. So OBS can have enough CPU usage to encode video.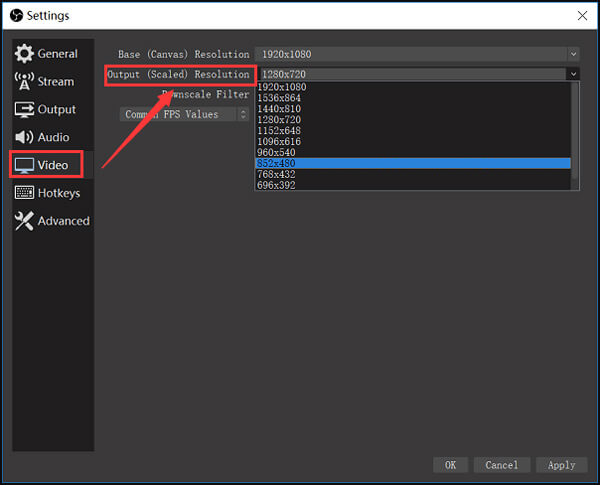 To downscale the output resolution, you can open OBS and go to Settings. Then click Video option and choose the Output (Scaled) Resolution. Here you can easily change how much you want to downscale. If you were encoding 1080p resolution, you can change it to 720p or lower. After that, you can re-start OBS and check if the encoder overloaded issue is fixed.
Change frame rate to fix OBS encoding overloaded
Similar to the resolution, you can also change the streaming frame rate to get rid of the encoding overloaded message. When your CPU can't afford the high usage of the encoding, you can try lowering the frame rate to something below 30 FPS.

Shut down other programs to fix encoding overloaded in OBS
If you are running other large software while the OBS streaming or recording, you should shut down some unnecessary ones to reduce the CPU usage. In that case, you can give more CPU to the encoding and guarantee the performance of OBS.
Upgrade computer hardware to fix OBS encoding overloaded issue
Different hardware and software combinations decide different thresholds for how high you can go. When you see the encoding overloaded message in OBS, you can choose to upgrade your computer hardware to get higher performance of CPU. By doing so, you don't need to downscale resolution or lower the frame rate. You can remain the high-quality live streaming or recording.
Get OBS alternative to fix the encoding overloaded issue
When you still get the OBS encoding overloaded issue randomly, you can turn to the best alternative to OBS, Aiseesoft Screen Recorder for the video and gameplay recording. With the adoption of the latest accelerate technology, it enables you to record high resolution 4K videos with a lower CPU usage.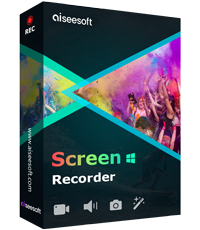 Downloads
Screen Recorder - Best OBS Alternative
Best OBS alternative to capture any activities on computer with high quality.
Record any online videos, gameplay, music, calls, meetings, lectures and more.
Powerful editing features and save recording in MP4, MOV, FLV, MP3, M4A, etc.
Support Blue-light real-time HD video encoding and accelerate technology.
Part 3. FAQs of OBS Encoding Overloaded
Question 1. Is OBS totally free?
Yes, OBS is totally free. It is an open-source live streaming and gameplay recording program. You don't need to worry about the further app-in purchase or feature limits.
Question 2. Is there any free online recorder to capture computer screen?
When you Google video recorder on the internet, you can see many searching results are free online screen recorder. In case you don't know which one you should use, you can directly go to the popular online screen recorder.
Question 3. What causes encoding to overload in OBS?
Various reasons will case the encoding overloaded issue in OBS. As it mentioned above, this issue is mainly due to the fewer CPU resources. So you just need to figure out the specific elements that can take the CPU usage, such as low storage, CPU bottleneck, high screen resolution, other streaming software, low priority setting in task manager and more.
OBS encoder overload? After reading this post, you can know why you get the OBS high encoding warning or encoder overloaded issue. What's more, you can learn 5 simple solutions to solve the encoder overloaded problem. You can leave us a message if you still have any questions.

Leave your comment and join our discussion