Where Do OBS Recordings Go? Find Your OBS Recordings
OBS (Open Broadcaster Software) is a free and open source video streaming and recording program. It is mainly used for live broadcasting to platforms. Moreover, it carries a powerful recording feature which can automatically record live transmission or capture screen on computer.
OBS provides you with a high quality real time video/audio capturing and mixing. You can handily capture any region of your computer screen and save it as a video file. However, many users complained that they can't find the location where OBS saves the recordings. Are you facing the same problem?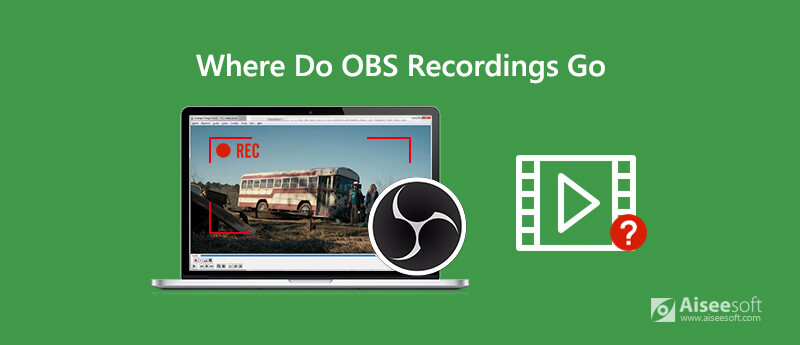 OBS is capable to save recordings. So where do OBS recordings go or where to find OBS recordings? Here in this post, we will guide you to find your OBS recordings. What's more, we will tell you how to change the OBS recording location.
Part 1. Where to Find OBS Recordings
After recording with OBS, you need to know where to find your OBS recordings. In fact, if you have not made any settings for the location of OBS recordings, these OBS recordings will generally store inside of the OBS installation folder by default. So you can find OBS recordings by going to the place where OBS installed on your computer.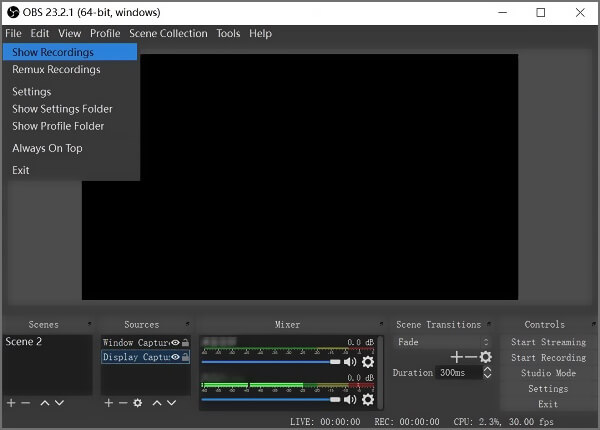 To quickly locate the OBS recordings, you can open OSB and click File on the top menu bar. In the drop-down list, choose the Show Recordings option. Then you can see all your screen recordings on OBS.
Part 2. How to Change OBS Recordings Saving Location
When you want to save the OBS recordings in a specific folder, you can choose to change the OBS location. The following guide will show you how to change the OBS recordings saving path.
Step 1.
Open OBS and click the
File
tab on the top menu bar.
Step 2.
Choose the
Settings
option from the drop-down list. When you enter the Settings window, click
Output
on the left panel.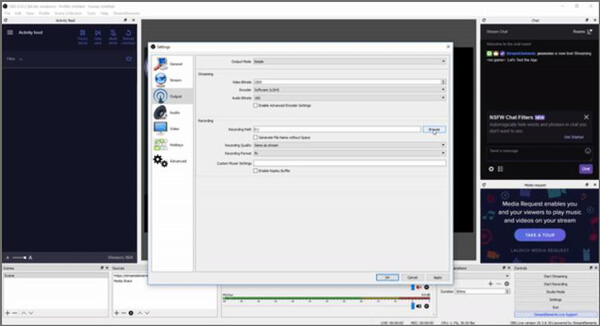 Step 3.
Now you can find a
Recording Path
option under the
Recording
. Click the Browse button to select a suitable file folder for your OBS recordings. Then confirm the operation of changing the location where your OBS recordings will be saved.
Part 3. Best OBS Screen Recorder Alternative to Capture Computer Screen
Still can't find your OBS recordings, OBS can't record your computer screen properly, or OBS won't record anything even you click the Start Recording button?
Here we strongly recommend a powerful OBS alternative, Aiseesoft Screen Recorder to help you capture any activities on your computer with high quality. It has the capability to record high resolution 4K videos.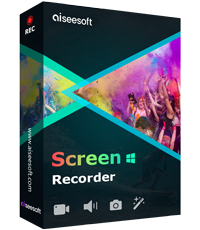 Downloads
Screen Recorder - Best OBS Alternative
Best OBS alternative to capture computer screen with high quality.
Record any online videos, music, calls, meetings, gameplay and other activities.
Powerful editing features and save recording in MP4, MOV, FLV, MP3, M4A, etc.
Support Blue-light real-time HD video encoding and accelerate technology.
Step 1.
First, you should free download and install this OBS alternative on your computer. It offers both Windows and Mac versions.
Step 2.
Launch this screen recorder and choose the
Video Recorder
feature. As you can see, it also enables you to record audio only and take screenshot.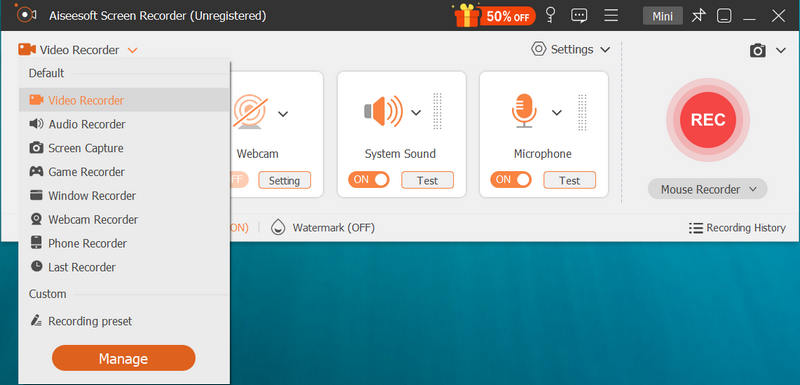 Step 3.
Before the screen recording, you need to custom various recording settings according to your need. During this step, you can adjust the screen recording area, audio recording source and more. If you want to change the recording save path, you can click on the
Record setting
icon.

Step 4.
Now you will enter the
Preferences
window. You can click
Output
on the left panel and then change the output file saving location and output format.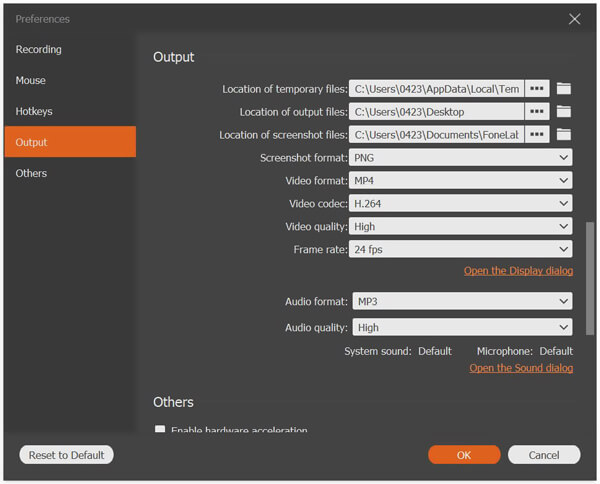 Step 5.
After all these settings, you can click
REC
button to start the screen recording on your computer. You can get full control of the recording process. While the recording, you can add text, line, arrow and labels to it based on your need. When you want to finish the recording, you can simply click on the
Stop
button.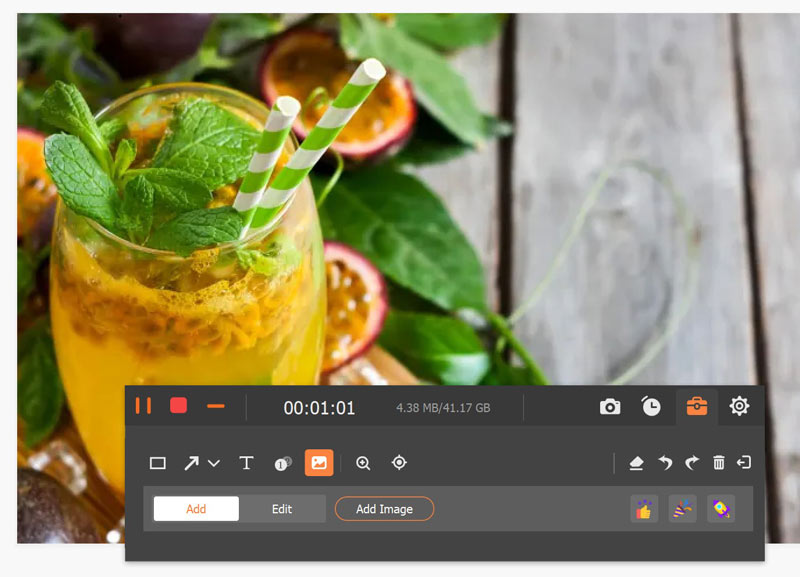 Step 6.
After recording, you will be directly guided to the preview window. Here you can check the recording file and edit it. Then click on the
Save
button to save the captured video to your computer.
This screen recorder can be the best OBS alternative for the screen recording part. Thanks to the Blue-light real-time HD video encoding technology, it ensures you that you can get a high-quality and comfortable screen recording experience.
Part 3. FAQs of OBS Studio and OBS Recordings
After reading this post, you can know exactly where streamlabs OBS saves recordings. If you want to change the OBS location, you can also follow the method above to change the OBS recording file path. You can also use the recommended OBS alternative to capture your computer screen.

Leave your comment and join our discussion