Record Online Video Lectures with Your Face and Voice with Low Cost
According to the research, viewers can remain over 90% information of the streaming video. When comparing with pure texts, it decreases to 10% or so. By recording online video lectures, people can take the class all over the world whenever and wherever. Meanwhile, you can record high-quality videos for online courses at home without going anywhere.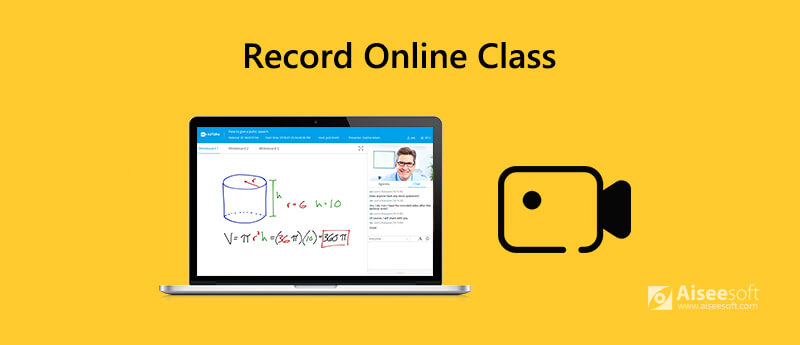 Then here comes the question, is it necessary to buy camera equipment to make professional-looking videos? The answer is No. It's okay if there is no camera or tripod around you. Actually, all you need is a computer and screen recorder software. Then you can record your own lecture videos. Well, you can record yourself presenting a PowerPoint too.
This is a super easy way to make teaching videos by yourself. No expensive equipment or technical skill required. Just read and get the best way to record lectures on Windows and Mac now.
Part 1: How to Record Online Video Lectures with Your Computer Only
To record online course videos with computer sound and your voice, it is recommended to use Aiseesoft Screen Recorder. You can record webcam video and desktop at the same time. Moreover, you can record audio coming from internal and external microphone simultaneously. There is no time limit or watermark. So you can feel free record video lessons.
What's more, you can enable mouse effect, add text and other drawing tools while recording. Just choose the size, position and color you like to add personal labels. When the online video lecture recording process ends, you can cut out the video to remove unwanted parts. The recorded video course can be saved as MP4, MOV, AVI, WMV and more for easy playback and sharing. In a word, you can record, edit and export online video courses in one stop.
1. Record online courses with or without your face at custom screen size.
2. Record online video lecture with streaming audio, online audio and microphone voice.
3. Keep the excellent image and sound quality.
4. Highlight the cursor movement and add drawing tools to make your video source easy-understanding.
5. Lock window to record online classes with a certain window only.
Step 1.
Launch Aiseesoft Screen Recorder. Choose
Screen Recorder
for online source recording.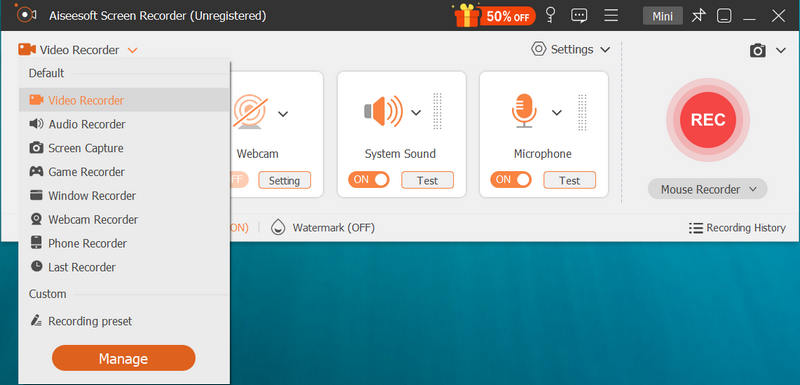 Step 2.
Set the screen capture area with
Full
and
Custom
in
Display
. Or you can draw on your computer screen directly. Enable
Webcam
to record an online source with your face. Turn on System sound if you want to record streaming sound from browser. Then enable
Microphone
to record an online class with your voice.

Step 3.
If you want to specify output settings, you can click the gear
Settings
icon. Set hotkeys, mouse effect, output format, video quality and more in the
Preferences
window.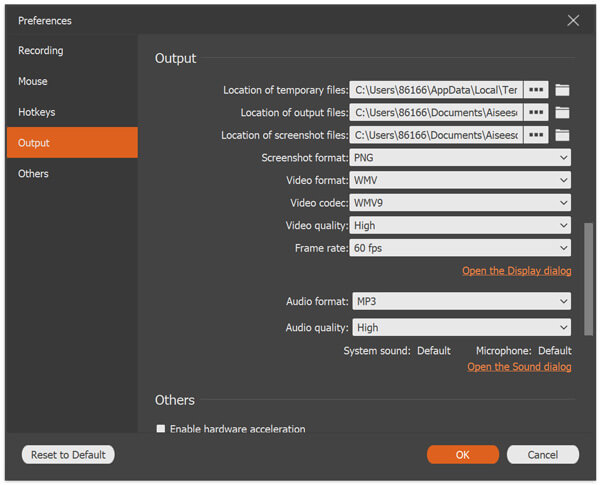 Step 4.
Head to the page you want to record. Click
REC
to start recording an online video course. You can pause and resume recording without time limits. In addition, you can click
Edit
to access all on-screen drawing tools. Thus, you can add text, line, arrow and more to record and edit an online course video.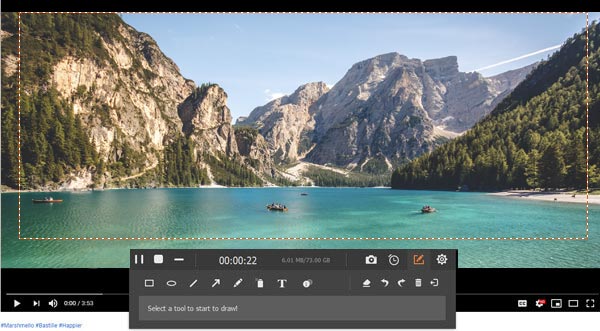 Step 5.
After recording, a preview window pops up. You can preview and trim the recording file. Later, click
Save
to download your online course as MP4 or other formats. (Find more
MP4 Trimmers
)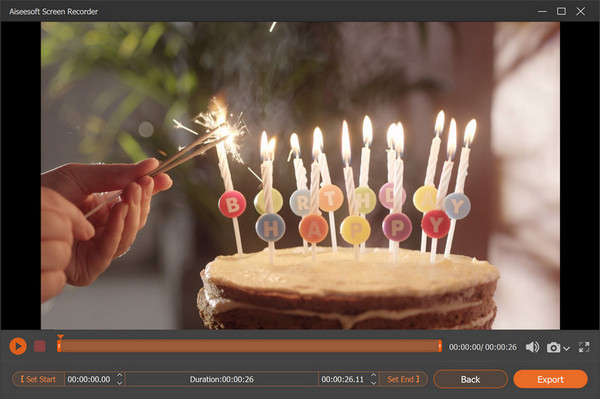 Part 2: Tips to Increase the Quality of Online Courses
If you want to make your online video course look better, you can do as the following tips show. These are low-cost and free ways to record desktop and webcam video for one class.
• Use a key light and a fill light to eliminate harsh shadows in your video. Or you can try other lightning setup methods.
• An external microphone is not essential but helpful to improve the sound quality in your online video classes. You can use a condenser microphone, boom microphone and more based on your budget.
• If you use external camera, remember to set the camera white balance.
Part 3: FAQs of Recording Online Classes
How to make a teaching video with a DSLR camera?
If you want to get excellent visual experience, you can replace the built-in USB webcam with a DSLR camera. Just connect it via the capture card and computer with lecture recorder software. Then you can capture online video lectures as above mentioned.
Any tools for online learning?
You can use Evernote to take text and voice notes on your phone. All your notes are synced to the cloud. So you can access notes via your Evernote account directly.
What good apps for teachers and educators to use?
A cloud video conferencing platform really helps. You can use Zoom to host online classes with hundreds of students. Moreover, you can use Kahoot! To turn your class into a gameshow as well.
That's all to record online video lectures on your Windows and Mac computer. Even beginners can record videos for online courses with easy steps quickly. You can make money by any skill or knowledgeable you know. Do you have any other questions? You can feel free to contact us.

Leave your comment and join our discussion