How to Recover Deleted Files on Windows 11/10/8/7 (Step-by-Step)
To free up space on the computer, we may need to delete unwanted files. But sometimes, we may delete the file by mistake. In the past, you could not recover deleted files on Windows after you clicked on the Delete button. Fortunately, Microsoft had realized such demand and introduced the Recycle Bin feature into Windows in 1995. From then on, deleting a file by accident has not been a problem anymore.
However, this handy feature only works if the bin folder has not been emptied manually or automatically. Plus, some files won't go to the Recycle Bin after the deletion. In that case, is there any way to restore deleted files?
In this tutorial, we are going to tell you all knowledge you should know about how to recover deleted files on PCs.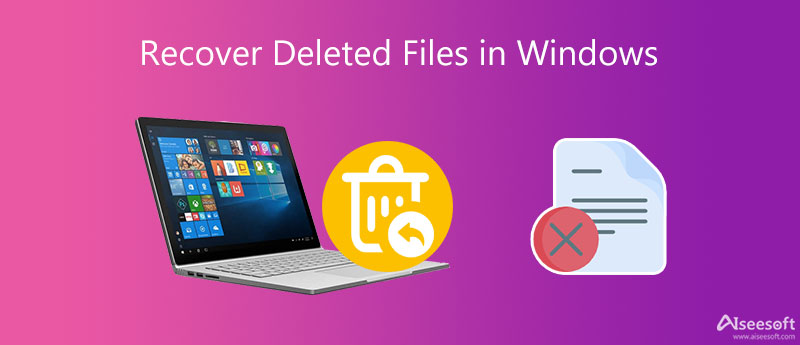 Part 1: How to Undelete Files Without Any Software
First of all, the answer of how to recover deleted files from PC is various depending on your situations. As mentioned, if you just select a file and press the Delete button, it will be very simple to get back your file.
Go to the Recycle Bin folder from your desktop, right-click on the deleted file and hit Restore. Congratulations! The deleted file is back to the original directory.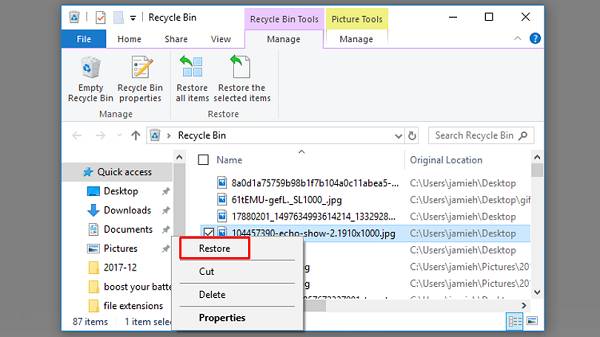 It is another story if you use Shift + Delete to clean the files or already have emptied your Recycle Bin. In such cases, the deleted files are not usually truly removed from your hard drives but are hidden. Windows will mark the space used to store these files as empty and waiting to be overwritten by new data.
In another word, there are chances to recover deleted files in Windows 11/10/8/7 before they are overwritten. The problem is that you cannot read or find deleted files without software. Don't worry! You can learn three best methods to get back deleted files efficiently in the next part.
Part 2: 3 Easy Methods to Recover Files on Windows
Once you discover that some important files were deleted, and you cannot find them in your Recycle Bin, stop what you are doing and try the deleted file recovery software we recommend below.
Method 1: Recover Files with a Professional Data Recovery Software
Aiseesoft Data Recovery is one of the best professional file recovery software for Windows. Its key features include:
1. Recover deleted emails, photos, videos, music, documents, and other files in Windows.
2. Work for digital camera, flash drive, memory card, and other removable drives, in addition to local hard drives.
3. Undelete files that removed by accident, formatting, Recycle Bin emptying, system crashing or other problems.
4. Perform deep scan if you cannot find the desired files in quick-scan result.
5. Preview the thumbnails of the deleted files and decide to recover all of them or certain files.
6. Scan specified data types and disk faster utilizing the hardware acceleration technology.
7. Available to Windows 11/10/8.1/8/7/Vista/XP.
Step 1 Install the best undelete software on your computer
Access the official website, download the latest version of Data Recovery, double-click on the installer file and follow the onscreen instructions to get it installed on your PC. Then launch it from your desktop and you will be presented the concise home interface.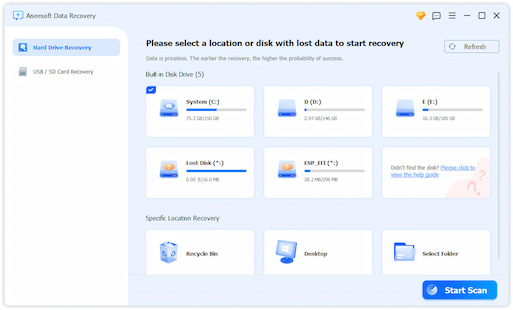 Step 2 Scan your disk to find the delete files
In the first section, select the data types that you want to recover, such as Image, Audio, Video, Email, Document or Others. Move to the next section beneath and select where you store the deleted files. If you need to recover files from flash drive, plug it into your computer and the software will recognize it. Hit the Scan button to perform a quick scan.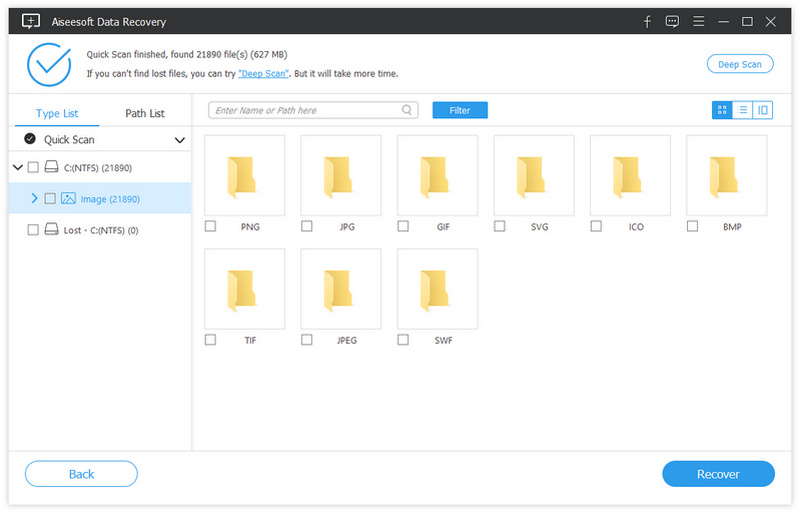 Step 3 Restore data in a single click
When you are taken to the result window, click the desired data type on the left side column, and then you can look at the deleted files on the right detail panel organizing by formats.
If it does not contain the deleted files that you are looking for, hit the Deep Scan button at upper right corner to scan your disk deeply. Finally, select all files you'd like to restore and click on the Recover button. A few seconds later, you can find that your data is back.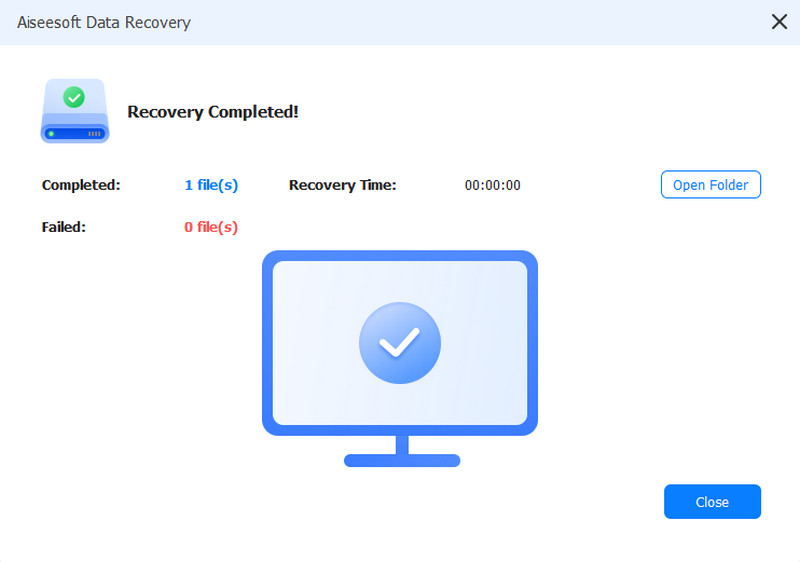 Method 2: Undelete Files on PCs Using Recuva
Recuva is one of well-known Windows undelete software on market. It is able to recover deleted data from Windows 10/8/7/Vista/XP. Though it is freeware, the developer releases updates frequently. The quick standard scan and an optional deep scan cover various technologies related to search for recoverable files.
According to our research, this free data recovery tool is a good starting point for beginners. Plus, there is a portable version making installation unnecessary.
Step 1.
Visit the official download page of Recuva in your web browser or any reputable sources. Follow the onscreen assistant and install the freeware on your PC. Bear in mind to uncheck install optional Yahoo Toolbar on the Install Options window, if you do not want it.
Step 2.
When the Recuva Wizard window shows up, hit the
Next
button to open the file type window. Here you can decide to recover Pictures, Music, Documents, Video or Other files.
Step 3.
Press
Next
to move on and then drop the file location, or select I'm not sure if you forgot where the files were. Once click on the Next button, Recuva will start scanning your hard drive for deleted files.
Step 4.
Wait for the scanning to be done, the results will appear. The recoverable files will be marked with green, yellow and red dot to tell you how likely they can be
restored
without any damage.
Tip: How to undo delete with deep scanning? Click on the Option button, go to the Actions tab and check the box next to Deep Scan. Hit OK to start the deep-scan process.
Step 5.
Make sure to tick the checkbox in front of each file to undelete in Windows 7, and press the
Recover
button to trigger file recovery process. It may take a while depending on how many files to recover.
Recuva will not display the recoverable files in formats when doing Windows 7 file recovery, so you have to browse a very long result list to find the delete files. Plus, you have to carefully install the software, because many people reported the installer tries to add other programs to computer.
Method 3: Retrieve Files on Windows via Disk Drill
Disk Drill is another undelete program for Windows users. It has the capacity to undelete files from internal and external hard drives, flash drives, memory cards and other devices. You are permitted to view the recoverable files organized by pictures, video, documents, audio and archives.
Similar to Recuva, it integrates both a quick scan and a deep scan for different tasks. We set how to recover permanently deleted files Windows 10 as the example to show you to workflow.
Step 1.
To undelete files Windows 10, you need to install the desktop program on your PC. Fortunately, you can download the installer from official channel for free.
Step 2.
Start the program and you can see all hard drives detected by Disk Drill. Locate the hard disk or removable drive that stored the deleted files, and click on the
Recover
button to initiate scanning it.
Step 3.
When it is complete, the result window will pop up. Choose the data type on the left sidebar, like Pictures or All files, and then all deleted files will show up on the right panel. Moreover, you can search for certain file by name in the search bar.
Step 4.
Select the files to undelete Windows 10 by checking the boxes and hit the
Recover
button at top right corner. Now, all you need to do is to wait for file recovery Windows 10 to finish.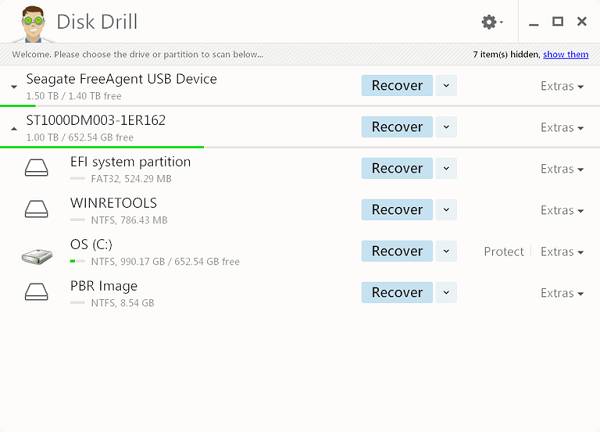 According to testing, Disk Drill could recover permanently deleted files on Windows 10/8/7 efficiently, if you just erased the files.
As freeware, it has some downsides as well. Disk Drill cannot scan certain file type, so it spends longer time to search for all erased files on a hard drive. Plus, you can only recover 500MB of data.
Part 3: Useful Tips to Effectively Recover Deleted Files
No matter which recovery software you use for Windows 11/10/8/7, there are some tips that can maximize the chances to effectively recover deleted files.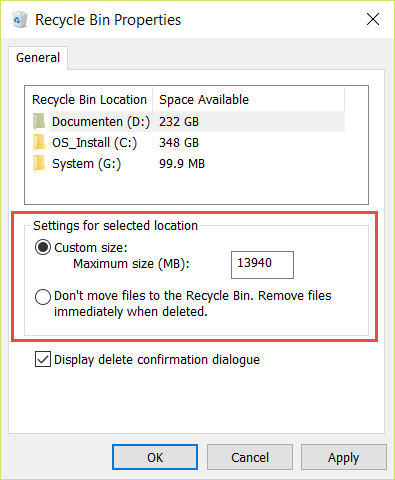 1. Create backups for your files frequently. This is the easiest way to recover deleted files on Windows PCs. Today, we have a lot of methods to back up files, like Google Drive, One Drive, Dropbox, flash drive, optical disc, etc.
2. Stop using your PC right now. All the activities on your computer will produce some new data and store on the hard drive, such as open a document and write down some words, or view a video with your media player. If it overwrites the physical space that saved the deleted files, they will become more difficult to get back.
3. Set Recycle Bin Properties. Windows will empty it automatically when Recycle Bin is full. But you can change the Properties to stop the Recycle Bin from emptying. Right-click on your Recycle Bin, choose Properties to open the popup dialog, select Custom size and input 1,000 in the box beneath. Hit the OK button to confirm it.
4. Select the proper tool to recover deleted files on Windows 8 and other versions. We have shared the reviews of top three file recovery programs. You can pick up the most appropriate one based on your situations.
5. A stop working computer or dead hard drive exhibits an extra trouble when restoring recycle bin on Windows 11/10/8/7 or recovering deleted files. But if you use a powerful tool, such as Aiseesoft Data Recovery, it is still possible to get back what you want.
Conclusion
In this post, we have discussed how to recover deleted files in Windows. Apparently, the first place to find the deleted files on Windows computer is the Recycle Bin. There are some cases that your files may be erased permanently, such as the Recycle Bin has been empty. But don't be panic and this is not the end of the world. We have identified three best file recovery applications.
If the deleted files are very important, we suggest you to try Aiseesoft Data Recovery. It is not only easy to use, but also able to restore almost all deleted files from your device efficiently. Recuva and Disk Drill are worth to try, though they are freeware. We wish that our sharing is helpful to you.

Leave your comment and join our discussion