How to Reverse an MP4 Video File without Damaging Quality
This article will talk about the best methods to reverse MP4 video files in various situations. Today, video editing has become an essential technical skill. The reverse effect, for example, is able to make your videos more exciting and help you attract more followers on social media. However, it is not easy to do it sometimes. This guide identifies the most effortless approaches so that everyone can learn them as quickly as possible.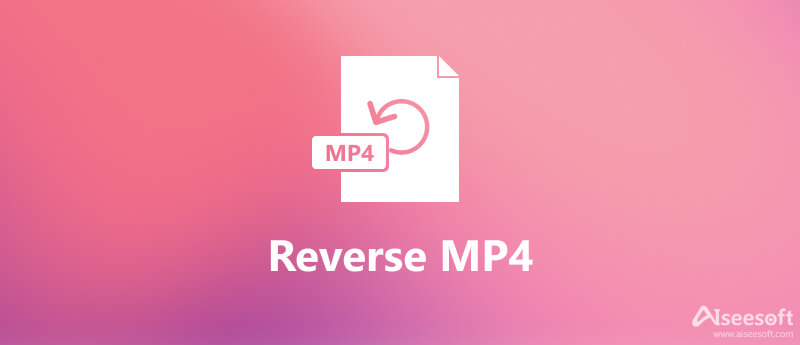 Part 1: Ultimate Way to Reverse MP4
Many software announced that you can get what effect you want easily, but only a few of them keep the promise, such as Aiseesoft Video Converter Ultimate. It utilizes advanced technology to reverse the entire MP4 video or a clip automatically.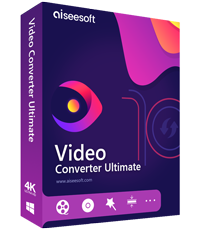 Downloads
How to Reverse an MP4 Video without Quality Loss
Step 1: Open MP4
The best MP4 reverser offers two versions, one for PC and the other for Mac. Install the right version to your computer and launch it. Go to the Toolbox tab from the top of the interface, and then choose
Video Reverser
. Click the + icon at upper left corner, find and select the MP4 video that you want to play backward.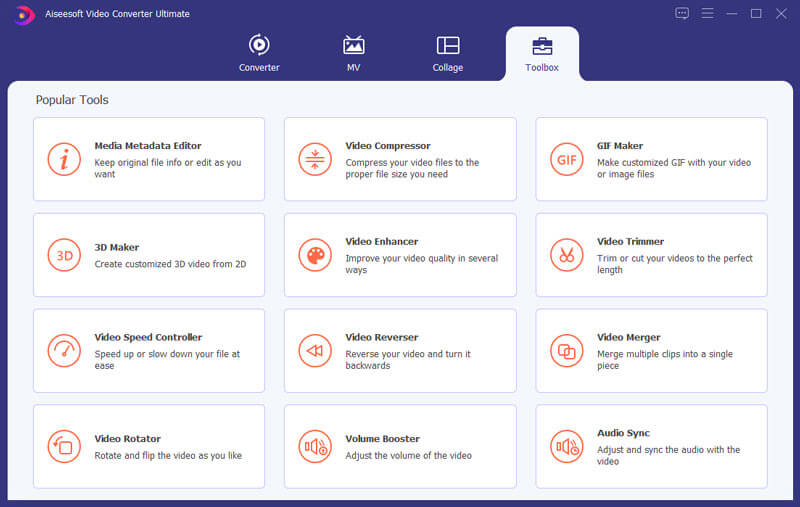 Step 2: Reverse MP4
If you intend to reverse a clip of the MP4 file, select it by moving the starting and end bars. Next, click on the
Export
button to begin reversing MP4.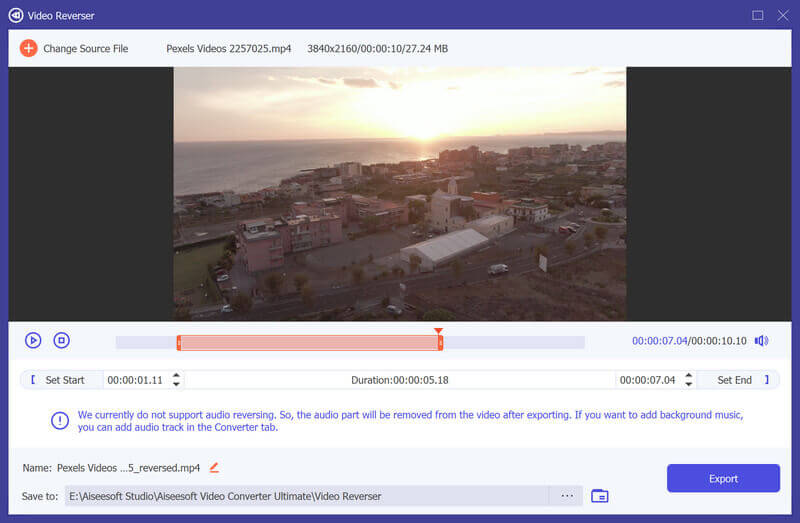 Part 2: How to Reverse MP4 Online
Sometimes, it is just not convenient to install desktop software on your computer. Does that mean you cannot reverse MP4? The answer is no and a web-based MP4 reverser, such as EZGIF, can meet your need. It allows you to upload an MP4 clip, then play backward, and download the result for free.
Step 1:
Put https://ezgif.com/reverse-video into your browser to open the online MP4 reverser directly.
Step 2:
Click the
Browse
button and open an MP4 video from your computer that you wish to play backward. Hit the
Upload
button to upload the MP4. The maximum file size is 100MB.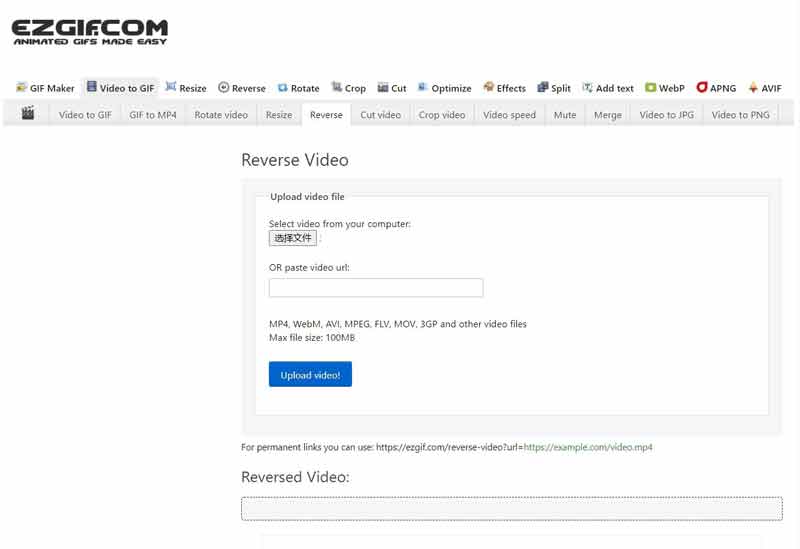 Tip: If you need to upload the MP4 from Google Drive or social media, paste the video link in the box and click Upload button.
Step 3:
Then decide the
Sound options
, either
reverse sound
or
mute sound
. Pull down the
Output format and encoding
and choose a proper one.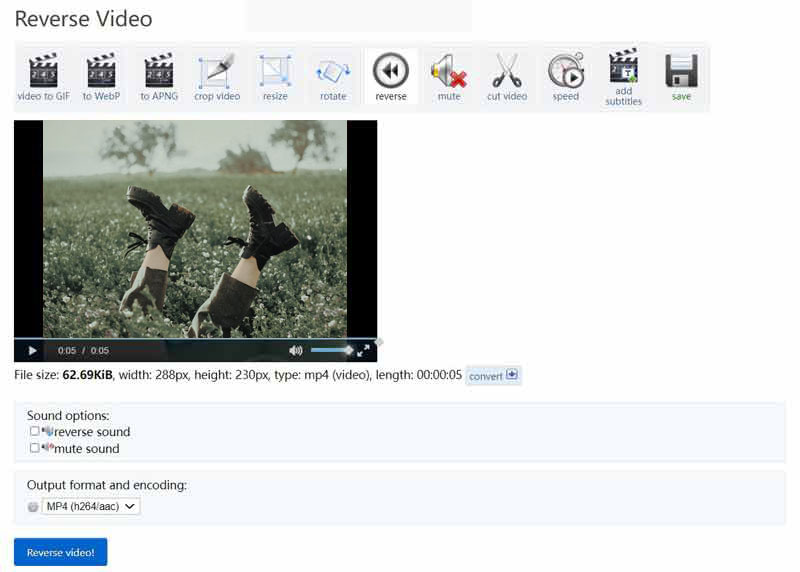 Step 4:
Click on the
Reverse video
button to begin reversing MP4 online. Wait for a few seconds and you will get the reversed MP4. Finally, you can click the
Save
icon to download the MP4.
Part 3: How to Reverse MP4 on iPhone/Android
Although there are a lot of MP4 editor apps available to iPhone and Android devices, most of them cannot reverse MP4. Fortunately, some MP4 reverser apps can help you do the job without a computer.
How to Reverse an MP4 on Android
For mobile-first, an MP4 reverser app is the easiest way to reverse MP4 or other video files. Reverse MP4 Video for Android, for example, is a simple app to do it. You can download it from Play Store for free and exchange features by viewing ads.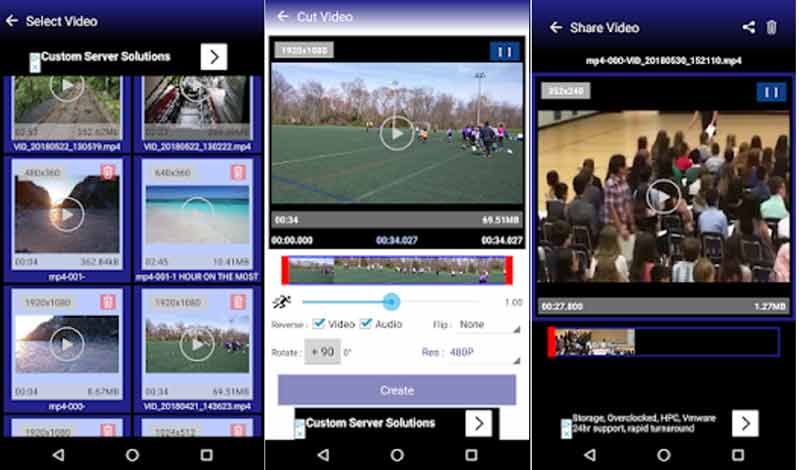 Step 1:
Run the MP4 reverser app from your app draw. You need to install it first.
Step 2:
For the first time, you need to permit it to access your photo gallery. Then select the MP4 video that you intend to edit. The
Cut video
screen will pop up.
Step 3:
Firstly, move the starting and end sliders until you remove the unwanted frames. Adjust the video speed and 1 means the original speed. Check the
Video
option at
Reverse
section. Then decide whether to reverse audio or not. Enter a new filename, select the output resolution and set other options.
Step 4:
Tap the
Create
button to initiate reversing MP4 on Android immediately. At last, you can save the reversed MP4 as a new video in photo gallery or share to social media directly.
How to Reverse an MP4 on iPhone
iMovie is the built-in video editor on iPhone, but it cannot reverse MP4 video. Instead, we suggest you to try Reverse Cam. It is the easiest way to reverse MP4 on iPhone.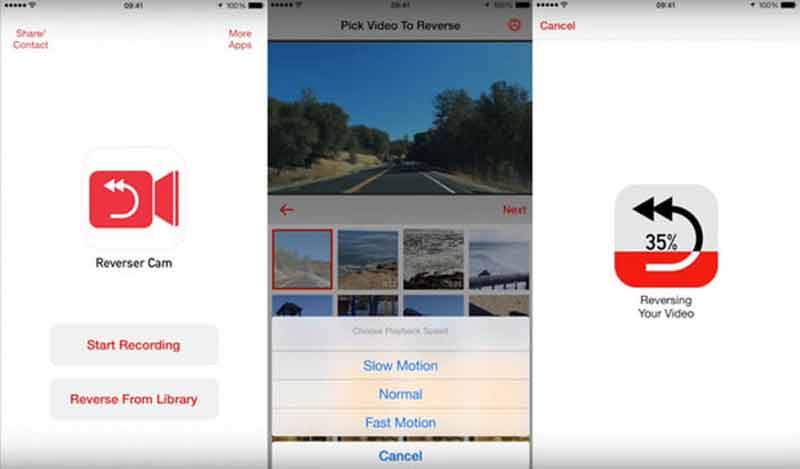 Step 1:
Install the app from App Store. It is free to download.
Step 2:
Open it from your home screen and you will get two options,
Start Recording
and
Reverse From Library
. The former enables you to capture a clip for reversing. If you wish to reverse an MP4 from Camera Roll, choose the latter.
Step 3:
Follow the instructions to adjust the playback speed and the process will begin. Now, all you need to do is to wait for the process to finish. Then you will get the reversed MP4 on iPhone without computer.
Part 4: FAQs about Reversing MP4
Can VLC play a video backward?
No, VLC does not support frame-stepping backwards. It is only possible to move forward.
How can I watch TikToks in reverse?
You can not control backward playback in TikTok app. Instead, you can make a video reversed. Open the video social network, record a new video, choose Special Effect, go to Time Effect and choose Reverse.
Is it possible to reverse an MP4 in Windows Media Player?
No, Windows Media Player is just a video player and manager but not video editor. It does not have any features involved video editing including MP4 reversing.
Conclusion
Now, you should master at least four ways to reverse an MP4 video on PC, online, Android or iPhone devices. The online video reverser app is very portable. The mobile apps are the easiest choice to get what you want without computer. Aiseesoft Video Converter Ultimate is the all-in-one solution. Now, you can pick the most appropriate method. If you have more questions, please leave a message below the post.

Leave your comment and join our discussion