How to Sell Your Old iPhone 14/13/12/11/XS/XR/X/8/7/6 for the Most Money
If you are itching to switch to a new phone or upgrade to a new iPhone, you may need to consider how to sell your old/used iPhone.
Before selling your old or used iPhone, you need to consider to back up your files and erase the data from iPhone in case of information leakage. And in this article, we would like to show you how to sell or trade in your old or used iPhone to get the most you can.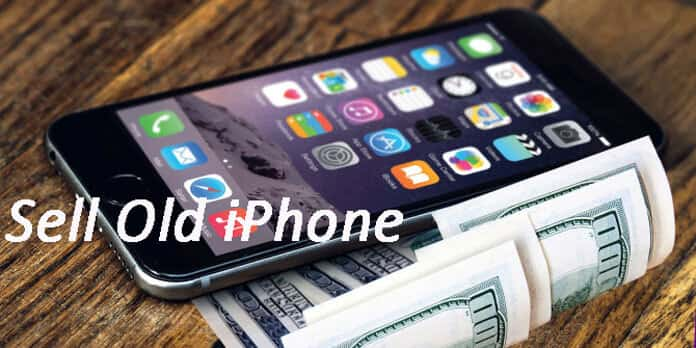 Before selling old iPhone
Whether you will sell your old iPhone by yourself or trade it in to a third-party company, there are a few things you need to do to make sure your iPhone data is safe. Read the following guide and learn more about what to do before selling old iPhone.
Backup old iPhone data
Backup all you important data on your old iPhone including contacts, photos, videos, messages and apps, etc. You can use Apple's iCloud service. However, as the iCloud has free storage limitation, you can also find a third-party professional software to help you backup iPhone to computer. Here we would like to recommend you for the iPhone Data Backup & Restore which can help you backup all your iPhone data in just one click.
Step 1Download this iPhone data backup program and launch it on your computer. Choose "iOS Data Backup & Restore" option in the main interface.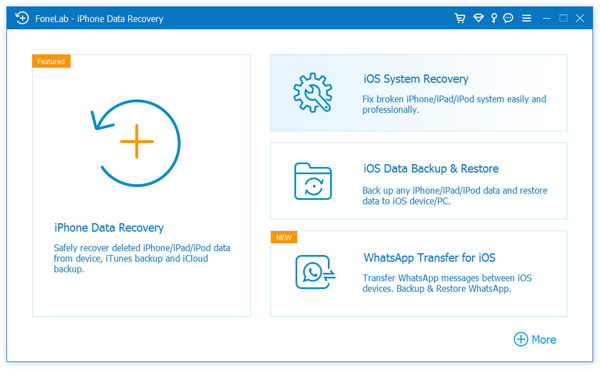 Step 2Connect your old iPhone to your computer and select "iOS Data Backup" option.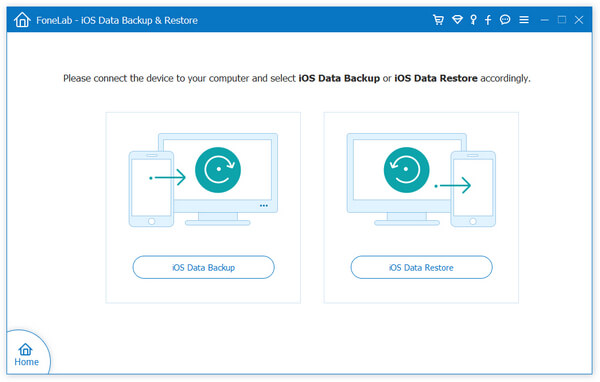 Step 3After your iPhone has been detected, click "Start" button and choose the file type you want to backup or you can "Select All" to backup all the data at one time. You can also "Encrypted backup" to backup you data with a password in order to protect your privacy.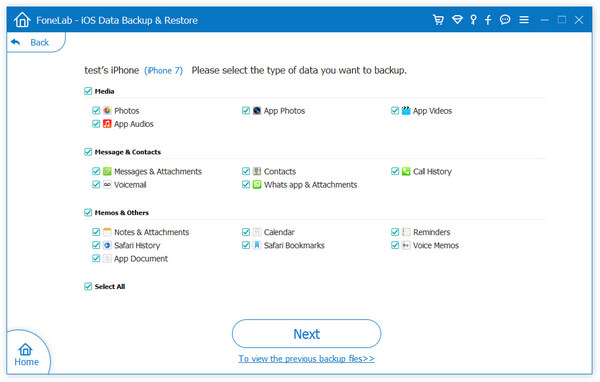 Step 4Click "Next" button and click "Backup" button on the pop up window to confirm the backup path. After minutes, you iPhone data has backed up on your computer. And when you buy the new iPhone X or iPhone 8, you can restore the backup to your new iPhone with "iOS Data Restore" function.
Watch the video to learn more: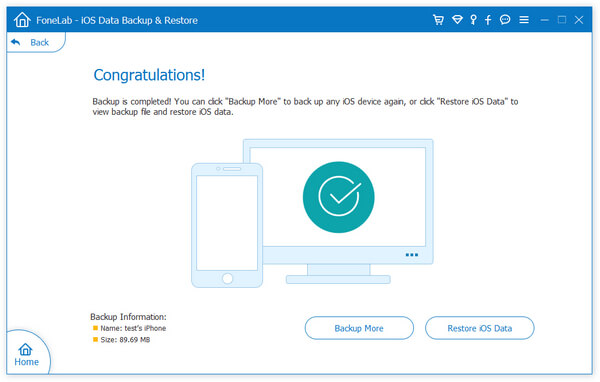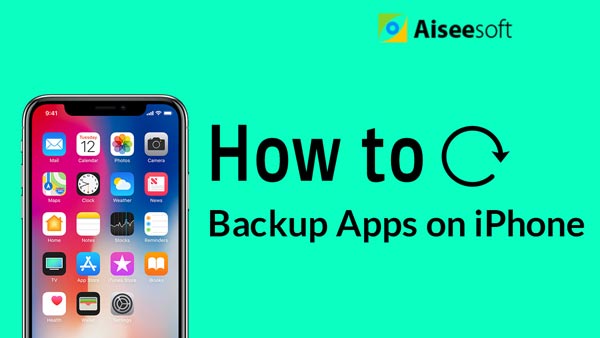 Sign out all your accounts on your old iPhone
Before selling or trading in old iPhone, you may need to remove the personal information. However, you cannot directly delete contacts, reminders, photos, files or any other information that are linked with iCloud. If you manually delete them, these data will be removed from iCloud as well. For iPhone with iOS 10 or later, make sure you've sign out of iCloud when remove iPhone content. Follow these steps:
◆ If you've paired an Apple Watch with your iPhone, remember to unpair your Apple Watch.
◆ Sign out of iCloud and the iTunes & App Store.
• If you're using iOS 10.3 or later, tap Settings > [your name]. Scroll down and tap Sign Out. Enter your Apple ID password and tap Turn Off.
• If you're using iOS 10.2 or earlier, tap Settings > iCloud > Sign Out. Tap Sign Out again, then tap Delete from My [device] and enter your Apple ID password. Then go to Settings > iTunes & App Store > Apple ID > Sign Out (Forgot iCloud Password?).
◆ Turn off Find My iPhone. As Find My iPhone is a security feature, so you must turn off it before you sell you old iPhone, or nobody can use or reset you old iPhone.
• Open the Settings app on you iPhone, and go to iCloud > Find My iPhone. Then toggle it off.
Wipe your old iPhone
After signing out all apps, services and connected accounts (like iCloud), go back to Settings and tap General > Reset > Erase All Content and Settings to remove all your data from you old iPhone. For efficiently erasing iPhone, you can use iPhone Data Eraser for a try. Within several clicks, all data and settings will be erased.
Step 1Launch FoneEraser and plug your iPhone to computer via USB cable.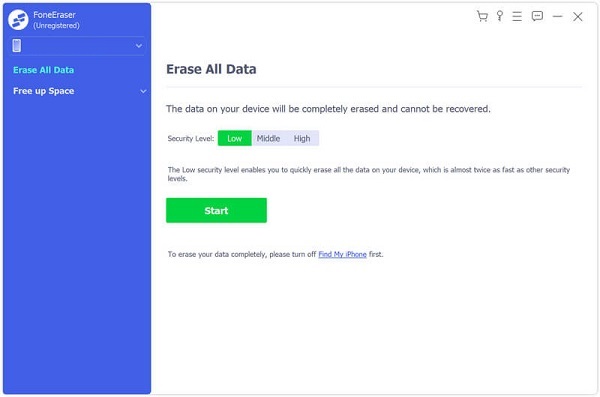 Step 2Three erasing level (Low, Medium and High) are available to choose from.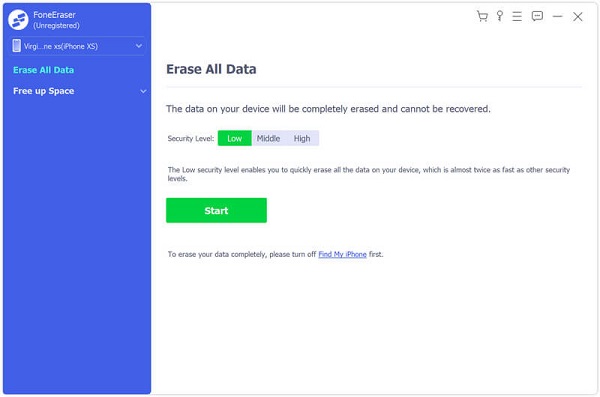 Step 3Click the button of "Start" and prepare to erase everything from your iPhone.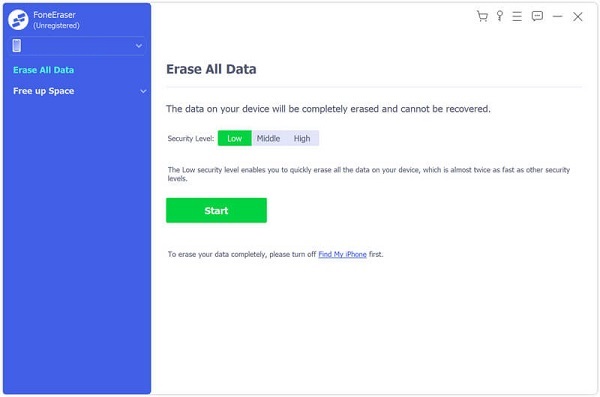 ◆ If asked for your device passcode or Restrictions passcode, enter it. Then tap Erase [device]. Note: When you erase your iPhone, iPad, or iPod touch, Find My iPhone and Activation Lock is turned off.
Not have your old iPhone at hand
◆ Ask the purchaser to reset all content and settings using the method referred above.
◆ Sign in to iCloud.com or use the Find My iPhone app on another iOS device to remotely erase the old iPhone. Select your old iPhone name from the device list, and click "Erase". When the old iPhone has been erased, click "Remove from Account" option.
◆ If nothing works using the methods above, change your Apple ID and password. This method will not erase any personal data or information stored on your old iPhone, but it can prevent the new owner to remove data from iCloud.
◆ If you're switching to a non-Apple phone, deregister iMessage.
◆ If you're using Apple Pay, you can remove your credit or debit cards at iCloud.com. Choose "Settings" to see which iOS devices are using Apple Pay. Next to Apple Pay, click "Remove".
Sell old iPhone 14/13/12/11/XS/XR/X/8
You can sell old iPhone with two methods introduced below. You can directly sell old/used iPhone by self or choose to trade in the old iPhone.
Method 1: Sell old iPhone by yourself
You are able to sell old iPhone by yourself. But it seem more risky but you may get more profit.
Craigslist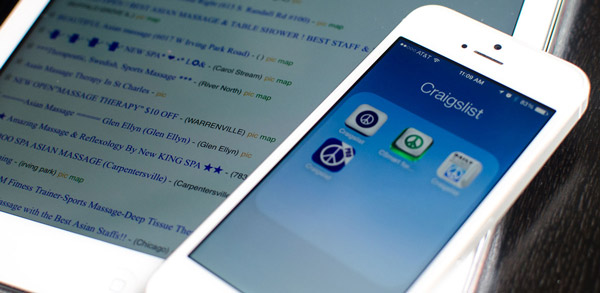 When it comes to selling old iPhone on your own, Craigslist can be the most riskiest one, but you can get the most profit if you sell your device. This service has its way to let customers to show up so you never worry about whether others will buy your used iPhone. When choosing Craigslist, ensure you meet the purchaser in a public place. For the smoothest transaction, make the agreement clear prior to meeting.
eBay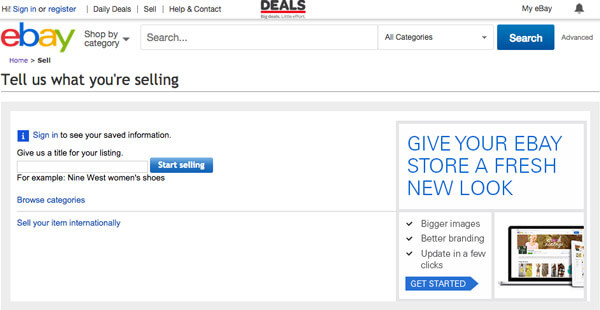 eBay is a better option than Craigslist for selling your used iPhone. Because eBay provides its buyers purchase protection. But you need to pay a sales fee for products that are sold through eBay: 10 percent of the final value (selling price). If you accept payment through PayPal, PayPal charges a fee of 2.9 percent (4 percent if sold internationally) of the final value. The main downside to selling your iPhone on eBay is the potential risk of buyers' remorse. eBay offers both the seller and the buyer protection, but tends to side with the buyer in the event of a dispute, and scammers know how to take advantage of this.
Method 2: Trade in old iPhone
It is another way to sell old iPhone, trade in old iPhone for cash, gift cards or store credit. But you need never to be liable any issues when it is out of your hands. If you are deciding to give up a the profit as sell out of the device, you can choose to trade in old iPhone.
Apple's Trade Up program
Link: https://www.apple.com/iphone/trade-up/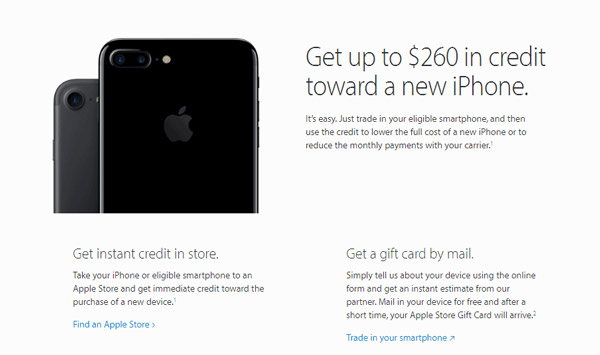 You may try Apple's trade up program, which enables you to get instant Apple Store credit or get a gift card by mail. The good thing about Apple's Trade Up program is that the company doesn't discriminate based on storage size. Just trade in your eligible Smartphone, and then use the credit to lower the full cost of a new iPhone X/ iPhone 8/8 Plus or to reduce the monthly payments with your carrier.
Best Buy Trade In
Link: https://tradein.bestbuy.com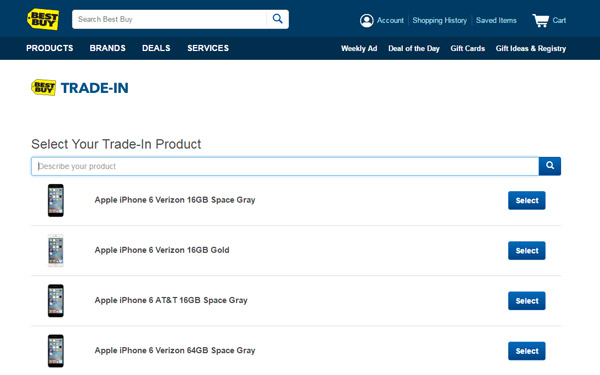 As a great trade-in program, Best Buy offers some of the best trade-in prices, but you should know that the those prices are paid out in Best Buy gift cards. Best Buy's prices are based on carrier and color, as well as model and condition.
Gazelle
Link: https://www.gazelle.com/trade-in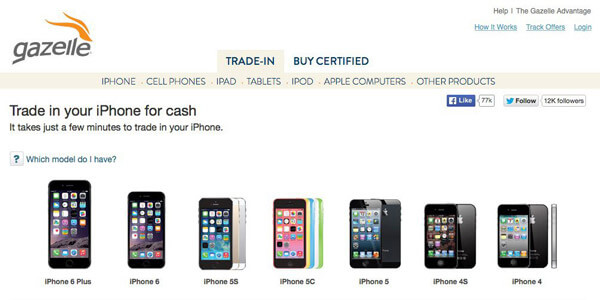 Gazelle is a third-party trade-in company that offers straight cash via check or PayPal or an Amazon gift card option when you want to trade in old iPhone. For broken devices, Gazelle will still let you get the money between $50 and $75. But Gazelle offers less for carrier-locked phones, so you'd better unlock your phone before trading it in with Gazelle.
Nextworth
Link: https://www.nextworth.com/tradein-electronics-instore-nextworth/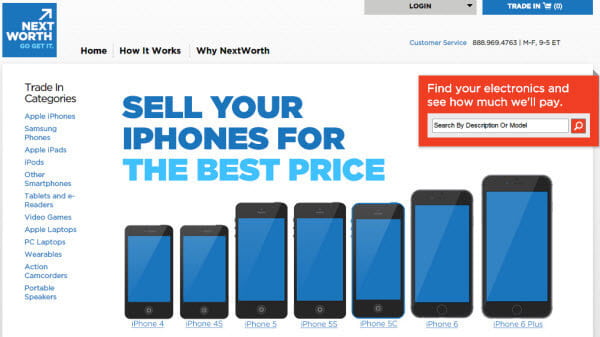 Similar to Gazelle, Nextworth is a trade-in company where you can have a deal via check or PayPal. Nextworth also recycle broken phones. Different with Gazelle, Nextworth offers more for some carriers, specifically Verizon. In fact, Nextworth will give you 385 dollars for a 16GB Verizon-locked iPhone 6S if it is in good condition, while Gazelle will only give you $285. But it is different for different service carriers.
In this article, we mainly show you how to sell old iPhone. Leave what you want to say below.