How and Where to Sell Broken iPhone 14/13/12/11/XS/XR/X/8/7/SE/6/5/4 for Cash
iPhone 14 has been released this year, and it seems it is time to say goodbye to your current iPhone as you move to a new iPhone. Of course, you can sell it in great price if it is still on the good condition. However, if you have damaged your iPhone accidently, you may wonder if you can also sell the broken iPhone for cash. The most common ways for an iPhone to break are a cracked screen, water damage and a broken LCD screen. But you iPhone is broken doesn't mean it has lost its value, you may be even easier to sell broken iPhone as normal used iPhone. Just check the following guide and see how to sell you broken iPhone on a good price.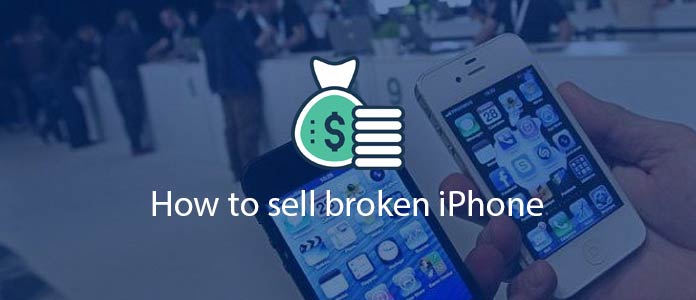 Broken iPhone definition
First of all, we need to understand what the most stores define "broken" when you trade in broken iPhone with them in order to get the most current price for your device. Generally speaking, most of them will treat iPhone which is complete but has water damage, functional or physical problems to prevent it from working properly as broken. For more specific answer, you can check the following list and if any one of these apply to your device, you iPhone is considered broken:
◆ Broken Screen: Broken or cracked LCD screen or glass to adversely affect the touch screen functionality;
◆ Network Issues: Like WiFi not working, Bluetooth or GPS issues;
◆ Button Problems: Missing or defective power, home, ringer, volume buttons;
◆ Power Issues: Not power on, charge or hold a charge;
◆ Housing Separated: Housing pulling apart or iPhone is complete but not intact;
◆ Software Glitches: Things to prevent full functionality of iPhone or alteration of the software like "jailbreaking";
◆ Hardware Damaged: Cracked or broken hardware including charging ports, headphone jack, speakers, microphone, casing, etc.
Of course, different stores may vary with broken definition according to their own rule, so you can consider the above things as a reference before selling your broken iPhone.
Before selling broken iPhone
Backup broken iPhone data
Before selling your broken iPhone, you'd better backup all your iPhone data to prevent data lost. Here you can use the professional iPhone Data Backup & Restore to backup your iPhone data to computer in one click.
Step 1Download and install this iPhone backup software and launch it on your computer. Select "iOS Data Backup & Restore" on the main interface.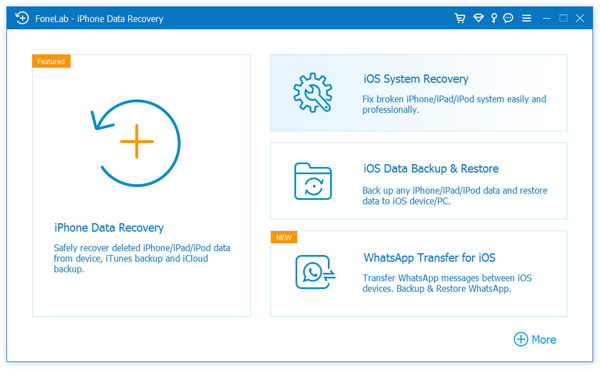 Step 2Then connect your broken iPhone to your computer via USB cable and choose "iOS Data Backup" to let the iPhone be detected. Then click "Start" button and "Select All" to backup all your data on broken iPhone. Of course, you can also just choose the file type you want to backup without backing up unnecessary data.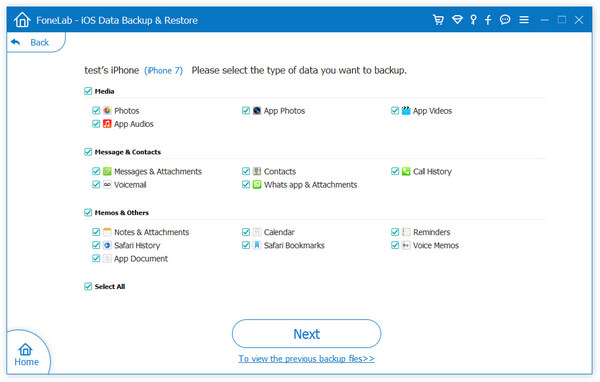 Step 3Click "Next" button and then "Backup" button on the pop up window. Then the program will start backing up your broken iPhone to computer.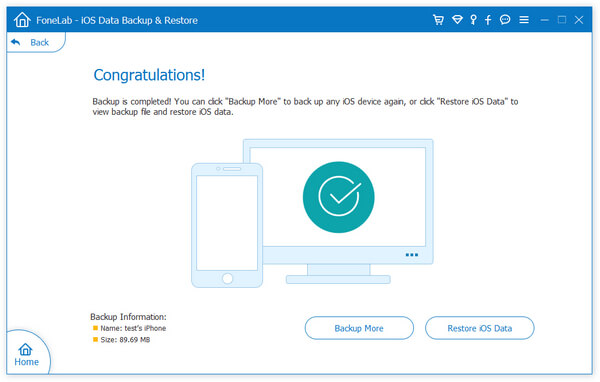 Now you've managed to backup iPhone to computer. Watch the video: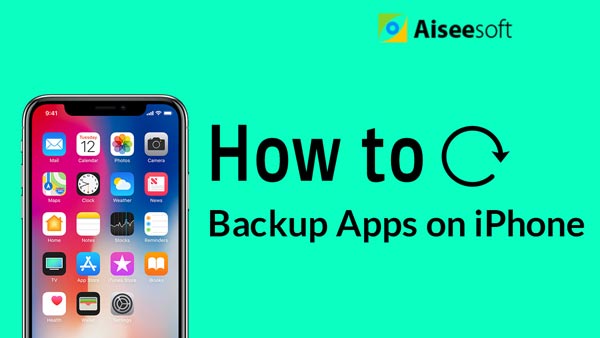 Disable or disconnect your accounts on broken iPhone
◆ Disable your passcode if the display is working. Or make sure to write down the password and include it with your broken iPhone when you mail it to the store;
◆ Deactivate your iPhone in your iCloud, iTunes and App Store account;
◆ Go to General Settings > "About" section to check what exact model your iPhone is and which service carrier it's assigned to;
◆ Make sure your broken iPhone isn't actived on your service plan. If you are not sure about it, call your service provider to confirm.
Delete all data on broken iPhone
Go to General Settings and "erase all content and settings" to restore your broken iPhone to factory settings. If you are not sure the data is completely erased or not, you can use iPhone Data Eraser to clean up your broken iPhone with data cannot restored.
Step 1Download and install FoneEraser and launch this program. Connect your broken iPhone to computer with USB cable.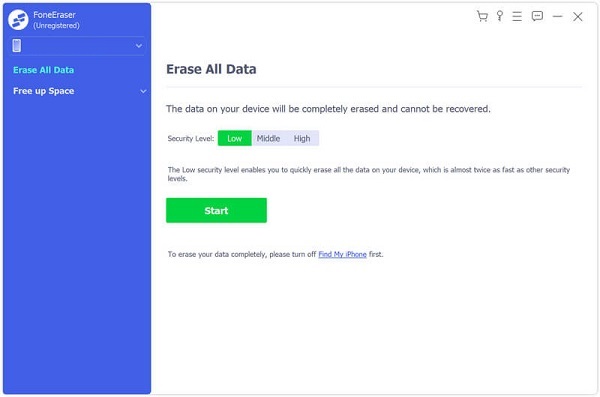 Step 2Choose the erasing level (Low, Medium or High) to delete your broken iPhone data. Better choose High level if you are afraid it can be recovered.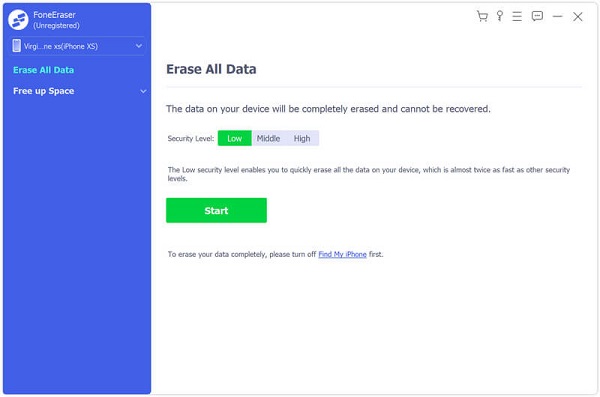 Step 3Click "Start" button to erase everything from your iPhone. If you device has passcode (forgot & reset iPhone password?), enter it when the program asks for.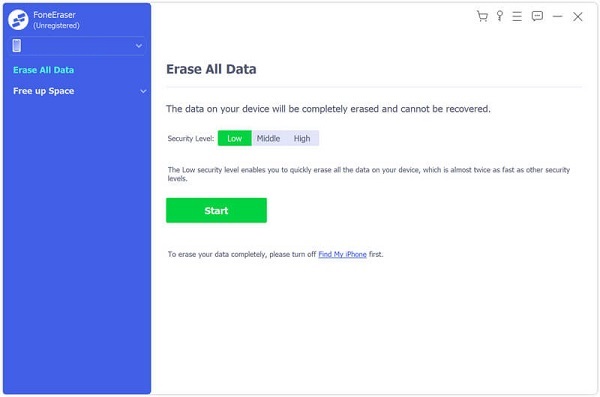 Where to sell broken iPhone
After all the preparation above, you can start selling your broken iPhone. Check the following ways to sell your broken iPhone and check the best one for yourself.
1. Buyback Boss

Buybackboss.com is a quicker option with a guaranteed price quote for selling broken iPhone. You may get the highest price quotes of any online buyback company and receive payment within a week. It is very easy to sell your broken iPhone within three steps on Buyback Boss. Get a quote by describing your broken iPhone on buybackboss.com. Then get a prepaid shipping label via email and print the label to place it on a box or padded envelope. And at last just choose between receiving a check or a PayPal payment and get paid upon they receiving your broken iPhone.
2. uSell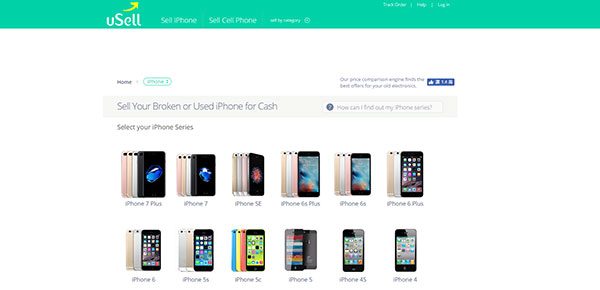 uSell.com can help you sell your iPhone 5, sell broken iPhone 5S or trade in iPhone 6 safely, quickly and hassle-free. You can just select your broken iPhone series from the list on their website and specify the exact model and condition of your phone. You may be surprised by the offers you get when selling your used or broken iPhones. After you send your iPhone, the buyer will inspect your device. As long as it matches the description, the buyer will issue payment for your broken iPhone via check or PayPal.
3. Gazelle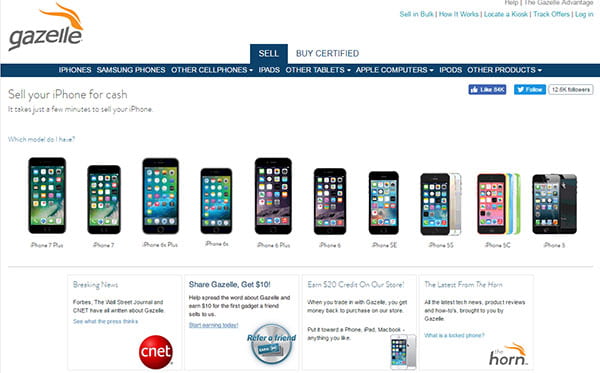 Gazelle.com will prompt you with a few question to identify your broken iPhone and determine its value when you sell broken iPhone with this website. Once you accept the Gazelle offer for your iPhone, you can receive a box to ship to their office and let their inspectors to assess it. They may adjust the price if they find your broken iPhone carry a higher or lower value than original thought. You will receive your money via PayPal, check or Amazon gift card when you are ready to check out.
4. Sellshark

When you sell your broken iPhone to Sellshark, you can see the exact amount they will give you before you sending your broken iPhone in. You just need to let them know what type of iPhone you plan to sell including generation, memory information and network and what condition it is in like brand new out of the box or have some cracked glass. Then check the offer you can accept or not and ship your iPhone to them if you accept the quote. You can receive the payment via Paypal, check or Square Instant Card after they receive your broken iPhone.
5. Glyde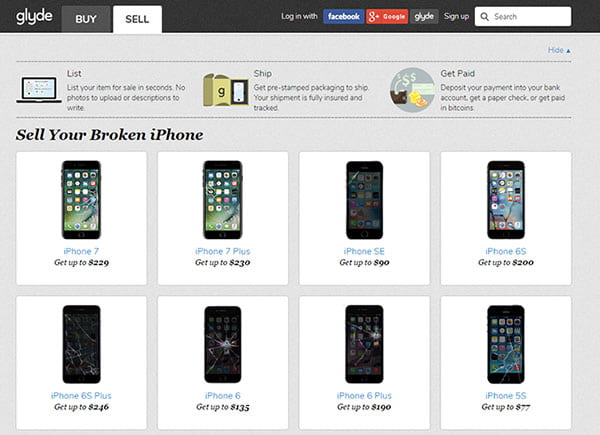 You can also sell your broken iPhone on Glyde easily. Just check your iPhone's screen for dead pixels before listing as dead or stuck pixels may indicate damage beyond the outer layer of glass and impact your iPhone's value. However, no matter what damage you iPhone has, you can still get cash for your broken iPhone on Glyde. You can also preview its offering quotes on their website to get the general idea of your broken iPhone value.
Here is the ways we recommend to you to sell your broken iPhone. If you have ever sold or traded your iPhone with other methods, you can also leave us comment below to tell us your experience.