How to Turn off iPhone without Power Button/Frozen Screen
- "My iPhone 6 won't turn off after pressing the power button over and over again. How can I turn off iPhone 6 without power button?"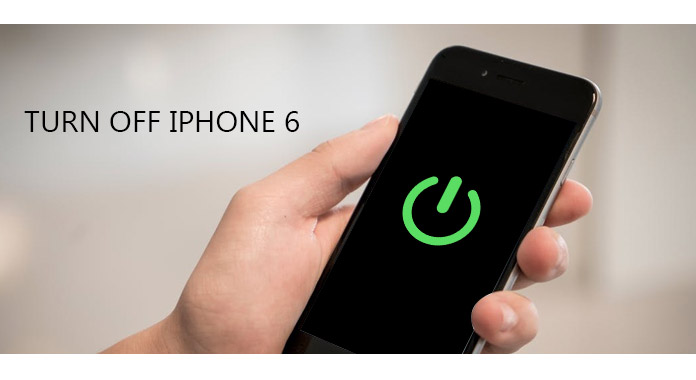 Turn off iPhone 6
Force shutdown iPhone is the common solution to fix iPhone and other digital devices disabled problems. It sounds unbelievable that one cannot turn off iPhone 6 or other iOS devices. But the truth is that once the on/off button fails to work, most people do not have any idea how to turn off iPhone 6 without power button. Moreover, the frozen or broken iPhone screen will also stop people from turning off iPhone 6 successfully. Therefore, this article aims to show you easy ways to turn off iOS devices, including new released iPhone X/8/8 Plus and earlier versions.
Part 1. How to Turn off iPhone 6
Though you have turned off iPhone before, but you may not know the correct way to power down iPhone 6. Whatever, it is still necessary to know how to turn off iPhone 6 officially.
Step 1 Open your iPhone 6
Tap the On/Off button on the right side of your iPhone to turn it on. Swipe your finger from left to right, and then enter your PIN. After you typed the correct password, your iOS device will display the main interface automatically.
Step 2 Turn off iPhone 6 manually
Hold and press Home and Power buttons simultaneously until the message appear on the screen. Follow "Slide to power off" to turn off your iPhone 6. If you do not slide the button for a long time, your iPhone will cancel the shutdown automatically. That's all for turning off iPhone 6 and earlier iOS devices.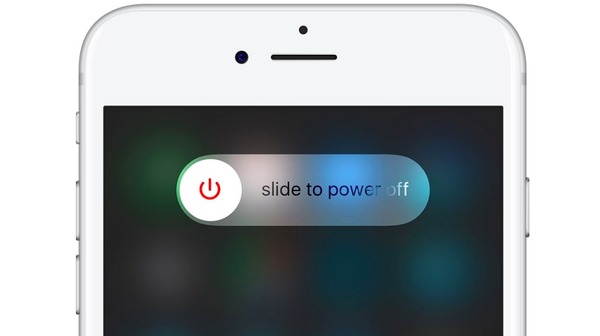 Turn off iPhone 6
Part 2. My iPhone won't Turn off, How to Fix It?
Section 1: Turn off iPhone 6 without Power Button
It sounds easy to turn off iPhone 6 officially. But if the On/Off button does not work, then you need to turn off iPhone with AssistiveTouch. During this time, make sure your iPhone touch screen is responsive.
Step 1 Active AssistiveTouch on your iPhone 6
Click "Settings" and then choose "General". Hit "Accessibility" to choose "AssistiveTouch" under "Interaction" category. Later, turn on "AssistiveTouch". There will be the small rounded rectangle with a circle appearing on your screen. In most cases, you can find the icon in the lower right corner of your iPhone 6.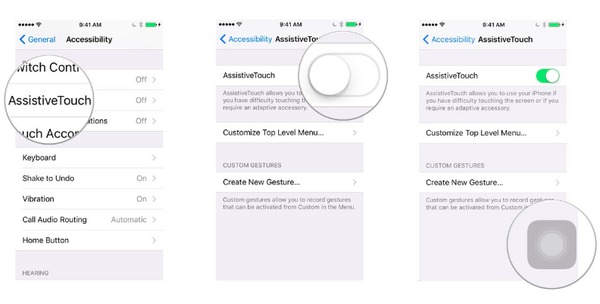 Active AssistiveTouch
Step 2 Turn off iPhone 6 without power button
Tap the "AssistiveTouch" icon just mentioned to access on-screen controls. Hit "Device" and then long press "Lock Screen" until the "Slide to power off" message appear. Now you can turn off iPhone 6 without home or on/off button successfully.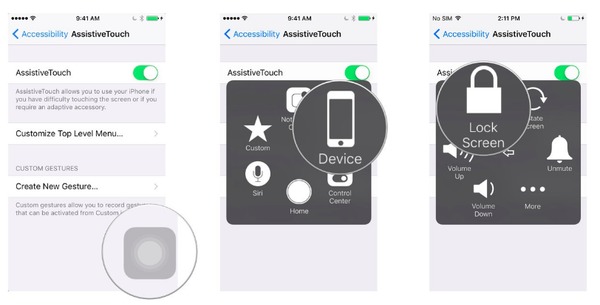 Turn off iPhone 6 without power button
Section 2: Turn off iPhone 6 without Touch Screen
If your iPhone is dropped from a high place, you will find a broken iPhone. Thus, you should also know how to turn off iPhone 6 with a broken screen.
Step 1 Hold and press Sleep/Wake button and then tap Home button together.
Step 2 Release two buttons when the touch screen turns black.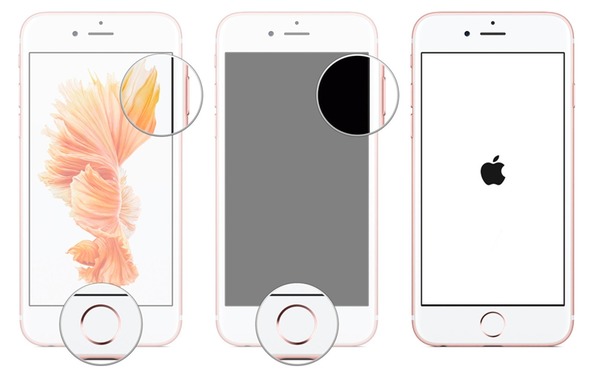 Turn off iPhone 6 without Touch Screen
If you need to hard reset or force restart iPhone, you can continue long pressing these two buttons at least 10 seconds until the Apple logo appears.
Section 3: Turn off iPhone 6 When Screen Is Frozen
Sometimes your iPhone touch screen is disabled while others stay in the good condition. There are many reasons cause your touch screen disabled. For instance, too many apps should be the reason for the frozen screen. No matter which system problem you have, you can use FoneLab iOS System Recovery to fix disabled iPhone 6 and other iPhones, and then it will be easicer to turn off iPhone 6 with frozen touch screen.
Key Features
Fix iPhone to normal state from DFU mode, recovery mode, Apple logo, headphone mode, loop restart, iPhone disabled and other abnormal situations.
Supports all iOS devices including iPhone X/8/8 Plus/7/7 Plus/SE/6S/6S Plus/6/6 Plus and more.
Restore locked or disabled iPhone without password.
Easy to use and safe to cause no data loss.
Step 1 Locate iOS System Recovery
Free download and install iOS System Recovery on your Windows or Mac computer. Launch it and click "More Tools"in the left panel. Select "iOS System Recovery" icon. And then use USB cable to connect iPhone to computer.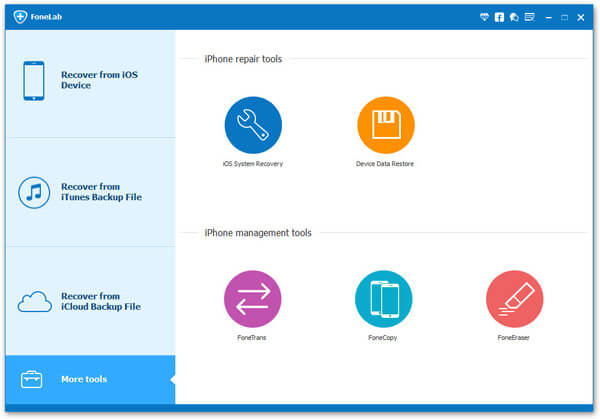 iOS System Recovery
Step 2 Put iPhone into Recovery mode/DFU mode
Your iPhone 6 will be detected by iOS System Recovery automatically after being connected to computer. If your iPhone has been in recovery mode already, then just click "Confirm" to move on. You need to follow instructions to enter Recovery mode or DFU mode manually. Well, disconnect iPhone from the computer and turn off iPhone 6. Later, press and hold the Home button to connect iPhone 6 to computer again. Do not release Home button until "Connect to iTunes" appears.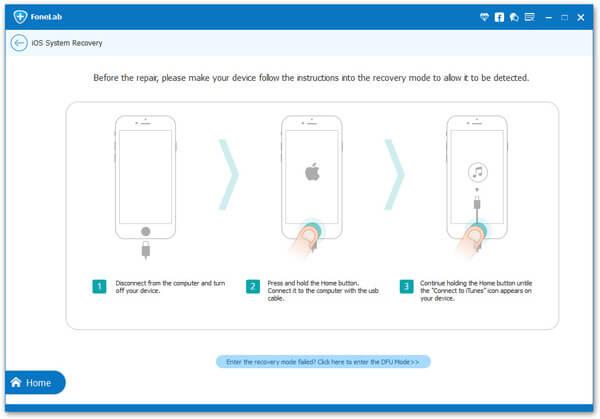 Put iPhone into recovery mode mode
Step 3 Download iPhone firmware
Your iOS device information will be listed in order. For instance, check "Device type" to see whether it is "iPhone 6". And you need to manually correct other settings. Make sure that your iPhone 6 will be updated to the latest iOS version. Tap "Repair" button and then download your iPhone firmware.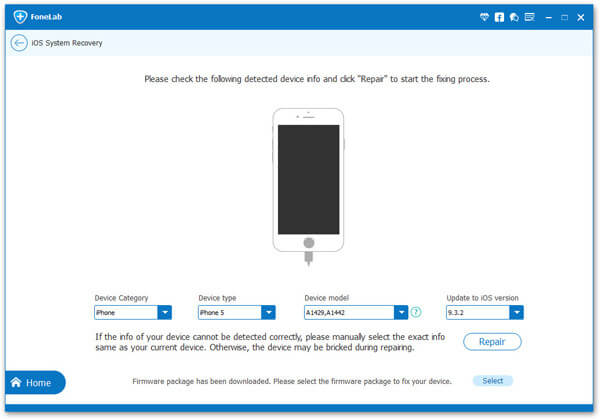 Download iPhone Firmware
Waiting few minutes and then your disabled or frozen iPhone 6 can be fixed without data loss. And you can turn off iPhone 6 when the screen does not work with ease. New iPhone X, iPhone 8 and iPhone 8 Plus was just released, you can use iOS System Recovery to fix frozen screen if necessary.
If you have tried all above methods but still fails to turn off iPhone 6, then you should take your iPhone to the repair service center to get more professional advices. And even though you can turn on and off iPhone 6 with the broken screen, you should also fix the touch screen as soon as possible to prevent potential problems.