How to Activate New iPhone X/8/7/6/5/4 (Without SIM Card Included)
What is the first thing you need to do when you get a new iPhone? Open the box and scream with your friends! Just kidding...The first thing you need to do when you start iPhone is to activate it. iPhone activation is the most important process to be performed for you to enjoy music and videos, make phone calls or do anything else with your new iPhone. Then, how to activate iPhone? Activating iPhone is not complicated, there are several methods for you to adopt. You can activate iPhone with active SIM card, or without SIM card by connecting it with iTunes. We'll go through each method in the article for you to choose. Most of the time, the activation process works smoothly, but in case you come across some error while activation, we also give you some suggestions to fix iPhone activation error.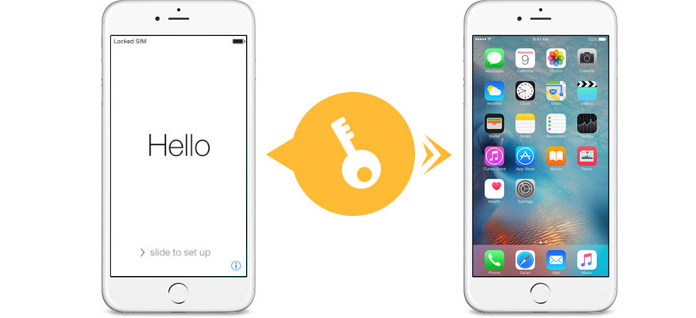 Part 1. How to activate iPhone X/8/7/6/5/4 using Wi-Fi or cellular connection
Activation process can be completed easily on new iPhone. For people who are fresh to iPhone and people who give up their old iPhone 5/4S/4 and switch to a new iPhone SE/6s Plus/6s/6 Plus/6/5s, the iPhone activation can be slightly different, but basically the same. Here I'll take activating Verizon iPhone as an example:
Note: For old iPhone users, if your contacts are still useful to you, you should back up your contacts before activating your Phone for Verizon service.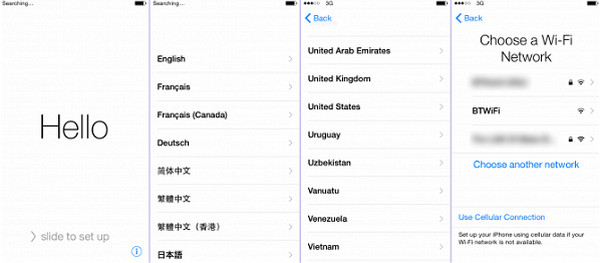 Step 1 If necessary, insert the SIM card into your phone. Depending on how you got your iPhone and your service, you may need to insert a new SIM card into your iPhone before activating. For existing Verizon customers, use a different phone other than you phone, call (877) 807-4646. Make sure that you have the receipt for your service handy, as you will need to provide the customer service reps with some information on it.
Step 2 Power on your iPhone and start the setup process. You'll be asked to select your language and region.
Step 3 Choose a Wi-Fi network or tap "Use Cellular Connection" If you select a Wi-Fi (iPhone won't connect Wi-Fi?), enter the password and connect it. If you select "Use Cellular Connection", you can use your cellular connection instead to activate and setup the iPhone.
Step 4 Wait for your iPhone to activate. Your Verizon iPhone will contact the activation servers when you connect to a network. This will take a few minutes at most.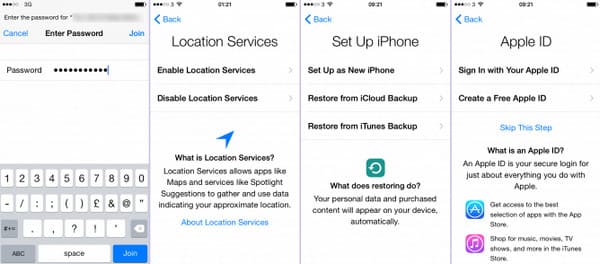 After the iPhone has been activated through Verizon, you will be guided through the rest of the iPhone setup process, including creating/signing into the iCloud account, restoring your saved contacts and more.
Part 2. How to activate iPhone without SIM card (Using iTunes)
If you don't have a wireless network connection for the activation, or you want to activate iPhone without SIM card, you can choose to activate iPhone with iTunes. Here is the tutorial on how to activate AT&T iPhone with SIM:
Step 1 Download and install the latest version of iTunes on your PC.
Step 2 Start the new AT&T iPhone setup process on the iPhone. You'll be prompted to select a language and region.
Step 3 Tap "Connect to iTunes" beneath any available wireless network.
Step 4 Connect your iPhone to your computer via USB cable. iTunes will activate AT&T iPhone automatically.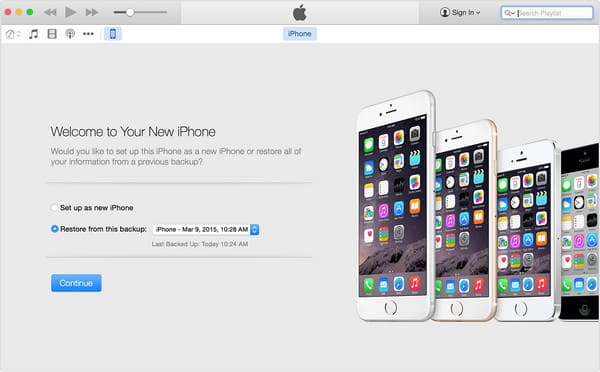 Step 5 You'll be asked to setup AT&T iPhone as new or restore from a backup. Choose the one as you like, it won't affect the activation process.
Step 6 Click "Get Started" then "Sync". Your iPhone will sync to your computer and the AT&T cellular activation will be applied.
Step 7 Disconnect your iPhone and continue the setup on the iPhone screen. Now your AT&T iPhone is activated with no SIM card. You can finish other work on your iPhone, including creating passcode, signing in with an Apple ID.
Part 3. Fix iPhone activation errors
Even though iPhone activation works smoothly most of the time, there are still some chances that things look bad. When trying to activate your iPhone, you might run into the "Cannot activate your iPhone now" type of an error, and that can mean a lot of things, to name a few, the activation server is unavailable, SIM card is not supported, iTunes was unable to verify the device and more. In the following, we've collected several ways to fix the iPhone activation errors, hope it can help you.
Step 1 Restart your iPhone
This is the simplest way to fix the error, although it doesn't guarantee your activation will go through. Hold the power till the slider shows up and then slide it to turn off. Restart your iPhone and try to activate it again.
Step 2 Lock/Unlock SIM card status
SIM-card/carrier problem is a very common one. If you try to activate a different carrier on a locked iPhone, you'll get the activation errors obviously. Under this circumstance, call the carrier directly and ask them to activate your iPhone+SIM card. If you have an iPhone on a different carrier and now you're trying to activate a different carrier, you should know that the earlier carrier should've unlocked your iPhone.
Afer that, if iPhone still says no SIM, we suggset to you directly activate iPhone without SIM card. Also, you can read this post to solve this problem: iPhone says no sim.
Step 3 Network issue
If you are using a cellular data connection, try connecting to a reliable Wi-Fi network instead. If you are using Wi-Fi already, try to get connected to a different Wi-Fi source than the one you are using now.
Step 4 iTunes issue
If you are using iTunes to activate your iPhone, make sure that iTunes is updated to the latest version.
Bouns tips: Fix iPhone activation error with professional tool
FoneLab - iOS System Recovery
For Mac
To fix the error when you activate iPhone with or without SIM card, you can try to use this professional iOS System Fix tool, which enables you to fix all kinds iOS System issues easily.
Fix iPhone activation error, stuck in DFU mode, recovery mode, Apple logo, headphone mode, etc.
Support all iOS devices like iPhone X/8/7, iPhone SE, iPhone 6S Plus, iPad Pro, iPad Air, iPad mini, iPod and more.
Easy to use and safe enough to cause no data loss.
In this article, we mainly taught all the methods to activate iPhone X/8/7/SE/6s Plus/6s/6 Plus/6/5s/5c/5/4S/4, including how to activate iPhone with Wi-Fi connection or cellular connection, how to activate iPhone without SIM card. We have also provided the solution to fix iPhone activation error. Still have more questions? Feel free to leave your comments down below.
Part 4. FAQs of activating iPhone
1. How do I know when my iPhone was activated?
On your iPhone, go to Setting > General > About, and check Limited Warranty to know the activation data of your iPhone.
2. Why does my iPhone say Activation Required?
Perhaps your iPhone can't get to Apple's Servers for the current network error. Please connect to a stable network. If that doesn't work, you can ask Apple for support.
3. Can you bypass Apple activation lock?
Yes. You can bypass iCloud activation lock with Aiseesoft iPhone Unlocker. It also works when your iPhone gets stuck in iCloud activation.