How to Track an iPhone without Knowing (Instantly & No Jailbreak)
Losing iPhone is the frustrating thing, and it would be worse if you saved lots of important information in your iPhone. Fortunately, it is easy to track an iPhone and find the iPhone back with the help of many iPhone trackers. If you want to control every activity your children has taken secretly, you can also use the similar methods to track an iPhone without them knowing. No matter what the reason is, the most important thing is secretly tracking an iPhone location to get the information you want. Therefore, this post aims to show you easy and safe methods to track an iPhone.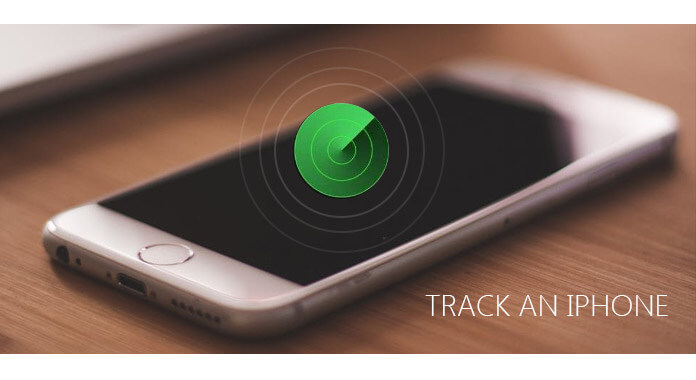 Track an iPhone
Part 1. How to Track an iPhone Using iCloud
Since you do not have the iPhone at hand, you need to open iCloud.com on your computer or another Smartphone to track where your iPhone is. Moreover, iCloud provides "lost mode" that can prevent others in possession of your iPhone remotely. Therefore, if you just lost iPhone unfortunately, then open iCloud on your browser as soon as possible to protect the safety of your iPhone.
Note: Before you track an iPhone, you should make sure to turn on "Find My iPhone" on your iPhone previously. (Choose "Settings" > sign in with Apple ID and password > click "iCloud" > turn on "Find My iPhone" and "Send Lost Location".) Moreover, your lost iPhone must be turned on and connected to Wi-Fi, which you can track the lost iPhone with iCloud.
Step 1 Locate "Find iPhone" in iCloud
Open iCloud.com on your browser, sign in with your Apple ID and password. Click "Find iPhone" button in the lower right corner. Hit "Next" to move on.
Step 2 Track an iPhone location
Select "All Devices" drop-down list on the top, and then choose the name of your iPhone. Now you can see where your lost iPhone is on a map. Zoom in to get the accurate location.

All devices
Step 3 Lock iPhone remotely
But what should you do if your iPhone was stolen? You can safeguard the iPhone by choosing "Actions" button. You are able to tap "Play Sound" to play sound of its surroundings or lock your iPhone remotely by hitting "Lost Mode". If you really worry about the security of important documents, then you can also press "Erase iPhone" erase all content data by iCloud.
Part 2. How to Track an iPhone Using Google
You can also track an iPhone without the person knowing by Google. There is no need to use iPhone tracker app to track the iPhone location, using Google products you can also find lost iPhone back with ease. But make sure you are satisfied with the related conditions.
Solution 1: How to Track an iPhone Using Google Timeline
Note: You need to enable Location Services on your iPhone in advanced, and your iPhone should be connected to the Internet.
Step 1 Log into Google Timeline.
Step 2 Choose "Today" or the present date from the left panel.
Step 3 Scroll down and find the latest location update.
Step 4 Track the iPhone location by Google Timeline.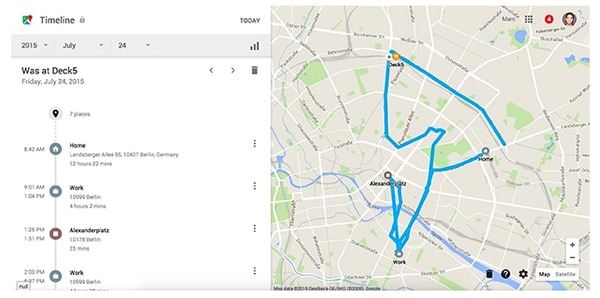 Google timeline
If your iPhone location stays unchanged, you should go to the location to find lost iPhone back. However, if the iPhone location is moving, then definitely it was stolen.
Solution 2: How to Track an iPhone Using Google Photos
Note: Enable automatic upload with Google Photos first. After that, every single picture the thief has taken will upload to Google Photos online.
Step 1 Open photos.google.com.
Step 2 Check your recent photos.
Step 3 Select the latest photo and check its location on the right side.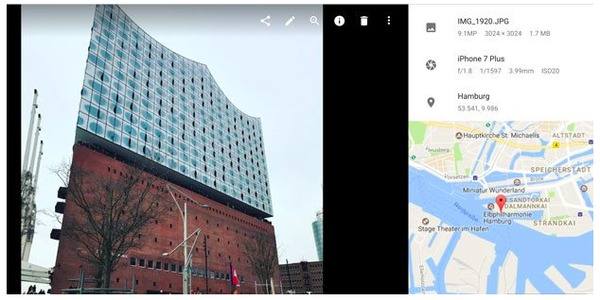 Track an iPhone using google photos
Solution 3: How to Track an iPhone Using Google Maps
Google always gathers information about your iPhone. Therefore, you can rely on Google Maps to track an iPhone anonymously.
Step 1 Locate maps.google.com/location history.
Step 2 Select today's date from the calendar.
Step 3 Check the last reported location and related updated time.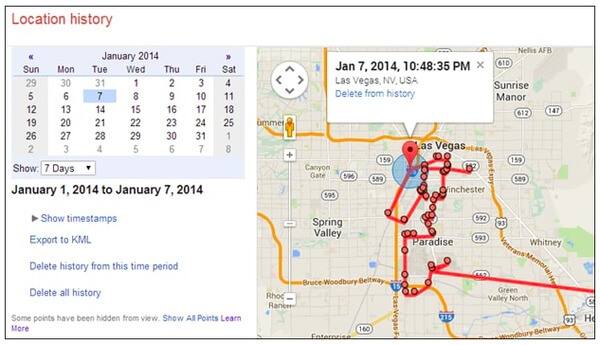 Track an iPhone using google maps
Part 3. How to Track an iPhone Using Find Friends APP
Well, if you want to track an iPhone secretly, then you can use Find My Friends app to achieve your goal. It is hard to determine Find My Friends is the iPhone tracker app since it just shares the location. But if you really want to know where someone is without being known, then you can activate Find My iPhone app. That person will not receive further notification of being tracked.
Step 1 Turn on "Share My Location".
Open "Settings" and then choose your Apple ID on the top. Select "iCloud" and scroll down to tap "Share My Location". Turn on "Share My Location", click "From" button and choose your iPhone.
Step 2 Share the person's location
Open "Find Friends" app in orange on your iPhone, it is the pre-installed app for iOS 9 and later. Hit "Add" and enter your email address. Press "Send" button in the top right corner. Finally, you can set the duration to track an iPhone secretly. For people who want to control everything in detailed, then selecting "Share Indefinitely" is the first choice. Click "OK" when the request appears asking to share the location.
Step 3 Accept the iPhone location tracking
Now, go back to your iPhone choose "Accept" of the iPhone location-sharing request. Remember select "don't share" when you are asked whether you want to share your own location, or your iPhone location will be updated as well!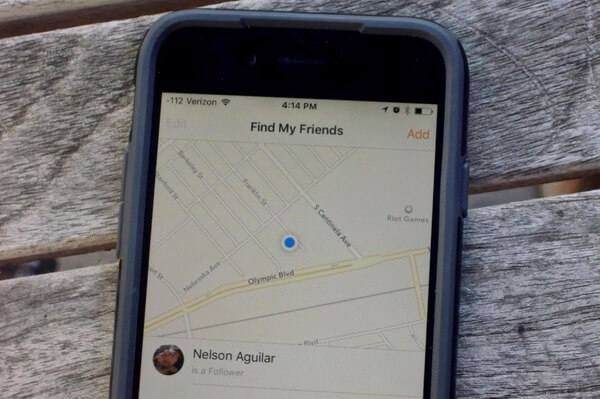 Track an iPhone using find friends APP
Part 4. How to Track an iPhone Using Spy APPs for iPhone
If you fail to track an iPhone through above methods mentioned, then you may try following iPhone tracker apps for more professional help.
FoneLab - iPhone Data Recovery
For Mac
Recover deleted iOS data like contacts, call logs, videos, audios, photos, notes, messages, etc. from iPhone/iPad/iPod.
Back up all types of iPhone data to PC/Mac.
Support iPhone X/8/7/SE/6/5/4, iPad, iPod and more.
Extract files without backup from iPhone directly.
Spyzie
Spyzie allows users to track not only iPhone location, but also call logs and cell phone's browser history. Moreover, you can track an iPhone from an Android and the other Apple devices. As for tracking iPhone GPS location, Spyzie offers real-time iPhone tracking service, as well as the path the iPhone has been taken to specific locations.
Step 1 Request for tracking an iPhone on Spyzie
Open Spyzie and create the new Spyzie account. Fill in the detailed information of the person you want to track including his or her name, age and OS on the target device. Later, hit "Next" to continue.
Step 2 Track an iPhone location in real time
Enter the iCloud ID and password. Hit "Verify" to check the iCloud ID on the target device. Turn to "Control Panel", wait few seconds and then you can track an iPhone in real-time.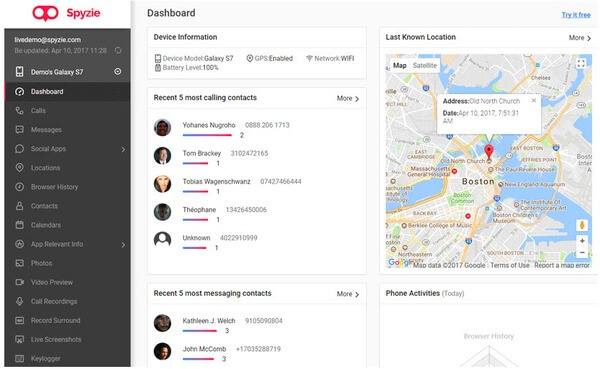 spyzie