How to Fix iPhone Overheating Issue
Getting a brand new iPhone 11/X/8/7/SE/6 Plus/6/5s/5c/5 on hand, you find it working perfectly. But as time goes by, things start to go wrong. One of the most common issues is that iPhone gets hot so easily. No matter what you intend to do, listen to music, watch videos, play Pokémon Go, or simply send messages, iPhone overheating issue keeps haunting you, some even get the iPhone temperature warning. Along with it, you may also notice that the overheating iPhone's battery drains fast somehow.
So here come the questions: why does my iPhone get hot? Is there a way to fix iPhone overheating? Well, continue to read and find the answer below.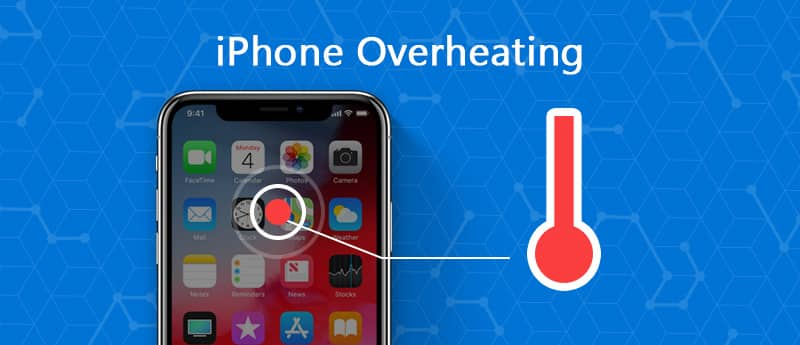 Part 1. How Does iPhone Overheating Happen
iPhone overheating issue can be caused by two main reasons. The first one is the temperature condition. According to Apple, iPhone should work where the temperature is between 0 and 35º C. High or low temperature for iPhone would cause iPhone overheating or battery damage.
Apart from that, most of iPhone overheating relates to iPhone software problem. In this case, your iPhone is overheating because the CPU has been worn out, which means that the app you're using on iPhone is out of order somehow, or even if iPhone is in the pocket, there are still apps running on the background, heating up your iPhone.
Part 2. How to Fix iPhone Overheating
Now that we've learned about the reasons why iPhone 5s/5 overheating happens, it is easy to find proper methods to cool down iPhone. If your iPhone is getting hot, here are several things you need to pay attention to.
1. Keep iPhone under proper temperature condition
In order to stop iPhone overheating, the first thing is to make sure that you keep iPhone under the proper temperature condition. Leaving your device in direct sunlight or a hot car overheats iPhone easily. Plus, avoid any high heat sources like heating machine, or a TV, which could also bring iPhone high temperature.
2. Update iPhone to stop overheating
Update iOS to the latest version is important since it brings bug fixes and improves the performance of iPhone. Update iPhone could solve a lot of software – related problem, including iPhone overheating. If your iPhone keeps getting hot regularly, check your iPhone Software Update to see if you can fix this by updating iPhone.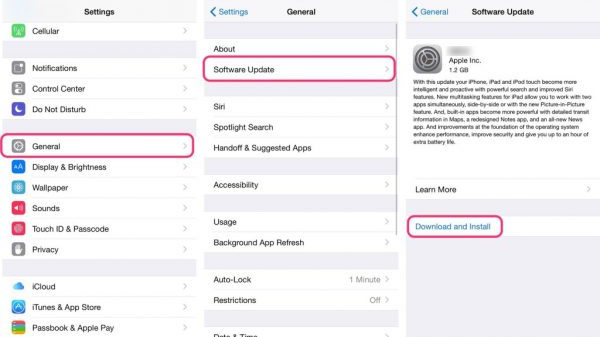 To update iPhone, you need to connect your device to a great Wi-Fi network. Then go to Settings > General > Software Update. Tap Download and Install and then wait until iPhone is updated.
3. Turn off Background App Refresh to stop overheating
Even if you are not using some apps, they can still run in the background due to Background App Refresh, which allows apps to refresh their contents. As a result, this may cause the overheating problem, and it also has the impact on your iPhone's battery life.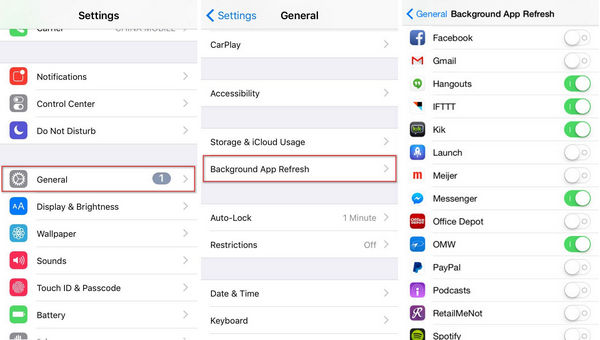 To fix iPhone overheating, you could check active apps and try to disable Background App Refresh. Go to Settings > General and tap on Background App Refresh, turn the push notification off for unnecessary apps or just press the switch and disable all apps.
4. An app is overheating iPhone
Instead of all apps running and taking up CPU, there may appear one specific app that's heating up your iPhone 5/5s/5c. If you have noticed that iPhone would get hot every time you're using an app, that's the problem. You can open App Store and check the update for the app, or you can delete the app, install it again and see if this works.
5. Erase All Content and Settings to prevent iPhone overheating
If nothing works, or you just can't find the reason for iPhone overheating, you could always try resetting your iPhone.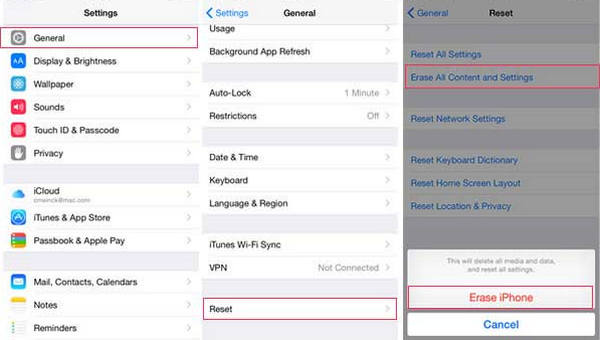 In order to do this, backup iPhone files first, and then navigate to Settings > General > Reset, and choose Erase All Content and Settings. Wait until the task is finished, then set iPhone as a new one, I'm sure iPhone overheating issue is solved. Still not? Then the problem may come from hardware, seek help from the store.
6. Fix iOS system issues that cause iPhone overheating
iPhone overheating problem can also be caused by some system error, and you can prevent iPhone from getting overheated by fixing iOS system. Here we recommend you to try iOS system fix software. You can use this program to detect and fix iPhone overheating issue.
FoneLab - iOS System Recovery
For Mac
Fix iPhone overheating, stuck in DFU mode, recovery mode, Apple logo, headphone mode, etc.
Support all iOS devices like iPhone 11, iPhone X, iPhone 8, iPhone 7, iPhone SE, iPhone 6S Plus, iPad Pro, iPad Air, iPad mini, iPod and more.
Easy to use and safe enough to cause no data loss.
Part 3. Prevent iPhone from Getting Hot
All in all, iPhone5/5s/5c overheating issue all results from bad using habits. If you want to prevent iPhone from overheating, make sure you're using iPhone properly. For starters, follow these tips:
➤ Avoid direct sunlight or any high heat sources.
➤ Turn off Bluetooth, Wi-Fi, location service and more when not in use.
➤ Do not play iPhone while charging: It is usually normal that iPhone is overheating while charging, but try not to play iPhone while charging and make it worse, plus, it'll make the iPhone battery drain fast.
➤ Do not leave apps running in the background after you finish.
➤ Avoid playing games on iPhone: I know that some popular games like Pokémon Go can be really attractive, but that can cause iPhone overheating easily, and it'll hurt the battery.
Got more ideas to keep iPhone away from overheating? Leave your advice down below.