What did iOS 7 Design Encounter
Editor's note: in this paper, the author Ryan worked in Life360 Katkov as a designer. The Design By a Committee mentioned in the article is a concept in the field of Design, it is generally used to describe a Design because too many people involved in and appear flaws or defects. This concept often implies some kind of design because of lacking of visual consistency, finally ended in failed to express the design intent.

Has Apple really become the victim of Design By Committee?
At the WWDC congress yesterday, apple finally unveiled its latest mobile operating system -- iOS7 based on flat design. As a designer, I was very much looking forward to what Jony Ive and his design team will bring the surprise to the world. Screenshot when it appears, however, I felt a little surprised. The uncoordinated outlook and feeling, slightly rough colour is tie-in. Without coordination and central theme, I could not help asking: this product really is from apple that the world-famous designer team? Then I suddenly realized that apple is facing the same trouble with Google had.
Design By Committee
All evidence has showed that. They are unnecessary complication, inconsistent, logical defects and mediocre, and one of the most important characteristic is no unified style.
I believe that Jony Ive did not guide the design team through the exact sample and style. Instead, Ive just posing for a series of core concept, showing his design team the flat design mood sample swatches, then he told the design team to innovate. Then he made the team loose to a structure just like a committee.
Google: used to test the effect for 41 kinds of blue color
Google is one of the most famous examples in all Design By Committee. When Doug Bowman left Google and the position of the design director turned to Twitter, Google has something back to their best - data. They tested the effect for 41 kinds of blue color through multivariate testing. While the result is you can only get a design with emotions.
Even if Doug Bowman also in Google, he had already found himself unable to display his talents. His design decisions always need to audit by Google executives, these people are, of course, some engineers. And engineers are unable to make decisions about intuition and emotion. They will be back to the data and solve every problem through the fixed logic. One of the features of The Design By Committee is: Design is driven By data. The design driven by data can be applied on the user interface, user experience and user dialogue. But it does not apply to the aesthetic design.
However, from the aspects of Google later redesigned online mapping applications and several iOS applications such as Google Now and Google Maps, Google has some progress in this area.
Well, we'll look at the design of the iOS7
At first glance, I can know that iOS7 is the result of Design By Committee. I'll give some specific examples. First is the icon design:
The icon for Safari browser - how do they think? Gradual change from light to heavy, fill background with the white. Then comparing with the email icon, its gradual change from heavy to light, and the icon background is filled with blue. Why did they want to design like this? Arguably, they are the two most commonly used on the iPhone ICONS and usually being put together on the bottom tray with two ICONS-SMS and contacts, adjacent to each other. For the same gradient basing on color blue, the gradient direction is opposite and they did not complement each other. Why is this?

We go back some to recall what the Ive desperately want to follow according to the principle of flat design. The core of flat design is: to simplify and reduce complexity. Don't increase complexity by adding special effects such as cast shadows, Angle, light, and the most important" the gradient". Prudent using for coordinating color palette can ensure colorific administrative levels. Highly available elements are with a strong color and the background objects use light color.
Any one of the above did not show on iOS7 home screen.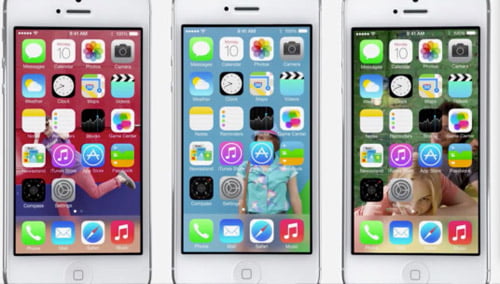 You really don't think it is well coordinated. It makes me think that every independent app team will be based on loose guidelines to submit their own icon design, while these ICONS are all thrown into the same bucket. This is my own feelings. In all apple products, no one will think it is the highest exposure and is seen most often screen with overall consistency.
However, although the main screen looks very ugly, why does the separate app seems very beautiful? The email application is a very good example demonstrating how to do is right.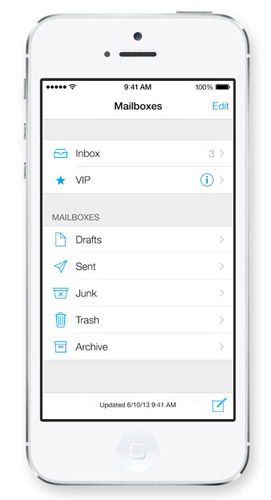 It is clean, simple, straightforward and minimum the content of the need to explain. It has the beautiful interaction. All or most of the new app designed to comply with such a design paradigm.
But why the main screen is so different from the "control center"?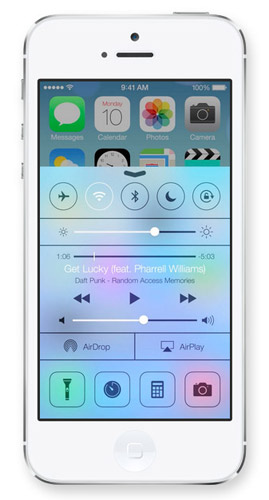 I hate to see this interface. Frosted glass effect is combined with a clear enough icon. Is Wi-Fi open or closed? In cloudy background, it is difficult to identify white text. Two sliders appear in the same space, but the function is completely different.
I guess that Ive team trying to comply with the app design principle and put it through to the entire iOS7 experience, but at the same time, they try to distinguish the "control center" with each individual app so that the user can realize that he is in the "top view" or app interface. And then it gets the result: frosted glass effect, fuzzy mixed color and poor contrast. To behave different with "control center", they deliberately abandoned the principle of flat design.
Here, I may not give high comments on apple and of course I know they spent millions of dollars, using thousands of people to test, modification, testing, data review and test more content until they get the perfect product.
However, I think they are failed on these. I believe Ive completely copy of Google which only rely on data rather than intuition because he does not believe in his own design intuition. We all know that Ive is famous all over the world due to product design, but you can't apply the product design principle to be used in the design of the man-machine interface interaction. They are two completely different paradigms.
Jony Ive tried to rely on the Design By Committee to make decisions By himself. IOS7 is the result. Will he continue to do so? Wait and see!