iOS 10 VS Android N: Game of Phone
Although it has been years since the release of iOS 10, there are still heated discussions and comparisons about these two OSs. Even though Apple and Google didn't mention each other in their conferences, it is obvious that they have been keeping an eye on each other. As the most popular operating systems, these two basically shape how our smartphones is going to work in the future. But the question is, which one, iOS 10 or Android N, is more forward-thinking to that future?

In the following, you'll see the comparison of some specific features in iOS 10 and Android N. Be the judge in this game of phone, and decide who gets the crown by yourself.
User Interface and Notifications
There are some notable differences to both interfaces and notifications.
For iOS 10, the major change is that it allows users to interact with the notifications without unlocking iPhone. Apple offers the widgets on the iPhone lock screen, accessible with a swipe to the left, which means that you need to physically press the home button to get past lock screen now. Besides, iOS 10 develops "Rise to Wake" function like Android. You can now wake iPhone and view notifications by simply lifting up the phone from a flat surface.
On the other hand, the new Android N notification redesign is more like iOS 10. They have smaller fonts and are much easier to read now. You can now quickly reply text, e-mails, WhatsApp messages and so on from the notification bar. What's more, notification messages in Android N will be grouped according to the applications, which iOS has been doing already.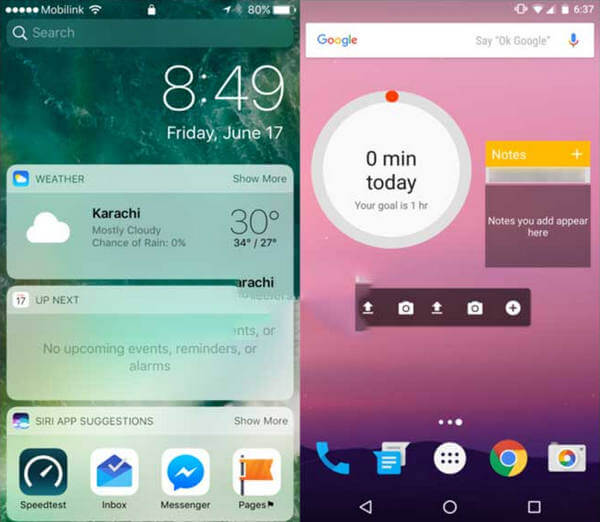 Photo and Music Apps
In iOS 10, Apple has made remarkable changes on Photo and Music. Apple Photos is trying to catch up with Google Photos. Apple make photos on your device automatically classified according to face, places, or objects. To be specific, photo recognition is avaialbe in iOS 10. It could also compose slideshows from related snaps.
On the other hand, nothing new on Android N Photo, since it has these features already.
As for Music, the Music app has made a whole redesign. Giving up the colorful user interface, the new app adopts a simpler white-and-black interface, and it also starts to add lyrics. Sadly, unlike Android's Play Music built upon both streaming and individually downloaded songs, the Music app still focuses on iTunes only.
Messaging
Facing the pressure from Facebook Messenger, Snapchat and WhatsApp, both Apple and Google have made great efforts to upgrade their own messenger.
In iOS 10, iMessage provides emojis messages to attract users, and you could even add handwritten messages. What's more, iMessage is friendly and open to third-party apps now. You can now share more contents through iMessage without opening the corresponding applications.
Google heads towards a different direction. It launched a brand new separate messaging app called Allo. Although there isn't too much to talk about it now, Allo has been given massive hope and attention. Combined with the powerful search and learning technology from Google, Allo can surely perform well.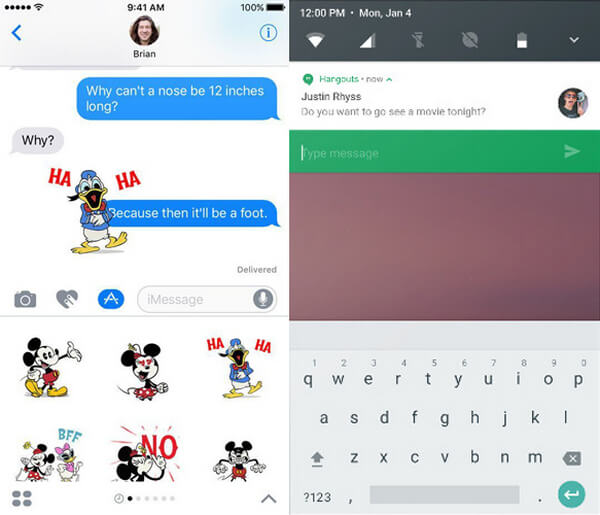 Siri VS Google Now
Siri app is probably Apple's most proud feature. In iOS 10, Siri is finally open to third-party apps, and iOS 10 users could now get things done with your content and services using just the voice. However, SiriKit could only work with six types of third-party apps for now, but this still puts iOS 10 ahead of Android N, since Google Now can't offer this at all.
Multi-window Mode
Android N brings a native and efficient multitasking system to Android phone, which allows you to run two and more apps at once, resize them and move them around the screen however you like. This is a breakthrough to our viewing experience. It seems that this function would work perfectly on iPhone 6 Plus/6s, but Apple only provides "Split Screen" function for iPad Safari so far.
Back to the question: which one is the winner? iOS 10 or Android N?
As people say, everybody steals in the mobile business. Apple and Google hold different theories to develop their products, yet we find more and more similarities between them. Both developers want their operating systems to be simple as well as rich, which leads them to meet in the middle, with the similar 3D touch technology, voice assistant, facial reorganization and more. Therefore, no winner in this game. You'll probably find iOS 10 and Android N alike than ever.