Three Ways to Recover Deleted Videos from iPad Pro/iPad Air/iPad mini
"God! Who can help me? I deleted a video from my iPad, but the video is recorded on my friend's wedding ceremony. It is very important for me. How to retrieve deleted video on my iPad?" - Lucy
Do you often use an iPad as your primary camera to record a wonderful or key moment that's worth preserving? If you accidentally delete videos from your iPad, but the videos are very important to you, what would you do? Worries or cry are not useful. The only way is to recover the deleted video files duly.
How to get back the videos on iPad? iPad Video Recovery will provide three options in this article to retrieve your deleted videos, undeleting videos from iPad itself if you made no backup, recover deleted videos from iTunes backup and iCloud backup. Firstly free download this iPad video recovery software to your Windows 10/8/7/Vista/XP or Mac OS X, and follow the description as below to get the solutions.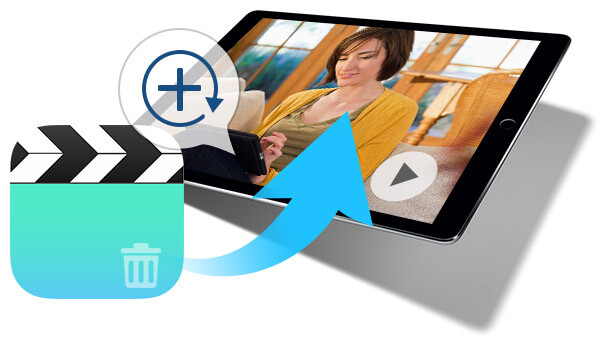 Recover deleted videos on iPad
On tip is that, no matter what solution you choose to recover deleted videos on iPad, you should keep your iPad adding or deleteing any data on iPad or iTunes/iCloud backup file.
How to recover deleted videos from iPad without backup
If you have no habit of backing up iPad video to iTunes, or having no time to make video backup to iCloud, you could choose this solution to recover deleted iPad video with the following guide.
Step 1Scan iPad data
After downloading this video recovery software, install and run it on your PC. Connect iPad to your PC with USB cable, and wait seconds for this program to detect your iPad. Click "Start Scan" to scan your iPad data.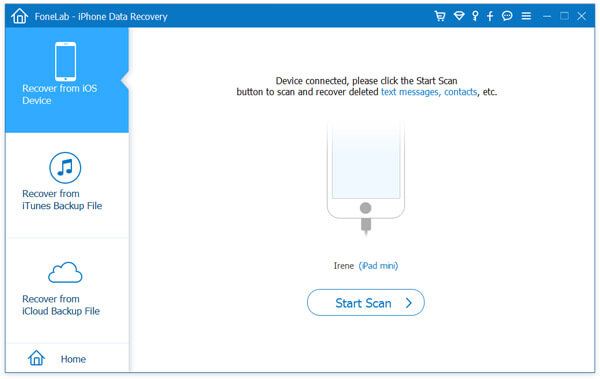 Step 2Recover deleted videos
After scanning all data on iPad, click "Camera Roll" to view your taken photos and recorded videos. The video are on the bottom of "Camera Roll" list. Choose the video that you want to recover, click "Recover" to get back your deleted videos to PC or Mac.
Tips:
1. You could only recover but not preview the video with this software. But you could view and recover your deleted notes from iPad.
2. The video you record with your iPad camera can be allowed to recover in this program. If you delete the video, you cannot restore with this app.
3. Because the restored video is recorded, you need to find the deleted video from "Camera Roll". The following two solutions also follow the same principle.
4. If you want to recover videos from your app, you need to tick the matched app option. If other apps, then you could choose "App Videos" and "App Audio" to extract to your PC.
5. This iPad recovery program also enables you to recover iPad iMessages, contacts, photos, etc.
How to undelete iPad video from iTunes backup
It is known to you that iTunes will back up your media files (audio and video). So if you do make video backup iPad to iTunes, then you could extract iTunes backup on your computer to get video out of it. You can just export the deleted video from the backup file to your PC and don't have to restore backup with iTunes, erasing your existing video files on iPad.
Step 1Scan iTunes backup
In the interface of this app, click "Recover from iTunes Backup File" to choose your iPad backup where you sync your iPad data, click it > "Start Scan" to begin the scanning process.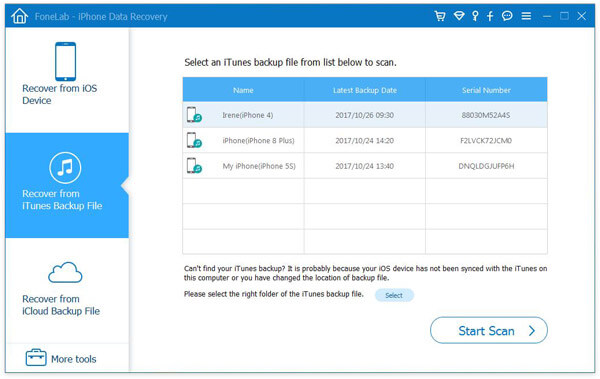 Step 2Restore deleted iPad video on iTunes
After the scanning process, click "Camera Roll" Tick the video you want to get back and click "Recover" button. When it's complete, click "Open" button to find the exported video file.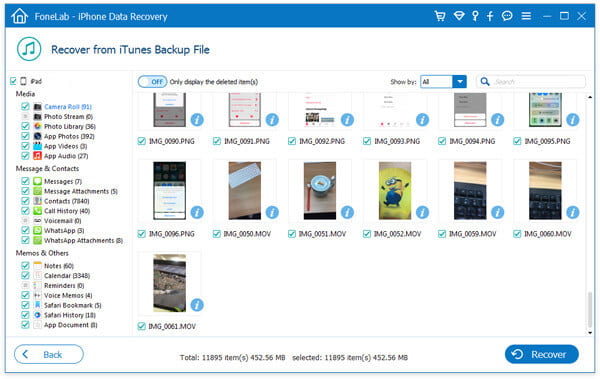 How to recover deleted videos from iCloud
If you did not make iTunes backup, or your iTunes backup is gone after a computer crash, you could turn to iCloud for help, if you backed up iPad videos to iCloud with WLAN. Still this video restore software will help you find your deleted videos on iPad from iCloud backup.
Step 1Scan videos on iCloud
After launching this app on your computer, click "Recover from iCloud Backup File", sign in your iCloud account with your Apple ID. Download the latest iCloud backup, choose "Media" > "Next" to begin to start scanning your iCloud backup file of your iPad.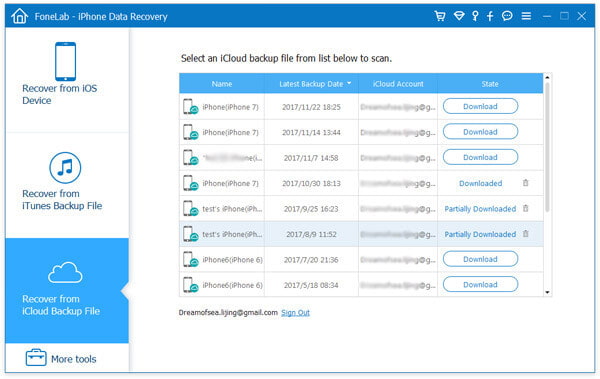 Step 2Restore iPad videos
After completing the scan, you will view your photos backup on iCloud. Click "Camera Roll" to find your deleted videos on iPad. Select the video you want to restore, click "Recover" button at the bottom right corner to download and save deleted iPad video to your computer.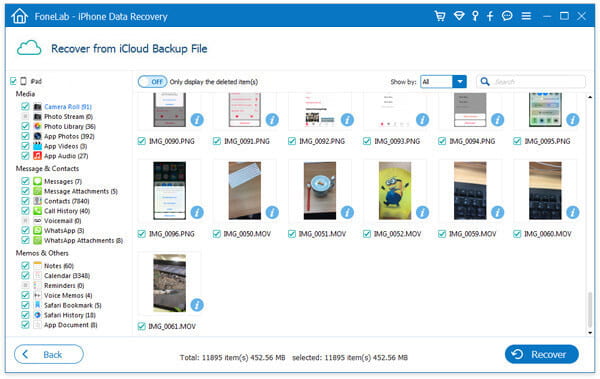 Extracting videos from iCloud in this way also enables you to save videos on PC, instead of replacing existing iPad videos. Moreover, you could restore other data from other iOS devices, like restore lost/deleted contacts from iPhone, recover deleted iMessages from iPad, and recover iPod backup, etc.
The above three solutions are from three recovery mode of iPad Video Recovery. This video restored app is strong enough to help you to recover your deleted videos on iPad, whether you have or have no iPad at hand, or get or get no iPad backup file.