Best Backup Apps for Android or iPhone – Back up Everything on Your Phone
Summary: Looking for the best app to backup all data on your Android or iPhone? This post introduces to you 10 best Android/iPhone backup apps.
Whether you are using an iPhone or Android, you should always backup your files. It is one of the most important things a person can do with their electronics. I mean, you don't want to regret not backing your data after your Android or iPhone got broken or stolen, right?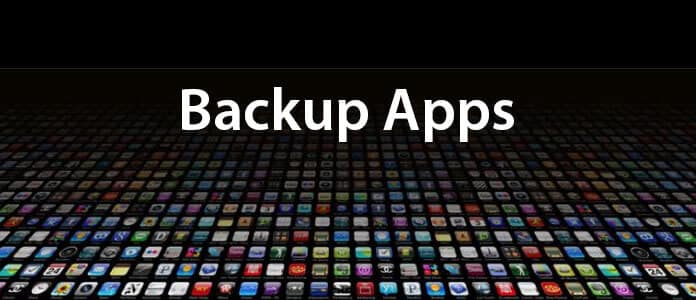 There are plenty of ways to backup your files and apps, including backup apps on Android/iPhone. The best backup app can help you back up contacts, messages, photo, music and more easily. In the following article, I have collected 10 best backup apps for Android or iPhone, hope you can find the one you like.
Part 1. 10 best Android backup apps
No. 1 - App Backup Restore
App Backup Restore is a well-received and multiple functional backup tools. It combines auto backup, restore, transfer and more features into one pack.
Key Features:

1. Backup apps, contacts, SMS, call logs to internal storage of phone/external SD card.
2. Backup & restore APK files of apps that are not frequently used to save storage of phone. Transfer & share APK files between Android devices.
3. iCloud Backup & Restore for data security.
4. Upload & download backups to Google Drive.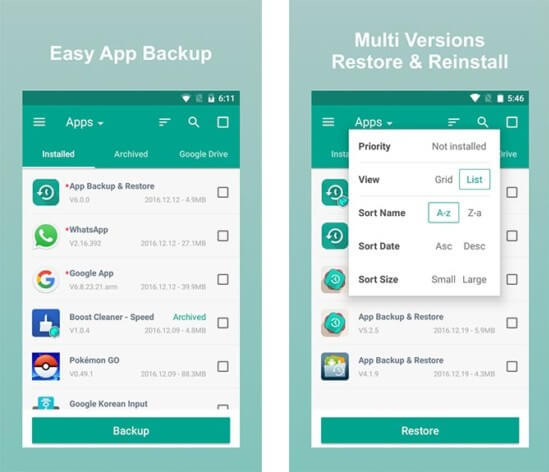 No. 2 - Helium – App Sync and Backup
Helium is the missing app backup and sync solution for Android. It does not require root. All Android users can use Helium to backup and sync Android apps and data.
Key Features:

1. One of the first truly useful "no root required" backup apps.
2. Backup your apps and data to your SD card or cloud storage (Dropbox, Google Drive, and OneDrive).
3. Make the app backup schedule and sync between Android phone.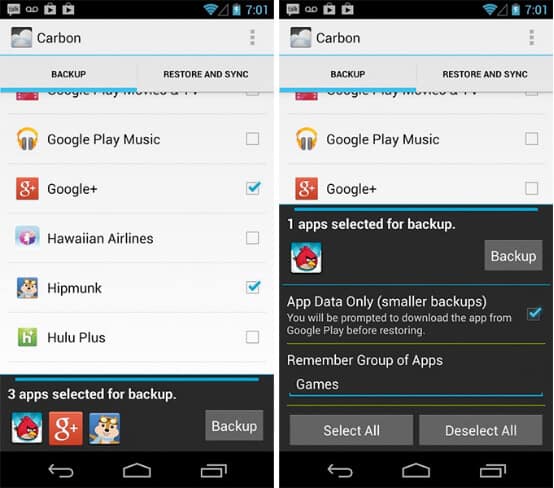 No. 3 - Titanium backup
Titanium backup is the most powerful app backup tool on Android, it is used by more than 21 million users worldwide. Currently, the app is available in 31 different languages, so that you can simply pick the one that suits your requirement.
Key Features:

1. Backup, restore, free your apps, data and Market links. This includes all protected apps & system apps, plus external data on your SD card.
2. 0-click batch & scheduled backups without need to close any app.
3. Move any app or app data to/from SD card.
4. Browse any app data and query the Market to see detailed information about the app.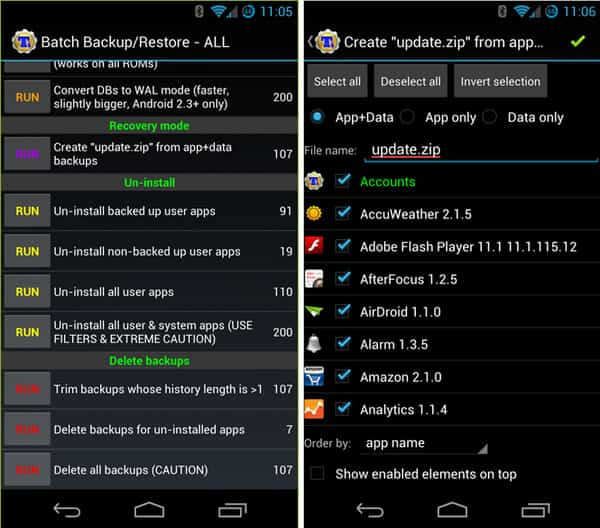 No. 4 - App Backup & Restore
App Backup & Restore is a lightweight and easy-to-use Android backup tool developed by Trust Lab, who aims to develop useful tool & productivity apps for Android devices.
Key Features:

1. Best app backup restore tool: Backup your apps to SD card, RAM or cloud drive. Free up your device storage.
2. Multi-functions: App Extractor, App Editor, App Installer & APK sharer.
3. More highlights: auto app backup, batch app backup or customize backup & restore apps.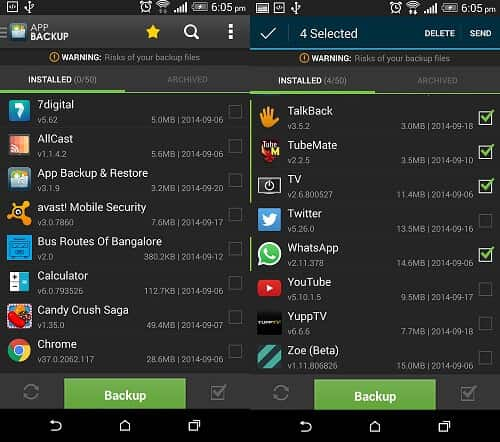 No. 5 - Super Backup & Restore
Super Backup & Restore is called to be the fastest data and app backup tool on Android phones. It has a well-organized interface that includes buttons to backup each thing individually.
Key Features:

1. Backup applications, contacts, text messages, call history, bookmarks, calendars to your SD card, Gmail, or Google Drive.
2. Easy locating where the backups go and schedule automatic app backup.
3. Share installation APK files with your friends by one tap.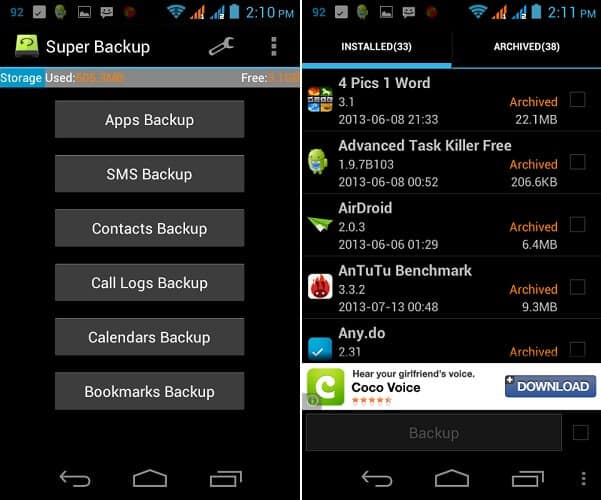 No. 6 - My Backup (Pro)
My Backup is the easiest, most reliable, and feature packed Android backup app solution available. It supports the most content, and the most Android devices.
Key Features:

1. Backup apps, photos, music, videos, contacts, call logs, SMS, and system settings with ease.
2. Backup to your device or SD card, or cloud storage (Rerware Cloud, Dropbox, Google Drive) and other devices.
3. Work on all Android mobile devices including Samsung, HTC, Huawei, Sony, etc. regardless if they have root access or not.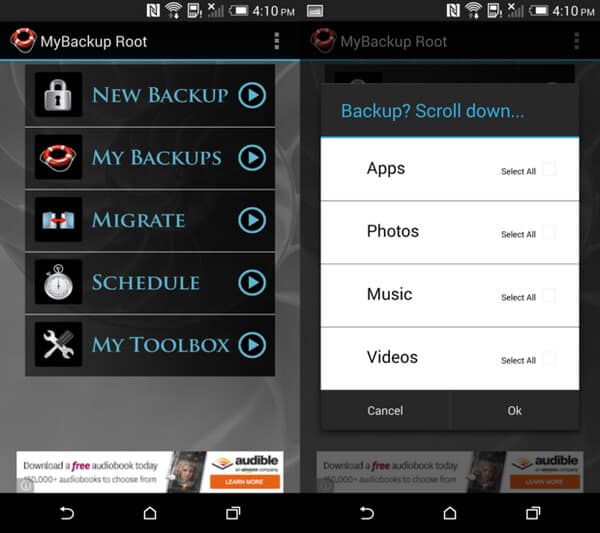 No. 7 - Easy Backup & Restore
As the name indicates, Easy backup & restore is a simple and utility Android app backup tool. If you want to preserve your phone data, Easy Backup & Restore is the right app for you.
Key Features:

1. Backup and restore apps, SMS, MMS, call log, calendar, bookmarks, dictionary and contacts found on your Android phone.
2. Create backups to SD Card or your Cloud storage.
3. Create app backup manually or schedule automatic backups.
4. Transfer data between phones - backup data from one phone and restore your data to another phone.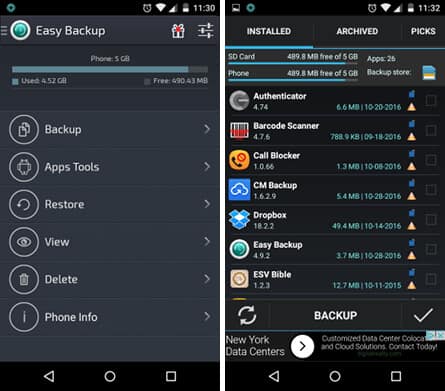 No. 8 - G Cloud Backup
G Cloud Backup is a sophisticated backup app for android that has been in the app store for a long time. The app runs smoothly and has an amazing response rate.
Key Features:

1. A free Android backup app that is safe to protect never-ending contacts, messages, photos, videos, music, documents, call logs, files and more to a secure cloud location.
2. Organize your memories in a timeline and go back in time to view anything you want.
3. Easily migrate to different devices and extend your storage by saving everything in the cloud.
4. Share your past and present with ease.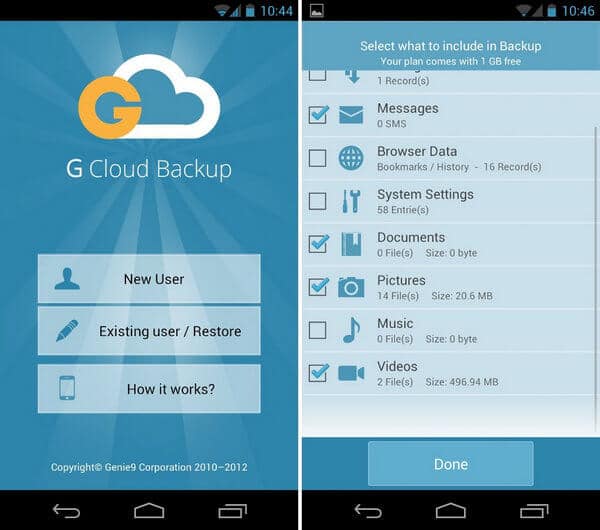 No. 9 - Ultimate Backup
Ultimate Backup is much more than a backup app, it is the ultimate app management tool! You can backup, restore, freeze, uninstall, sync app to cloud, kill tasks and much more.
Key Features:

1. Backup your apps, music, photos, videos, calls, bookmarks, contacts, SMS, Wi-Fi, etc. and restore them easily.
2. Convert user apps to system apps or vice versa.
3. Create app groups and multi-select apps.
4. Kill or force close any running app.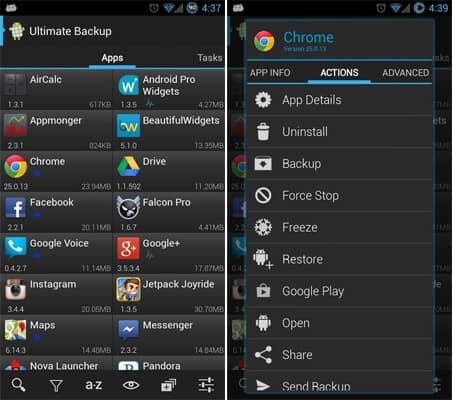 No. 10 - List My Apps
List My Apps is different from most backup apps. It helps you to organize a list with appname, market link and optionally a comment. With List My Apps, the task becomes very easy if you need a quick list of stuff you have on your device.
Key Features:

1. Instead of backing things up, List My Apps creates a list of your apps for easy reference.
2. Create lists in XML, plain text, BBCode, Markdown, market URLs, etc.
3. Great for people who don't want to use cloud storage, don't have a lot of internal storage for backups.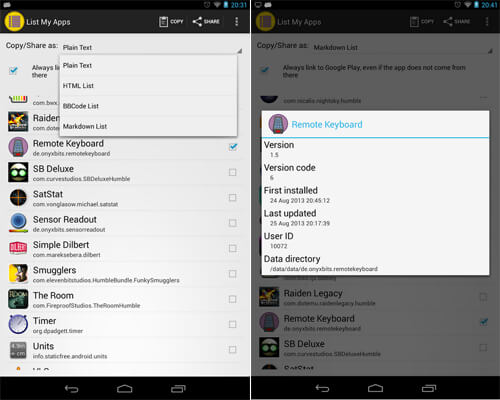 Part 2. Best Android app backup & restore tool on PC
Apart from backup apps on Android, you can also try some professional Android app backup tool on PC. Here we would like to recommend you the best FoneLab for Android, it enables you backup and restore app data from Android to PC, making your data safer than ever.
FoneLab for Android
For Mac
FoneLab for Android is the professional Android recovery and management program which can help you recover deleted/lost data from Android device and SD card with ease.
Recover Android files like contacts, photos, messages, videos, etc.
Support Samsung, Sony, HTC, LG, Huawei, etc.
Recover deleted Android data with ease.
These are 10 best Android backup apps you can consider. For iPhone users, it is important to know that there aren't really many backup apps you can find in Apple Store. In fact, it is not the best way to backup your iPhone with some apps on your iPhone. If you want to backup app and data on your iPhone, we suggest you to use iOS Data Backup & Restore tool, it is quick, effective, and support to backup most of your iPhone data. Check this post and learn how to backup iPhone.