Two Ways to Lock Your Apps on iPhone with Password or Fingerprint
I do not want my boy friend to check my text messages on my iPhone 5. Are there apps that can help me lock my Message app on my iPhone with password?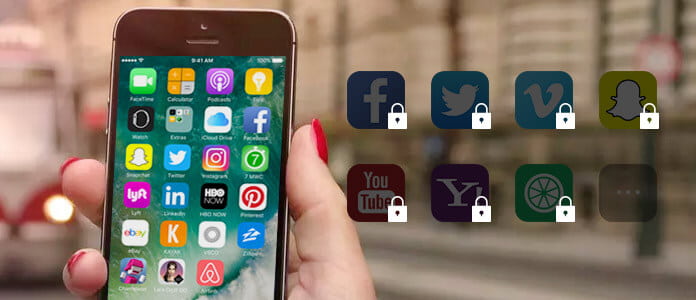 When iPhone becomes the easiest way to make entertainment for its portability, the risk of its privacy disclosure becomes higher. The instant important messages from WhatsApp or Facebook, the pictures or photos you take or save at will, the dairy blog you release on your social platform, and more will easily reveal your privacy to someone who can get your iPhone. All those private information are from your iPhone apps. So for protecting your app data from disclosing to others, you may need some ways to help you lock app.
In this topic, we will discuss two ways to help you lock apps on your iPhone or iPad.
Method one: Free lock certain apps on iPhone iPad by iPhone settings (Password) without jailbreak
Lock a certain app on iPhone by Guided Access
Guided Access is the Apple function that lets you temporarily lock a task on your iPhone iPad iPod. It limits your iPhone to a single app for locking app features to disable areas of screen or areas and hardware buttons. In one world, Guided Access is lock all your iPhone apps and let your iPhone stay a single app screen and you can operate the apps until you end the Guided Access function.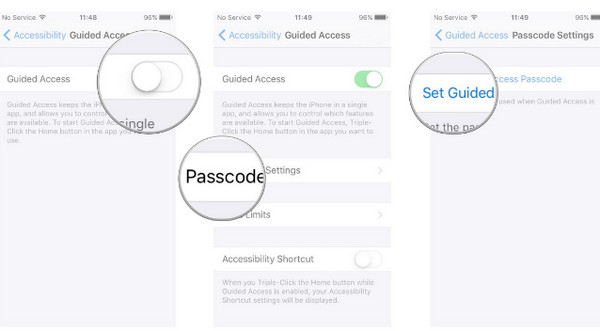 How to lock a certain app on iPhone through Guided Access
1On your iPhone, go to "Settings" > "General" > "Accessibility" > "Guided Access" and slide it to ON.
2Hit "Passcode Settings" to use 4-digit password to control the use of Guided Access.
3After that, you could set up the Guided Access time limit.
4Go to the app that you want to use, triple-click the Home button, circle any part of the screen that you want to disable, and tap "Start" to lock the app screen.
1. In the Guided Access Options settings, you could disable the hardware buttons (Volume Buttons, Touch, Sleep/Wake button, Motion and Keyboards) and set time limit freely.
2. For ending Guided Access, you could triple-click the Home button, and hit "End" to enter the passcode to end it. Alternatively, you could use Touch ID to end it by go to "Settings" > "General" > "Accessibility" > "Guided Access" > "Passcode Settings" > Slide "Touch ID" to ON in the first time.
Free lock certain apps on iPhone iPad with parental control (Password)
Parental control, also named as Restrictions, is the built-in function from iPhone iPad iPod from Apple to block some specific apps.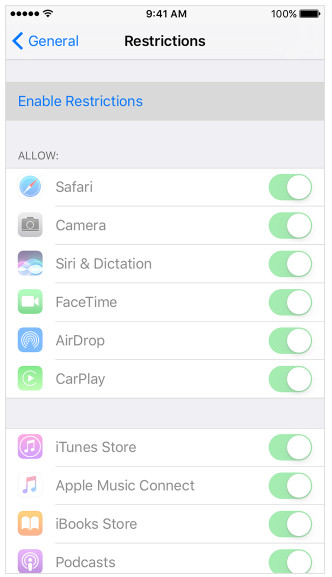 Check the following apps, features and settings that can be locked with Restriction on iPhone iPad iPod:
| App and features | Settings: |
| --- | --- |
| Safari, Camera (also disables FaceTime), Siri & Dictation, FaceTime, AirDrop, CarPlay, iTunes Store, iBooks Store, Podcasts, News, Installing apps, Deleting apps, In-App Purchases, Multiplayer Games, Adding Friends, Screen Recording | Location Services, Contacts, Calendars, Reminders, Photos, Share My Location, Bluetooth sharing, Microphone, Speech Recognition, Twitter, Facebook, Sina Weibo, Tencent, Weibo, Advertising, Media Library |
How to lock apps and settings on iPhone via Restrictions
1Go to "Settings" > "General" > "Restrictions" > Slide to enable Restrictions.
2Create the password for Restrictions, which will let you change your settings to turn on or turn off Restrictions.
1.If you forget the Restrictions password, then you have to erase your iPhone to set up your iPhone as a new one. If you select restore your iPhone from iTunes or iCloud backup will not remove the Restriction passcode.
2. For changing the Restriction password, you need to go to "Settings" > "General" > "Restrictions" > Input the current password > Disable Restrictions and enter the Restrictions password > Enable Restrictions and input a new passcode.
3. After you turn on Restrictions on iPhone, you can find some apps like Safari, Camera, FaceTime disappear on the Home screen, Some features like Siri, Location Services can be used, and Settings are missing or dimmed like Mail, iCloud, Twitter, FaceTime, etc.
Easy right? However, one thing you may notice that, not all individual apps that you want to lock are locked in this way. So here the second way will help you to lock apps (Message, WhatsApp, Gallery, Snapchat, etc.) freely as you like.
Method two: Lock individual apps freely on iPhone with third-party applications
In this part, we will use the third-party apps to help you lock apps freely as you like. Whether you want to lock your iPhone apps with Touch ID or password, you could also find the solutions. But one thing you had to bear is that the apps are available for your jail-broken iPhone.
Lock apps on jail-broken iPhone with BioProtect with fingerprint
BioProtect is the app lock tool from Cydia that can lock apps fingerprint on iPhone. This tool is not free to use, ad you need to pay $2.99 to protect the individual apps on your iPhone. The built-in app and installed app from App Store can also be locked with this program.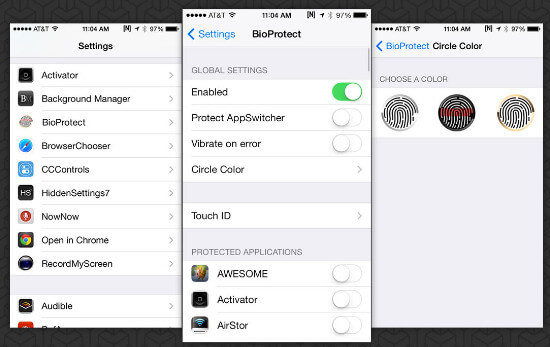 Steps of using BioProtect to lock apps on your iPhone
1On your jail-broken iPhone, launch Cydia, tap "Manage" > "Sources" > find BigBoss repository source > Search BioProtect and purchase and install it.
2After success installation, Touch ID must be configured at least one fingerprint and every time you access this app, it will require a Touch ID.
3On your iPhone, go to "Settings" > "Applications" > "BioProtect" to verify your fingerprint and make settings. Slide on "Protect AppSwitcher" and "Vibrate on error".
4Under "PROTECTED APPLICATIONS", you are able to toggle the app you want to lock. After you make settings, when you tap the app on Home screen, you will find it requires your Touch ID.
Lock apps on iPhone with iAppLock with password or pattern
iAppLock is another app locking software from BigBoss repository. This standalone app with an icon on the Home screen for iOS 7 or later presents you with simple interface. The free version enables you to lock five apps, so you had better consider the most important 5 apps for locking on your iPhone.
Steps of using iAppLock to lock iPhone apps with password or pattern
1Follow the step a like before to install iAppLock on your iPhone.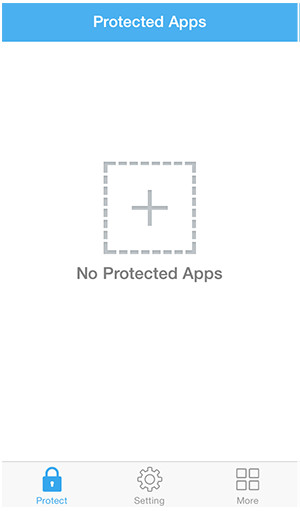 2Run this app on your iPhone. In the main interface, you could tap the Plus button to add the native apps or third-party apps, and enter the password for every app. Then when you hit the app on the Home screen, you will find you have to print the password to unlock the app.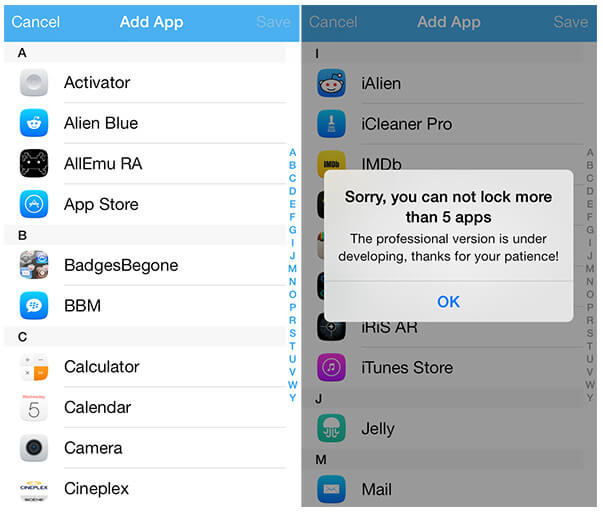 3On "Settings", you can change lock passcode and use delay lock. Delay lock requires no passcode for a short amount of time after opening a locked app. For example, if you input the passcode to unlock a locked app, all other protected locked apps will be also accessible for the delay time you set as 1 minute, 5 minutes, 10 minutes, 20 minutes or 30 minutes.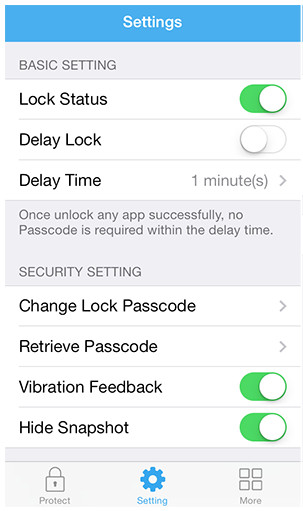 Conclusion: Here we should conclude that whether you adopt the ways mentioned above to lock your iPhone apps or features, you should select the app carefully and remember the lock password. iPhone privacy protection can be done as easy as you can imagine.