5 FaceTime Apps for Android to iPhone [FREE]
Can I video chat with my friends even though I have an iPhone and they all have Android phones?
Are you looking for a way to get FaceTime app for Android? Want to FaceTime from an iPhone to an Android device? Unfortunately, FaceTime app is only for iOS users and you can't install it on Android device.
FaceTime provides a simple and great way to communicate with your family and friends wirelessly. It can work either via Wi-Fi or via Cellular. It wasn't the first video calling app, but it is definitely the most popular and widely-used. However, there are no FaceTime compatible video calling apps for Android. That means, you can't directly use FaceTime on iPhone to contact an android user.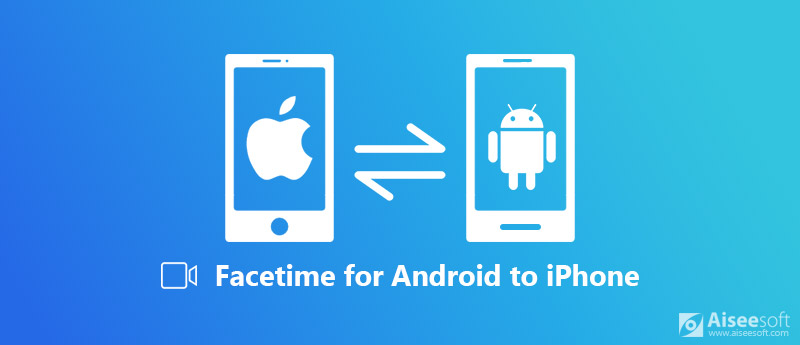 Facetime APP for Android to iPhone
What if you still want to do FaceTime on Android? Does Android have FaceTime or somewhat at least similar to it? Here in this post, we will recommends 5 great FaceTime alternatives to help you conveniently contact iPhone users with an Android device.
NO.1 FaceTime App for Android to iPhone - Google Duo
Google Duo is Google's FaceTime app on Android. It can be the best FaceTime alternative for Android to iPhone which works on both Android and iOS platforms. It makes it preferable to make video calls from Android to iPhone or iPad.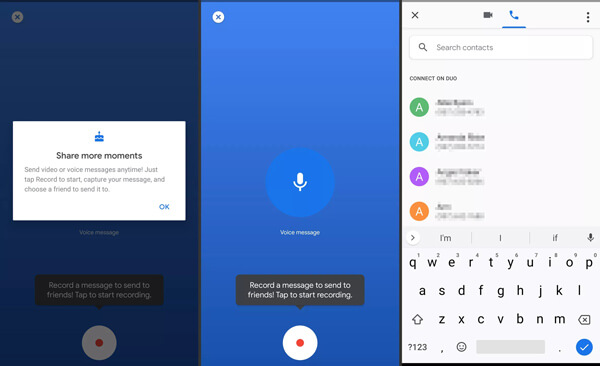 This great FaceTime for Android to iPhone app provides exceptionally great video quality. Moreover, it guarantees you a stable and reliable video chatting experience. One of the best features of Google Duo is the Knock Knock. You are allowed to see the caller before you even pick up the call. It also enables you to leave a video message for others to call you right back.
NO.2 FaceTime App for Android to iPhone Free - Viber
Viber is one of the oldest audio and video calling app. It firstly came out as a text and audio messaging app, then it is quickly added more features. This free FaceTime for Android allows you to make free video and voice calls, text chat with individuals and groups up to 200 people. It also offers photos and videos sharing feature, and in-app games.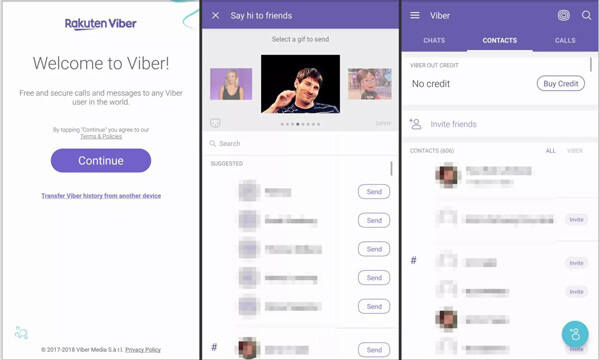 Viber offers many stickers, emoticons, and chat functions. A new feature called video messages allow you to send short 30-second videos to others. It is free to use but you can purchase credits while making calls to regular numbers. What's more, in-app purchases let you add stickers to spice up your communications.
NO.3 FaceTime App for Android to iPhone - Skype
Skype is one of the most popular and most widely used video calling apps. It is the leading video calling application across multiple platforms. More than just a FaceTime app for Android to iPhone, it offers both voice and video calls, text chat, screen and file sharing, and more features.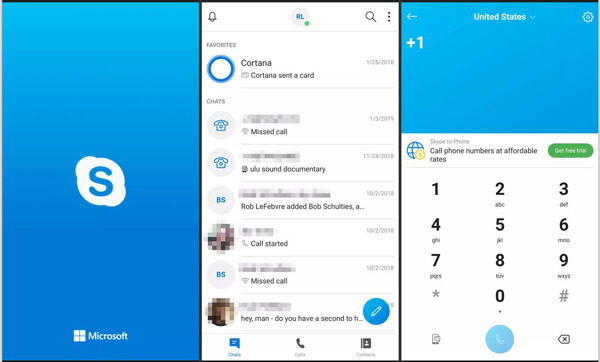 Unlike FaceTime, this free FaceTime alternative is available on most popular devices, including iPhones, Androids, iPad, tablets, PCs, Macs and even some TVs. But if you want to call to landlines, mobile phones or international calls, you need to pay for the specific services. It allows you to add your family and friends in different chat groups. More importantly, Skype can offer a high-quality and stable connection.
NO.4 FaceTime App for Android to iPhone Free - Google Hangouts
Google Hangouts is an original messaging app that supports messaging, voice and video calling services. This FaceTime alternative app for Android comes with video filters, stickers, emoji, and many other features. It is connected to your Google ID. In that way, you can easily find and access your contacts in your Google Circles.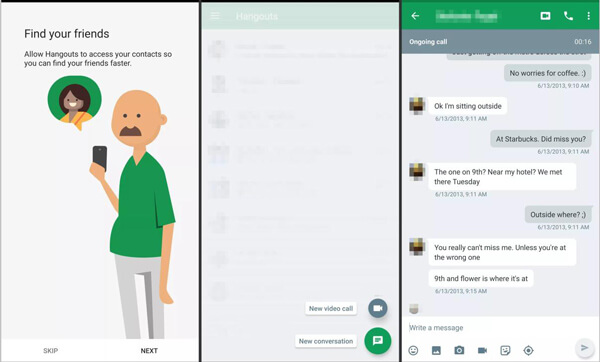 It is compatible with most popular devices. Google Hangouts also enables you to record Google Hangouts on computer for future reference. This FaceTime app for Android supports video calls for individuals and groups of up to 10. Besides the video calls, you can use it to make voice calling, texting, and integrations.
NO.5 FaceTime App for Android to iPhone - WhatsApp Messenger
WhatsApp is one of the most used texting apps around the world which attracts over 1 billion monthly users. It also provides free app-to-app voice and video calls service. Moreover, it offers audio messages and text messages recording, group chats, photos and videos sharing, and more.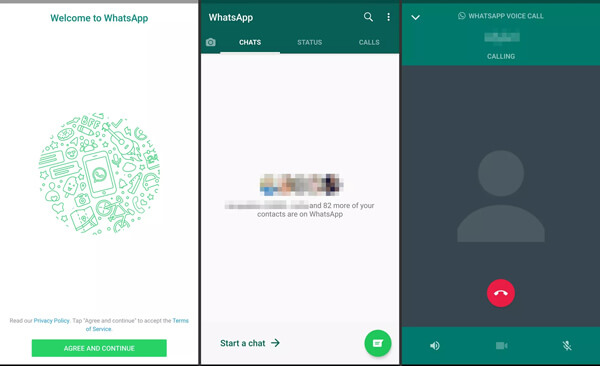 Different with Apple FaceTime and Google FaceTime app Duo, WhatsApp supports group video calls. You are allowed to make video calls up to 4 people at once. This free FaceTime alternative app can work well on both Android and iPhone. WhatsApp allows you to share location, files, images, emojis, and chats.
We mainly talked about FaceTime for Android to iPhone in this page. We introduce you with 5 best FaceTime alternative apps for you to make video calls from Android to iPhone. Please share it in comment if you have any better recommendations.