What If You Forget Your iPhone Password? Three Ways to Unlock It
"I tried 9 times to print password on my iPhone 7, but iPhone says the password is incorrect. God, now my iPhone is locked. I do not want to try the last time to stop using my iPhone because I really forgot my iPhone 7 password. How to unlock my iPhone without pressing password?" - Lenka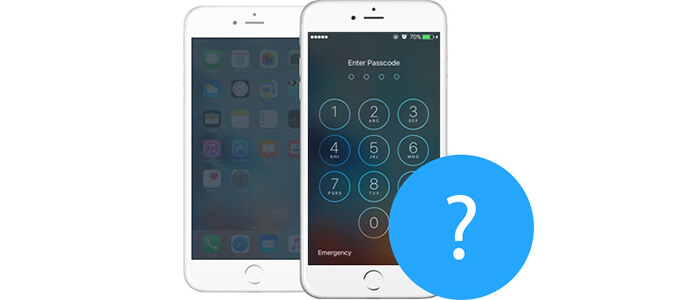 iPhone is the must-have tool to communicate with each other and entertain yourself. For protecting your privacy, most of you may set password for your iPhone with some numbers or touch gestures. Some may change iPhone password frequently for a safe information protection. The frequent password reset on your iPhone is good to protect your privacy; however, it may cause some problems for some of you who get a bad memory. "God, I forgot my iPhone password, what should I do?" "I forgot password on iPhone, do you know how to find or reset my iPhone password?"
Such questions are from those who forget iPhone password. Once you forget your iPhone passcode, you will not unlock it, and you can imagine that your iPhone will be useless after forgetting the password. Want to save your iPhone? Keep reading to know how to unlock iPhone even forgetting password.
Method one: Unlock an iPhone with Apple Support
If you purchase your iPhone from Apple store, and you keep the invoice of your purchasing list, then you can go to Apple store next to your place to ask their staff for help. They can help you to let you reset your password. Moreover, when you log in your Apple store, if you forget your Apple ID, you can still reset Apple ID password on iPhone with their service support.
Method two: Restore iPhone to its factory settings
If you cannot find back your iPhone passcode, then you can remove password from iPhone to make it original one. If you restore your iPhone to its factory settings, then you will definitely get an iPhone without any password. How to restore iPhone to factory settings without password? iTunes and iCloud can help you exactly.
Restore iPhone to factory settings with iTunes
1. If you back up iPhone to iTunes on your PC, then you should follow the steps below to unlock iPhone out of locked situation for forgetting password.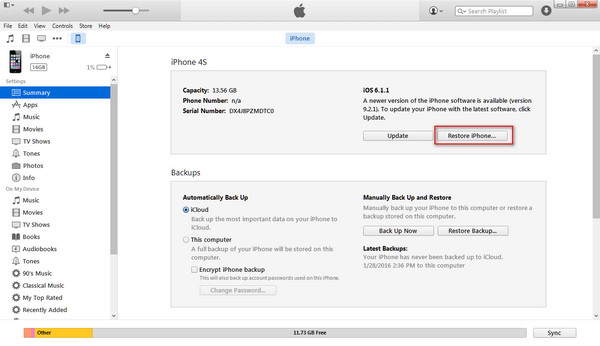 Step 1 Connect iPhone to PC which you backed up iPhone with iTunes on before.
Step 2 Launch iTunes and find your iPhone icon and click it to view the summary information about your iPhone on the right window.
Step 3 Click "Restore iPhone" from your iPhone iOS information.
After restoring your device to factory settings, you can change password on iPhone and write it down to remember your new password by manual writing or some password keeper apps for iPhone to help you.
Warm tip: When you follow step 3, a pop-up reminder will show to say "Do you want to back up the settings for the iPhone before restoring the software?" If you have backed up iPhone before, then you can click "Don't Back Up". If not, you are suggested to back up iPhone to save your data on iPhone, and then click "Back Up".
In this way, your iPhone will be updated with the latest software automatically and it will show you the newer version during the restoring process. And after that, you are also allowed to recover your iPhone data from iTunes backup.
2. If you do not back up your iPhone to this computer you are using now with iTunes, then you need more steps to reset your iPhone passcode with DFU mode.
Step 1 Turn off iPhone.
Step 2 Plug iPhone to PC with USB cable and launch iTunes.
Step 3 Press "Power" button till the Apple logo appears on screen, hold on "Home" button with keeping pressing "Power" button for 10 seconds till the iPhone screen is black, release "Power" button but holding on "Home" button to wait for iTunes says that you have one device with DFU mode, at that time, you can release "Home" button. Click "OK" > "Restore" to restore your iPhone to factory settings. The whole process will take minutes.
You should know that when your iPhone is in DFU mode, you are only allowed to restore your iPhone version into the latest iOS version, not update to the newest version.
This way sounds a little complicated, right? So for getting an easy iPhone passwaord reset, you had better back up your iPhone frequently. Definitely, the best way is you can remember your iPhone password.
Reset your iPhone password with iCloud
How to unlock iPhone if you forgot password without iTunes? Find iPhone on iCloud. Definitely if you turn on "Find My iPhone" before you forget your iPhone password, then you are fortunate to reset your iPhone password.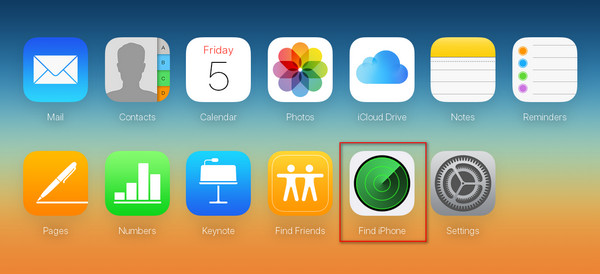 Step 1 Log in icloud.com with your Apple ID.
Step 2 Click "Find iPhone" to sign in iCloud account and choose your locked iPhone from the "All Device" drop-down list.
Step 3 Click "Erase iPhone" to erase all content and settings on iPhone. Here it will erase the password settings you forgot on your iPhone and keep it original one. After you unlock your iPhone, you could restore iPhone from iCloud backup files.
Method three: Recover iPhone password with some tools
There are many password recovery tools for iPhone on the Internet. You can Google to find the best one. But for protecting your private information, we high suggest you take care of them.
Don't Miss: Forgot iTunes Password? Get the Solutions
The above ways are helpful for you to reset your password if you forgot passcode on your iPhone? More opinions are welcome here.