Great Ideas for Love Messages for Husband, Wife, Girlfriend or Boyfriend
Most of the time, love would keep deep down on our heart and say it out loud would be hard for most of us. Sending love messages to our loved ones would be easier to express our love to them. Get some ideas from the following love SMS and quotes.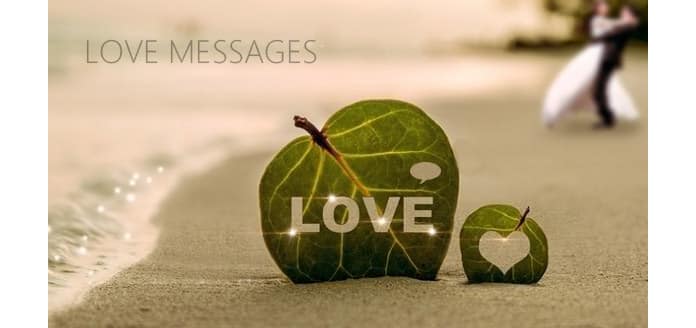 Part 1. Love messages for girlfriend, boyfriend, husband and wife
I love you messages
Love SMS for him (boyfriend & husband)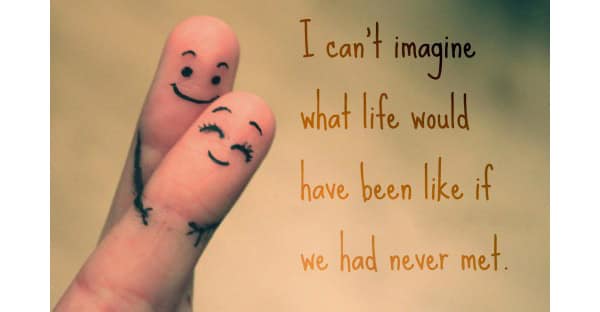 ◆ If love was a person, I'll send U "Me".
◆ You may not love me like I love you. You may not care for me like I care for you. But if you ever need me, I will always be around for you.
◆ Meeting you was fate, becoming your friend was a choice, but falling in love with you was beyond my control.
◆ There were times I love to hate you. And then I love to love you. It's like I want to throw you off a cliff, and then rush to the bottom to catch you.
◆ Love isn't when you buy me things, when you spoil me with presents, love is when I see your smile and when you give me all your hugs, I love you!
Love SMS for her (girlfriend & wife)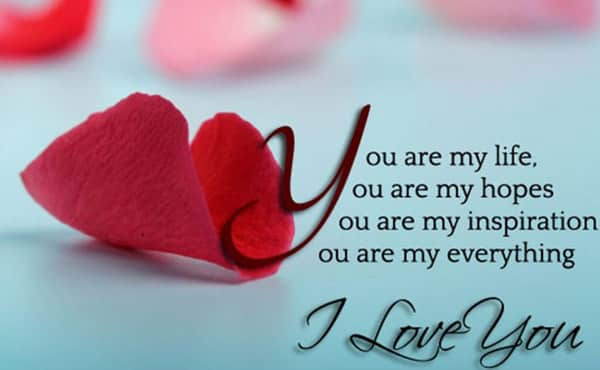 ◆ I wanna be with you every day, every moment!
◆ If I had to choose whether to breathe or to love you, I would use my last breath to tell you that... I love you.
◆ They say you only fall in love once, but that can't be true... Every time I look at you, I fall in love all over again.
◆ I look at you and I realize just how much you've been a part of my life, how special you are and how much you've made me happy. I look at you and I realize that heaven must be missing an angel.
◆ I love you baby, and when you're not with me holding my hand, you are in my mind controlling my thoughts, that's why I love you!
Good morning love messages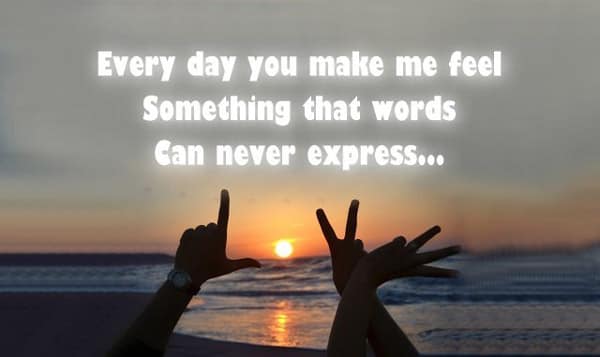 ◆ As I open my eyes each day, all I want to see is you. Good morning! My dear, I sent you hugs and kisses in my thoughts. Hope you feel it.
◆ Good morning love. You are like a blessing from the heavens above.
◆ With you in my life, I don't throw the alarm clock at the wall anymore because I can't wait to get up. Remember today that I love you.
◆ A smile to start your day… A prayer to bless your way… A song to lighten your burden … A message to wish you good day … Good Morning!
◆ Every morning my love for you keeps growing and I feel like I am getting closer to you as each day passes by. You are the dream love of my life and I need you every day. Good morning.
Birthday love messages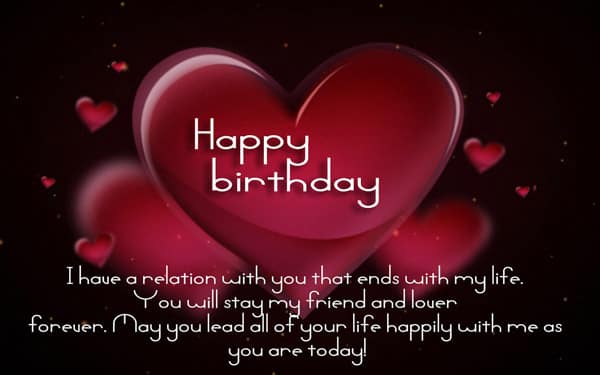 ◆ Don't think of your birthday as getting another year older. Think of it as another year well spent with friends and family. I know am looking forward to the next year because we will get to spend it together. Here's to you, my love.
◆ You have a birthday twinkle in your eye so have fun and know we love you fairy, fairy much. Happy Birthday!
◆ Hope you love your new age. It loves you because it looks good on you. Happy Birthday!
◆ The day you were born was a lucky day for so many people. You enrich my life so much and I love you more than you might know!
◆ All our memories together will never be taken away, no matter how old we get and how many birthdays pass by, I will always be here for you. Happy birthday!
Love messages in Hindi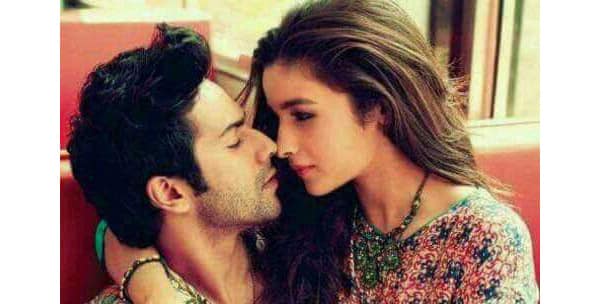 ◆ Shaam ki shama me ek tasvir nazar aati h, Tabhi hotho se ek baat nikal aati h, Kab hogi unse jee bhar ke baate, bas yahi soch kar har sham nikal jati h.
◆ Dil Ki Baat Chhupana Aata Nhi, Kisi Ka Dil Dukhana Aata Nhi, Aap Sochte He Hum Bhul Gaye Apko, Par Kuchh Achhe Dosto Ko Bhulana Humko Aata Nahi
◆ Dil ki choton nay kabhi chain say rehne na diya, Jub chali sard hava main ne tujhe yaad kiya, Is ka rona nahi kiyo tum nay kiya hai barbaad, Is ka ghum hai ke bahot dair ae barbaad kiya.
◆ Jo Nazar Se Guzar Jaya Karte Hain, Wo Sitare Aksar Toot Jaya Karte, Hain, Kuch Log Kabhi Apne Dard, Ko Bayaan Nahi Karte, Bus Chup, Chap Bikhar Jaya Karte H.
◆ Dhadkan ki awaaz ho tum, Is dil ke jazbaat ho tum, Hamare din aur raat ho tum, Meetha sa ehsaas ho tum, kya kahein hamare liye kitne khaas ho tum.
Part 2: Websites or Apps to provide more ideas for romantic love messages
1. Love SMS Categories
lovesms.mobi
PiApps has a website offers love messages categories including quotes like I love you messages, miss you SMS, romantic birthday messages, etc. It also offers picture quotes which you can use as love MMS to your loved ones. Moreover, it also has an Android app 5000+ Love Messages Love SMS offers more brilliant and romantic messages for your reference.
2. Romantic Love Messages
www.romanticlovemessages.com
This website offer lots of romantic love message for you to write, text, or say to special someone or to inspire you. Romantic Love Messages offers love SMS categories including love, romantic, funny, poems, sad, etc. It also provides love graphics for you to post on Facebook, blogs, etc. to say your love publicly.
3. The Fresh Quotes
www.thefreshquotes.com
The Fresh Quotes is a website offers lots of love messages and images which will inspire you to get great ideas to express your love to him or her. It is believed that a house is built by hands, but a home is built by heart. So besides love SMS, you can also find other quotes here, such as sorry, happiness, friendship, miss you, etc.
4. Love Messages App

Love Messages is an android application that contains collection of sweet love messages. It has love SMS and propose messages for you to send to your loved one. With lots of love SMS collection, you can share your love with your boyfriend, girlfriend, husband or wife every day. Download it and try to get some inspiration.
5. Pinterest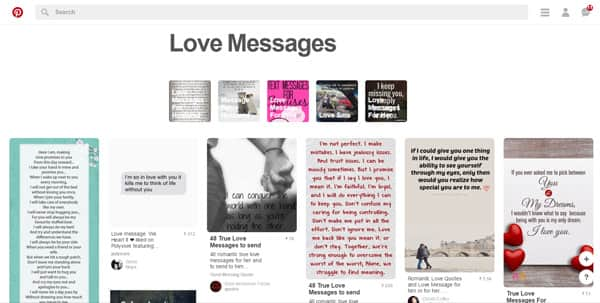 Pinterest would be a great place to find some cute and special love messages. With the explore category, it offers various ideas of love SMS. It also has the tag to categorize the love message into love messages for husband, love messages for wife, love SMS, love messages for boyfriend, birthday wishes, love quotes, etc. Love text together with great image would be more attractive to your love.
Part 3: How to retrieve lost or deleted love messages from iPhone or Android phone
If you accidently lost or deleted your messages, including the love messages you cherished a lot, you can try to use FoneLab - iPhone Data Recovery or FoneLab – Android Data Recovery to retrieve them from your iPhone or Android phone. These programs can also help you to recover imessages, WhatsApp chat history in easy steps.
All in all, you may not express your love to your dear ones every day by sending them love messages, just remember, love is hidden in everyday life, in every moment you spend together, just cherish the time you are together. Sometimes, give him or her a hug or smile, sometimes tell him or her your love loudly, sometimes send him or her a small gift, sometimes…