Read Text Messages Online - How to View Text Messages on iCloud from computer
You might be curious about how to read iCloud text messages (SMS) and iMessages, because you have known that iCloud photos/notes/contacts can be checked through iCloud.com as long as you log into iCloud. Especially for parents or lovers, there are questions raised: "Can I read other people's text messages on iCloud? How to use iCloud to read text messages? How can I check deleted messages through iCloud?"

Actually, you are not allowed to directly view text message on iCloud backup. It is really a pity. So maybe you should find an app to download text messages from iCloud backup or recover deleted text messages and iMessages online first, and then check these iCloud text messages according to your need.
Here we recommend you iPhone Data Recovery, also the Message Viewer, to help you read deleted/existing iCloud text messages. iPhone Data Recovery is not only a recovering tool for iPhone, but also a data reader for iOS devices. It enables you to download, view and recover all your iCloud stuff from your iCloud backup. For example, you are capable of viewing your iCloud text messages and recover deleted text messages online.
The following parts will show you detailed steps to check your iCloud text messages with Message Viewer.
The simple steps to view text messages on iCloud
Before you can view the text messages on iCloud, you must make sure you have backed up your iPhone text messages to iCloud. Do not know how to back up iPhone text messages? Jump to back up iPhone to iCloud now.
After you did iPhone text messages backup to iCloud, you can follow the steps as below to view or read text messages on iCloud.
Step 1Download and install Message Viewer
Download and install Message Viewer to your PC or Mac.
Step 2Log into your iCloud Account
After installing, open up the application and choose "Recover from iCloud Backup File", then sign in to your iCloud (iCloud account lost or iCloud password forgotten).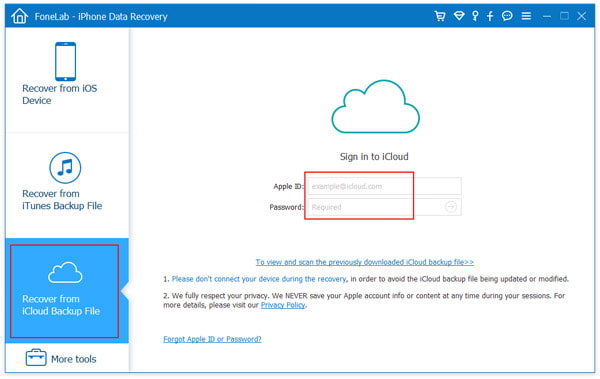 Step 3Select and download iCloud messages backup files to computer
Entering the main interface of your iCloud, you will see all backup files listed there. Just scan and select a backup file that includes text messages you want to read and check, and then click "Download" behind it.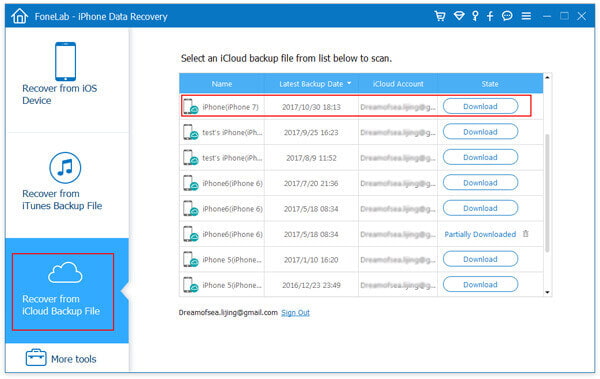 Step 4Check your iCloud text messages and imessages
After downloading text messages online from iCloud backup files, click the "Messages" and "Messages Attachments" buttons in the left column of the interface. Then you can scan and read all your iCloud text messages, including deleted text messages.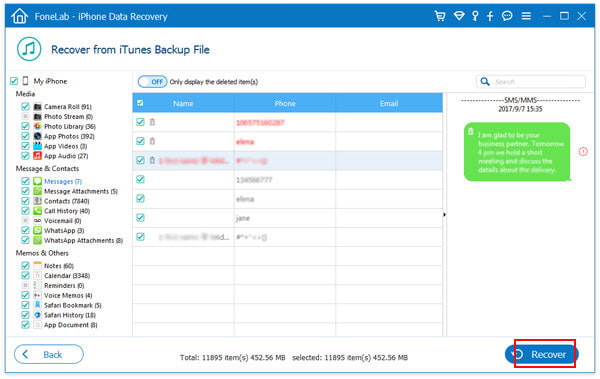 1. If you want to retrieve deleted messages, you can choose the deleted ones, and click "Recover" button.
2. You can also access and read iCloud photos, WhatsApp, video, etc online by click the corresponding buttons from left list.