How to Send Free Text Message from Computer to Phone
Sending text messages from your computer is extremely useful under many situations. Lost your phone and need to send a message to someone? Lack cellular service? Or just tired of typing on a tiny keyboard? Whatever the case may be, try to send text message from your computer, you may find the joy in messaging again.
So, how to send text message from your PC? Actually, there is more than one method that could help you free text from computer to cell phone. In this article, we have provided five methods help you text from your laptop. Hope you can find one that's suitable.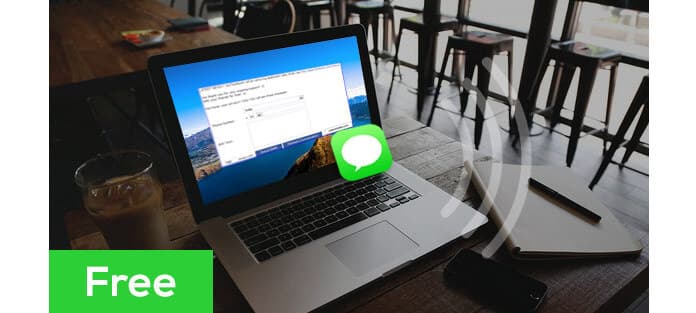 Method 1. How to send texts from computer via your email client
If you simply want to send SMS from computer to any mobile phone, you can do it right from your email client. As long as you know your friend's phone number and cell phone provider, you can easily deliver a text through email.
Sending a message via email is easy. Just compose an email like you normally would, but instead of entering the person's email address in the recipient box, combine their 10-digit phone number with the appropriate @gateway address. Then, hit send.
| U.S. Service Carrier | SMS Gateway | MMS Gateway |
| --- | --- | --- |
| AT&T | @txt.att.net | @mms.att.net |
| Altel | @sms.alltelwireless.com | @mms.alltelwireless.com |
| Sprint | @messaging.sprintpcs.com | @pm.sprint.com |
| Boost Mobile | @sms.myboostmobile.com | @myboostmobile.com |
| U.S. Cellular | @email.uscc.net | @mms.uscc.net |
| T-Mobile | @tmomail.net | @tmomail.net |
| Virgin Mobile | @vmobl.com | @vmpix.com |
| Verizon | @vtext.com | @vzwpix.com |
For example, if the person's phone number is (123)456-7890, and his or her domain for his service is carried by AT&T, the email address should be 1234567890@text.att.net. When he or she replies to your text, the message will go straight to your email's inbox. Keep in mind a longer email will be broken up into multiple text messages, and standard text message rates apply to recipients because the messages are sent as regular texts.
Method 2. How to send texts from computer via Apple's iMessage (iOS and OS X)
The built-in SMS-message-sending feature on a Mac makes it possible to send text message from Mac to an iPhone.
You'll need to enable it on your iPhone by opening the Settings app, tapping Messages, and activating Text Message Forwarding to your Mac. It should then work automatically if you're using the same Apple ID to log into both your iPhone and your Mac. Open the Messages app on your Mac and you'll see a synced history of text messages from your iPhone, too. You can reply from your Mac or send entirely new messages from the Messages app. Those text messages will be synced to your iPhone, too.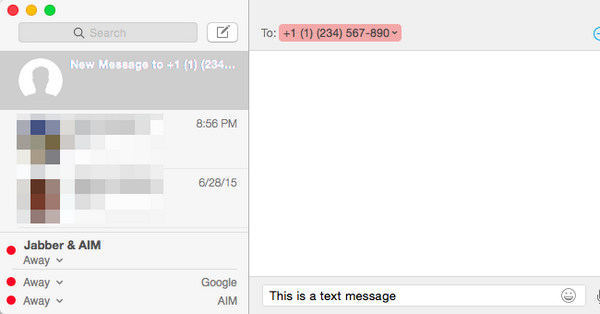 This doesn't cost anything extra - it just uses your iPhone's text-messaging service. If your cellular carrier charges you for texts, you'll have to pay that fee for the messages you send.
Method 3. How to send texts from computer via MightyText (Android)
MightyText is a great messaging app that integrates text messaging with desktop machines well. Once you've installed the free app on your Android device and paired your phone number with your Google account, MightyText will allow you to send and receive SMS texts directly within your Web browser on any computer (Windows, Mac OS X, Linux, Chrome). MightyText even supports group texting and MMS from computer, with options for setting up call notifications and battery alerts.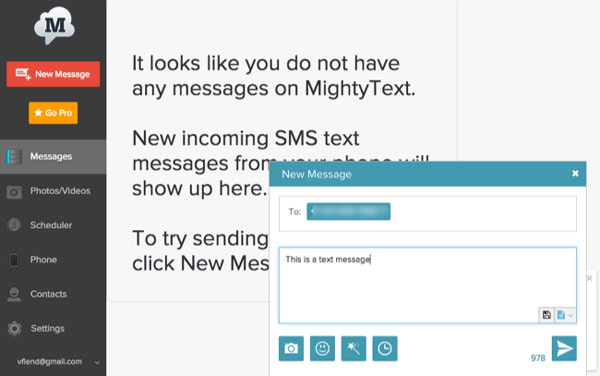 To use MightyText, first download the app from the Google Play store and allow your phone to link with your Google account. Afterward, download and install the accompanying extension for your browser of choice, if offered. Otherwise just head to MightyText website to get started.
Method 4. How to send texts from computer via a free SMS website
If you search the web, you'll find a ton of free unlimited SMS websites that will allow you to send text message internationally. Some free texting messaging sites are Send SMS Now, A Free SMS, Txt2day and Text'em.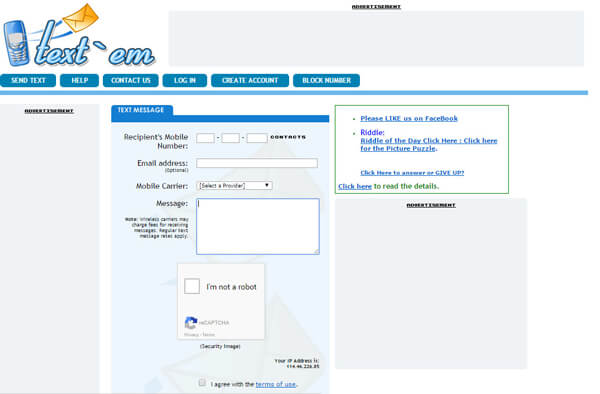 But using free websites like these has its shortcomings. In some cases, depending on the website, you are unable to receive responses directly on the website, or will have to provide an email address to receive responses. Some sites may even require you to sign up and register to see responses.
Keep in mind that you may be bombarded with advertisements, which allow these services to run for free.
In this article, we have mainly talked about four methods to send text message from computer. Obviously, it would make texting much easier and faster. Still have more thoughts to free text from computer, feel free to leave your comments down below.