5 Best Windows Movie Maker Online Alternatives
As more and more excellent movies emerge in the Movie Theater and Internet, groups of movie buffs are eager to make their own movies for birthdays, parties, weddings, or festivals. However, if you want to ask a moviemaker company to help you edit your own movie, it may cost a large sum of money. Fortunately, you can easily find bunches of movie maker programs online, which are all user-friendly and cheap. Most importantly, these online movie makers are as functional as programs you downloaded to your PC. In this article, we will enumerate top 5 movie makers online with their remarkable features, so that you can make a better choice. At the end of the passage, there will be a brief introduction of one movie maker program on PC, which owns more overall functions than movie makers online. Just go through the whole passage right now!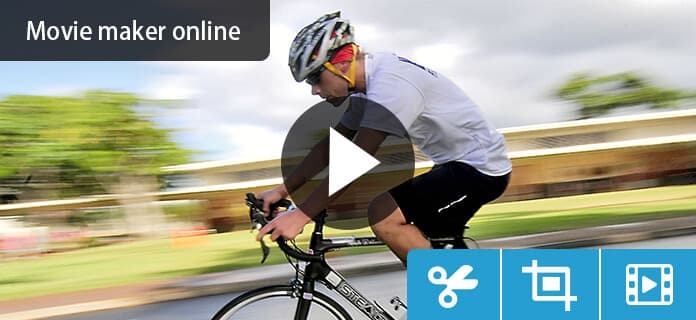 Movie Maker Online
Part 1. Can I Create Movie Using Movie Maker Online
Can I make movies by using movie maker online? The answer is Yes. Lots of online movie makers are capable of making great movies, with functions such as editing, changing audio track, converting and so on. These functions are powerful enough for you to create customized movie in the way you like. There is no need for you to download and install programs at all, and what you are expected to do is to simply upload movie files and edit on the website.
Part 2. Top 5 Online Alternative to Windows Movie Maker
Since it is feasible to make movies online through online movie maker, I recommend top 5 alternatives to Windows Movie Maker.
No 1: Animoto
Animoto is a professional movie-making tool that aims to make great videos easily. With only 3 simply steps, you can finish the whole process of online movie making – choose the basic style, customize it and produce it. Whether you want to make movies for business, photography or family, it enables you to create the most professional and satisfying work.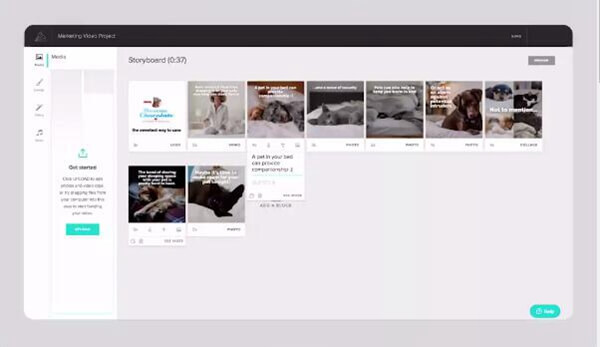 Animoto
Main features:
1. Free to share your work on popular social media.
2. Support converting videos to the most formats you want.
3. Offer delicate pre-built storyboards to help you start your movie.
4. Easy and free to edit the text, picture, audio files, titles and transitions in your style.
5. Record voices for more authentic sound track.
No 2: Magisto
The Magisto serves as the fastest and most effective movie makers online, especially for business work. If you want to take your daily photos and videos as sources, it allows you to turn your boring and lifeless pictures and videos into lively and energetic stories with the fastest speed. Like other movie makers, it supports the functions of editing and converting, which means you can improve the quality of your video files at ease.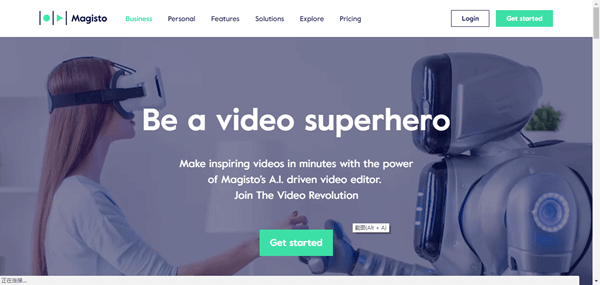 Magisto
Main features:
1. Create movies fast and effectively.
2. Multiple video editing styles and audio tracks.
3. Offer audience's viewing behavior that helps you create the best movies.
No 3: WeVideo
WeVideo aims to create the best precious memorial video for your family, business and school. It turns meaningful photos and videos into lively movies without hassle. As an online movie maker, WeVideo gives business persons impressive and unique brand's personality, logo or signs with high resolution and high fidelity. If you are a teacher, you are lucky enough to create inspired, interesting and heuristic videos with WeVideo.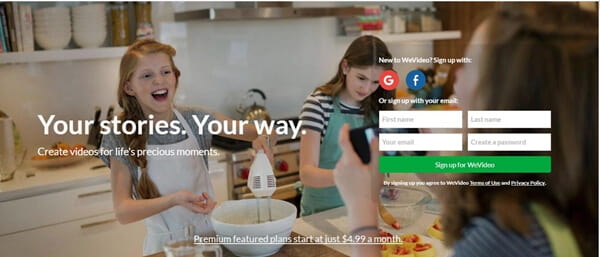 WeVideo
Main features:
1. Offer a vast palette of novel tools that meet your imagination of movie making.
2. Support Web, Android, Chromebook and iOS system.
3. Free to share your creations on social media with friends and families.
4. Finish large productions with fast speed and high standard safety.
No 4: GoAnimate
GoAnimate is regarded as a professional and unlimited online movie maker. You are allowed to have a shot free of charge for a fortnight's time. There is no need to setup and you can directly get started by Internet connection. User-friendly interface enables you to give full play to create your amazing movies without limitations. With a few clicks, you can operate GoAnimate to make your unique movie.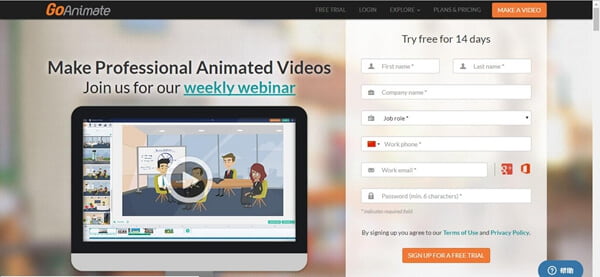 GoAnimate
Main features:
1. Simple dragging and dropping provides unlimited creation.
2. Offer a vast variety of colors that enrich the background of your videos.
3. Allow you to record your wanted voice track.
4. Free to share your work on your site with an HD quality and high-fidelity sound track.
No 5: Clipgenerator
There are roughly 2 modes in the Clipgenerator, for personal use and business work. Whatever it is, you will be able to create a stunning video clips in a few minutes. All your creative video works can be uploaded to your social website as a sharing.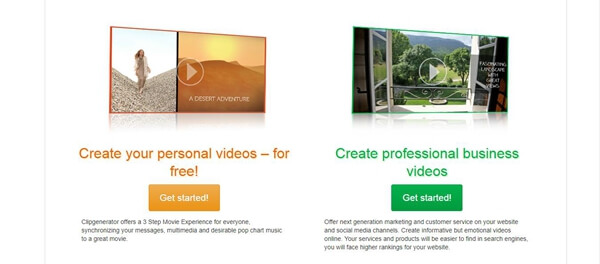 Clipgenerator
Main features:
1. Offer a vast variety of video styles and design options.
2. Free to add text messages, photos, video clips to modify your movie.
3. Different styles of music can be selected from the movie maker, such as classical, jazz or rock music.
Part 3: Best movie maker - Video Converter Ultimate
Although online movie makers possess various kinds of functions, a PC program always gives you a more overall experience of video editing and movie converting. Here I am going to introduce Aiseesoft Video Converter Ultimate.
Video Converter Ultimate is a powerful and versatile program, which is able to provide the service of downloading, editing, converting movie files in a simple and easy way. It doesn't matter whether you are a computer expert or not. The well-understood interface will make it easy to operate the program. I will list some distinctive features to you.
Main features:
1. Add and adjust external audio files in the format of MP3, AAC, AIFF and so on.
2. Support editing the subtitles.
3. Improve the visual quality by adjusting brightness, contrast etc.
4. Enhance the quality of movies by reducing video shaking.
5. Free to rotate and flip movie files in your desired angle.
6. Convert all encoding formats with fastest speed.
Here I am going to give you step-by-step tutorial of how to edit and convert videos with Video Converter Ultimate.
Step 1 Download the Video Converter Ultimate and start with registration.
Step 2 Click "Add File" to upload the video clip you want to convert.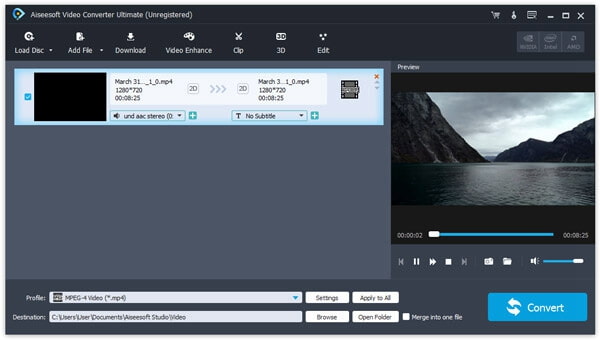 Add File
Step 3 Click "Enhance" button, and you can edit the video as you like.
Step 4 Tap "Profile" to select the format you want, and then find a folder to place it.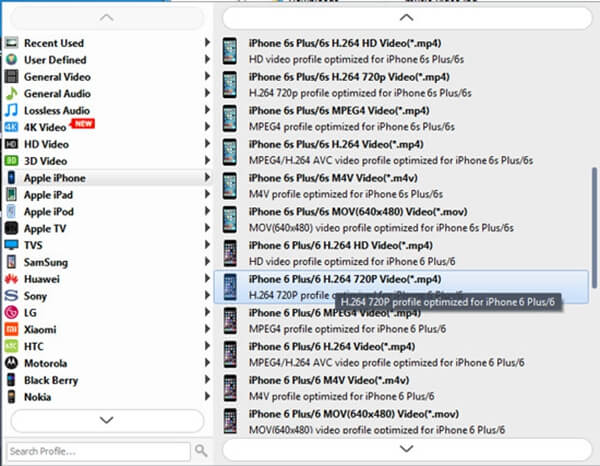 Add File
Step 5 Click "Convert" and wait for success conversion.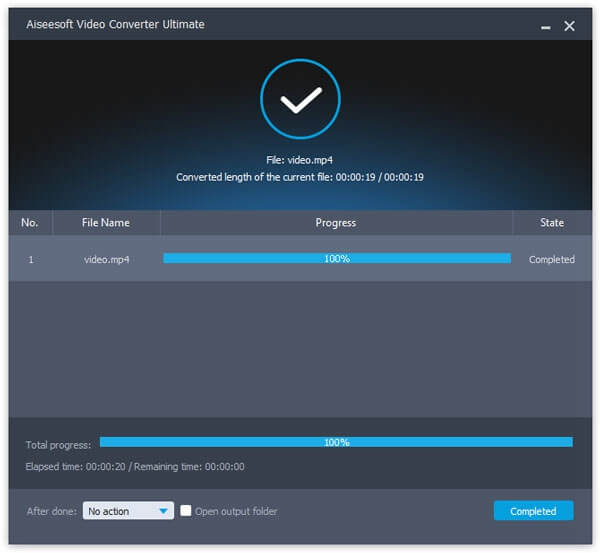 Convert