10 Best Root Apps to Root Android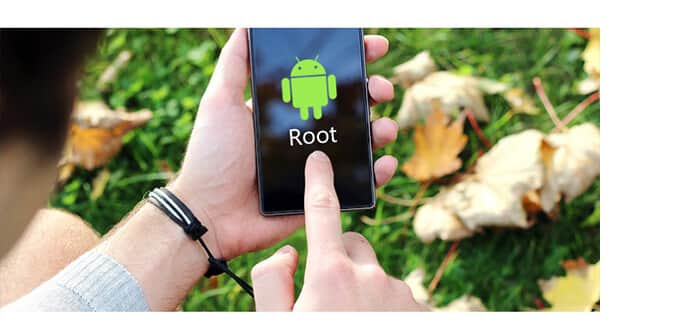 When we talk about rooting Android, you may feel a little bit excited and anxious. On one hand, you are afraid of a failure Android rooting; On another hand, you really want to root Android to get full control of your Android device. Rooting Android comes with hundreds of benefits. You can easily delete useless pre-installed apps, download thousands of fantastic new apps, boost battery life, and increase your phone's processing power and so on.
Part 1. Top 10 Android root apps
When you finally decide to root Android, the first step is to choose the trust-worthy root apps. Here in this post, we select 10 best Android root apks to help you root your Android device. Whether you want to root Samsung Galaxy phone or root Google Nexus, you can use the best root apps like King Root apk to cross the line.
King Root
https://kingroot.net/

KingRoot apk is one of the best root apps for all Android phones and tablets. It provides the fastest and easiest one click root tool to help you root Android on both PC and device. If you prefer to root Android on your phone, you directly install the KingRoot APK on your device. It is compatible with almost all Android OS from 2.x to the latest 7.0. KingRoot APK also enables you to unroot your Android phone by clicking the button of the menu of KingRoot.
Kingo Root
https://www.kingoapp.com/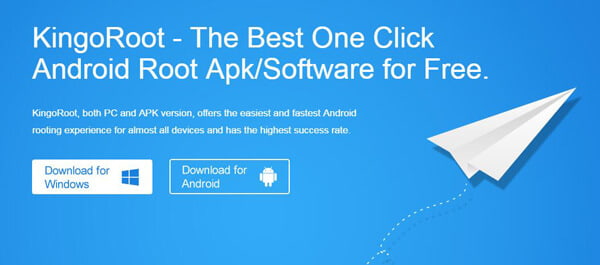 Kingo Root is one of most popular root apps for Android users. Similar to KingRoot APK, it offers PC version and APK version. You can try it according to your needs. Just a few simple steps, you can get a rooted device within minutes. Kingo Root perfectly covers Android 1.5 to 5.0 mainstream models from different manufacturers including Samsung, Google, HTC, Sony and else. What's more, this root apk has the highest success rate.
iRoot
http://www.iroot.com/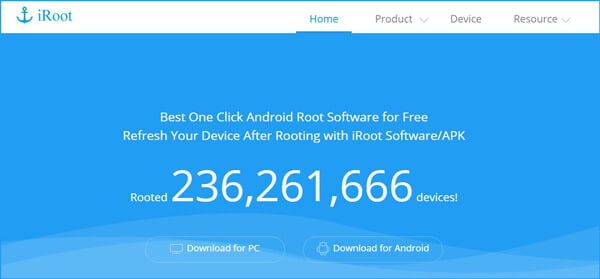 iRoot is best one click Android root software for free. It has PC version and APK file. It enables you to block the limitations of your Android device's access and better enjoy the wonderful Android features that manufacturers profit. Custom ROMs can completely change your Android skin. You are allowed to install the latest version of Android. iRoot root apk highly supports nearly all brands of Android devices from Android 2.3 to 5.0.
One Click Root
https://www.oneclickroot.com/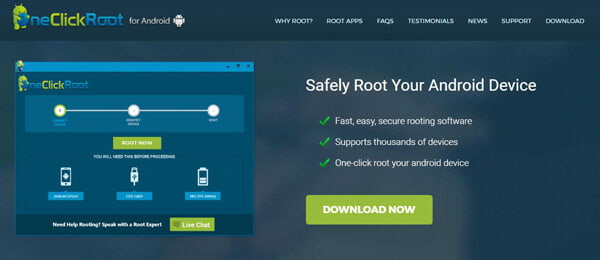 One Click Root is a safe Android root apk which can help you root Android device. It allows you to instantly gain access to your Android's root files and unlock its full potential. What's more, it can repair annoying Android problems to fix your device and speed up your device. Compared with other root apps, One Click Root is far more user friendly. It carries more technical supports to assist you all the way through the Android rooting.
Don't Miss: How to root HTC One M8
Root Genius
http://www.shuame.com/en/root/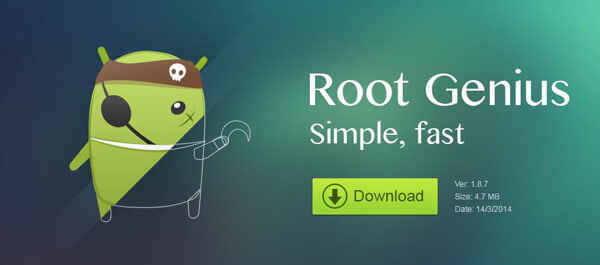 Root Genius is one of most famous Android root apps. It supports more than 10,000 Android phones, without installation. This Android root apk only provides its windows version. It doesn't require any installation on your PC. Just free download this Root Genius on your computer and connect your Android to it, you can easily root your Android device.
Root Master
http://rootmasterapk.org/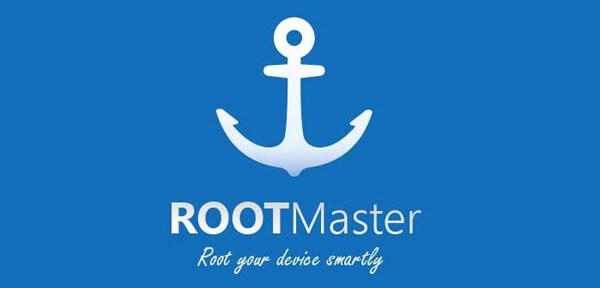 Root master is an easy-to-use, faster and leading android rooting application. This Android root apk can be used to root Android smart phones and tablets like Samsung, Google Nexus, HTC, Sony, Motorola, HUAWEI, Lenovo, Xiaomi and much more. The latest Android Root Master enables you to directly root Android on your device without installing to a PC. Compared to other root apps, this Android root apk is much secure.
VROOT
http://vrootapk.com/

VROOT is one of the most popular Android root apps used all over the world. VROOT APK can be used for rooting almost any frequently-used Android device. Rooting Android with VROOT is just few single clicks. With the latest VROOT 1.7.8, you can easily root your Android device within minutes. VROOT is one of the windows based software, so you need a PC to run its setup.
SRS Root
http://www.srsroot.com/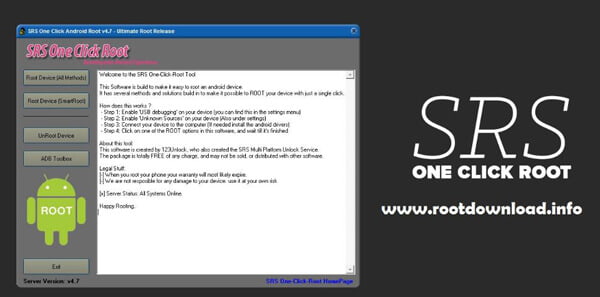 SRS Root is an simple solution for rooting your android device. This Android root apk contains multiple exploits to gain root access on your Android. It allows you root your Android versions from 1.5 to 4.2 currently. Moreover, this root app is designed with an option to unroot your Android device in one click.
Framaroot
https://framarootappdownload.net/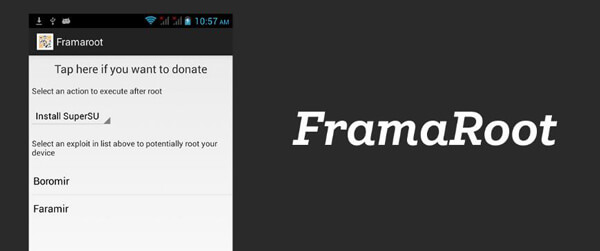 Framaroot is one of the best root apps to root Android phone in one click. This root apk allows you to root almost all Android devices. It is compatible with any popular Android version. In newer versions of Framaroot, you can also unroot your Android device in one click like SRS Root. This powerful Android rooting tool enables you t root Android without PC. Rooting Android with Framaroot apk is more technical than the King Root, iRoot and Kingo Root Apk recommended above. But you canfrequently gets updated more often than other root apps.
PingPong Root
http://pingpongroot.co/
PingPong Root can be the best choice if you want to root Samsung Galaxy phones. It pay more attentions to Samsung Android devices. PingPong Root is very user friendly and specially you can root Samsung Galaxy S6 or S6 edge without wiping your data. Similar to all the discussed root apps above, it supports most of the ROM versions. We have tested it with a few Samsung phones and can recommend it as a good root apk to root Android.
Part 2. How to restore Android data after rooting
As you have already known, rooting Android is not an always safe process. It also brings you many risks. And a failure Android rooting may cause data loss. So you should back up your important data before rooting. If you unfortunately lose some important data, you still have a big chance to get them back. Here we sincerely recommend the professional Android Data Recovery to help you do that. First, you should free download and install it on your computer.
Step 1 Launch Android Data Recovery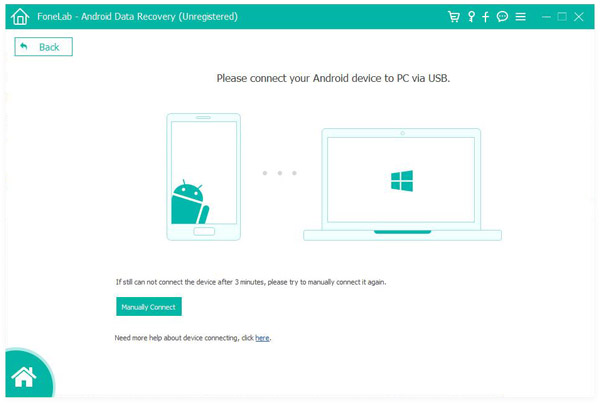 After downloading, install and run this powerful Android data recovering software on your computer. Connect your Android phone to it with UBS cable.
Step 2 Allow USB debugging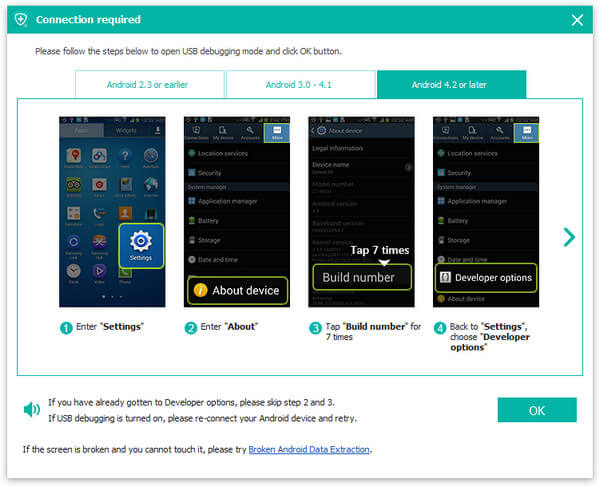 A pop-up message prompts you of allowing USB debugging. If not, you can manually trigger it.
Step 3 Select Android files to recover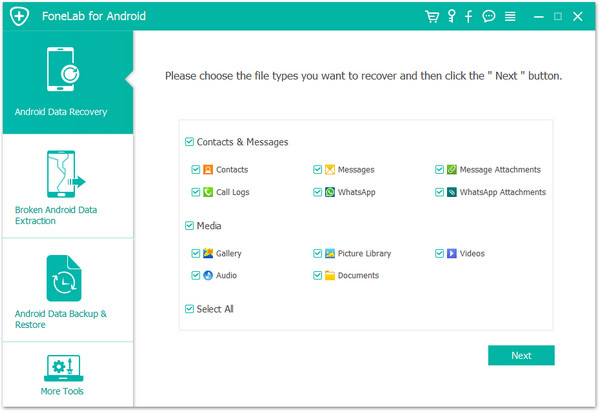 Choose the file types you want to restore, including contacts, messages, call logs, pictures, videos, audios, documents, etc. Tick what you need and hit "Next" button to scan these data.
Step 4 Recover Android data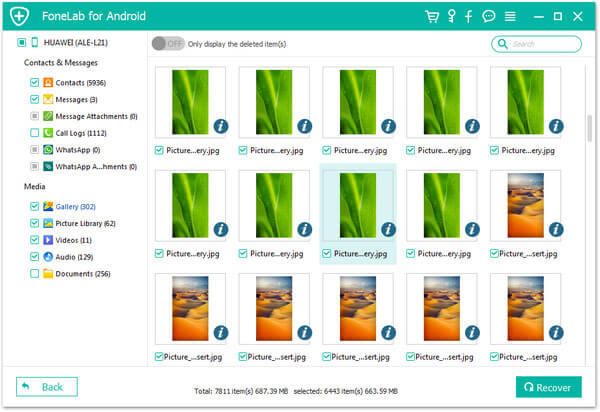 After scanning, you can preview detailed information of the files. Select the deleted files you want to retrieve. Click the button of "Recover" and choose a final destination folder. Within just a few seconds, all the selected Android data will be restored to your computer.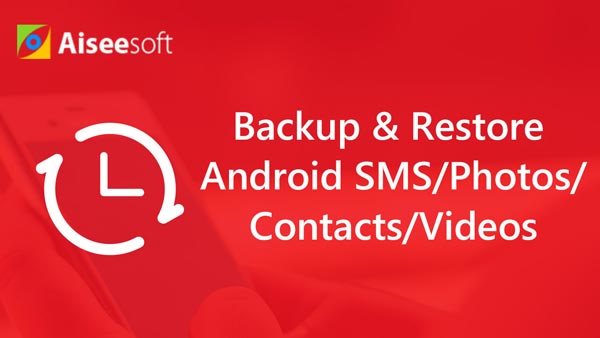 In this article, we mainly talk about 10 best root apps. When you want to root your Android device and need to find some trust-worthy Android root apks, you can pick any of them in this post. What's more, we show you a simple way to restore Android files in case you access data loss after rooting. Hope you can get a better Android user experience after rooting.