How to Root Samsung Galaxy Phone (S7/S6/S5/S4/S3/S2) and Tablet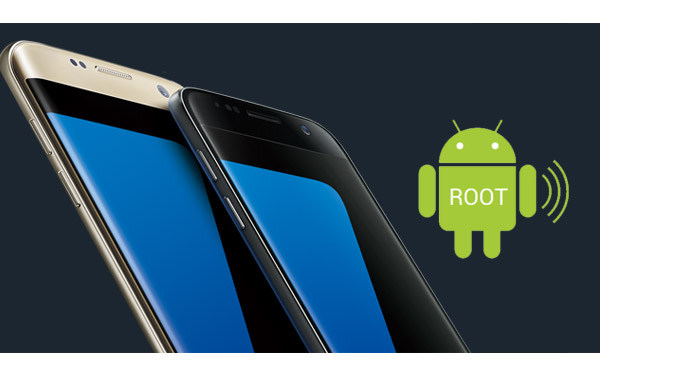 "I download a recovery software to recover my deleted data on My Samsung Galaxy S4, but it needs me to root my phone firstly. I have tried several times and it reaches 100% then it fails. what could be the issue?"
Root for Samsung users is not strange. Whether you want to install software on your Samsung Galaxy S5, or want to check the system files and uninstall the pre-installed apps on your Samsung Galaxy S4, you may get stuck in one problem: How to root Samsung Galaxy phone? In this post, we will introduce some tips about preparations before rooting a Samsung phone or tab, rooting software selection and direct you how to root your Samsung phone, including Samsung Galaxy S7, S6, S5, S4, S3, S2, and Samsung tablet.
Part 1: Root tips
What is root?
If you know much about root a phone, then you can skip this part. If not, keep reading. Root, also rooting, Wikipedia called, is the process of allowing users of smartphones, tablets and other devices running the Android mobile operating system to attain privileged control (known as root access) over various Android subsystems.
Root benefits and risk
Benefits: In one word, root will gets you more privileged control to your phone, so you can check, uninstall and install some applications or files pr-installed by the manufacturer.
Risk: A rooting failure may lead to your phone brick. So you had better take care of rooting your phone.
Root preparations
Before you decide to root your Android phone including the Samsung phone or tablet, you need to prepare the followings:
Enough charge for your Android phone
Ensure your Android devices are at least 80% charged. But different device may differ, so you had better full charge of your phone.
Back up your phone data
Any accident may happen. Just in case, you had better back up Android phone to avoid any data loss in a failed root process.
Unlcok Samsung bootloader
A bootloader is a code executed before any Operating System begins that works on smart phones, laptops, PC and more devices. Each Android phone has its specific bootloader to normally boot and instruct the Operating System. The bootloader is necessary before any software kicks off. For rooting Samsung phone or tablet successfully, you need to unlock bootloader firstly from Samsung manufacturer.
Part 2: Samsung root software
For rooting your Samsung phone, the root tools are necessary. Here we will list several popular root programs in Google. Check the following list to find the most suitable rooting tool.
| Root Software | Compatible Platform | Support Android Version | Support Android device | Support Samsung |
| --- | --- | --- | --- | --- |
| Kingo Root (Free) | Android, Windows | Android 4.1.2, 4.2.2, 4.4.2, 4.4.4, 5.0.1, 5.1, 5.1.1, 6.0, 5.1.1, 6.0, 7.0, 7.1 | LG, HTC, ZTE, VIVO, Huawei, Lenovo, OPPO, Alcatel, Samsung, Micromax | Samsung Galaxy Note |
| Root Genius (Free) | Android, Windows | Android 4.1.1 – 7.1.1 | Xiaomi, OPPO, Coolpad, Huawei, Samsung, Lenovo, BBK, Gionee, ZTE, HTC, DOOV, Google Nexus, etc. | Samsung Galaxy S5/S4/S3 |
| One Click Root (Paid) | Windows | Android 4.1.1 – 7.1.1 | LG, Motorola, Sony, HTC, Samsung | Samsung Galaxy S6/S5/S4 |
| iRoot (Free) | Android, Windows | Android 4.1.1 – 7.1.1 | Sony, Google, Xiaomi, OPPO, HTC, ZTE, Huawei, Lenova, Coolpad | Samsung Galaxy S5/S4/S3 |
| KingRoot (Free) | Android, Windows | Android 4.1.1 – 7.1.1 | Samsung, OPPO, etc. | Samsung Galaxy S6/S5/S4/S3/S2 |
| PingPong Root (Free) | Windows | Android 4.1.1 – 7.1.1 | Samsung Galaxy/Edge | Samsung Galaxy S6, S6 Edge |
Part 3: How to root Samsung phone with KingoRoot
In this part, we will take KingRoot for an example to show you how to root Samsung Galaxy phone or tablet. KingRoot has Windows version and Android APK version. You can use it to root your Samsung Galaxy phone according to your need.
How to root Samsung phone on Windows computer
Step 1 Debug USB mode on Samsung phone
On your Phone, tap "Settings" > "Develop options" > slide "USB debugging" to ON, which will enable you to manage your phone on computer.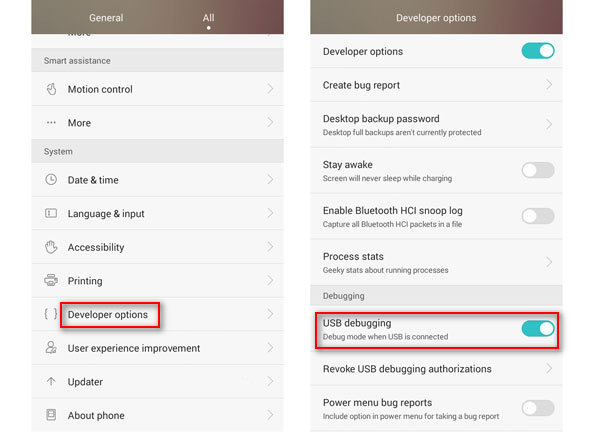 Step 2 Connect phone to PC
Download, install and run this Samsung root software on your PC, and connect your phone to PC.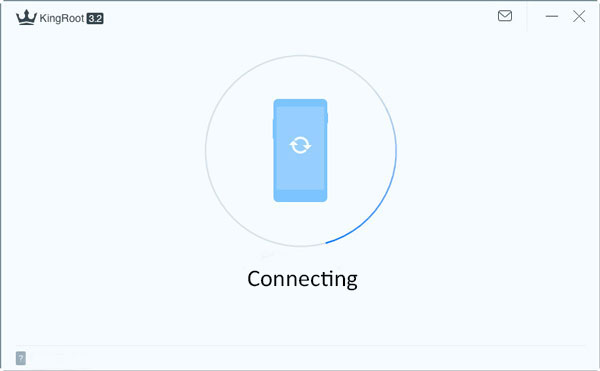 Step 3 Root Samsung on computer
Click "Try to root" to start to root your phone. After rooting your phone, there is one reminder in the interface that tells you have rooted your phone.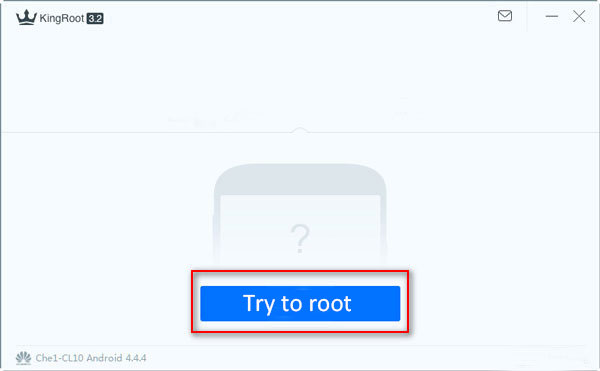 How to root Samsung on your phone directly
Step 1 You can download this root APK from its official page.
Step 2 Install KingRoot APK
After success downloading, find the APK file and install it. If you are blocked in installation, go to "Settings" > "Security" > enable "unknown sources" to install KingRoot.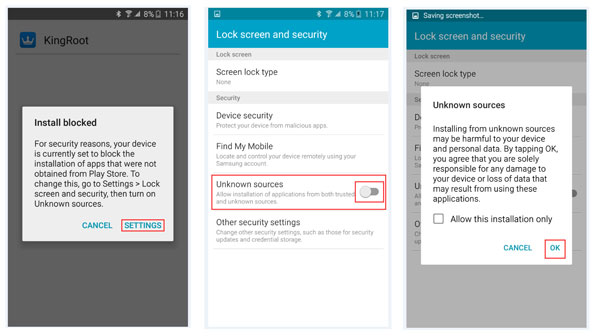 Step 3 Root Samsung on phone directly
After installing this tool, hit "OPEN" to run this tool. Tap "Try it" > "Get now" to start to root phone. The implementation process will show you the rooting process.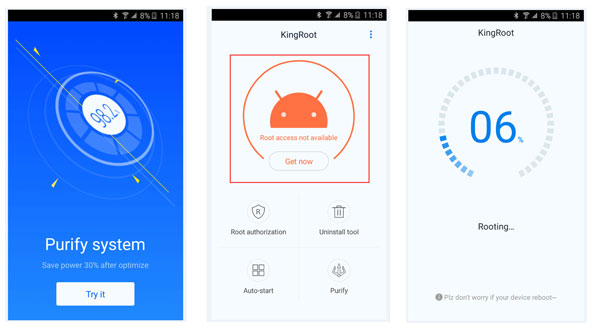 How to check if Samsung phone is rooted
The above steps show you how to root Samsung phone. After the rooting, you can check to see if your Samsung phone is rooted successfully. You can try to uninstall some apps that cannot be uninstalled before. Or use the tool to root it again. If Samsung phone is rooted, then the software will remind you that the phone is rooted.
If your Android files like contacts, messages, videos, photos and so on get lost, you may need this:
FoneLab for Android
Recover deleted data from Android devices to PC. (Root)
Support recovering Android photos, contacts, messages, call history, etc. to PC.
Be compatible with Samsung, HTC, LG, Huawei, etc.
This post shows you the ways to root Samsung Galaxy phone or tablet. If your phone is HTC, jump to this article to root HTC Desire HD.