Root Explorer APK and Replacements to Manage a Rooted Phone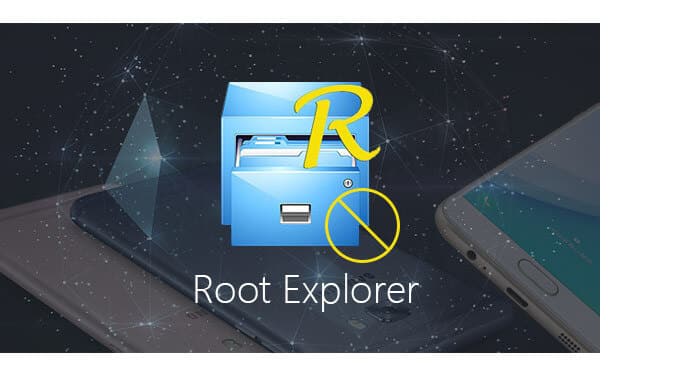 Root Android is just like iPhone jailbreak to get the ultimate privileges to manage your phone easily, just like delete the manufacturer-pre-installed apps, install more tools on your phone. After rooting your phone, how do you manage your and check your system files? Root Explorer will do you a favor. In this post, we will show how to use Root Explorer and Root Explorer alternative APKs to manage your phone better.
Part 1. Root Explorer
What is Root Explorer? Root Explorer is the ultimate file manager APK for Android root users, which can access the whole file systems including the intangible data folder.
Root Explorer has different versions, and you can download from its official site, https://rootexplorer.co/.
The latest version of this root file manager is 4.0.6. And you can download the different versions to use its functions differently.
Step 1After rooting Android phone, download, install and run this APK on your phone.
Step 2Manage your phone with Root Explorer APK on phone.
➤ Manage files by creating new folder search files, cut and paste files from one location to another.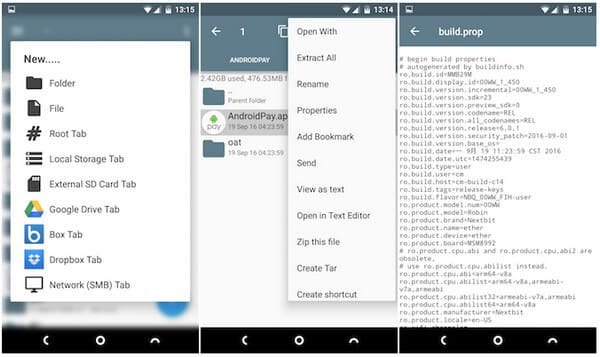 ➤ Check and edit system files, backup and share APKs.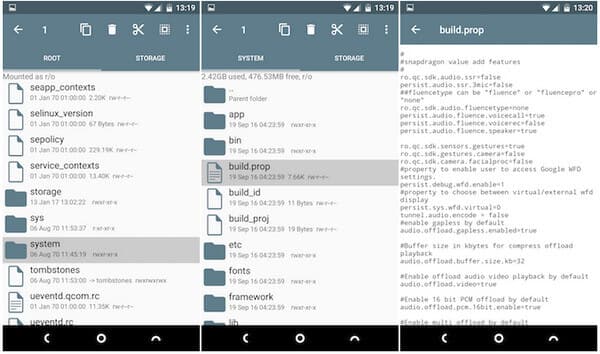 ➤ Delete pre-installed apps and install new system APKs.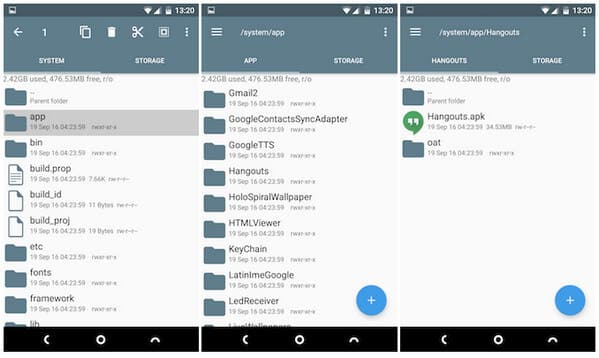 Conclusion of Root Explorer: Root Explorer is powerful to access the phone files deeply, however, it is not free to use ($3.99), and like any software, this APK also crack from some of its users. So the alternatives to Root Explorer are very necessary. Keep reading to get the Root Explorer replacements APKs in the following list.
Root Explorer alternatives
In this part, we will gather Root Explorer replacements to help you manage your rooted phone easily. You can select the best one APK file manger based on your situations.
Root Explorer Alternative
Price and feature
Screenshot

ES File Explorer




Price:

Free
➤ File manager and folder manager to copy, paste, cut, transfer apps, music, files, and compress and decompress ZIP files, unpack RAR files on your phone.
➤ Remote file access to get to your files from cloud storage from Dropbox, Box.net, etc. and manage files on your phone from computer.
➤ Bluetooth file browser and Wi-Fi enables you to transfer files between Bluetooth devices.
➤ Library function lets you categorize, uninstall, back up and create shortcuts to your apps.
➤ Kill tasks with a single click and cache cleaner will delete junk files.

Total Commander




Price:

Free
➤ Compare files (now with editor)/synchronize directories, and quick view panel with bitmap display.
➤ ZIP, 7ZIP, ARJ, LZH, RAR, UC2, TAR, GZ, CAB, ACE archive handling + plugins.
➤ Thumbnails view, custom columns, enhanced search.
➤ Compare editor, cursor in lister, separate trees, logging, enhanced overwrite dialog etc.
➤ USB port connection via special direct transfer cable, partial branch view (Ctrl+Shift+B), and many improvements to FTP, synchronizing and other functions.

ASTRO File Manager




Price:

Free
➤ Cloud storage management enables you to move files between cloud storages with a single click.
➤ Browse file by category as music, video, pictures, etc.
➤ Play multimedia files and open documents or photos directly.
➤ Compressing ZIP and RAR files and extracting files.
➤ Download files and open files from the web, and hack games like Minecraft, Pixel Gun 3D, etc.
➤ Task killer and app manager to uninstall, backup and stop the tasks.

Root Browser




Price:

Free
➤ Batch copy/paste, rename, delete or move any file or folder.
➤ View, edit, open, sort and search files/folder.
➤ Send files by email, and execute script files.
➤ Show list of files with the thumbnails for images.

ZArchiver




Price:

Free
➤ Create archive file types from 7z (7zip), zip, bzip2 (bz2), gzip (gz), XZ, tar, etc.
➤ Decompress and view 7z (7zip), zip, rar, rar5, bzip2, gzip, XZ, ISO, and more file.
➤ Open compressed files or an archive file from mail apps.
➤ Extract splited archives from ZIP and RAR.
➤ Multithreading support (useful for multicore processors).

File Commander




Price:

Free
➤ Support Android TV so that you can use OfficeSuite directly on any TV that runs on Android.
➤ Sort files by location line cloud accounts, network, address, downloads, local files, etc.
➤ Manage your phone remotely from PC, link with nearby Bluetooth devices, and share files easily.
➤ opy, paste, rename, and compress operations.
➤ Bookmark folder/files, and Recycle Bin enables you to delete and restore files.
➤ Convert files into over 100 other formats.

File Expert




Price:

Free
➤ Sync files between cloud and local and local and network file manager.
➤ LAN access for ftp, sftp, ftps, SMB, WebDAV and clouds include Google Drive, OneDrive, Dropbox, Box, Yandex, SugarSync, GCloud and more.
➤ SQLite Database Editor you can browse, edit, import, export, create, delete, alter, view App database etc.
➤ Built-in helper to install, uninstall, backup, and auto backup apps.
➤ Compress and decompress ZIP, RAR, TAR, and more file type.
➤ Search file/folder, and multiple tabs for file management.
➤ Edit, rename, delete file easily.

X-plore File Manager




Price:

Free
➤ Dual-pane tree view to play music and open files, images, texts, PDF and more easily.
➤ Disk Mac sees which files consume most space on your disk.
➤ Manage phone from PC web browser, and support SSH File Transfer (SFTP) and SSH Shell.
➤ Share and send files by Bluetooth, email, or whatever the device supports, from any location.

Amaze File Manager




Price:

Free
➤ Cut, copy, delete, compress, and extract files easily.
➤ Work o multiple tabs at the same time and multiple themes with cool icons.
➤ Backup, open, and uninstall apps directly.
➤ Access history, bookmarks, and search any file quickly.
➤ Basic r/w operations might not work on external memory on Kitkat devices. Don't use cut/paste from or to external SD Card.

Solid Explorer




Price:

Free
➤ Two independent panels serving as file browsers to drag, and drop inside.
➤ Create encrypted and read ZIP, 7ZIP archives.
➤ Cloud file manager supports Dropbox, Box, OneDrive, Google Drive, Sugarsync, Copy, Mediafire, Owncloud, Yandex, and more.
➤ Easily search and rename your files.
➤ Support FTP, SFTP, WebDav, SMB/CIFS clients.
Conclusion: Root Explorer and its alternative to manage for root users have been shared here. More suggestions will be welcome to help more users like you.
FoneLab for Android - Recover Android Data
FoneLab for Android is the professional data recovery tool to recover deleted files from Android devices.
Recover deleted data from Android devices to PC. (Root)
Support data like photos, contacts, messages, call history, etc.
Be compatible with Samsung, HTC, LG, Huawei, etc.