Best Way to Fix the Error Downloading Photo from iCloud
As we all know, iCloud is one of the best methods to store your photos as well as the videos so that iOS users can save their devices' space. You just need to do the iCloud backup in advance and you can access those photos from any of your iOS devices with the same Apple ID.
However, have you gone through the situation that the error occurs when you are trying to download photos from iCloud photo library? If you want to know how to fix this problem in this situation, this article will help you.

Part 1: How to Fix "Cannot Download Photos from iCloud"
In this part, 6 common methods are introduced to solve the problem of error downloading photos from iCloud. When you meet this problem, you can try these 6 steps first to see if it can solve your problem.
Method 1: You can turn off the Low Power Mode to fix this problem
When your phone battery is running low, some automatic downloading function on your phone will be automatically shut down if you turn on the Low Power Mode on your iPhone. This may affect the successfully downloading of your photos from iCloud.
Consequently, we suggest that you can turn off the Low Power Mode to see if this work. The steps are as below:
Step 1 Click 'Setting'> 'Battery'
Step 2 Turn off the 'Low Power Mode'.
Only two simple steps and you can realize this method. According to many iPhone users who want to download their photos from iCloud, this method is effective in many cases. We hope this method can do your help.
Method 2: Try to change another Browser to sign in the iCloud website
Under some circumstances, photos cannot be downloaded to your computer because this browser cannot support this function. You can try to switch to some other browser like Google or Amazon and sign in to the iCloud website to download. Maybe this way can solve this problem.
Method 3: You need to check your device storage space
Actually, after you sign up an iCloud account and begin to do some backup in it, you just achieve 5GB free storage space of it. That is to say, if your backup files are already full of the iCloud free space and you still don't buy more space, there may exist some errors when you want to download some backup photos.
As a result, the first method we suggest is to check your device storage space to see if the problem is due to the storage space.
Just click Settings > Storage & iCloud Usage and you can see your remaining storage space. If the space is full, your downloading process may be affected so you need to purchase more storage space and try to download again.
Method 4: You can sign out your iCloud account and log in again
If you have checked your iCloud storage space but still cannot download your photos from iCloud, you can try to sign out your iCloud account and wait for a few minutes. Then you can log in again to have a try.
Method 5: Just restart your device
For many problems occurred on your iPhone, restarting phone can solve them to some extent. After restarting, all your applications need to be reopened, so as the iCloud. In this way, the subtle downloading issues can be refreshed and you can download your photos from iCloud successfully.
Method 6: Reset your device
If the five methods above cannot help you, we suggest that you can reset your device to its original factory settings. However, we need to inform that before resetting, you had better backup your existing data in case of the data loss.
I have to say that after the resetting, your phone can be restored to its original state. Whether the storage problem or the system problem, it can be solved partly.
Six methods above are common ways that we recommend for you. However, what should you do if those methods cannot work? In the following part, we will introduce you an ultimate solution to downloading photos from iCloud in a safe and professional way.
Part 2: Ultimate solution to downloading photos from iCloud
The ultimate solution to downloading photo from iCloud is choosing another tool to get the job done. Aiseesoft iPhone Data Recovery is regarded as a reliable one. If you have backed up your photos to iCloud, you can preview your backup files like photos, contacts, text messages, videos, call log etc.
Here we provide you with the concrete steps to download backup files with this tool.
Step 1 Download and launch this software and choose the option Recover from iCloud Backup File.
When you see this interface, you need to type your Apple ID as well as the password to sign in your iCloud account.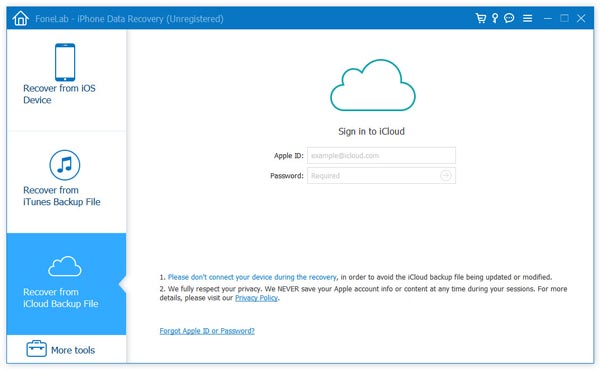 Step 2 Choose one backup you want and click Download.
After it finishes downloading, you can see your backup files category and you need to choose Photo Library.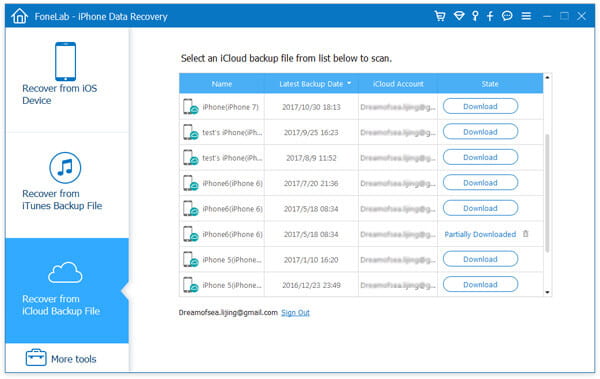 Step 3 Preview iCloud Photos
You just need to click Photo Library and you can preview all your backup photos. You can click multiple photos at one time.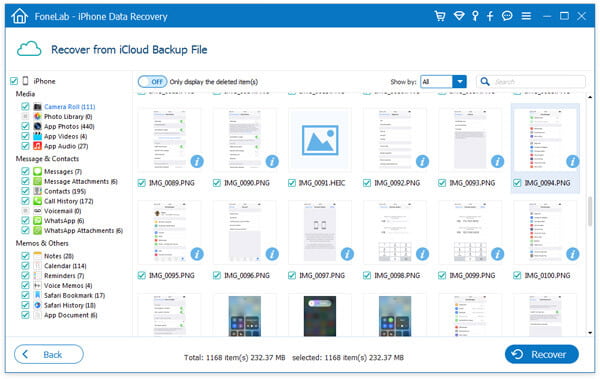 Step 4 Recover iCloud Photos
After choosing photos you want, just click Recover and all chosen photos can be retrieved from iCloud to your iOS devices.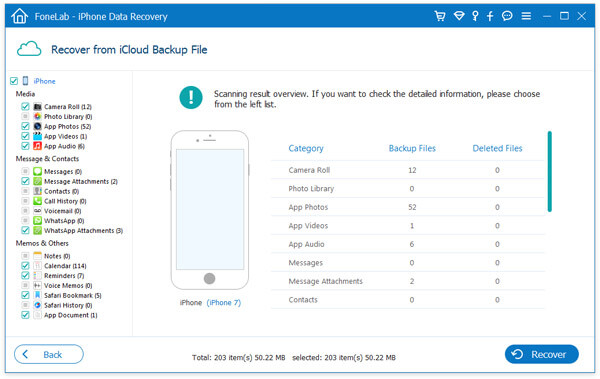 With this Fonelab iPhone Data Recovery, you can restore your iCloud photos selectively and have no need to download the photo you want one by one. Moreover, you can solve the problem of error downloading photos from iCloud thoroughly.
In this article, we have shown you 7 solutions when you meet with the error downloading photos from iCloud, which one is your favorite? Please common below.