PNG File Not Opening in Windows 10? What to do to View Open PNG
At some point, you encountered a "Windows 10 can't open PNG file" error or issue. It is not new because almost everyone came across this problem. First, it is essential to know why this happens or to determine the causes of this issue. From this problem, you can derive how to address and solve them. On that note, we will discuss why you can't open a PNG file in Windows 10/11.
In addition to that, you will learn about the recommended and practical ways to view your PNG file. Without further explanation, read the reasons and solutions to employ below.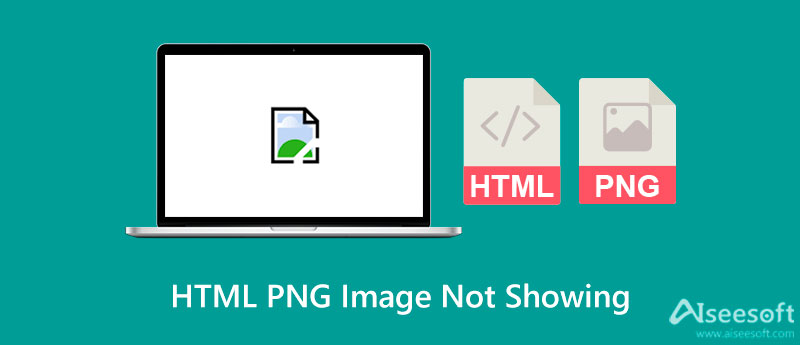 Part 1. HTML PNG Image Not Showing? (Reasons)
Now, what makes your HTML photo not show? There are various potential reasons which may cause this problem to occur. If you are wondering what they are, you can refer to the list of the common cases for PNG photos that are not showing.
The photo application viewer is not compatible. One of the common causes, why people cannot open their photos, has to do with the photo application they are using. It is important to get the right application, especially compatible with PNG files, to have no problem.
Frequently resize PNG files. Another reason why the HTML PNG image not showing is because it was resized many times. It may not affect the quality of the photo, but it can take its toll on opening the photo. Therefore, refrain from resizing your PNG photos.
Malware attacks on your system. A malware attack on your system is also a potential reason you cannot open your PNG photo. Sometimes it is not about the photo application or the image itself but your system. Be vigilant with the applications you are installing. They might inflict harm to your computer system.
Part 2. Recommended Ways to Fix
Corrupted, formatted, lost, or inaccessible photos require solutions to open them. The same can be said when encountering a PNG file not opening on Windows 10/11. There are solutions you can go for to get this issue fixed. To help you resolve HTML PNG images not showing, see the solutions below.
1. Turn off photo encryption
One solution to help you open your PNG photo is disabling photo encryption. To do so, follow the steps below:
Step 1:
First, look for the PNG photo and right-click on it. Then, choose Properties on the menu.
Step 2:
Go to the
General
tab from this window, followed by the
Advanced
menu at the bottom right corner.
Step 3:
Next, uncheck the
Encrypt contents to secure data
and hit
OK
.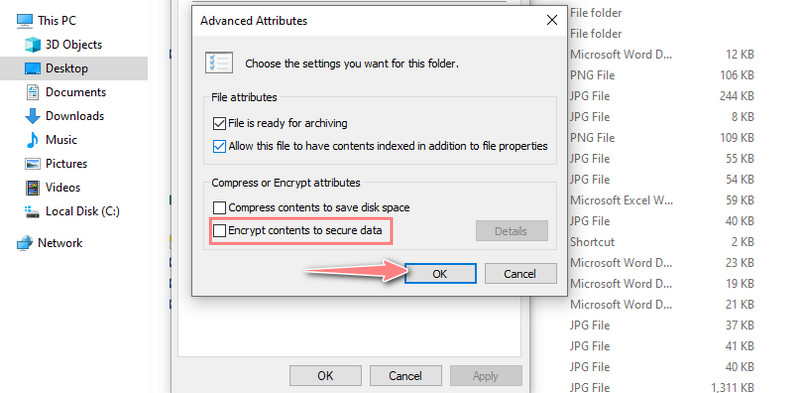 2. Reset the Windows Photo Viewer
You can also repair or reset your Windows Photo Viewer. It will wipe out your preference.
Step 1:
Go first to the
Settings
on your Windows 10.
Step 2:
Then, go to
Apps > Apps & features
. Afterward, type the
Photo
or
Photo Viewer
on the app search list.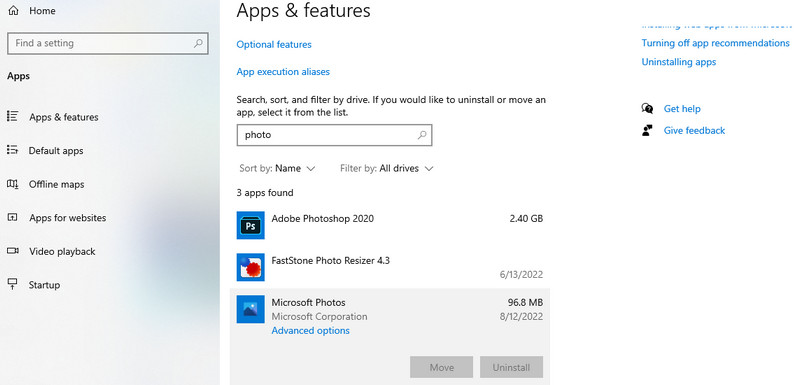 Step 3:
Now, click on the
Photos
app and tick the
Advanced options
menu. Scroll down the window and hit the
Repair
button under the
Reset
part.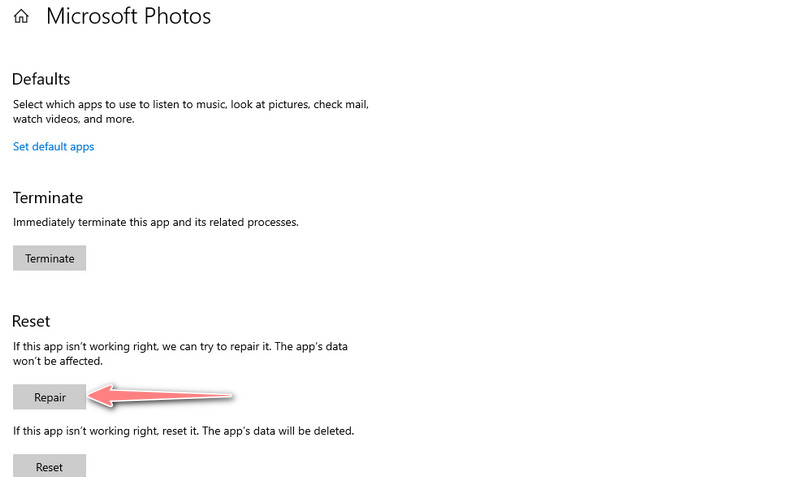 3. Update the Photo app
One reason why you can't open PNG is an outdated photo viewer. By updating the app, you can improve its app's performance and fix some bugs. Now, here is how to update your Photo app:
Step 1:
Go to Settings by pressing the
Windows Start
key on your computer keyboard
Step 2:
Then, tick the
Settings
icon on the bottom left side and click
Update & Security
. Afterward, click the
Windows Update
option to check for an update.

Step 3:
Now, hit the View optional Updates and put a mark on the Windows Photo checkbox. Then, tick the Download and install button. You can try to restart your PC after doing this method.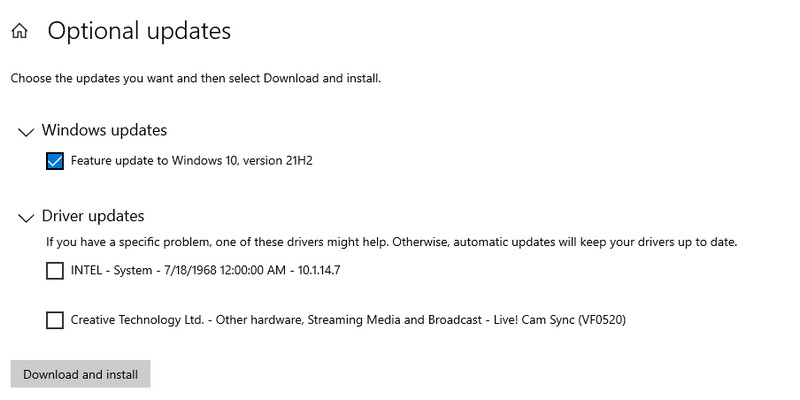 Part 3. What if Your Viewer Cannot Open PNG
If the solutions above are not sufficient, there is still another workaround you can employ. That said, here are some of the practical ways to fix issues, like the PNG files not opening in Windows 10/11.
1. Convert HTML photo to another format
Converting files is an excellent solution you can employ to fix issues of photos that can't be opened. On that note, we highly recommend using Aiseesoft Free Image Converter Online to assist you in transforming files to a more compatible format. The program enables you to convert photos from almost any format. In other words, it accepts a wide range of image formats. Also, you can convert your photos to JPG, PNG, and GIF formats.
Additionally, it comes with a bulk conversion feature that helps users process photos in batches while producing excellent quality. Over and above, the drag-and-drop interface makes it convenient for every user. If you wish to learn how to convert PNG, follow the steps below.
Step 1:
Navigate to the program's official site with a browser you commonly use.
Step 2:
Once you reach the page, you will see the
Add Images
button. But before uploading, select an output format by ticking it to your selected image format

Step 3:
Then, continue to upload by clicking the
Add Images
button. Select the HTML photo you wish to convert.

Step 4:
The photo(s) you uploaded will be converted immediately by the tool. Then, hit the
Download
or
Download All
button to get copies of the converted photos.

2. Use another PNG viewer
In case your photo viewer is not working, it is recommended to use a photo application to help you view your PNG photos. Aside from Microsoft Photos, there are other applications you can use on your Windows 10 that offer even advanced functions. You can use 123 Photo Viewer to replace Microsoft Photos. Here is how to use it:
Step 1:
First, get this program from Microsoft Store and install it.
Step 2:
After that, locate the photo you wish to view. Right-click on the photo and hover your mouse over the
Open with
option.
Step 3:
Then, select
123 Photo Viewer
from the list of image applications. By then, you should be able to open your photo. Perhaps you also wish to edit your photos. Try to check the
best photo editor apps
in the market.
Part 4. FAQs About HTML Photos Not Showing
Can I display a PNG file in Chrome?
Yes. It is possible to open your PNG file in Chrome. Simply find the photo you wish to view. Then, right-click the photo and select Chrome under the Open with option. Besides viewing, you can also take screenshots with Google Chrome. It is indeed a flexible browser.
How to create a PNG file?
You may start from scratch using a photo editor, like Photoshop. Then, save your photo as a PNG. Another way is by converting your photos to PNG format. You can use Aiseesoft Free Image Online Converter, so you don't have to download software.
Why is PNG not showing in HTML?
There are various reasons why PNG is not showing in HTML. You need to ensure that the extension name, file name, path name, and syntax of HTML are correct.
Conclusion
You no longer have to worry about PNG files not opening in Windows 10/11. There are workarounds you may employ. Moreover, you can easily resolve it in case you encounter this issue once more.

Leave your comment and join our discussion