4 Handy HTML to PNG Converter Programs You Must Consider Using
You may have gone through a situation when a typical photo viewer cannot open a photo. There are also instances when you wish to view a photo on some devices but find out that the photo is incompatible. A converting program can help with this problem. Like HTML photos, you cannot simply open them using any photo viewer on your computer or smartphone.
In this case, you can convert HTML to PNG for a more compatible format. This conversion will enable you to open the photo on almost any device and program. Luckily, there are a lot of converting tools online. Yet, to lessen the stress of finding a reliable tool, we researched for efficient and effective tools to convert HTML to PNG images. Check out these tools below.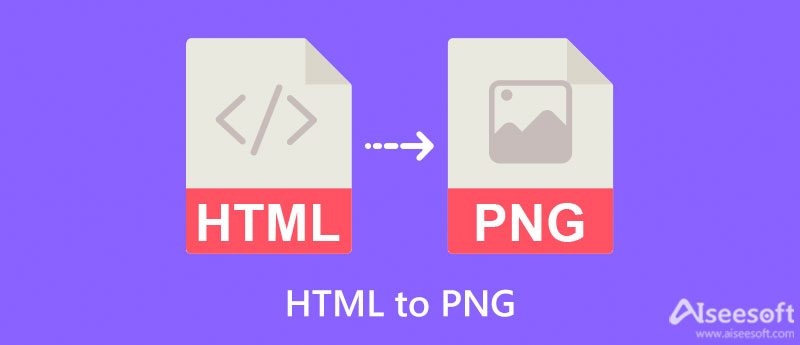 Part 1. How to Convert HTML to PNG
FreeConvert
FreeConvert is a free tool when you need to convert HTML to PNG quickly. It is a web-service program that lets you upload photos from your PC and cloud storage, like Dropbox and Google Drive. Moreover, it works pretty fast, and you will get a hand with your converted files with decent quality. It is also a great program to have, especially if you need to compress photos. On the other hand, here is how to use this HTML to PNG converter.
Step 1:
Use any browser on your PC and visit the program's official page. Afterward, upload your target HTML photos.
Step 2:
Hit the
Choose Files
button to upload from your computer file folder or tick the drop-down menu to select the cloud storage from which you wish to import.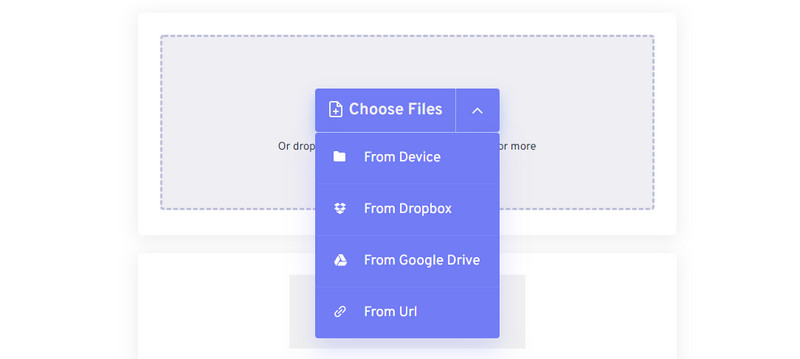 Step 3:
Next, open the
Profile
menu and choose the Image tab. From here, you will witness a list of image formats available. Choose
PNG
to set it as the output format.

Step 4:
Finally, press the
Convert to PNG
button below the uploaded photo to initiate the process of conversion. Once done, you can download the program on your computer or save it to your cloud storage.

AConvert
One of the best free image converters available online is AConvert. It supports a wide range of target graphic formats, including JPG, PNG, SVG, GIF, TIFF, HEIC, etc. In addition, it enables you to resize the image quality and set it from 1-100. Aside from that, you can also resize the width and height to get your desired dimension. Furthermore, it does offer not only image conversion but also video, audio, webpage, document, and other conversions. You can generate PNG from HTML by following the steps below.
Step 1:
Head to the tool's home page by typing the program's link on the computer's address bar. Then, choose
Image
on the left side menu bar.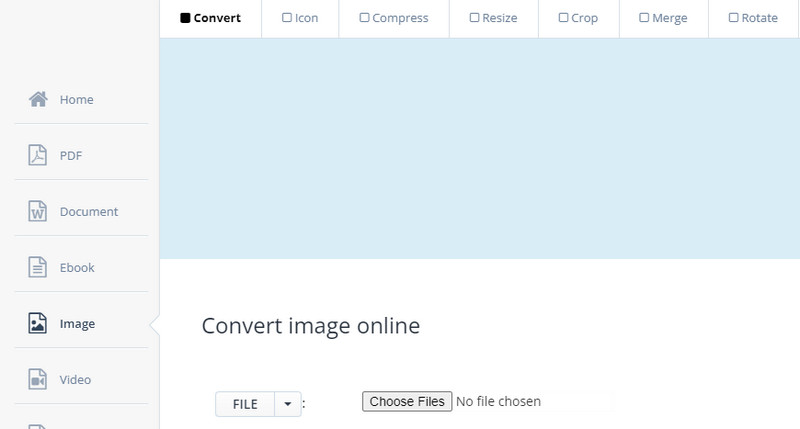 Step 2:
Now, upload an HTML file by clicking the
Choose Files
button and choose an output format.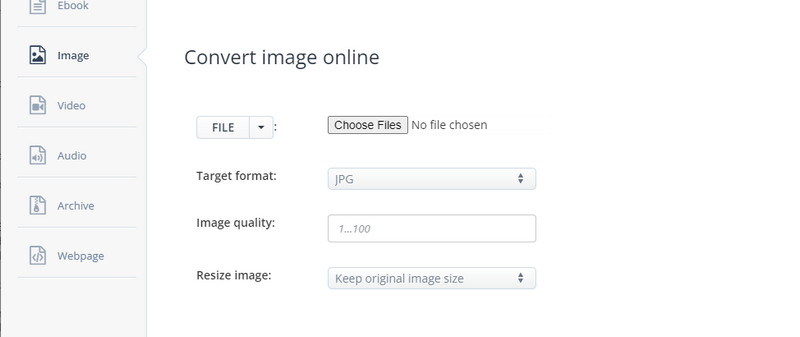 Step 3:
To set an output format, tick the
Target format
drop-down menu and select
PNG
. You can also set the Image quality and resize the image as you like.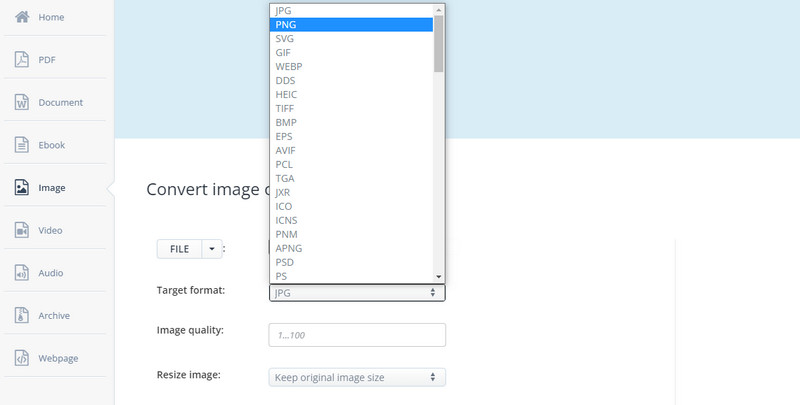 Step 4:
Finally, hit the
Convert Now!
button to begin converting an image from HTML to PNG.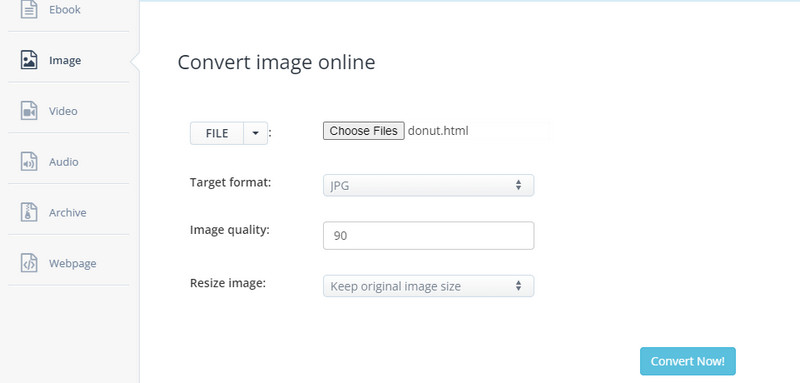 Convertio
You could also use Convertio to help you convert HTML documents to PNG. Besides converting to image formats, you may also convert documents, eBooks, presentations, and vector files. True enough, Convertio is a versatile tool. In like manner, the tool enables users to load files from Drive and Dropbox. By the way, you can upload and convert multiple files at once. Plus, you can also save and download them in bulk. Here is how to use the tool to convert HTML to PNG.
Step 1:
Go to the program's official page and upload your desired files to convert. You may do this by clicking the
Choose Files
button or ticking any icon that represents the cloud storage where your files are located.

Step 2:
Expand the
Profile
menu and select the Image tab. Afterward, choose
PNG
from the selection.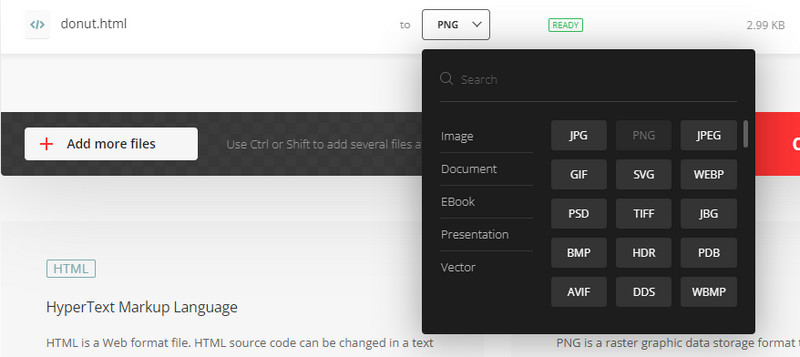 Step 3:
Initialize the conversion process by hitting the
Convert
button and wait for the process to finish.

Step 4:
Once the conversion is done, tick the
Download
button or the
Download archive
to save the converted files in bulk.

Part 2. Converter You May Also Like: Aiseesoft Free Image Converter Online
Another converter you might also consider using to help you convert images is Aiseesoft Free Image Converter Online. It comes with a batch conversion feature without daily limitations. Also, it supports over 30 image types, including WEBP, BMP, JPG, PNG, ICO, SVG, and many more. Besides, this program enables you to convert files in a matter of seconds without any quality loss. Plus, saving and downloading files using this tool is just a click away. Please rely on the steps beneath if you wish to learn how to use the tool.
Step 1:
Access the program with a browser available on your computer and load an image file from your PC.
Step 2:
Tick the radio button of the image format of your choice and upload your target photos by ticking the
Add Images
button. The photos will be converted automatically.

Step 3:
Now, hit the
Download
button to save files individually. You can also save converted photos in bulk by pressing the
Download All
button.

Part 3. FAQs About Converting HTML to PNG
Is it possible to convert PNG to HTML?
Yes. There are a lot of programs available online that will help you convert from PNG to HTML without any problem.
How can I view an HTML file?
Usually, you can view your HTML files with any browser on your PC. You can locate them from your computer folder, and they usually look like the browser icon. Double-click on them to view them with a browser.
Can I convert an HTML file to PDF?
Yes. You can save an HTML file as a PDF using the above programs. Hence, you can easily get this job done if you wish to convert web pages into readable PDFs.
Conclusion
Now, you no longer have to bother about opening your HTML files on other devices because you can convert HTML to PNG and view them without a problem. You can choose the tool you prefer after testing each tool. If you wish to quickly convert other images on a massive scale, Aiseesoft Free Image Converter Online is highly recommended.

Leave your comment and join our discussion